Today, I'm sharing our master bedroom refresh in partnership with Mohawk Home! My name is Yuni and I'm an Interior Decorator and blogger over at Love Your Abode I love sharing my passion in helping others create a home that they love no matter the size or budget. I haven't shared our bedroom in quite a while but I really wanted to give this room a refresh especially with Spring around the corner. I also wanted to make a few changes to the space so when the opportunity came to partner with Mohawk Home, I happily accepted.
This post is in paid partnership with Mohawk Home.  Mohawk Home has also provided me with a rug and rug pad to facilitate my review of their product. I only share companies that I love and stand behind. All styling, thoughts and opinions are my own.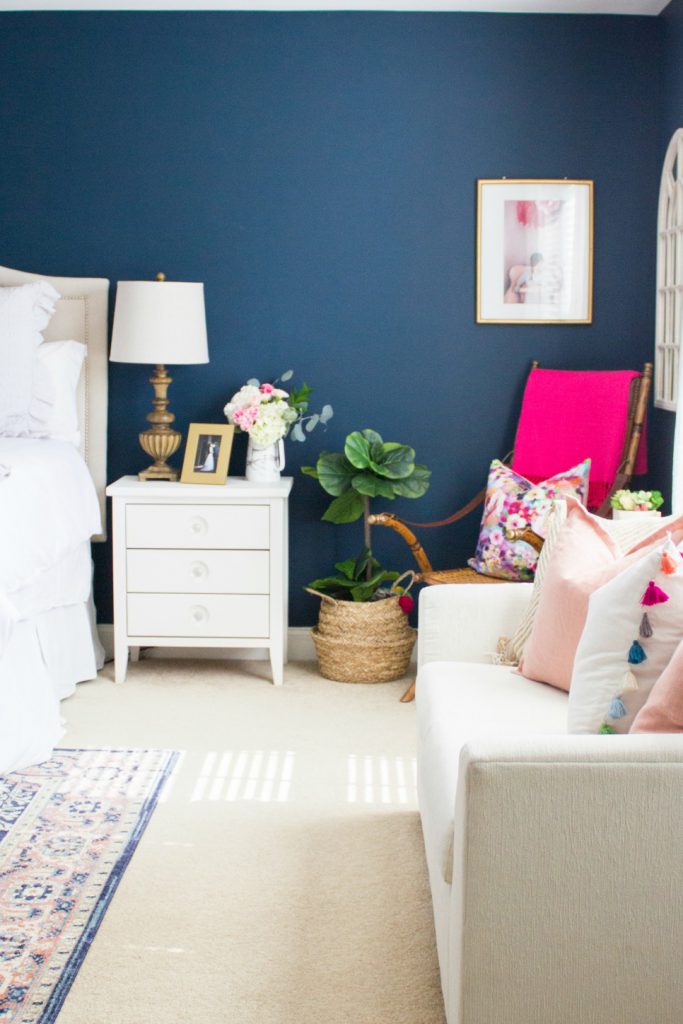 One of the things I have wanted to add to this space for some time now has been a rug. Rugs are one of the most versatile ways to add character and depth to any space in your home. Lighting is considered the jewelry for a room and I like to think of rugs as an awesome pair of shoes that complete the look. Just as shoes pull your outfit together, a rug has the ability to pull together all the things in your room and tie them into a cohesive unit. There are so many different styles and options to choose from. So where do you start?
Take a look at your space and see the colors that are already there. I usually love going with a neutral rug but sometimes, you just want that awesome bold color. Rugs can also be another form of artwork on the floor. The one I choose from Mohawk is just gorgeous don't you agree? I love the muted pinks and ivory against the dark blue. The design is gorgeous and I love how it adds instant coziness to this space.
Our room has a good amount of square footage so the navy walls help create a dark cocoon atmosphere. I wanted the rug to pull in the color from the walls.
Rugs are a fun way to add color, texture, pattern and warmth to any room in your home. If you're placing them on hardwoods, it will help with sound absorption as well as creating a soft landing pad for your feet. When placing it under your bed, make sure to get one wide enough so that it extends past the width of your bed. It's always better to go bigger than too small.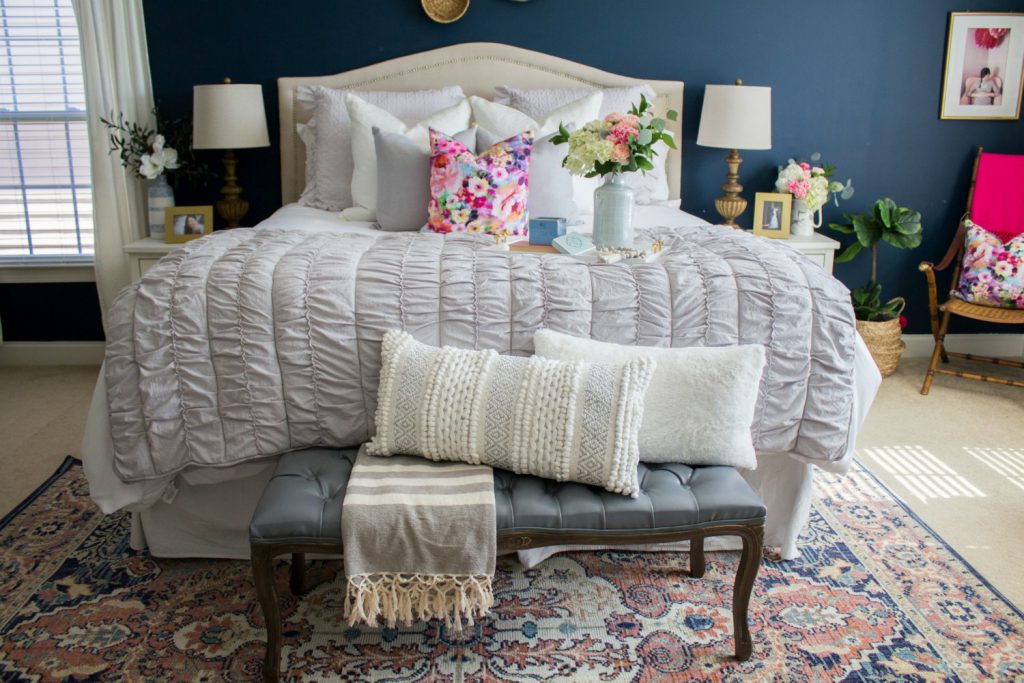 The pattern on this rug has a lot of detail and the quality is great for the price. It's even more lovely in person.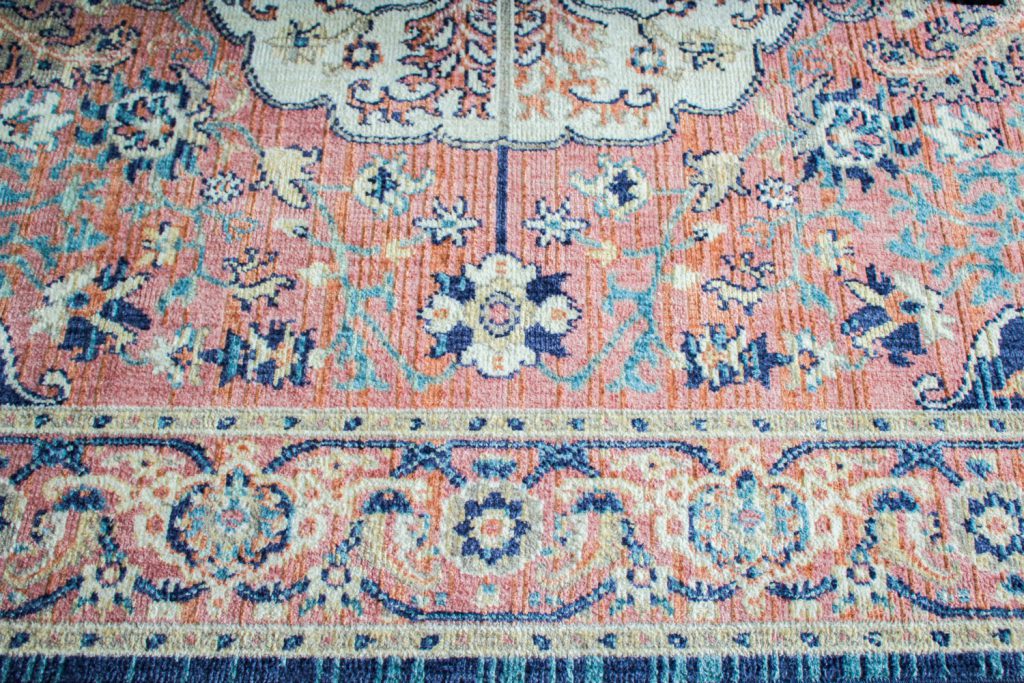 See how the rug grounds the space and ties in all the elements of the room? The rug in here is 7'6 X 10.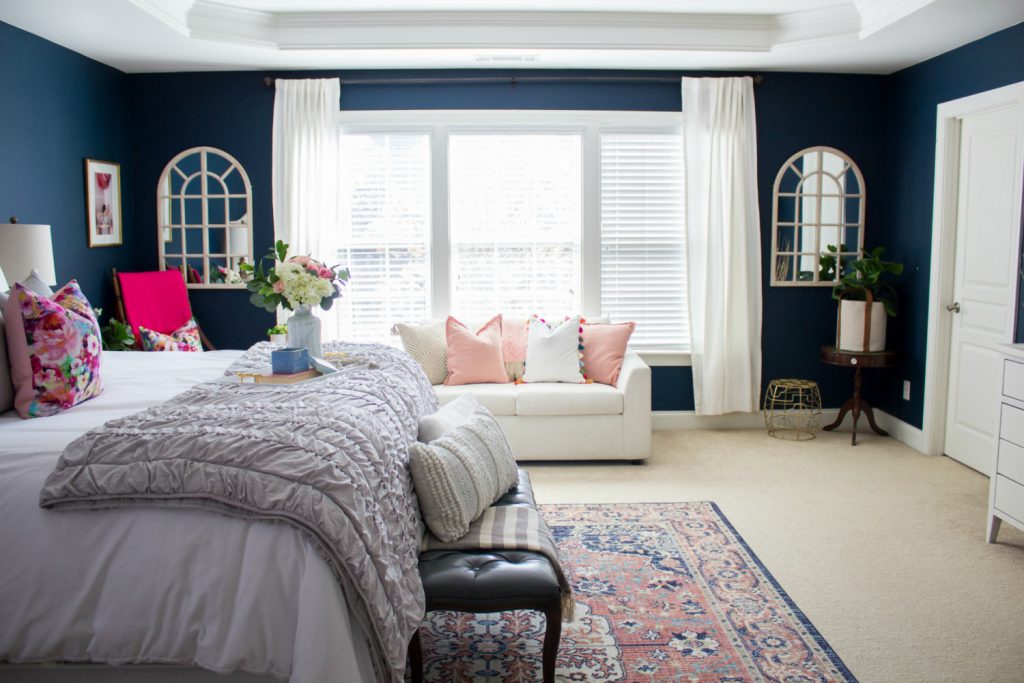 Our bedroom is a juxtaposition of feminine and masculine colors and lines. The combination just works for this space.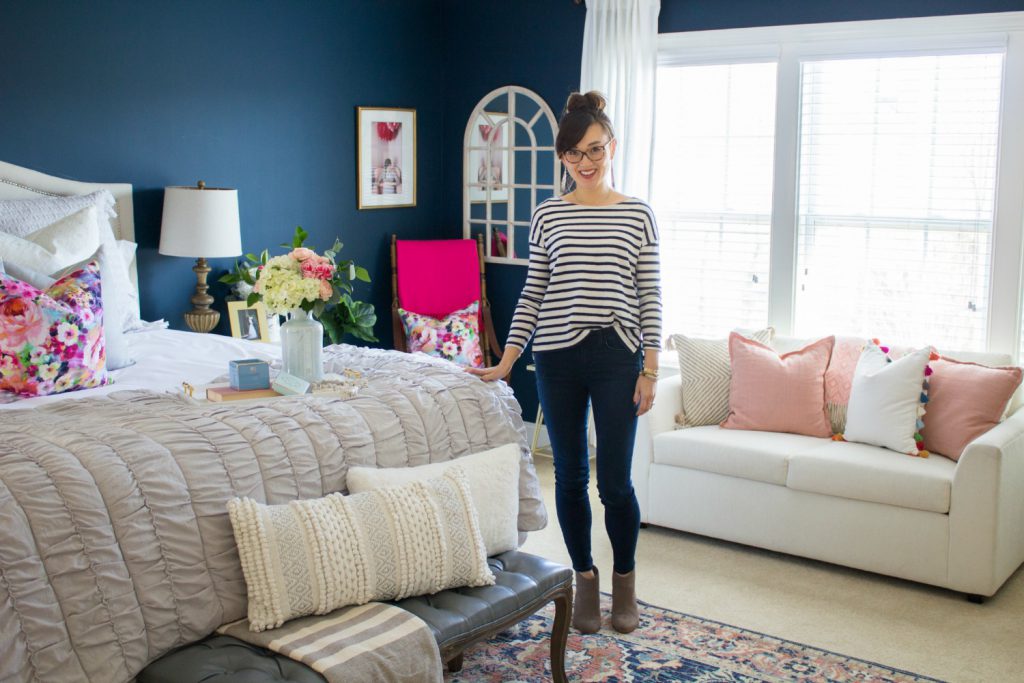 Thanks for reading, friends! If you're thinking of a way to add some pizazz or an element of surprise in your space, think rugs! I'm so glad I finally found one for our master bedroom. My husband loves it too so that's always a bonus. A big thanks goes to Mohawk Rugs for partnering with me on this room refresh and helping to finish off our space. For more home decor and inspiration, I hope you'll connect with me on Instagram.
xoxo,
Yuni