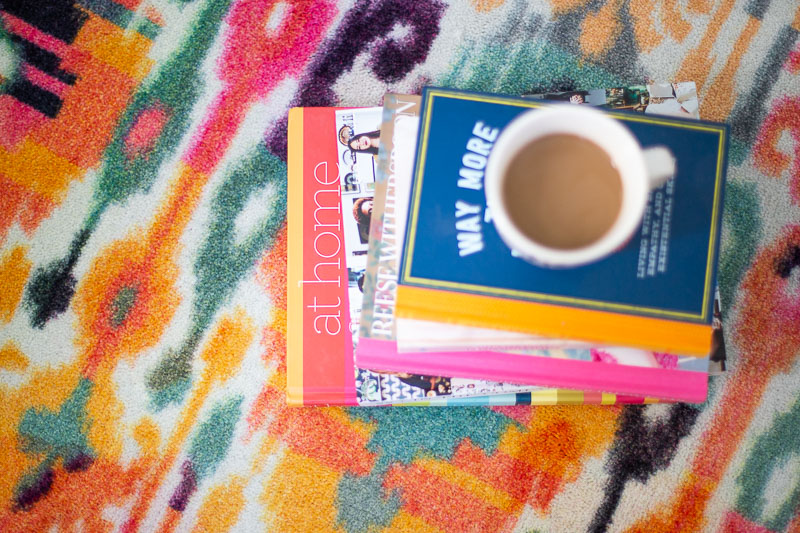 It's resolution season. It's also cold & flu season. And winter doldrums/depression season. The broken resolutions, the runny noses, the frigid air and a house that likely feels a bit empty after all the holiday decor is gone…mix them together, and you've got the perfect recipe for a case of the winter blahs and blues.

But what if we could fight back? And what if fighting back DIDN'T mean we had to stuff ourselves into the uncomfortable Spandex and suck down that nasty "cleanse" concoction in order to feel like we were making a positive change? Don't get me wrong, exercise and eating healthy is great. A noble new years goal. After all, "new year, new you" is quite the popular saying.

I've got a saying I prefer, however. And it's "new year, new rug." That's right, new rug. Why? Because for homebodies like me, and maybe you, too, feeling happy has a lot to do with how we feel about our homes. If our homes feel cluttered, we feel stress. If our homes feel sterile and unwelcoming, we feel sad and maybe even a bit lonely.

It's hard to go from all the December "merry and bright" to the January "barren and cold." But by taking on a quick & easy room refresh we can quickly create "cozy and colorful." And often a rug is the perfect jumpstart to creating that change.

A kaleidoscope of bright color and playful pattern, it is hard to look at this rug without cracking a smile. And you'll smile even bigger when I tell you that this beauty is green. Yes, I realize there are WAY more colors on that rug to feast your eyes upon than just green. What I mean is, this rug also has an eco-friendly back story. It's made from recycled plastic bottles. Mohawk Industries recycles more than 5 billion bottles per year, transforming them into a super soft polyester fiber to weave into carpet and area rugs! Now we can love it even more, right?

I placed the rug in the center of the space and filled in the rest with happy accents and art that would compliment the rug's personality.

Often all it takes to fill in gaps for a simple room refresh is a slow, intentional walk around your home. If you pay attention, you'll spot items you already own that can be repurposed for a mini-makeover. Open closets, scour the storage area and pull out items that have punchy colors and fun patterned details.

Bring your rediscovered treasures into the room you're refreshing and start styling! You won't need a ton of knick-knacks. Let's face it, those just collect dust. Focus on color pops for the wall by using wreaths or artwork.

Consider assembling a gallery wall of photos & cheerful mementos. Hang a quote or new year's mantra perhaps. Or create a vibrant collage by framing some fabric scraps and swatches!

On a tight budget? DIY some colorful decor. Gather some fallen branches and spray-paint them. Then heat up that glue gun and attach inexpensive pom poms liberally. It's an easy way to create a focal point or centerpiece without busting the budget.

There's no right or wrong. This is all about making the room cheery, and a place that has personal meaning to you. A spot you can retreat on a bleak, wintery day with a cup of coffee and a good book.

Mohawk Home offers many colorful rugs that could brighten up the bleakest of spaces.

Don't just deal with the winter doldrums. Deep six them. Go find a rug that makes your heart skip a beat, and pull together a space that makes you smile. Good luck, and happy new year!