Dorm rooms aren't the most inviting; they focus on being functional rather than fashionable. But part of the excitement about going away to college is the ability to customize that small space to your liking. While many college students end up leaving behind larger size bedrooms to share a cramped living space with either friends or strangers, figuring out the right size for all of their stuff ends up being a big part of their dorm room decor challenge.
Most dorm rooms are devoid of any personality; instead rooms are furnished with the basic necessities: beds, desks, maybe a chair, closet and dressers. There's usually no extra lighting, appliances, curtains, decorations or accessories. It's essentially a blank canvas for students to personalize and make their own.
There are lots of different ways to configure the furniture in a dorm room. We've seen dorm rooms where students decide to loft the beds, creating space directly beneath the beds for study areas. While other students prefer to keep their beds separate but reconfigure their desk space to make the room look and feel bigger. No matter how you decide to rearrange the furniture, it's important to take accurate measurements before buying things like your mini-fridge, comfy chair and area rugs.
The benefits of adding an area rug to your dorm room are obvious: it adds warmth and comfort beneath your feet, especially during colder months. Area rugs also provide extra cushion, which your downstairs neighbor will appreciate when you're pacing the room late at night cramming before a big exam. Most importantly, area rugs provide the perfect decorative touch to your dorm room décor.
But which size area rug to buy can be tricky. Follow this general guide for selecting the right size area rug for your dorm room will help you pick the perfect area rug for your space!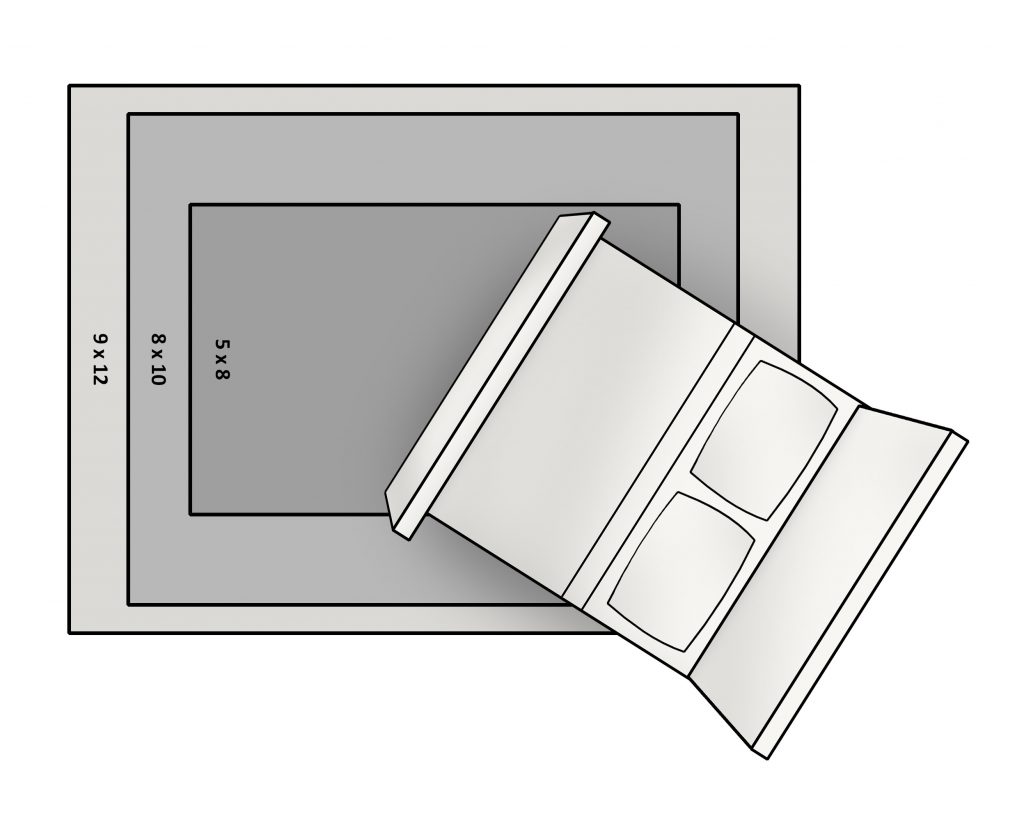 Size 3'x5' area rug – This is one of the smallest size area rugs available and is perfect for when you want something personal, small and soft right next to your bed. It's also useful for placing under heavier objects, like a small end table or to protect your flooring from heavy under the bed storage.
From Mohawk Home's Prismatic Collection, the Dotted Ogee area rug in navy is a great pick for both guys and girls. Dots of deep indigo blues and greens form a layered ogee pattern over a white base using soft, durable fibers. While the Watercolor area rug in Rainbow is a bold pick for when you want to drench your space with bright colors in a contemporary design.
For a touch of whimsy, Mohawk Home's fun Kitty Cat area rug in cream features dark, silhouette cat heads against a cream background. Ideal for high-traffic areas, this rug is also eco-friendly and made of recycled material.
Size 4'x6' area rug –This is one of the more popular size area rugs for dorm rooms. It's both versatile and functional, and the ideal size for placing directly next to your bed. Plus, depending on the dimensions of your dorm room, you and your roommate can both get an area rug for next to your beds without the two overlapping.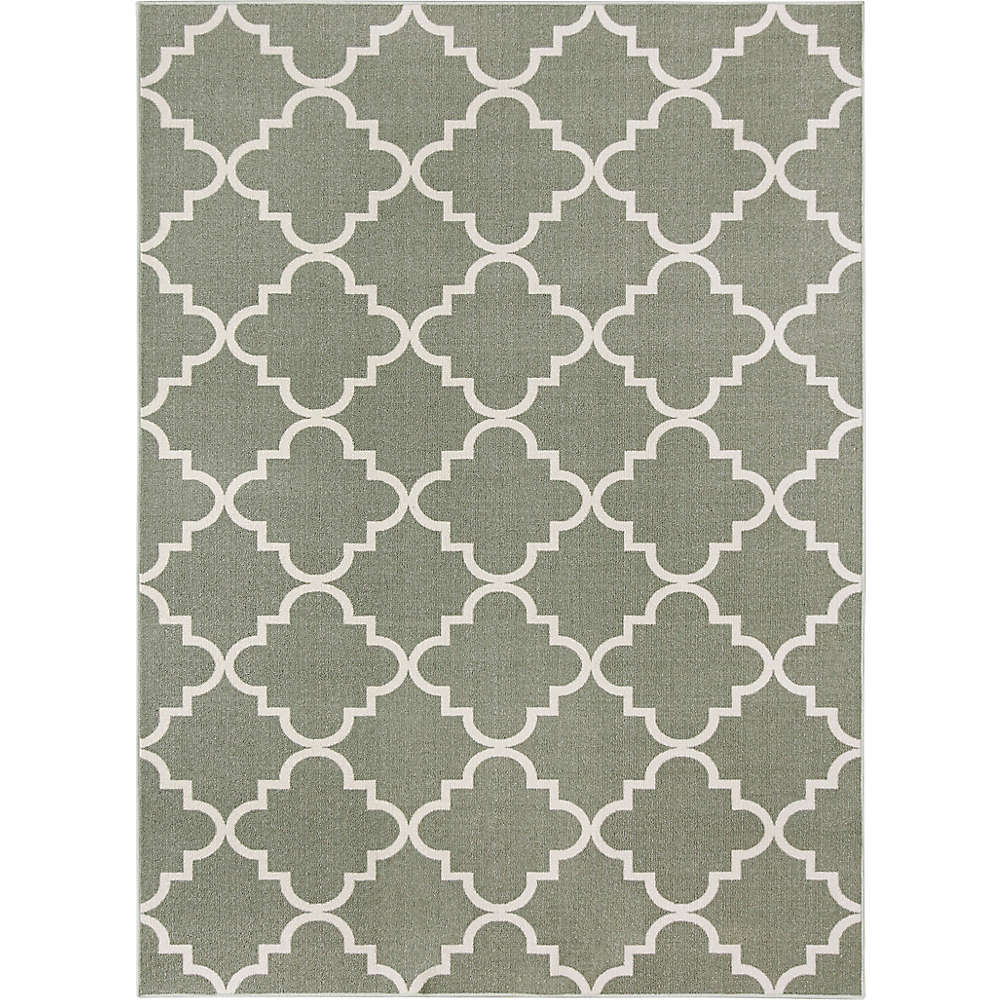 Simple and refined, the lattice print design on the Fancy Trellis area rug brings charm and elegance to your dorm room décor. Soft, sturdy, and designed to withstand high foot traffic, this area rug is also available in eight gorgeous hues.
Size 5'x7' area rug – We've found that this is the most popular size area rug for college dorm rooms. While too small to completely cover the area directly beneath your bed, it is large enough to cover the open area on the floor beneath your other furniture and accessories. We recommend layering your area rugs if you choose this size; placing smaller 3'x5' area rugs right next to your bed in coordinating colors and patterns will keep all surface areas covered so you can walk barefoot comfortably.
The options in this size is practically endless, with our Prismatic Collection offering a plethora of area rugs in beautiful designs and styles. Plus, this size area rug is also budget friendly, with many styles available for less than $100.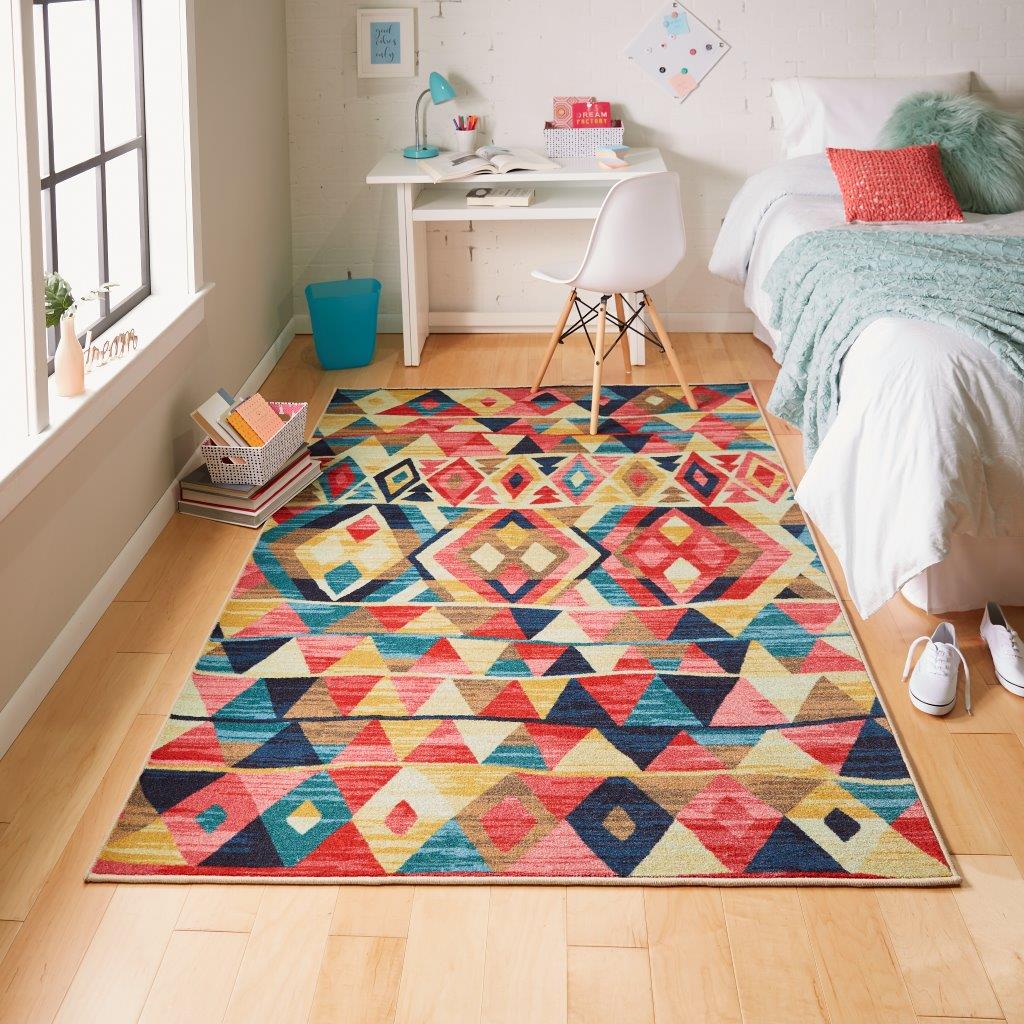 The Windsor area rug in multi and the Crowley Printed area rug in multi from the Prismatic Collection both features bright, colorful patterns.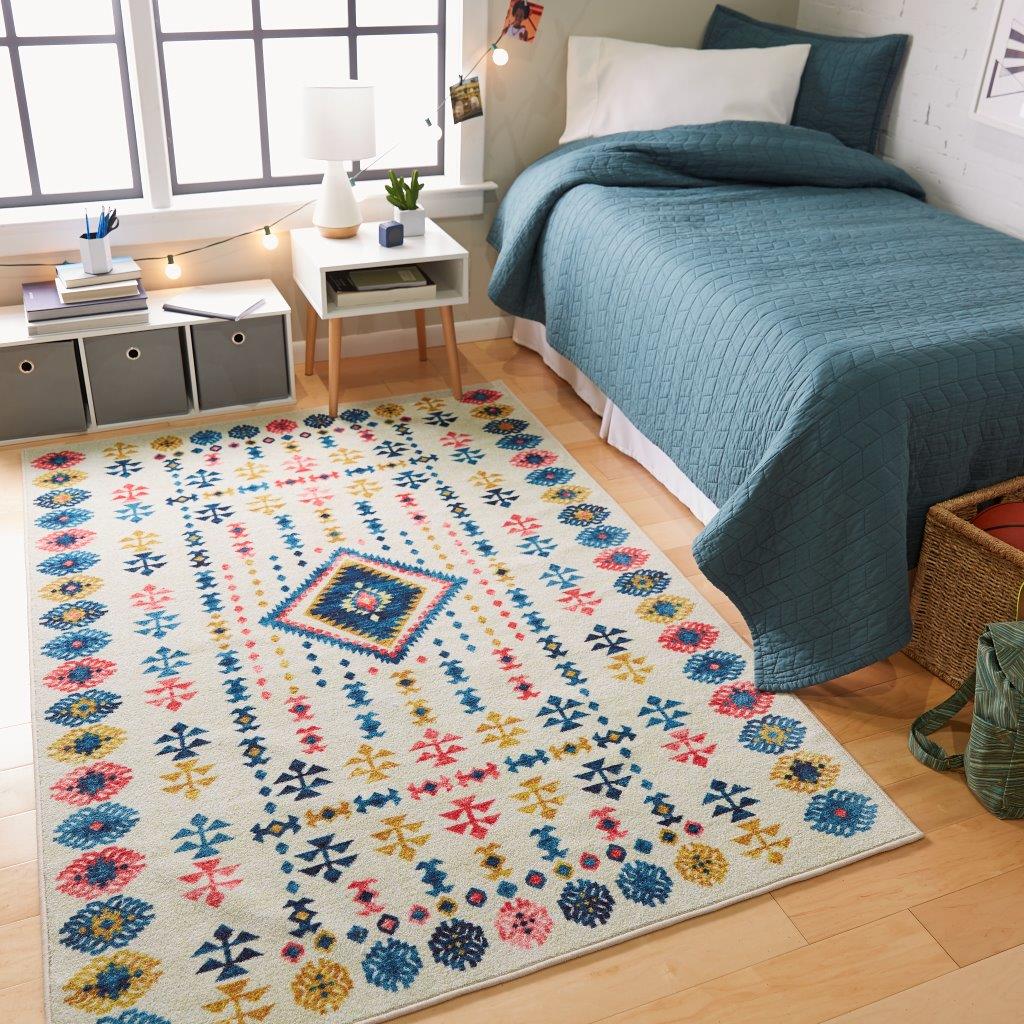 For a more neutral base with stylish design, try either the Mohawk Home Avon Park area rug in Gray or the Saybrooke Printed area rug in Beige.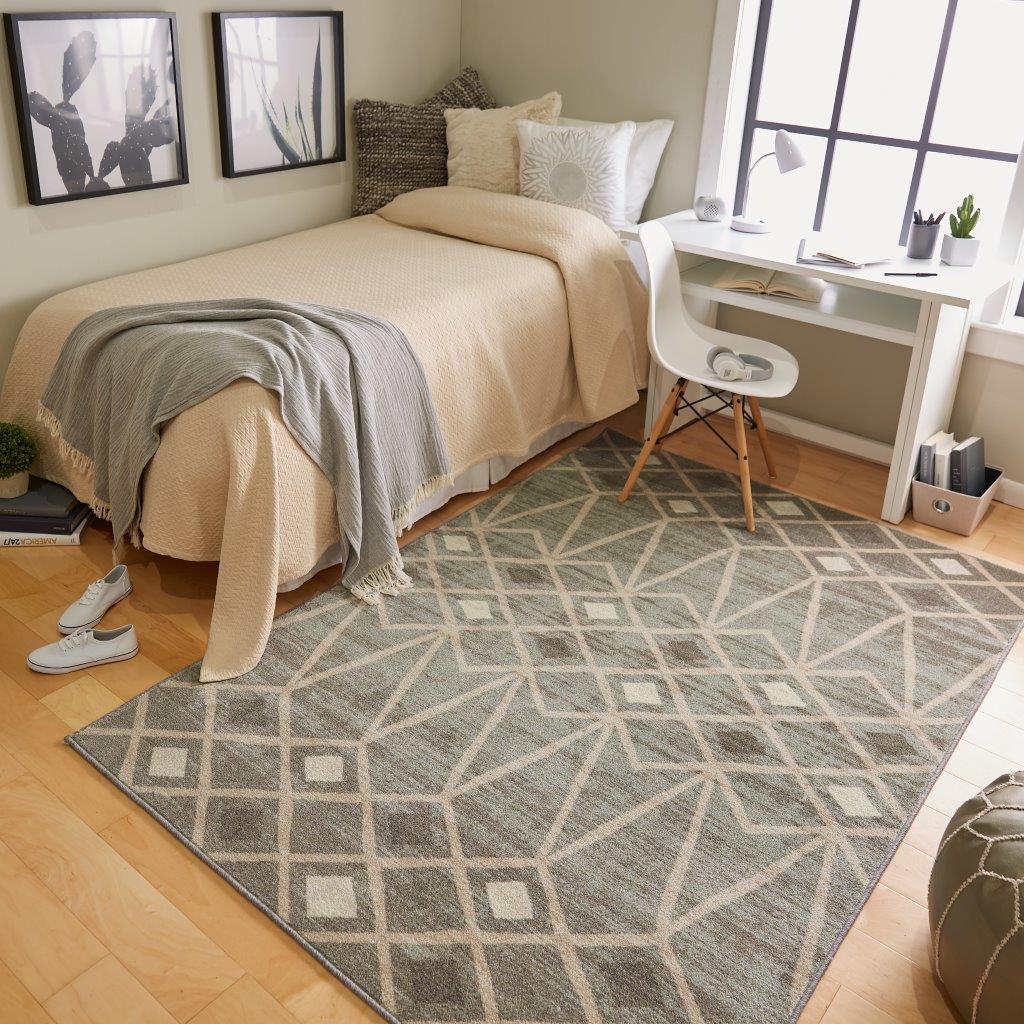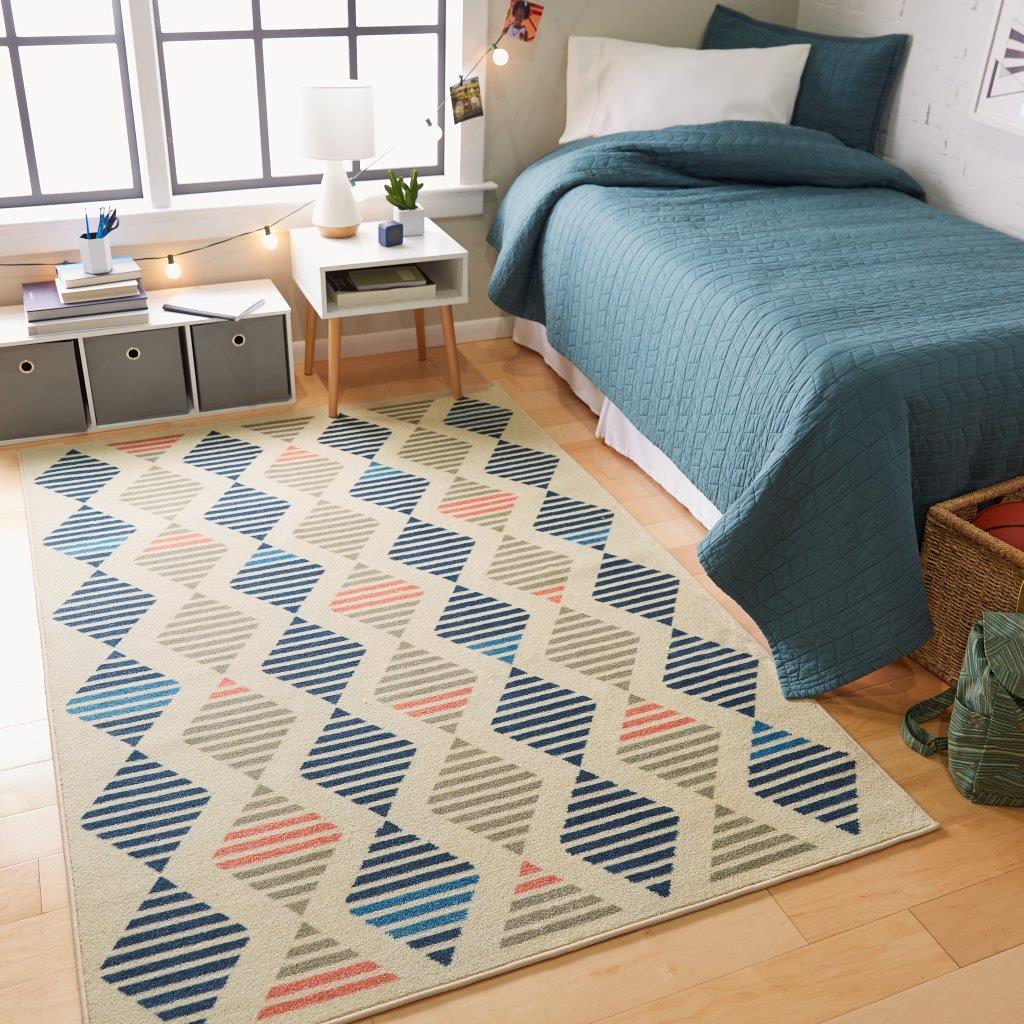 Size 6'x9' area rug – The largest size available for dorm rooms, this selection is great for when you want that wall-to-wall carpet look and feel. Depending on your room dimensions, this size area rug will cover all surface areas while also reaching beneath the bed.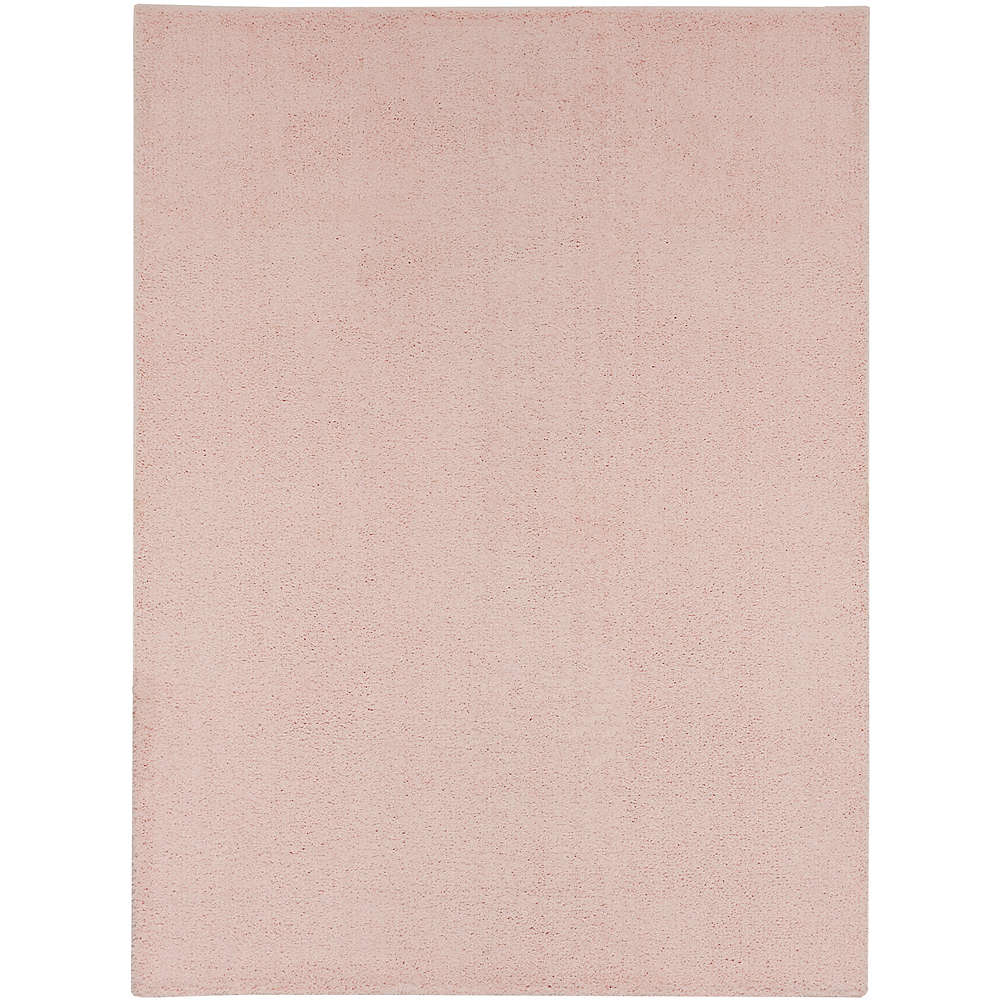 A neutral colored area rug in this size would be your best bet in terms of décor. We love Mohawk Home's Ballet area rug; the shag nylon fibers are comfortable and durable while the pastel color is subtle yet beautiful. For a more textured look, try the Modern Trend area rug in Neutral Stone. It's designed for high-traffic areas and is resilient, durable and stain resistant, making spills easy to clean. It's also super soft and luxurious underfoot.
By choosing a neutral area rug in this size, you can also easily layer a patterned area rug in sizes 4'x6' or 3'x5' directly on top to add dimension and style to your dorm room.
Are you shopping for an area rug for your dorm room and have some questions about sizing? Ask us in the comments section!