When my husband and I found out we were having a baby boy, I thought he was going to explode with happiness. Visions of playful patterns in grays and yellows danced through my head! Then on the way home from the ultrasound, my modern dreams were shattered when he said, "It has to be a sports nursery." This is not the chic dream I had in mind, but it was his turn to have an opinion…I guess. 😉 So the hunt began to do a classic sports nursery that wasn't cheesy or and wouldn't take the skills of HGTV's Fixer Upper cast to complete.
That's when I found this adorable sports themed bedroom set on Pottery Barn Kids. After that, I was off to the proverbial races!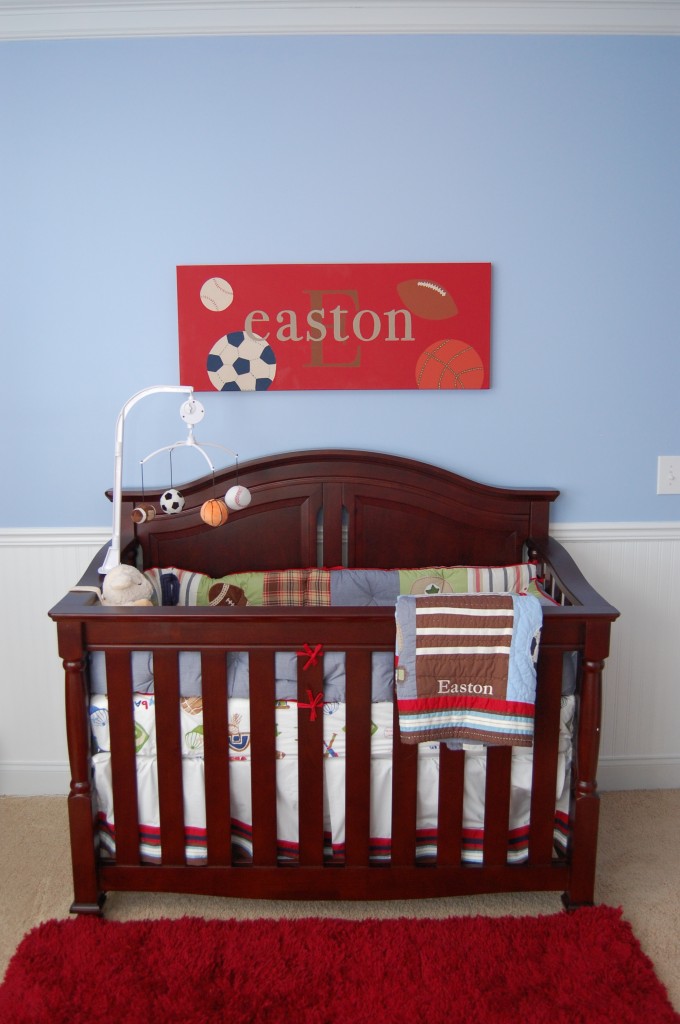 We accomplished our vintage sports nursery theme with the following key pieces:
Wall dressing:
I initially wanted to add bead board to the bottom of the walls, but after getting sticker shock from our contractor I searched the internet for other ideas. I hit the jackpot with Paintable Beadboard wallpaper. No tearing out baseboards or needing to know how to install baseboard trim; just apply and add a chair rail. Using paintable wallpaper will cut your costs by more than half! Tip: Even though it's white you'll need to paint it in a glossy white to match your chair rail molding.
Sports decor:
I hunted garage sales and even my family's stash of sports memorabilia. I used vintage Tennis rackets, old footballs, and sports themed decor from Hobby Lobby. Tip: When looking for remodeling ideas, using sports themed kids clothes is a fun way to decorate and it's something they can actually use!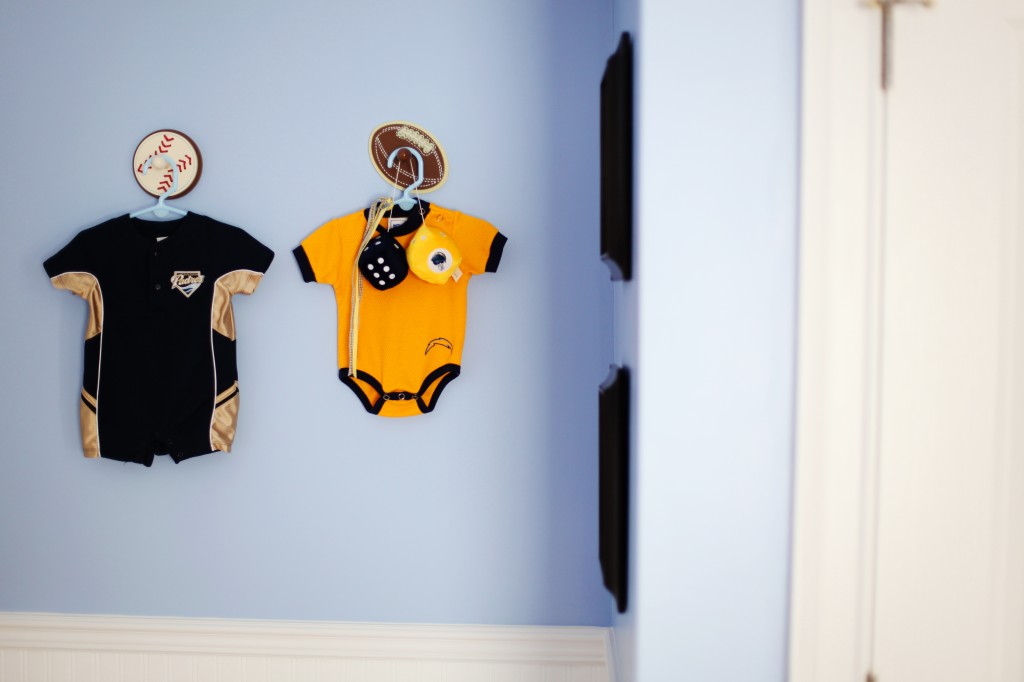 A great chair:
We used the glider we purchased for my daughter's nursery in the new baby's room. Tip: Buy neutral colors, like cream, white, grey or brown so you can use it again. The chocolate color matches great with the decor and it's easy to clean. I highly recommend Best Chairs. You can customize your chair based on your preferences and it's easy to find a local dealer on the site. Our model is the Bruno in Chocolate micro-suede.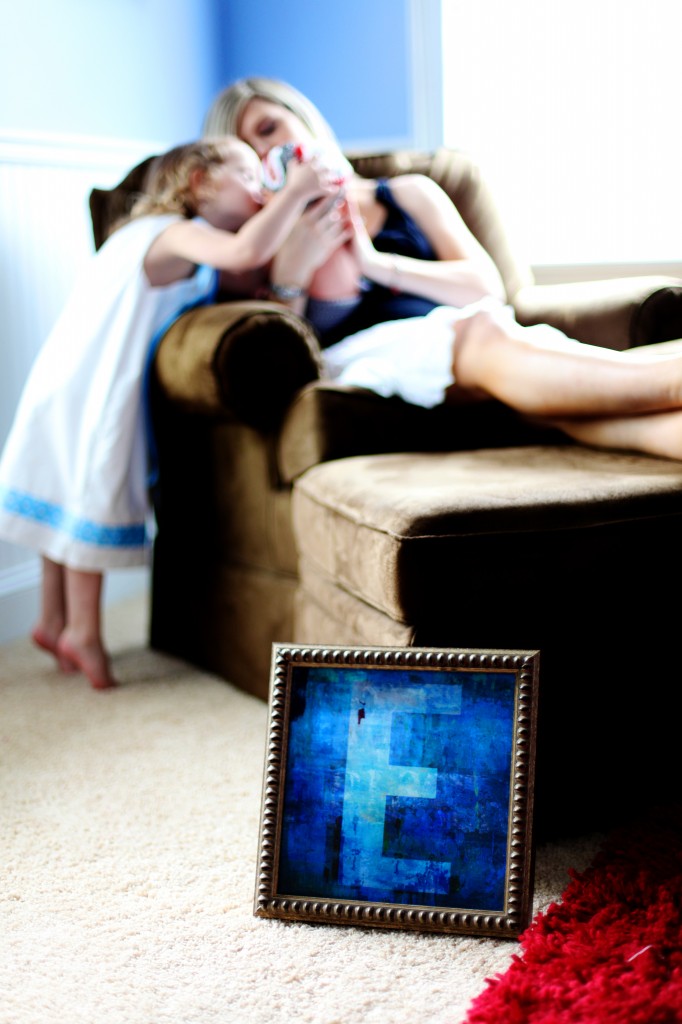 The rug:
The room needed a bright focal point so it didn't read so blue. To do this I added this plush area rug, but you could pull in your favorite sports team colors easily. Mohawk has a great selection of affordable area rugs available at most major online retailers, including Overstock.
The furniture:
The furniture is from JCPenney. Their quality and customer service is great! It is the Bedford Collection Monterrey in Cherry. Tip: Always buy the convertible bed rails. Even though you won't need them for several years, you'll thank your lucky stars you did  (especially if that furniture set is no longer available when you need it)!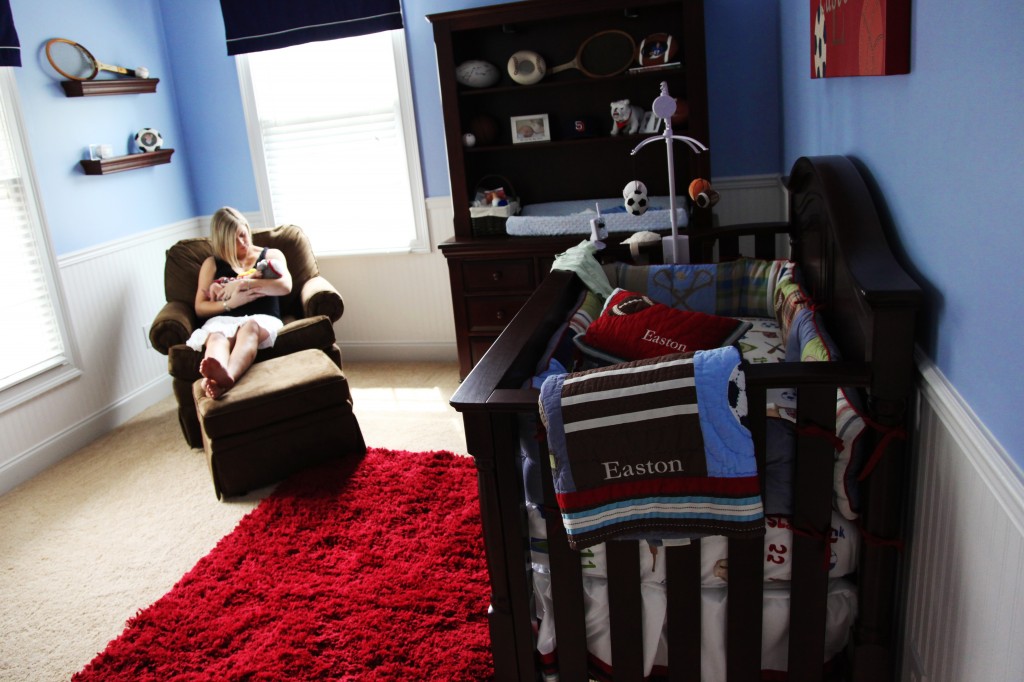 Art:
When designing my baby boy's nursery, I wanted to have a focal piece of art that was personalized with his name. There are many artists on Etsy who can do just this. Tip: send a pillow case to the artist to make sure the colors matched up perfectly.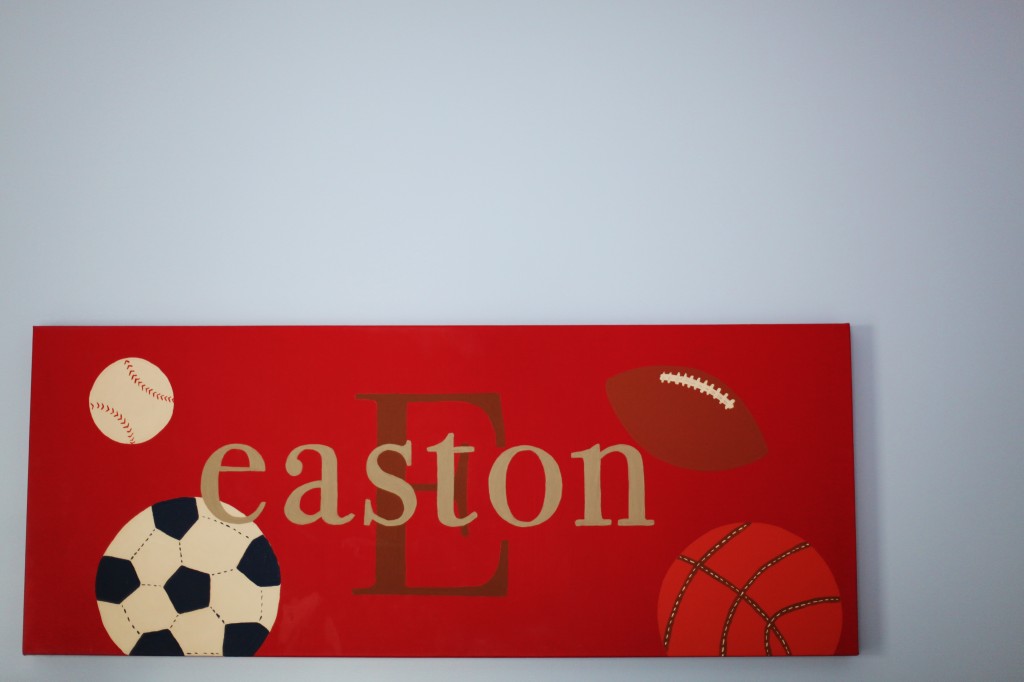 The baby:
And the beautiful baby boy bunny got to enjoy his vintage sports nursery just in time for Easter…so we named him Easton.