In 2015, we broke ground on my husband's dream home. He spent literally years designing this house. From the precise placement of our bedroom windows so we could watch the sunrise to the size of the dining room calculated perfectly to fit the table he crafted out of barnwood found on the property. While he did think of everything, there are just some things your child has to show you.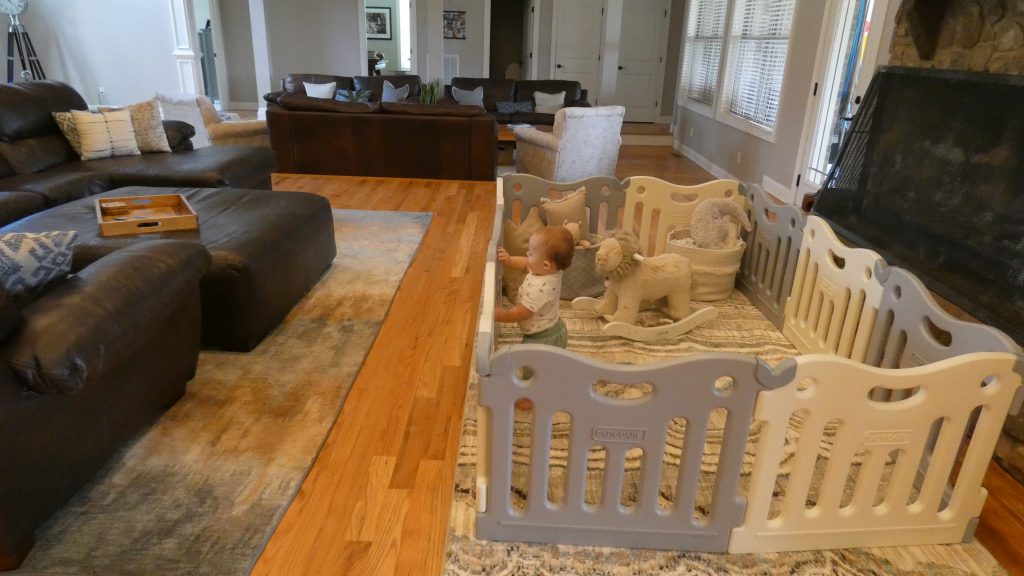 Now that our baby, Jaxon, is an active one-year-old, he's cruising and crawling throughout our open concept home and reminding us daily not to underestimate the willpower of a baby's curiosity. Even as early as when he started army crawling, quickly wiggling across the floor to what or who had caught his attention that time, we knew we needed a safer place for our independent baby to explore.
As our house is an open concept floor plan, with a unique raised dining room and sunk-in living room, sectioning off an area with baby gates isn't really possible. So, we searched for the next best option… a corral! A lot of the baby playpens I had seen before reminded me of dog cages and that definitely was not what we were going for! After a bit of searching and review reading, I was relieved to find the Baby Care Funzone Baby Playpen in Grey.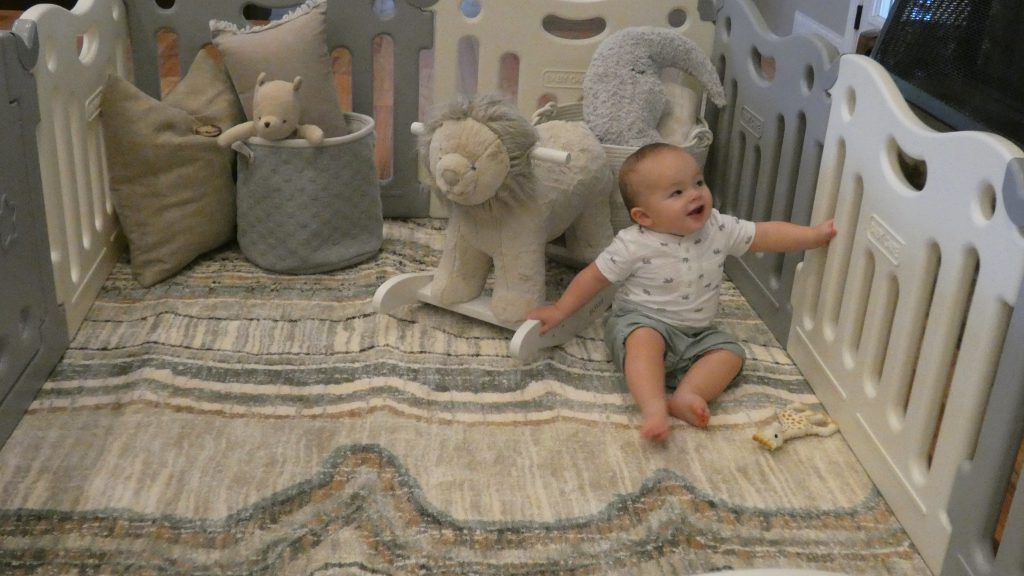 The ivory and grey design pair well with the other neutral colors of our main room and the set up seriously couldn't be easier. The plastic walls simply snap together and a piece fits over top for additional reinforcement… no confusing instructions, no tiny parts, no tools required! There are suction cups under each of the plastic walls that are great for hardwood, but the playpen will stay firmly standing up on carpet as well (as our's stands on a rug). Now that Jax is standing and side stepping around, he pulls up on the corral and walks around its perimeter holding onto the (thankfully sturdy) walls.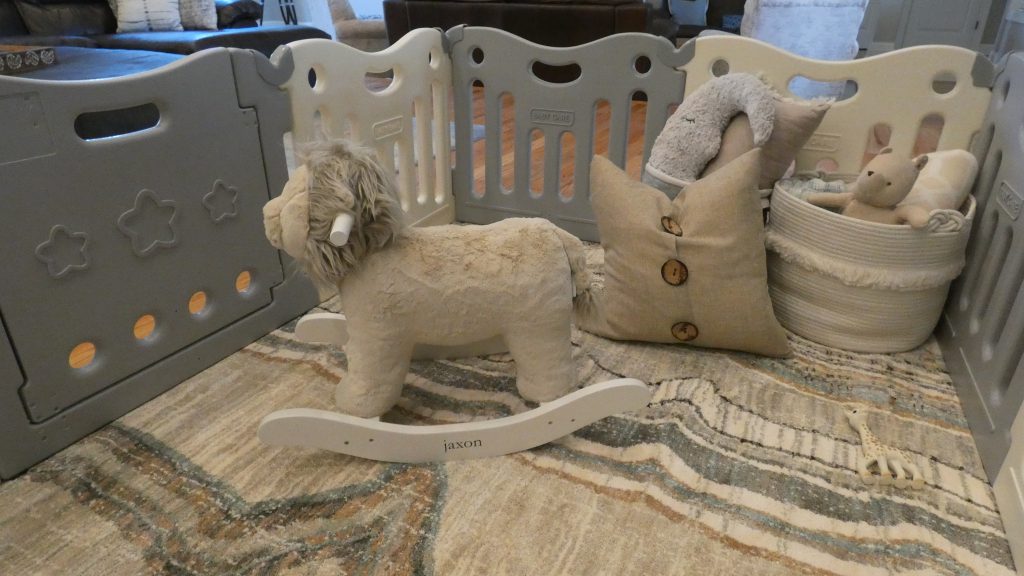 The walls are a little over two feet tall, so adults can easily step over and inside, but older kids, like our three and five-year-old nephews, enter using the outward facing latch at the front gate. It's a little over seven feet long and almost five feet wide. Baby Care makes some playmats that are sized to fit this playpen, but a 5' x 7' area rug is an even softer (and more stylish!) option. We went with the Interlude Area Rug from Mohawk Home in the 5 ft. 3 in. x 7 ft. 10 in. size and it fit the corral perfectly, with an even border of exposed rug around its edges.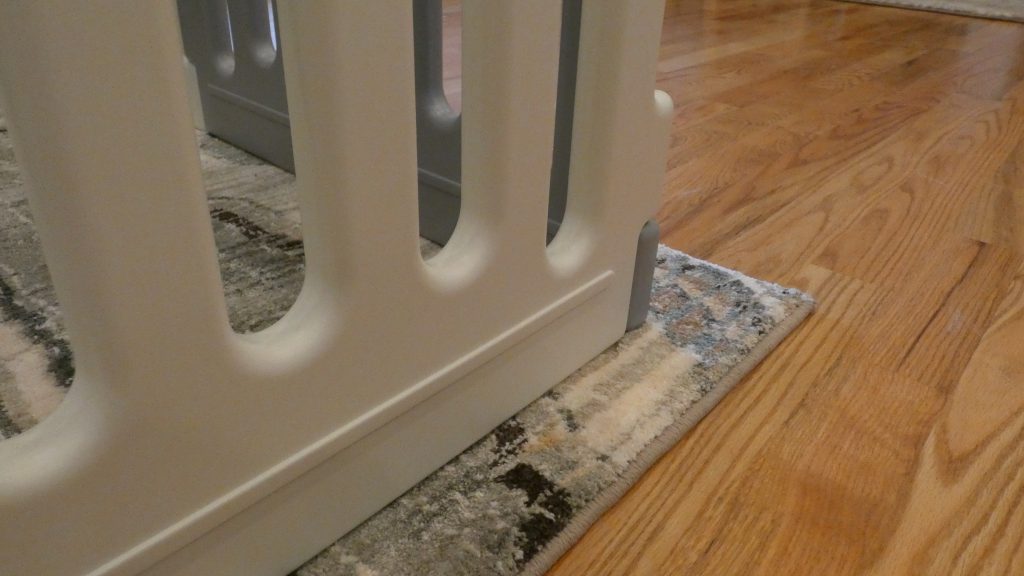 Crafted out of Smartstrand Silk™ yarn, this densely woven rug is not only a cloud of cozy softness perfect for catching our little acrobat's tumbles, but this rug is also one of the most stain resistant options available! My husband spilled a Coke one of the first days we had this rug and we were able to quickly blot it up with a towel and wipe away any trace of stain simply with water. Mostly a neutral palette with refreshing waves of blue, this modern area rug beautifully blends with our adjacent area rug, Karastan's Cashel design in Abyss Blue, and allows us to maintain some of our original interior design's flow while babyproofing.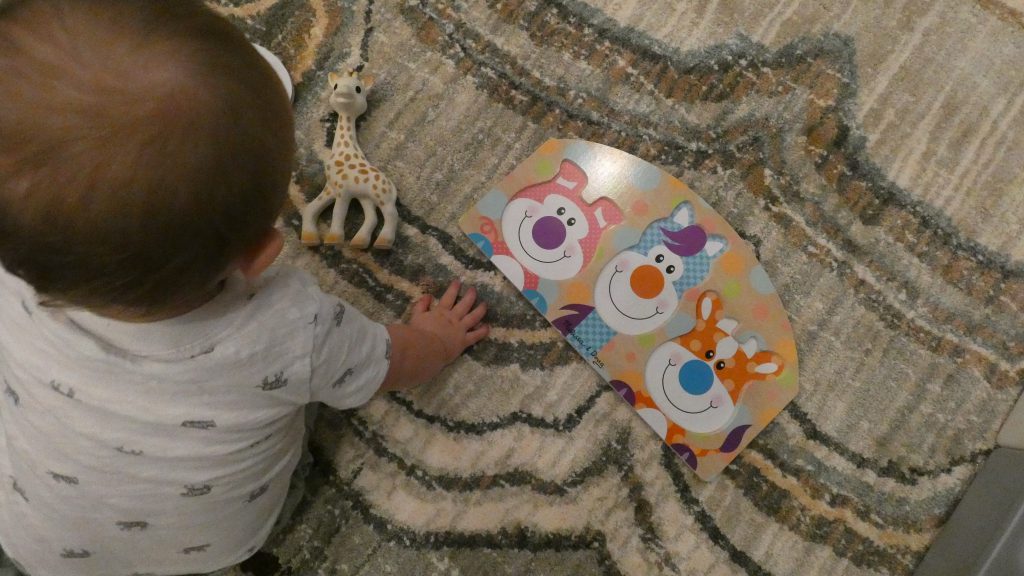 Purchasing from Buy Buy Baby, you can almost always find a 20% off coupon, which will save you $40 on this $200 playpen! It's an investment and there definitely are cheaper versions out there, but the quality, size and aesthetic appeal of this one cannot be beat. Also, having the option to set our little guy down to play in a safe place for a moment to finish my morning cup of coffee or prep something for dinner (all while keeping an eye on him from a few feet away in the kitchen of course!) is, as I'm sure any parent would agree, rather priceless.