If you are anything like me, you have more than one area rug in your home, and you are constantly looking for ways to keep your rugs looking as clean and fresh as possible. Sometimes an active household with kids and dogs may make that difficult, but I have 4 tips that can help maintain the appearance and longevity of your rugs.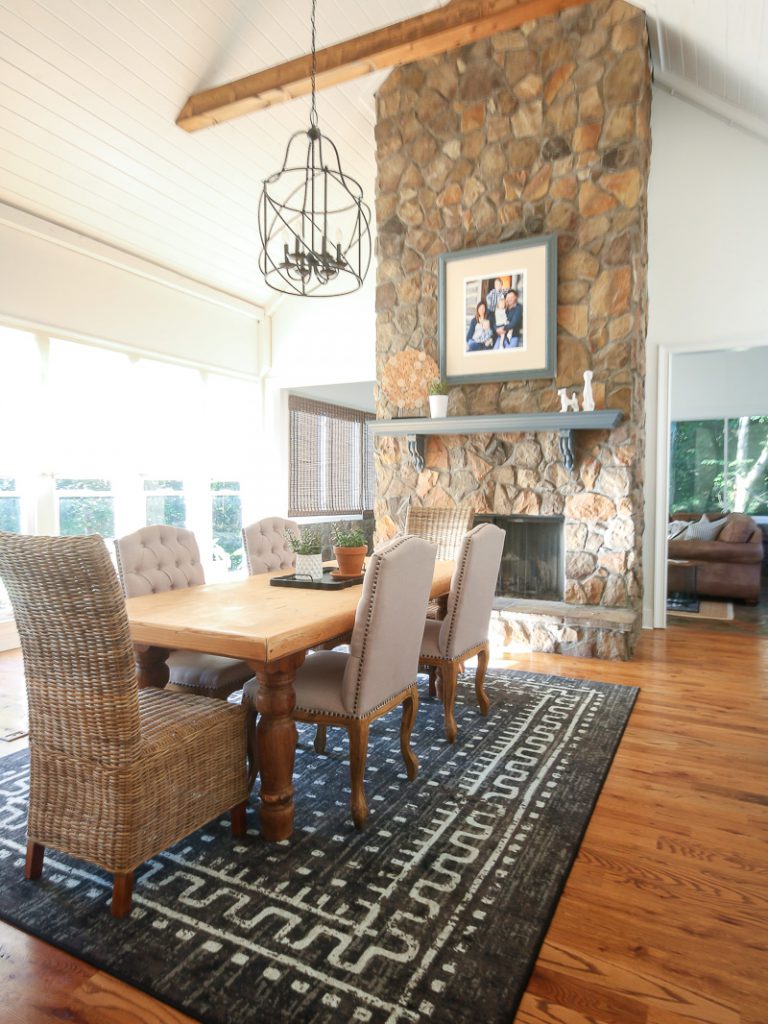 Tip #1: Find forgiving patterns
You will not find a solid light colored area rug in my house anywhere…..I know what my kids are capable of. Instead, I opt for forgiving patterns on my rugs that work better for any spills or stains that will can happen.  Even though most  carpets are stain-resistant these days, no carpet is stain-proof. For the stains that can't come out, forgiving patterns help to conceal and hide, while still enjoying your rugs appearance. This Marrakesh area rug in Graphite from Mohawk Home in my kitchen eating area is perfect for under the table. The color and vintage like pattern allows me to relax when something is spilled off the table.
Speaking of forgiving patterns, I just put the rug that was in this space in the kids den.
Tip #2: Regularly vacuum your area rugs
Because we get a lot of foot traffic around the property and into the house, I vacuum my area rugs quite a bit. Regular vacuuming is the the most important step you can take in keeping your rugs clean.  Cleaning frequently helps to reduce any dust and dirt trapped in your rugs as well as having cleaner surfaces to walk on and sit on. If your pets regularly make themselves at home on your rugs, vacuum a couple times a week to remove any of the dander that will reside in your carpet. This will help your rugs last longer. I have had this Mohawk Home Laguna Tangier area rug in Blue/Cream for a few years and it still looks brand new….even in an active household!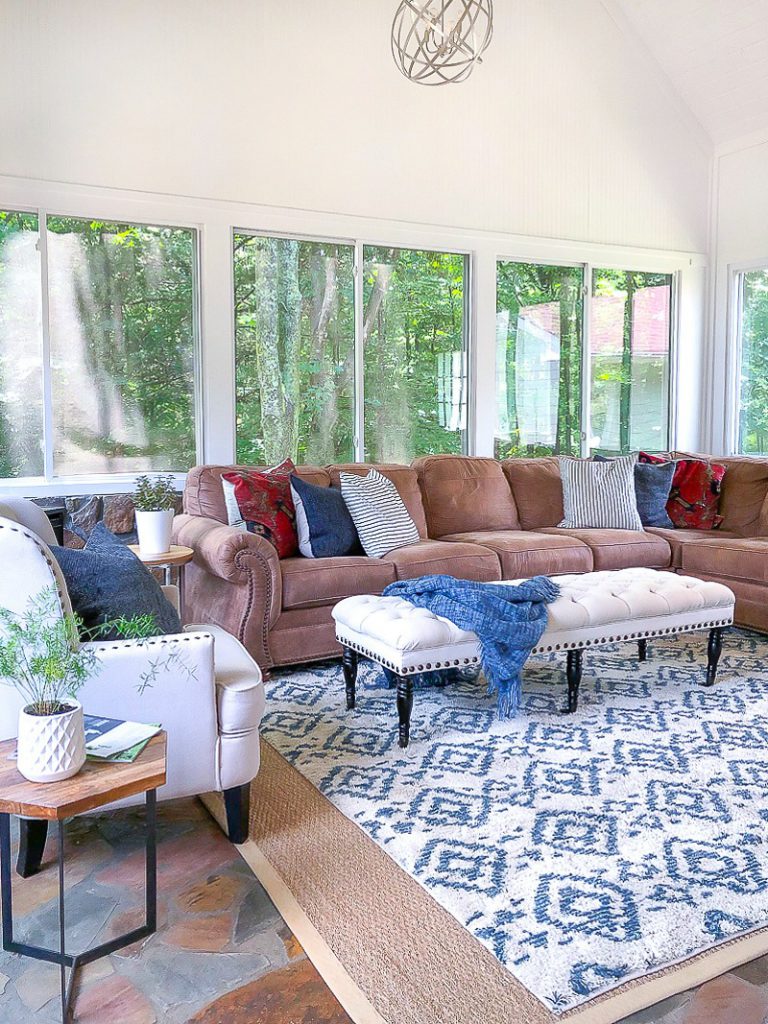 Tip #3: Use Outdoor rugs…indoors
I have used outdoor rugs in several places throughout my home particularly in my kitchen. Outdoor area rugs provide many benefits and have become increasingly popular in indoor spaces. The outdoor rug in my kitchen is super durable, stain resistant and  easy to clean. Thankfully, many of our spills in this area are easy to clean with a damp cloth, while some indoor /outdoor area rugs you be taken outside, hosed down, and cleaned with a mild soap and scrub brush.
Tip #4: Rotate your area rugs 
Once or twice a year, I will rotate my rugs within in each space. I also have no problem in switching up rugs and rotating them to different rooms in the house. Talk about a quick and easy way to change up your space! I took Mohawk Home Paxton area rug in blue from their Berkshire collection that was in my dining area and put it into the kids den.  Rotating a rug not only helps with wear a tear from foot traffic, but also can help balance out any fading that may have occurred with bright light coming through your windows. Depending on your rug type, considering flipping it over if your area rug does show signs of fading or wear and tear. It will look like a brand new rug.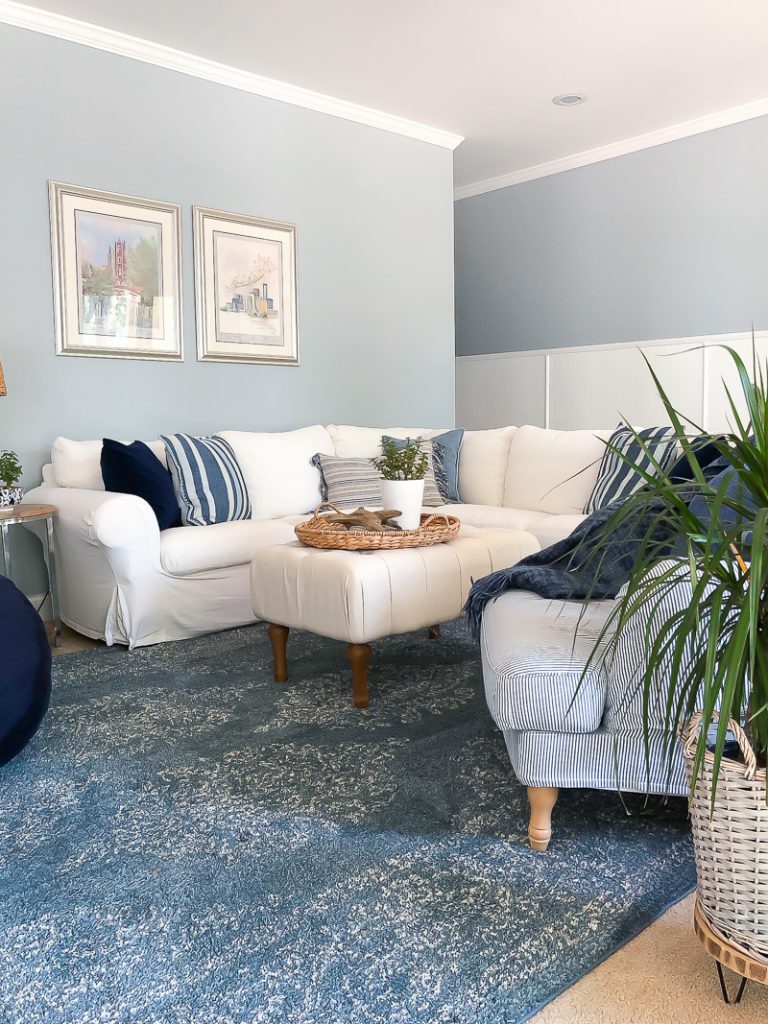 Rugs are a great way to decorate and tie a room together but not if they are looking dirty, faded and not fresh. Use these 4 tips to help maintain the appearance and longevity of your rugs.
Do you have any decor hacks to prolong the life of your area rugs? Share with us in the comments!