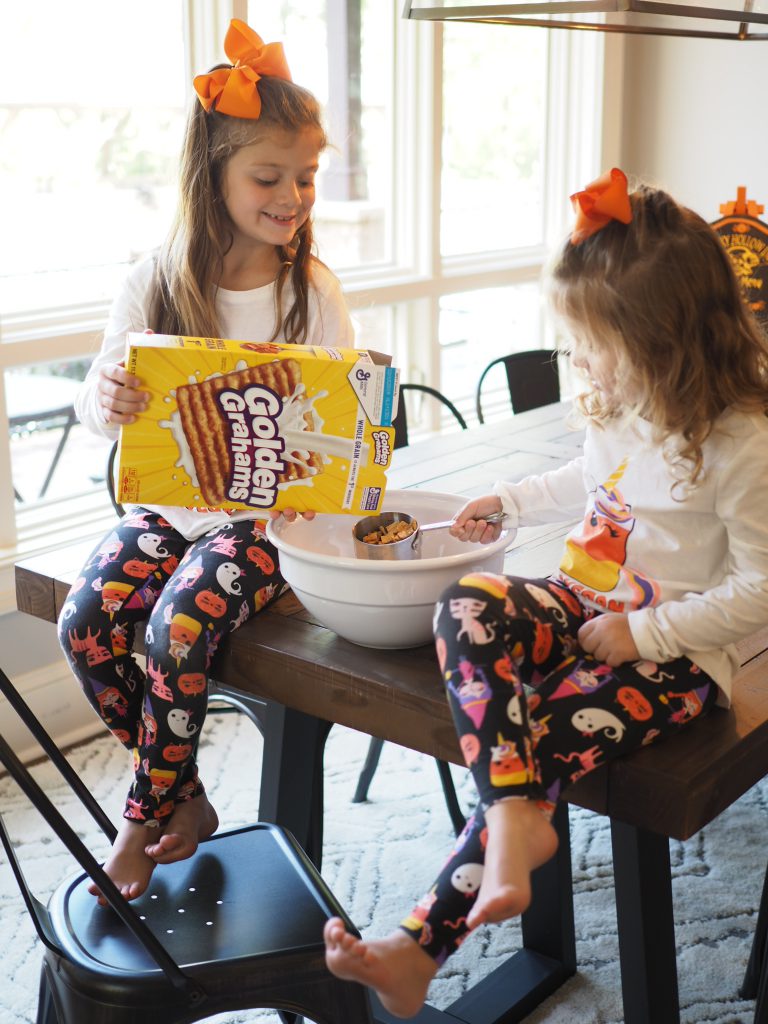 Halloween is right around the corner, and we love to invite the neighborhood kids over before trick or treating begins. Halloween is one of my favorite holidays because it's colorful, creative, and pretty low key. To prepare for our annual neighborhood gathering, I'm going to be sharing three of my go-to fun and easy kid-friendly Halloween snacks. To be totally honest, I'm not a great cook or baker—so simplicity is key. The best part about these recipes is that your kids will have a blast helping out in the kitchen.
Because there are so many festive ingredients involved, we decided to create our Halloween snacks on our farmhouse kitchen table so that we have plenty of space. This may seem brave considering we have an ivory rug under our kitchen table! However, the rug is Mohawk Home's Nomad Vado Rug. Featuring tribal-inspired asymmetrical lines with muted colors, this gorgeous rug is stain resistant and made of 100% recycled polyester. So, if my girls have a spill or accident while we cook, it will clean up in no time. Win, win (insert witch cackle here)!
Now, it's time to put on your witch hat and get started.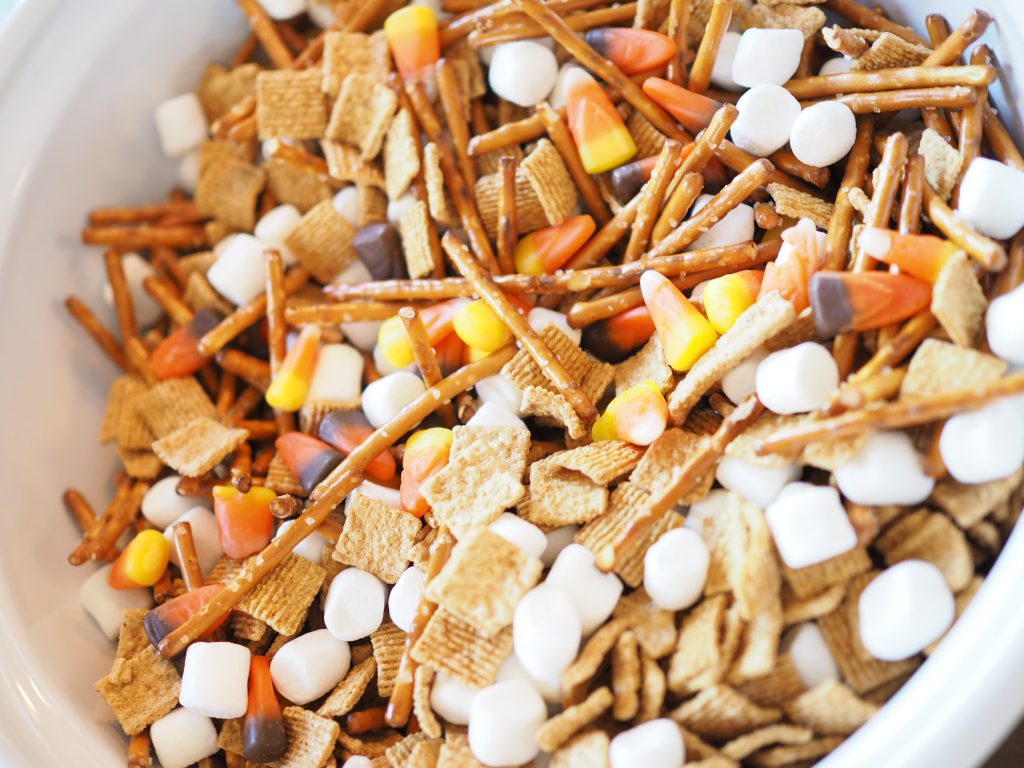 Ghostly Snack Mix (Bags o' Boo Boos)
Ingredients:
5 cups of Golden Grahams
3 cups of Pretzel Sticks
3 cups of Mini Marshmallows
1 ½ cups of Candy Corn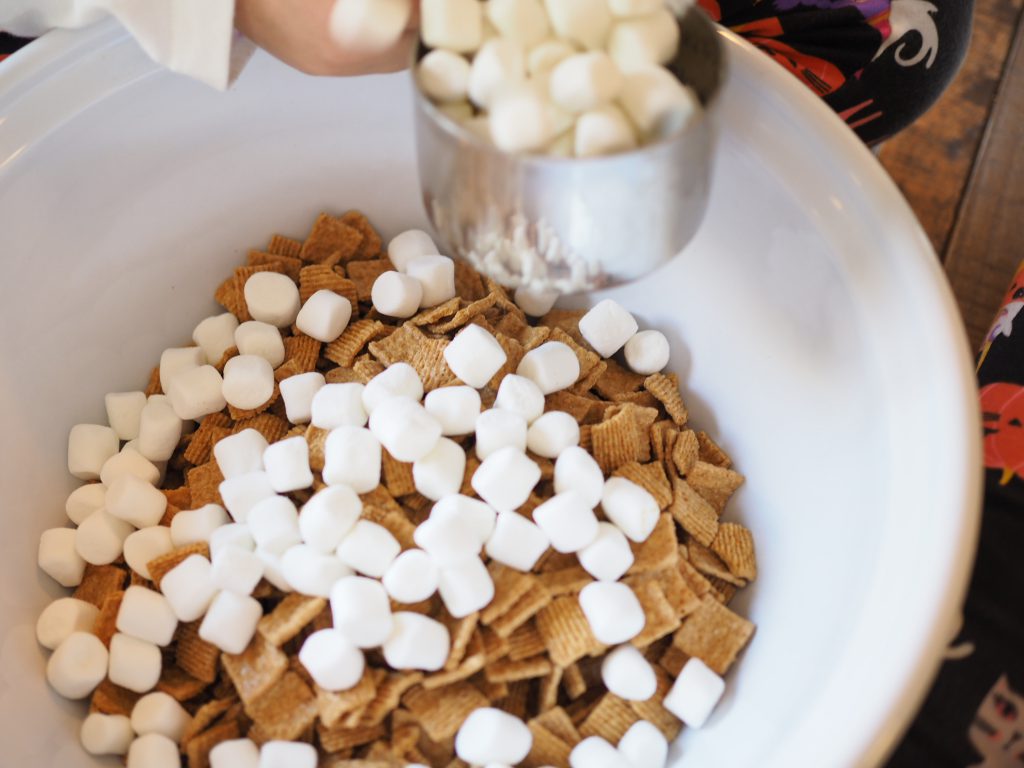 Directions:
Pour all of the ingredients into a large bowl and mix.
Separate into individual baggies for easy serving.
It's that easy!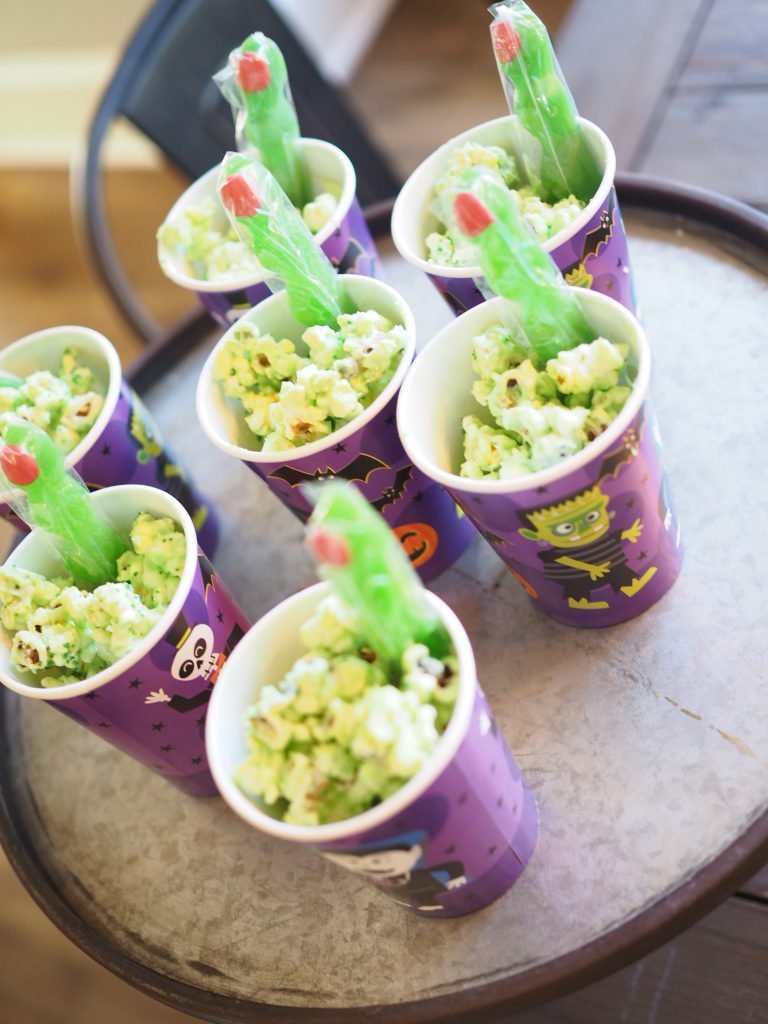 Monster Popcorn (Eyes and Ears of the Corn)
Ingredients:
2 Bags of Microwave Popcorn
16 oz. Vanilla Candy Coating
5 drops of Green Food Coloring
3 drops of Yellow Food Coloring
Monster Fingers or Candy Eyeballs (These can be found in the baking section of your local grocery store or you can use gumball eyeballs from Dollar Tree which are featured in this post)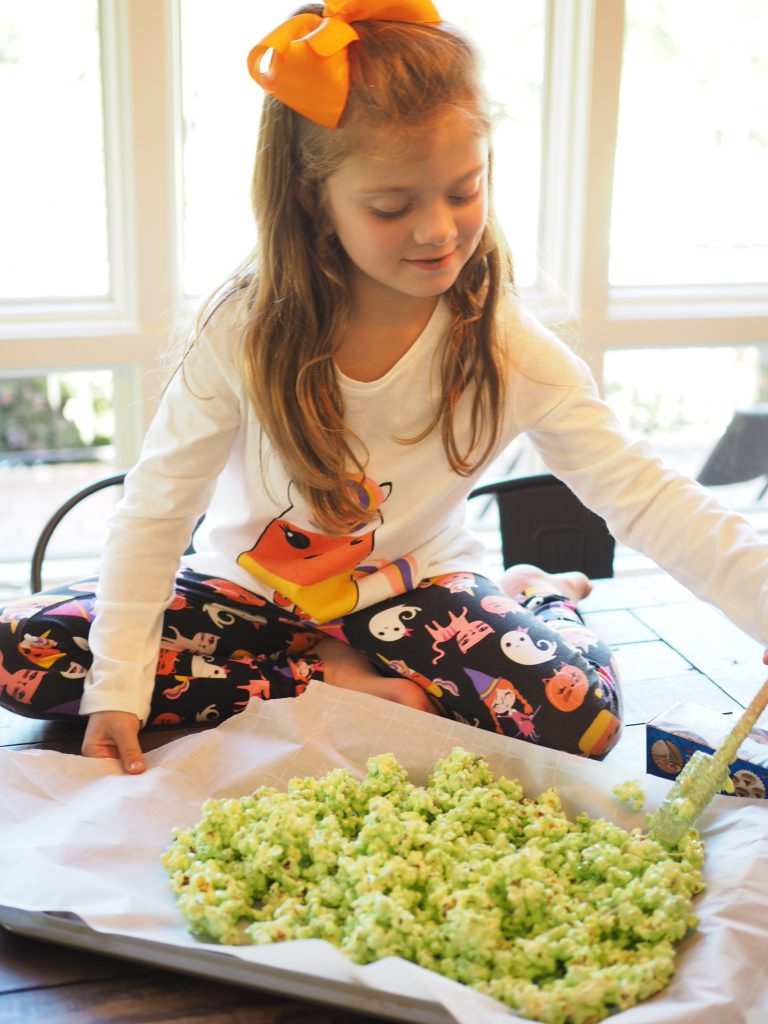 Directions:
Pop the two bags of popcorn per package instructions and set aside in either a large mixing bowl or jumbo sealed plastic bag.
In a separate bowl, melt the white chocolate bark per package instructions.
Once melted, immediately add 5 drops of green food coloring and stir.
Pour the green melted chocolate onto the popcorn and coat the popcorn thoroughly.
To cool and harden, place the green popcorn onto a baking sheet lined with wax paper and set for up to one hour.
To serve, break apart the popcorn and place inside a popcorn bowl, plastic baggies or fun paper cups.
Garnish with eye balls! (The finger garnish featured in this post is also a Dollar Tree find.)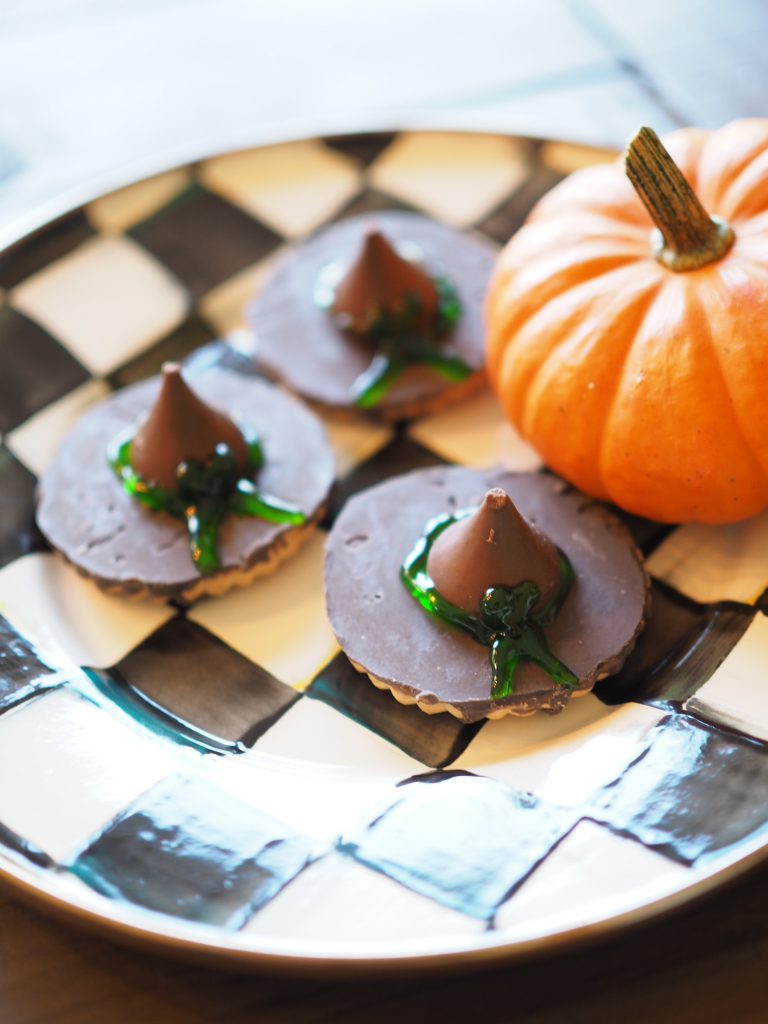 Witch's Hats Cookies (Double, Double Chocolate Chapeau)
Ingredients:
1 package of fudge-striped shortbread cookies
1 package of Hersey Kisses
1 tube of Green or Orange decorating gel icing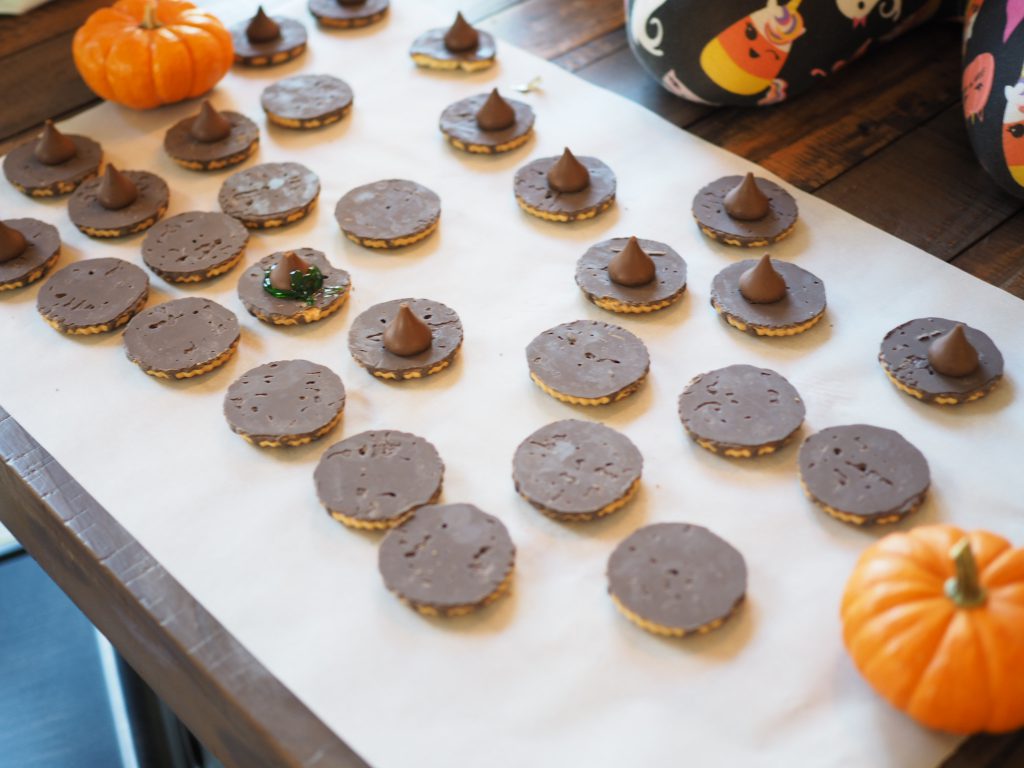 Directions:
On a piece of wax paper, flip each fudge-striped cookie over so that the pure chocolate side is facing up.
Dot the icing on the bottom of a Hersey Kiss and attach over the center hole of the cookie.
Next, create a brim and bow around the Hersey Kiss to accent the witch's hat.
So simple and adorable!
We can't wait to see what fun and kid-friendly Halloween snacks you create! Please share your Halloween treats with us on Instagram. For other Halloween ideas, check us out on Pinterest. Happy Halloween from Mohawk Home!