It's that gorgeous time of year again! As the temperatures begin to dip, I cannot help but fall in love with the crisp autumn air and the sound of crunching leaves beneath my feet.
Every year, as we head into the fall season, I look forward to refreshing my home to welcome the cozy months ahead. Here are four simple steps for the perfect fall bedroom refresh.
Step One: The Rug Sets The Tone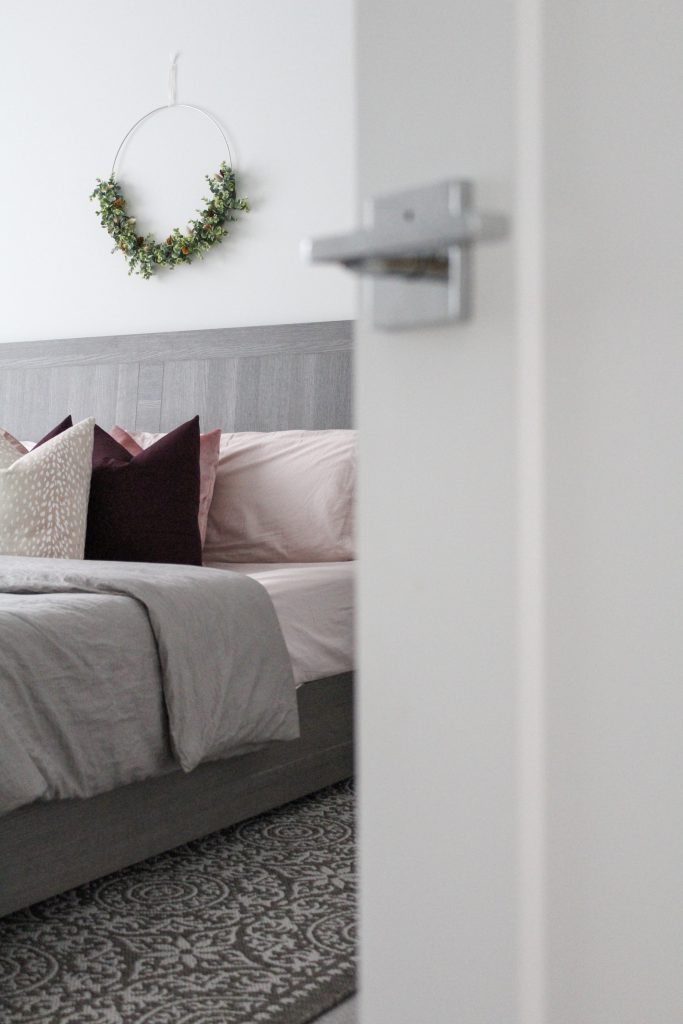 Long gone are the days where rugs are only to be placed on hardwood floors and only serve the purpose of adding comfort. Rugs are the perfect way to make a statement, add texture and color and provide anchorage to a space. That is exactly what I was going for with this silver and white indoor/outdoor rug from Mohawk Home in my guest bedroom. The Bundoran area rug in silver shows off all the colors of the room, has a gorgeous weave pattern and helps anchor the king bed in the room.
I also love the way this rug complements the art work on the wall – an extra special touch!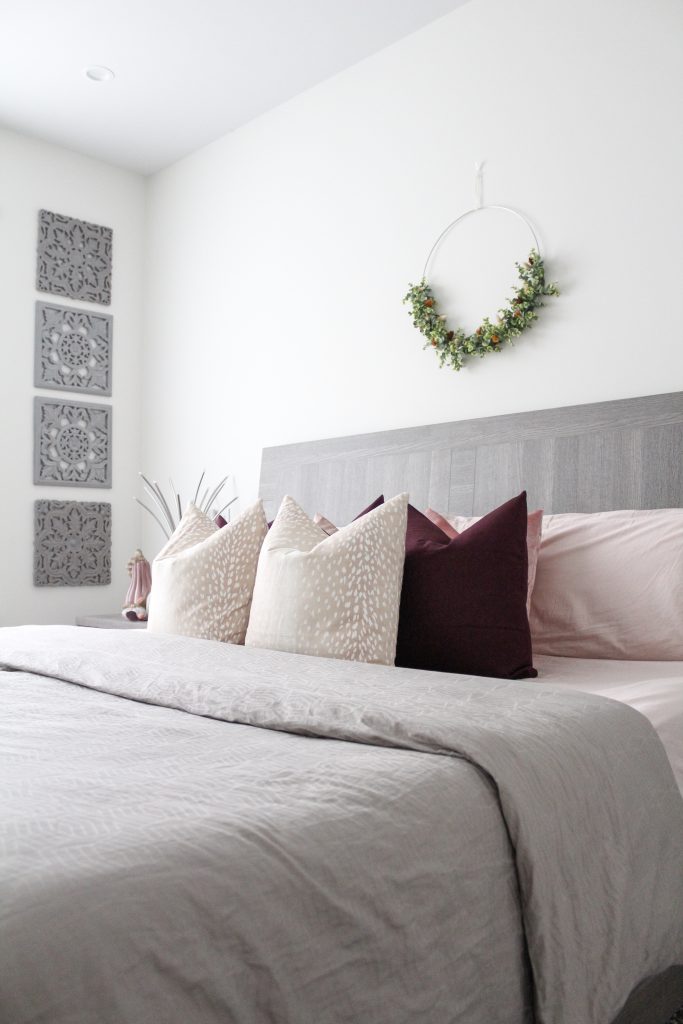 Step Two: Add Some Greenery To Bring The Outdoors In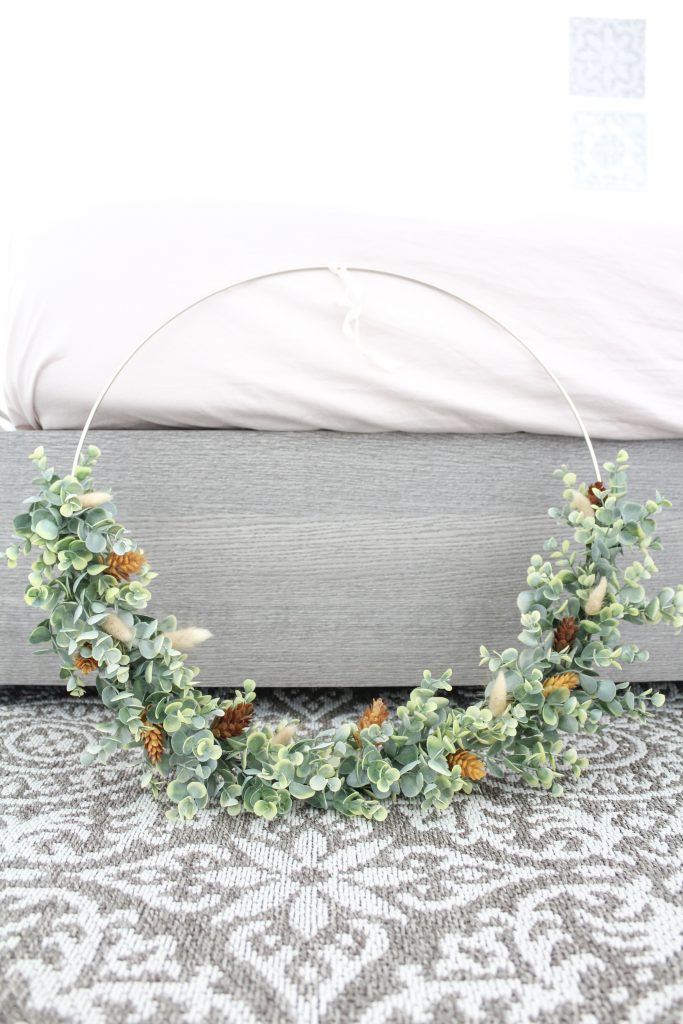 No matter the season, greenery is always in style! I love to add a vase full of green stems or fresh flowers to a room to add a breath of freshness to a space. This year, I opted to add a special twist by placing a large modern eucalyptus wreath above the bed to make a statement.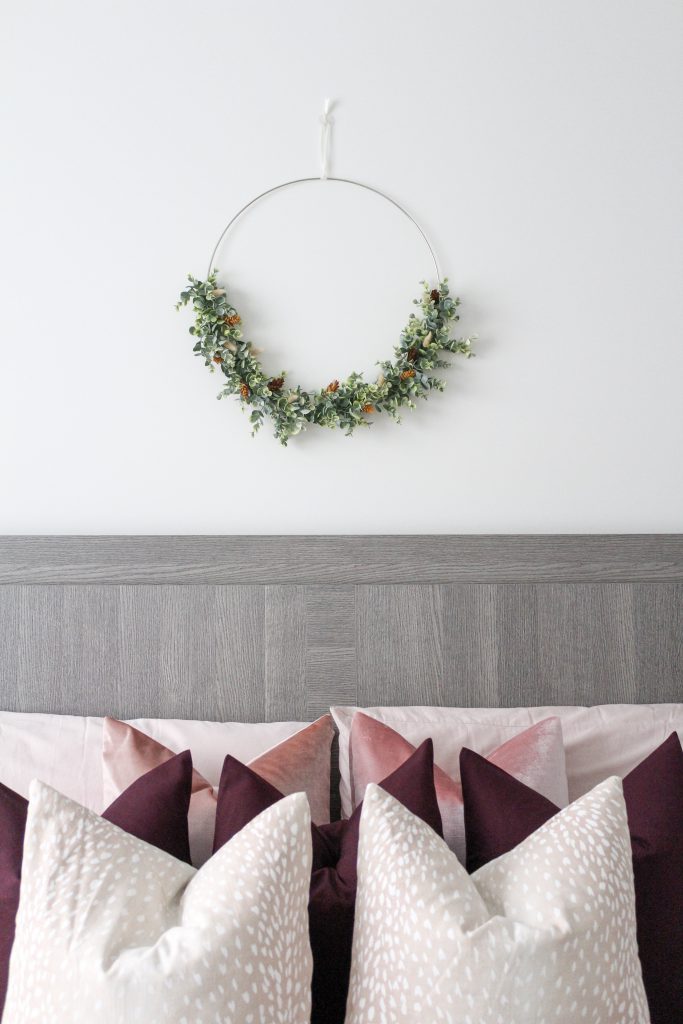 The greenery really complements the muted grey and white colors in the textured rug and in the rest of room and adds the perfect pop on the wall.
Step 3: Pull Out All The Cozies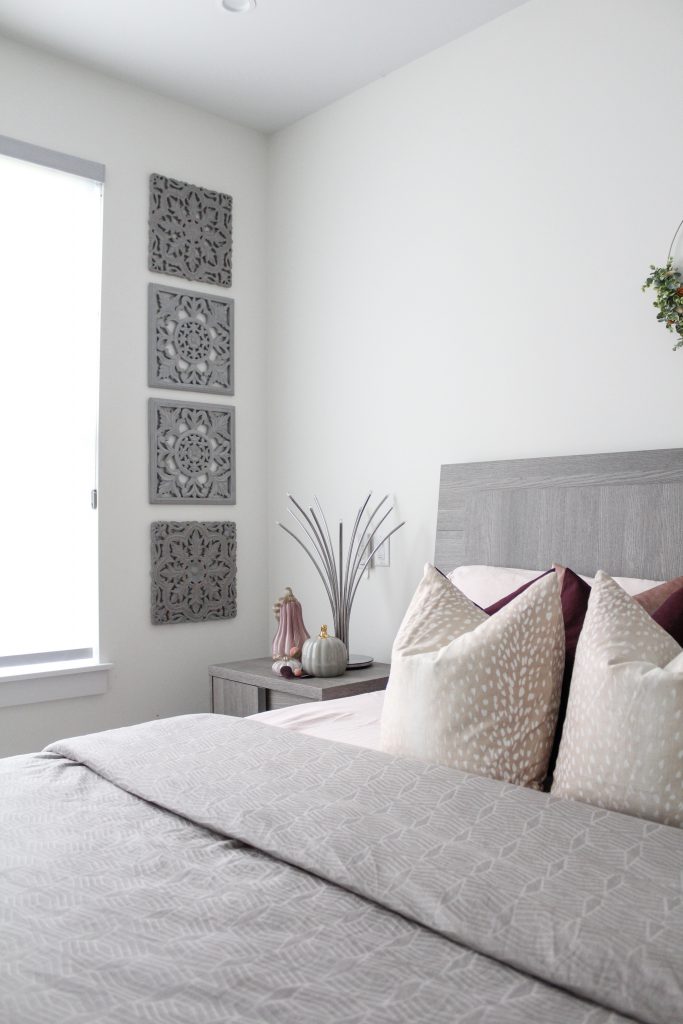 There is nothing more welcoming than a bed filled with pillows am I right? Fall and the winter months are the perfect time to pull out the extra soft and plush throws and blankets to create a warm and comforting environment. This fall, I opted to use blush pink and plum colored throw pillows to complement the gray rug, bedding and wall art.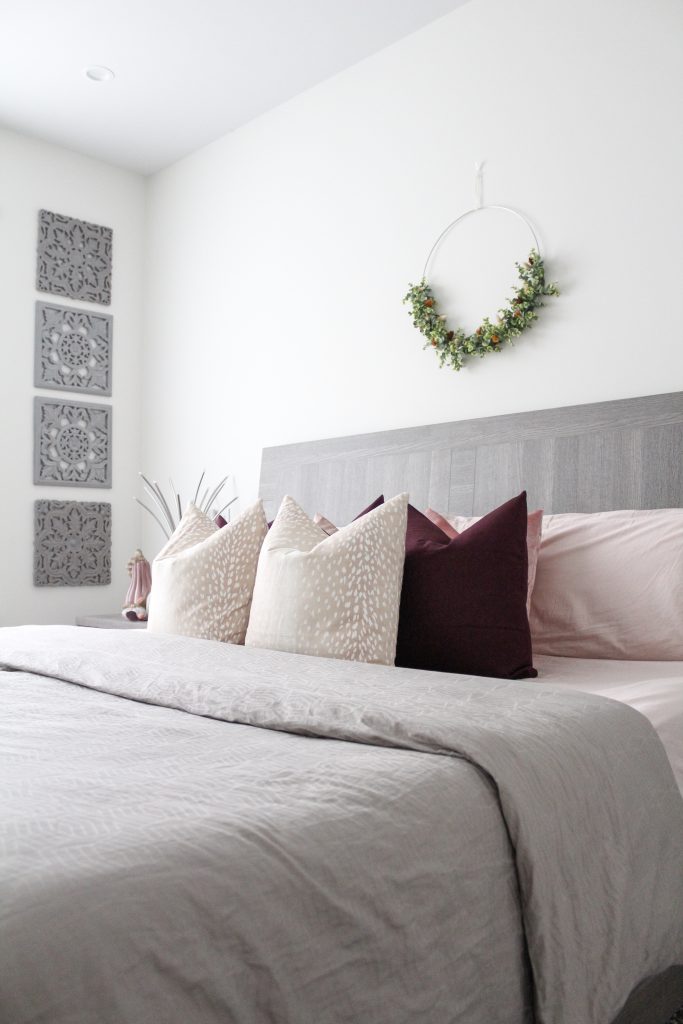 The plum colored pillows also work beautifully with the modern eucalyptus wreath – don't you think?
Step Four: Sprinkle In Some Special Moments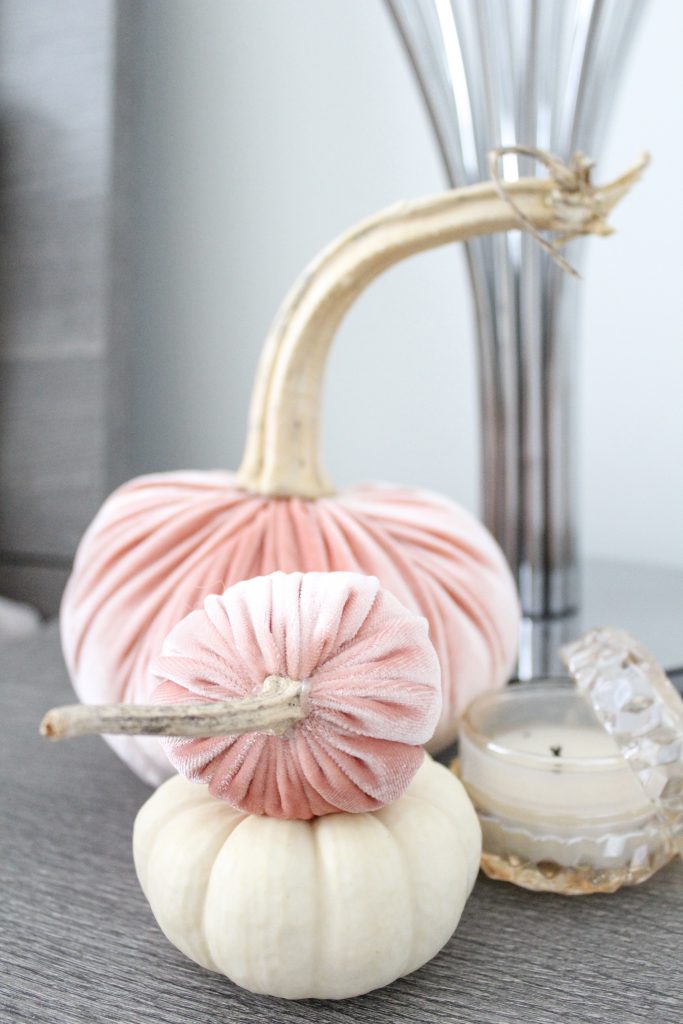 There is nothing sweeter than adding a little representation of the season in the various corners of a room. This year, I sprinkled in some faux and real pumpkins to add a touch of fall to the bedroom and I just love how this looks.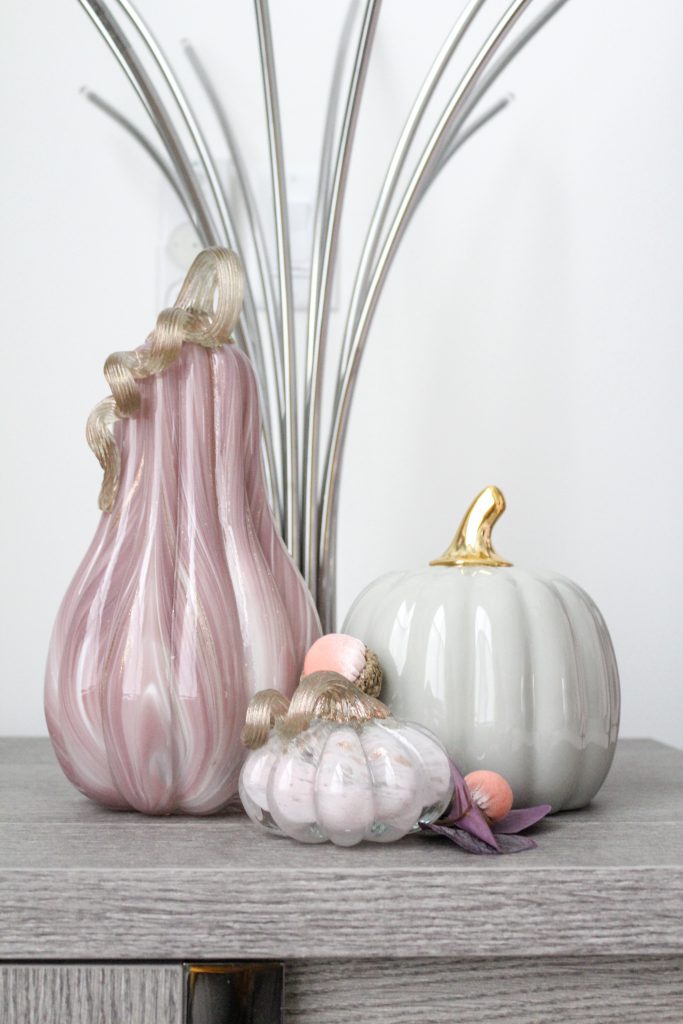 And there you have it! Simple ways to style your bedroom with touches of fall. What are your favorite ways to welcome fall into your home? Share with us in the comments below!