One of my favorite things to do is prowl around a flea market or antique mall.  You never know what treasures you might come across!  I consider it a "green" way to shop and decorate my home by keeping items out of our landfills.  And there is the financial savings you gain by scoring great pieces for relatively little money.  But it's also a wonderful way to stretch your creativity… looking at "old" things in a new way.
Last summer, I picked up this little chair at a local flea market…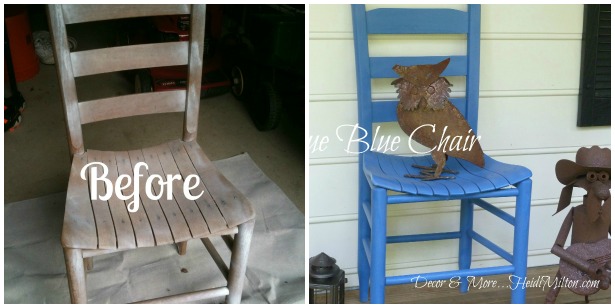 After a spray paint makeover, she's right at home on my front porch as a bright pop of color and a perch.
And when I worked on my guest room makeover, this old brass finish lamp took on new life with a fresh coat of paint.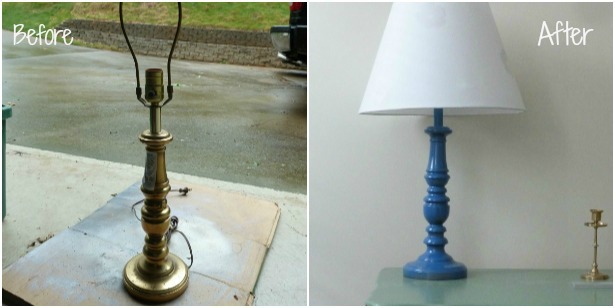 In fact, repurposed decor pieces are best sellers in many antique and decor stores.  Need some inspiration for your next flea market trip?  Pinterest is full of great projects and makeovers you can do with items you might find at your local flea market.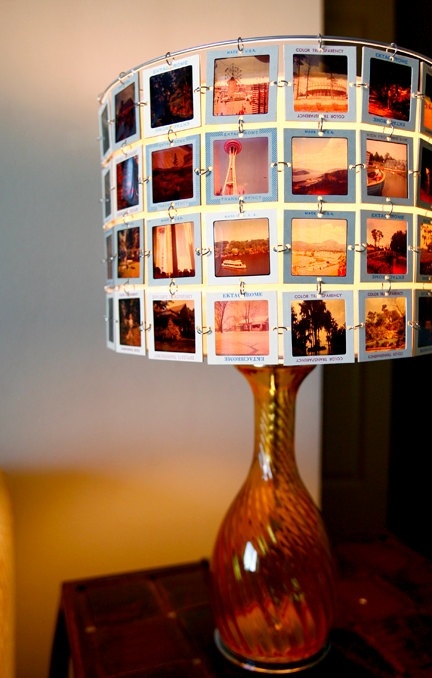 Ever come across a box of old slides or photo negatives?  I love the character they add to this lamp shade!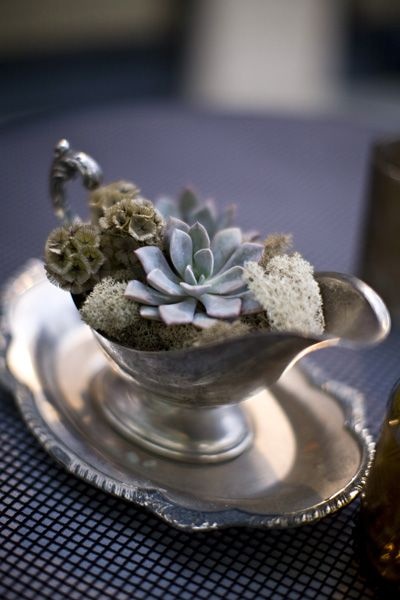 I'm a fan of old silver pieces, but this gravy boat-turned-succulent-planter takes the cake!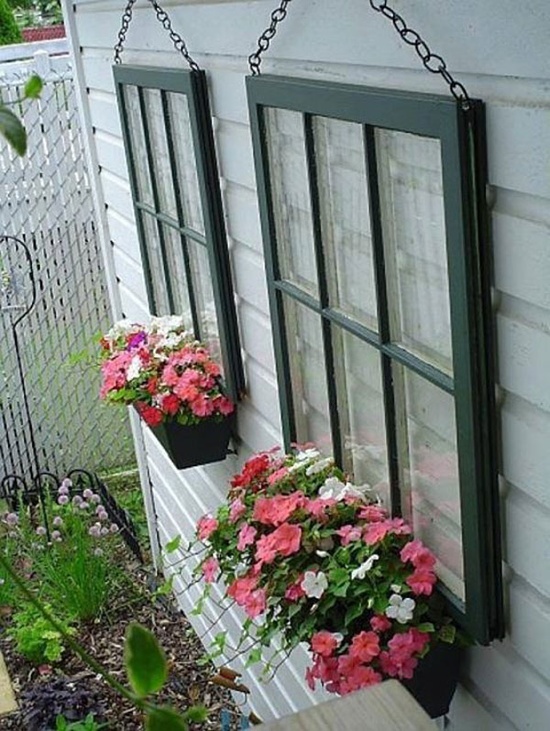 These old windows with flower boxes is a wonderful way to add interest to a blank exterior wall.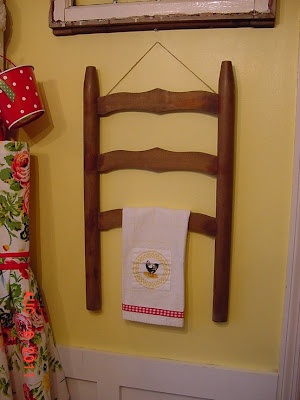 Don't disregard broken chairs or tables!  Their parts can be recycled into something interesting and useful, like this towel bar.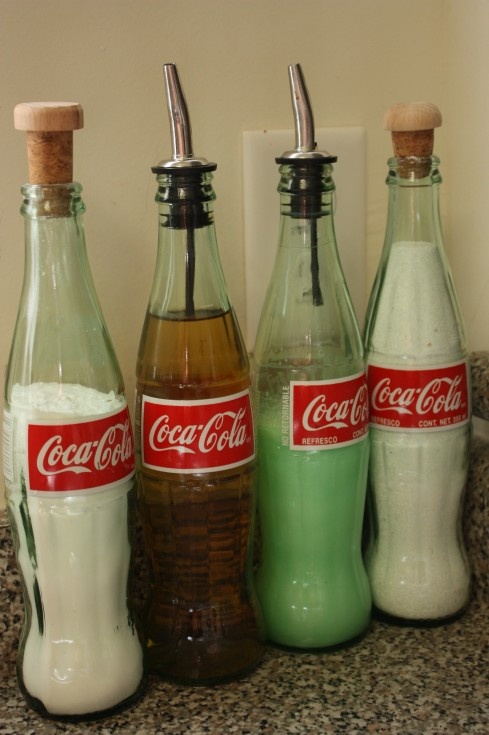 These vintage glass Coke bottles would be conversation starters in any kitchen.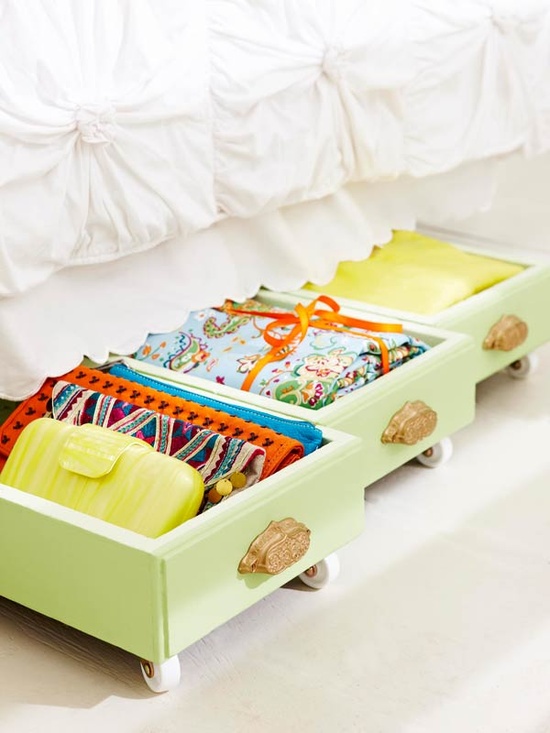 Find a dresser that's in rough shape?  Let the drawers serve as under-the-bed storage.  All it takes is a fresh coat of paint and some casters.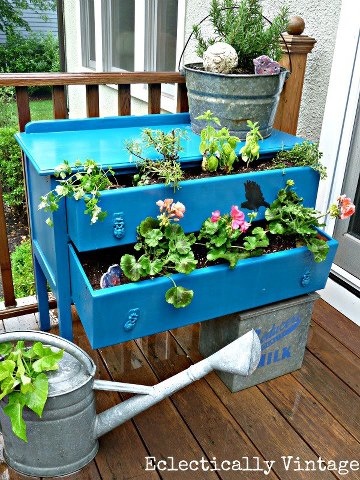 Don't need another dresser indoors?  Upcycle one into a unique planter for your front porch.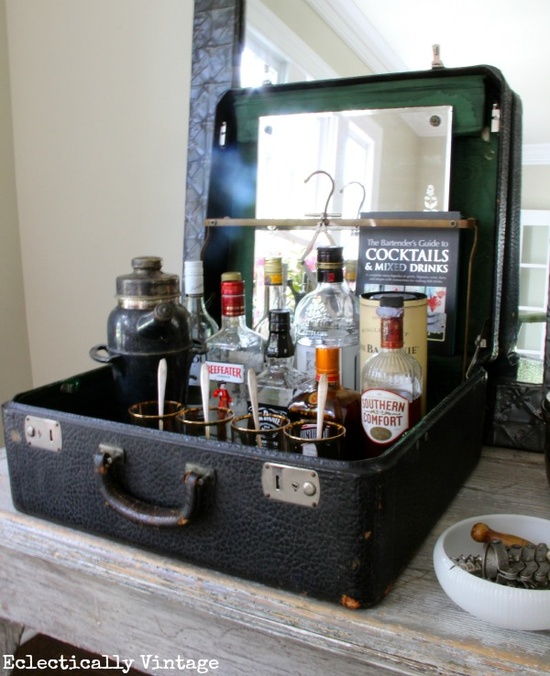 I'm obsessed with this vintage suitcase-turned-bar!  Very "Mad Men", don't you think?
Odd pieces of china are easy to come by at flea markets.  Repurpose them into unusual and color stepping stones for your garden.

Fashion odd pieces of silver flatware into interesting display stands, jewelry, or hooks.  These are usually sold in bundles for only a few dollars.
Summer time is a great time to enjoy outdoor flea markets!  Just be sure to go prepared.  Here's a little checklist for when you head out:
1. Wear good walking shoes and comfortable clothes.  Carry a bag large enough to hold a bottle of water and sunscreen, but not so large it becomes cumbersome.
2. Take cash and your checkbook — many vendors will accept personal checks
3. Bring along a wagon or lightweight rolling cart to haul your treasures away.
4. Ask for a better price!  The worst they can do is say "no". 🙂
5. Spend a little time on Pinterest browsing repurposed items before you go.  This helps get my creativity flowing!
Happy hunting!
Want to see more flea market projects? Check out Part II, Flea Market Tips and Flips.