When home shopping, people often become fixated on the kitchen, master bath, entertainment spaces and closet sizes.  The laundry room is usually one of the last areas to be considered, which is ironic because it's one of the most utilized spaces in the home.  But no matter the size, from pint sized nooks to sprawling mud rooms, your laundry room is only as efficient as you make it.  Take some tips from the inspiration worthy ideas below and see how a streamlined laundry room will help you iron out your weekly chores!
Stylish Storage
Between random clothes piles and an arsenal of cleaning solutions, the laundry room can quickly become an area of the home to hide.  Seek smart storage solutions that are easy for you to use and you'll be more likely to stick with the program.  While mismatched baskets might do the job, consider a few coordinated pieces for a polished look.  Neutral colors and thoughtful touches, like strategic shelving or an accent backsplash, can keep the laundry room looking cohesive instead of chaotic.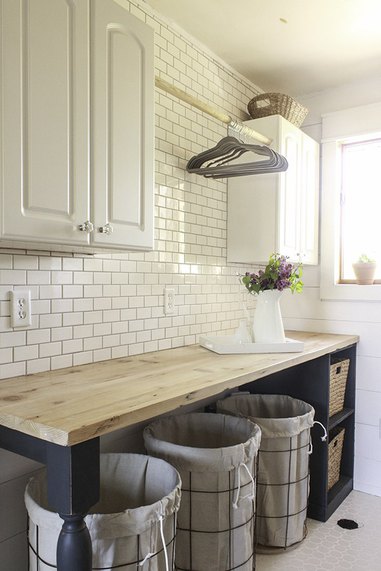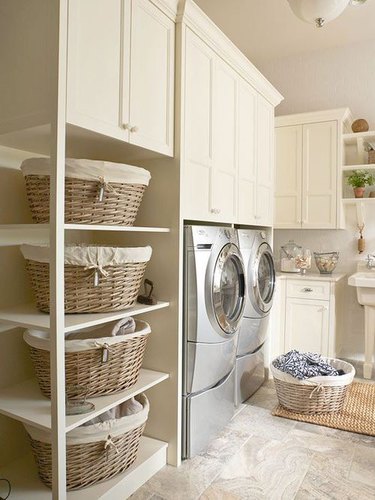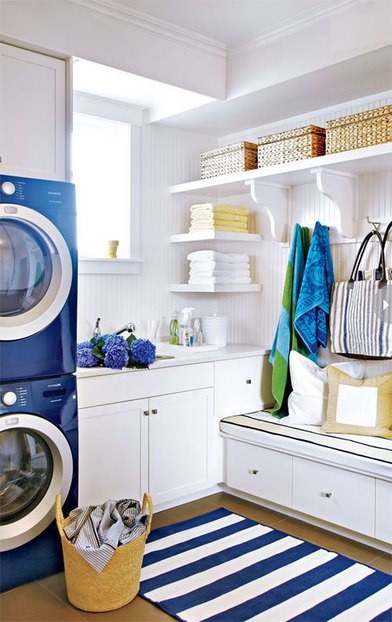 Small Space Solutions
The phrase 'laundry room' can be misleading as these spaces often aren't rooms at all.  When working in close quarters, you'll have to be clever and creative with your space.  If possible, look for opportunities to squeeze in a flat folding surface or small rack to hang items.  Be mindful of the type of washer and dryer you own and the brainstorm for the best option to fit the set into the space.  While you can create a charming closure, like the sliding barn door below, to keep your laundry corner out of sight, you might end up so proud of your work that you don't want it hidden after all!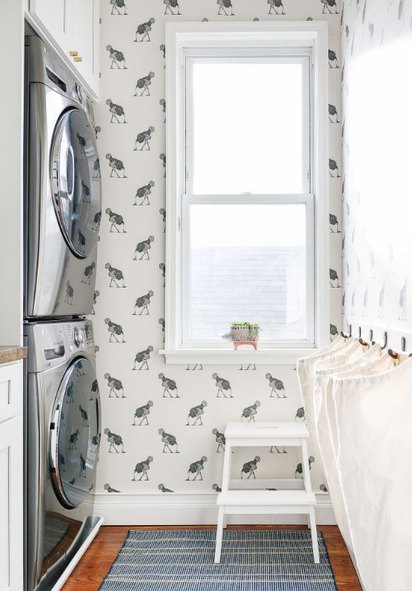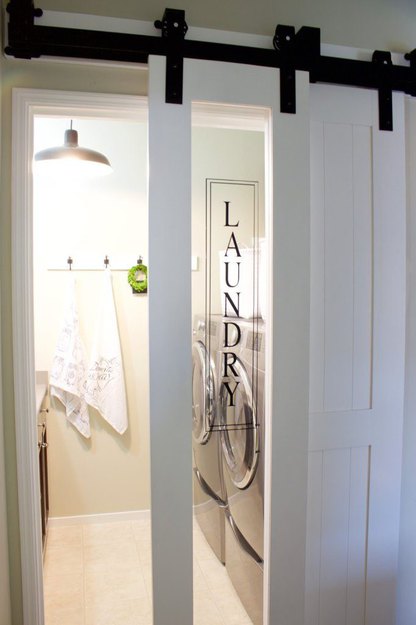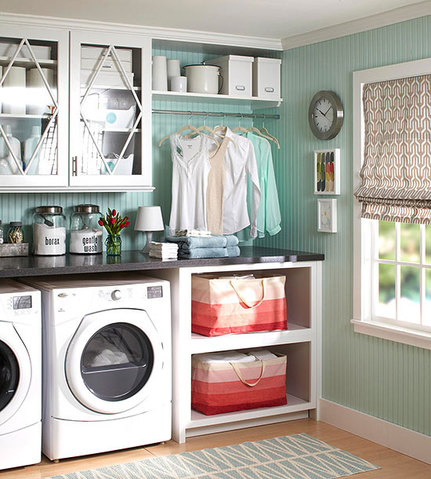 Smart and Pretty
Though the laundry room's focus is on efficiency, you can still add some style with a functional and fashionable mat or rug.  If space provides, you'll likely spend a lot of time on your feet folding, ironing and sorting laundry.  Why not add a soft, supportive layer underfoot and a wash of fresh color and pattern?  Laundry jokes are not included 🙂 .