About two weeks before our first baby, Jaxon "Jax" River Weems, arrived, my husband and I closed on an older beach house in beautiful Destin, Florida. Too pregnant to travel, we excitedly signed our closing documents and packed them into a manila envelope to mail away. Owning a vacation rental home that our family and friends could also make memories at was a dream of both of ours' and it seemed serendipitous it was happening just weeks before our newest family member would be making his debut. Naturally, we couldn't help but name the house "Captain Jax's".
Purchasing an older home, we knew renovations would be necessary. Our seemingly never-ending punch list started with repainting the exterior, separating an oversized guest room into two, installing new attic insulation, replacing the carpet with luxury vinyl tile flooring, fixing a few leaks and adding a pool. Next, we shifted our focus to making the house feel more like a home without blowing what was left of our budget.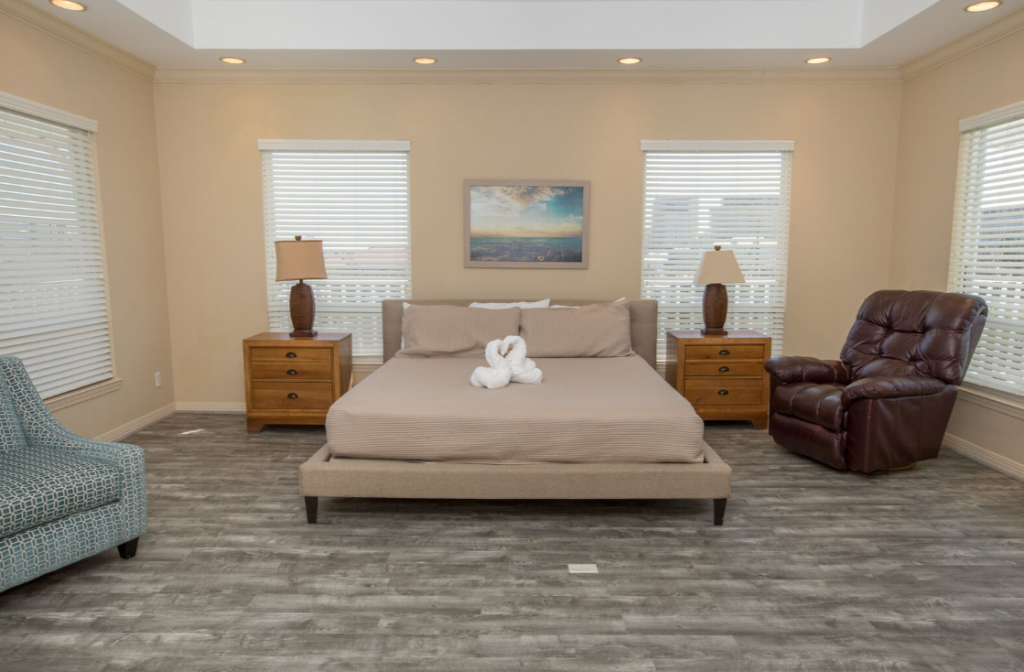 Master Bedroom "Before"
With a little baby in tow, we spend a lot of time in the master bedroom. The sprawling master suite is wrapped in windows and spans the whole top floor. Its views and seclusion are two of the reasons we fell in love with the house. We hoped our guests might agree and decided to tackle giving the master a facelift first.
After we replaced the carpet, the bedroom definitely looked better, but there was so much open floor. Not to mention, hard flooring wasn't the most inviting for a crawling baby. It was clear something was missing. Thankfully, Mohawk Home's Prismatic Collection offers a huge selection of coastal themed area rugs that are budget conscious and crafted out of stain resistant sustainable recycled polyester yarn. Their low-profile design makes them great for high traffic areas, like a rental house, and a rug pad underneath provides just enough cushion.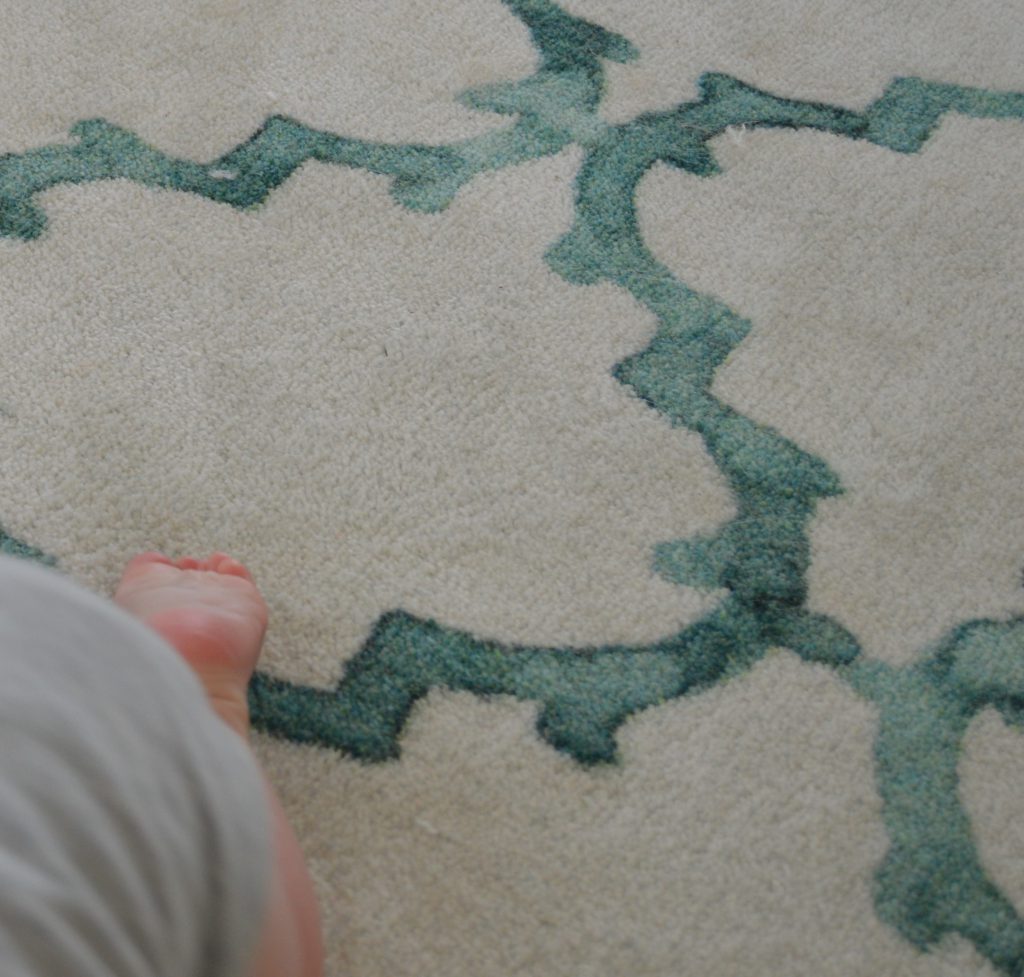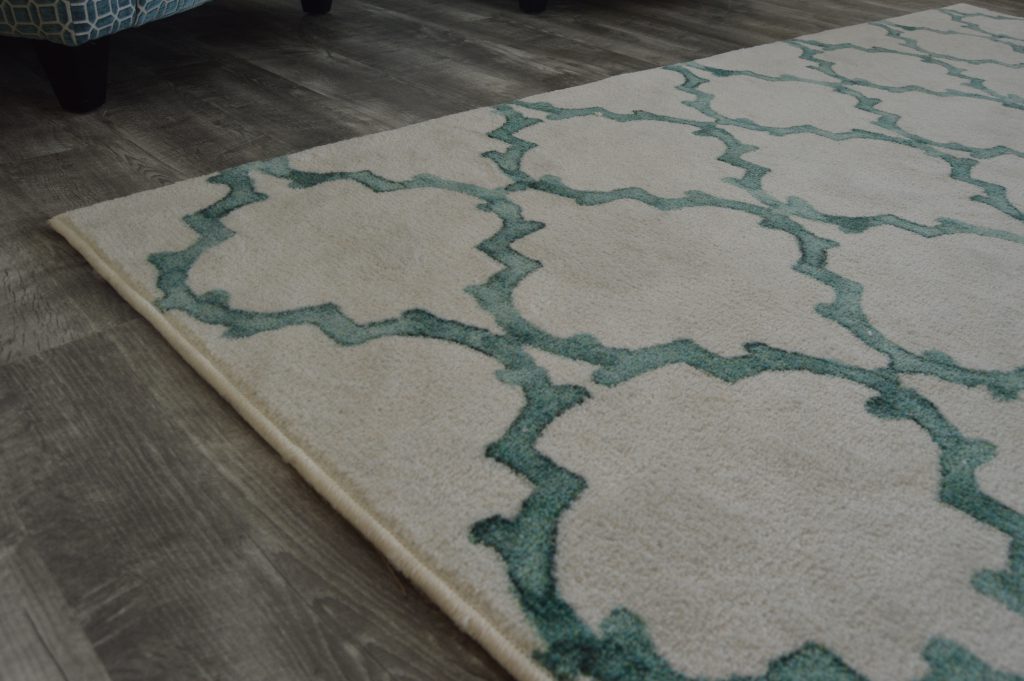 Mohawk Home Surf Fret Area Rug
We bought the house "turn-key" so it came furnished and we've tried to keep everything we can, pacing ourselves to stretch our budget as we renovate. The master had two geometric patterned teal chairs that we like and were able to keep in place. Amazingly, Mohawk Home's Surf Fret Area Rug picked up the watery blue green hue of the chairs perfectly and complimented the ocean scene artwork above the bed.
On to the next priority, I was desperate to replace the mismatched lamps at either bedside table. At first, I bought two teal lamps at Home Goods and later second guessed myself. I felt like all the color crowded the calm atmosphere created by all the natural light and neutral bedding. Target to the rescue, I found a great selection of affordable lamps and shades you could mix and match. Best yet, purchasing from Target meant we could easily replace anything broken with a few clicks of the mouse. I opted for two lamps with a faceted ivory-colored ceramic base and a natural linen hued shade to match that complimented the bed's fabric headboard.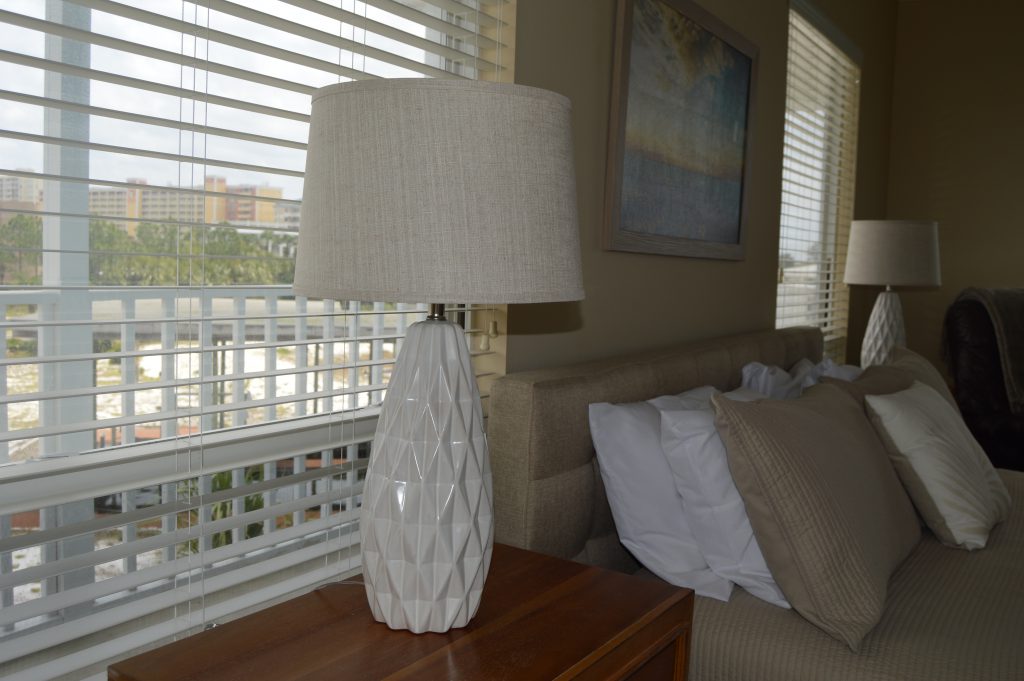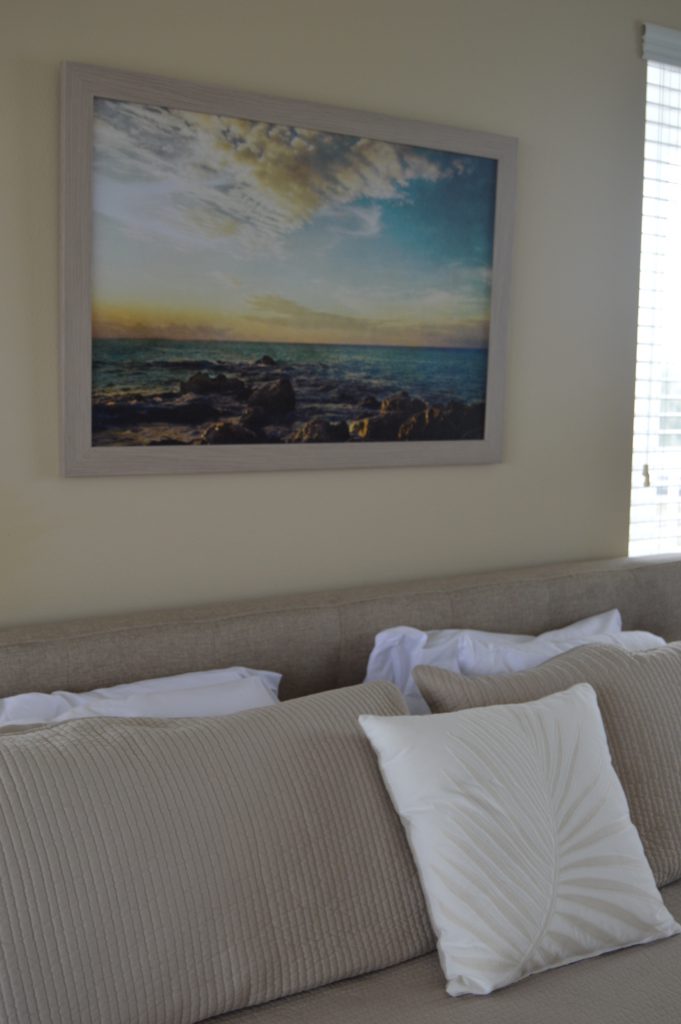 Threshold Embroidered Palm Pillow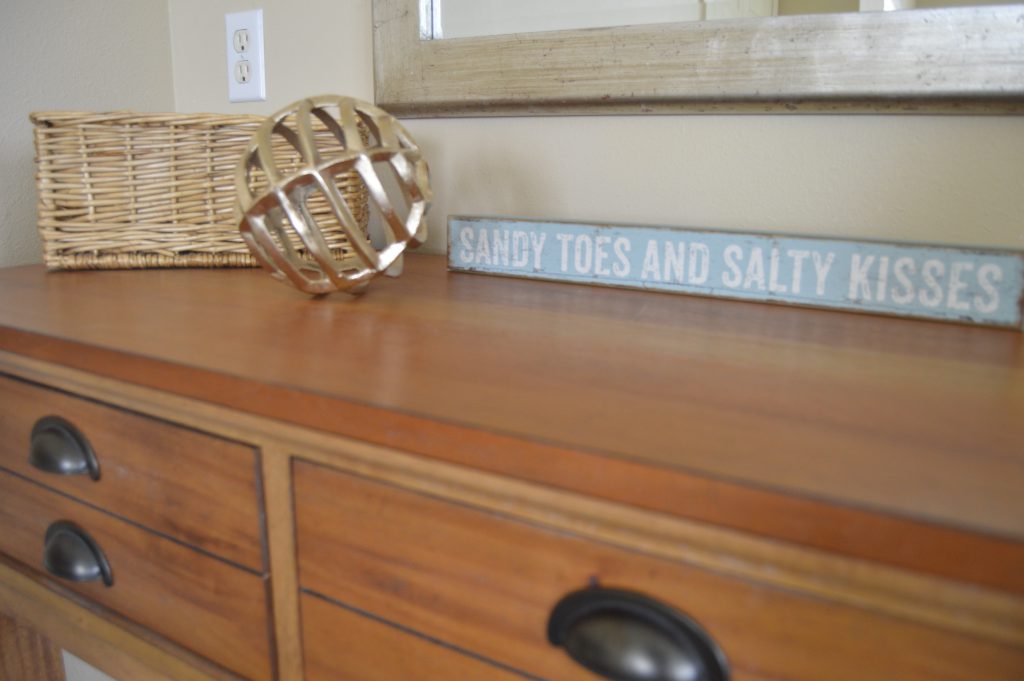 Home Goods Knick-Knacks
We decided to hold off on replacing the tan bedding for a little longer, but added a decorative throw pillow backed with a coordinating linen fabric. The pillow's embroidered palm is perfect for a beach house. For the finishing touches, I found a few beachy knick-knacks for the vanity at Home Goods for the whooping total of $5.99 each. While I don't love the leather recliner in the corner, as long as we're rocking babies to sleep, it's got to stay. A super soft tan Costco throw draped over the back helped to lighten the leather and is within reach for evening cuddles. Purchased in a two-pack, the throws are less than $15 a piece so they're also easy to replace as needed.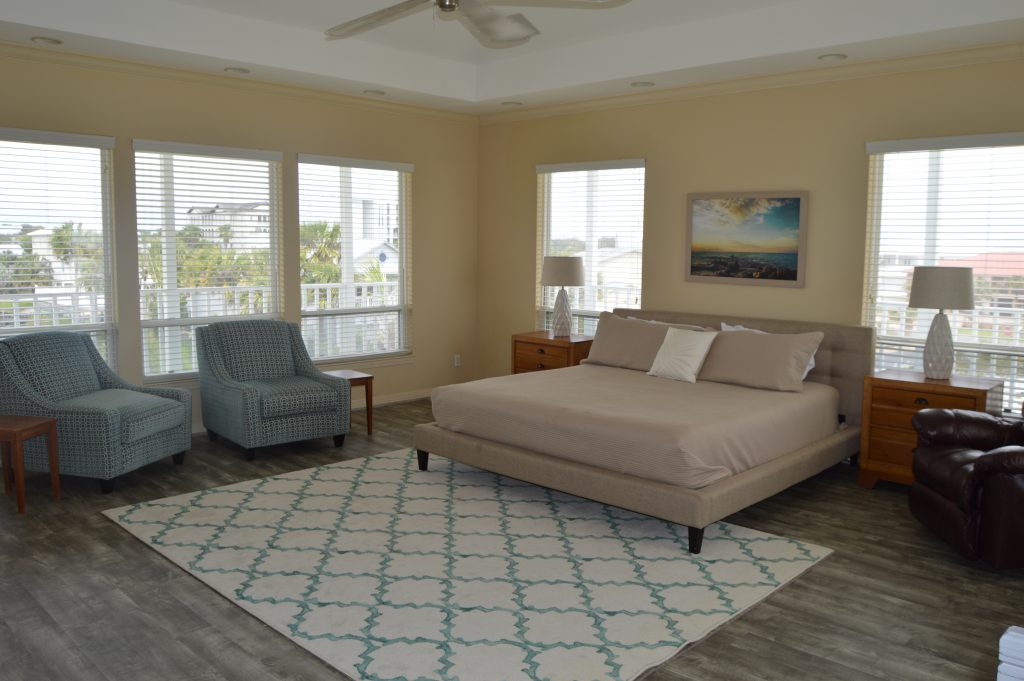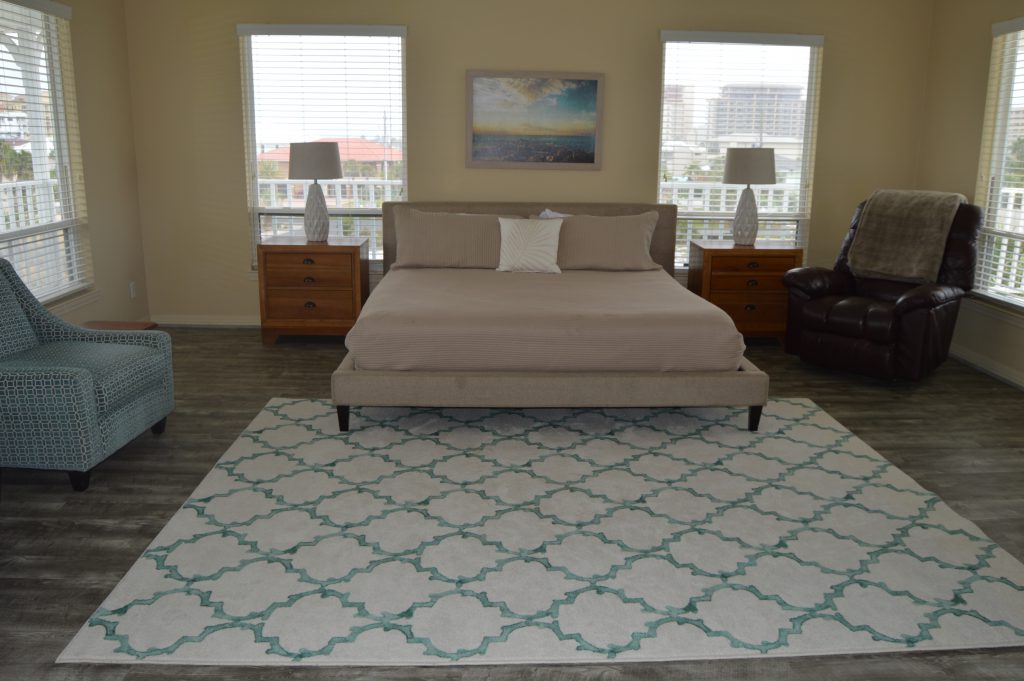 With a few budget-conscious tweaks, "Captain Jax's" master bedroom is lighter, brighter and more inviting to guests. But most importantly, the little Captain approved!