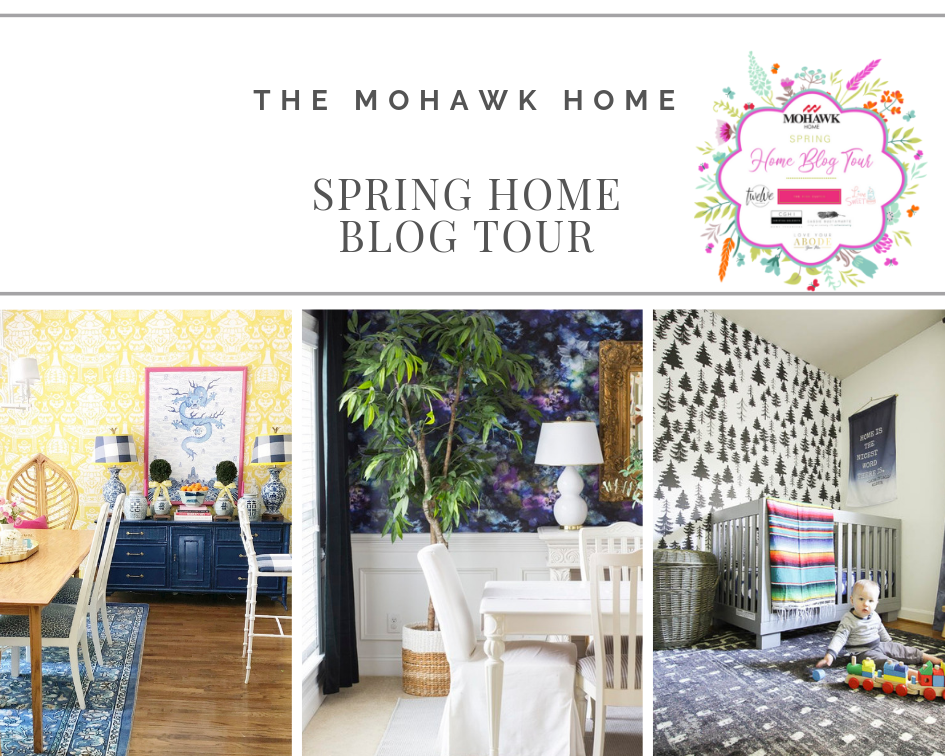 Our second annual Mohawk Home Spring Home Blog Tour brought out the boldest, brightest, and best from our world-class group of interior design bloggers. Our bloggers put together a spring breakfast room and whimsical porch refresh, vibrant master bedroom upgrade and floral dining room redo, plus a minimal living room redesign and a bright and happy nursery for an adorable baby boy. Each space captured the incredible design flair of our bloggers while showcasing their beautiful new Mohawk Home area rugs.
Soft, plush, and budget friendly, was really the driving factor in interior designer Christina Goldsmith's master bedroom upgrade. Using mood boards and her Instagram audience, the landslide vote for this new Mohawk Home Emiko Vintage area rug really hit the mark! Pretty pastels featured in the area rug compliment the neutral colors and accessories throughout the bedroom, with the vintage pattern providing just the right amount of artistry to strike the ideal balance.
Making her second appearance as a blogger in our Spring Home Blog Tour, Yuni of Love Your Abode chose to tone down the furnishings and accessories in her dining room to allow the floral elements in the room to take center stage. Swapping out a colorful area rug for our indoor/outdoor Montauk area rug in silver created an entirely different look and feel to the dining room. The silver color blends beautifully with the white and wood materials of the dining room table, vase and lamps. With this new neutral area rug, the floral wallpaper and greenery can truly shine!
Oh, the places you will go! Dr. Seuss might not have inspired this space, but rather Mom Cassie, who succeeded in creating a warm and fresh nursery for her one-year-old son to grow and thrive. Cassie selected this new Mohawk Home Marrakesh area rug in Graphite for its low pile, eco-friendly materials and grown up feel that put the finishing touch on this transitional nursery as her son enters toddlerhood. The incredible softness and durability of the area rug will also support Wilder as he crawls, plays and takes his first steps in his charming bedroom!
Sometimes, all your room needs is a little reorganizing and paring down to achieve a completely new look that's perfect for spring. Sara from Twelve on Main discovered all she really needed was to reorganize some furniture, shave down her beautiful wood coffee table, and add a new Mohawk Home area rug for her seasonal living room refresh. Our Mali by Under the Canopy area rug in Gray features blue and charcoal undertones that help her achieve the minimalist look and feel to her living room. A major thoroughfare of her home, the inviting qualities of the area rug plus the added space around the coffee table, creates a comfy spot for her family to gather in front of the fireplace during these last nippy evenings.
While not officially part of her spring refresh, we love the serene space of Sara's dining room, featuring our Seti area rug in Aqua.
This spring breakfast nook refresh is just bursting with vibrant color! Paige at The Pink Clutch marries so many different bold hues with contrasting patterns that all manage to work really well together. The blue in her new Mohawk Home Shenandoah area rug from our Prismatic collection is a perfect fit, complementing the Oriental vases, pink frame dragon print, yellow wallpaper and nautical curtains. As it's both stain resistant and pet friendly, Paige's new area rug can also handle the daily wear and tear of both her adorable Beagle and her family meals!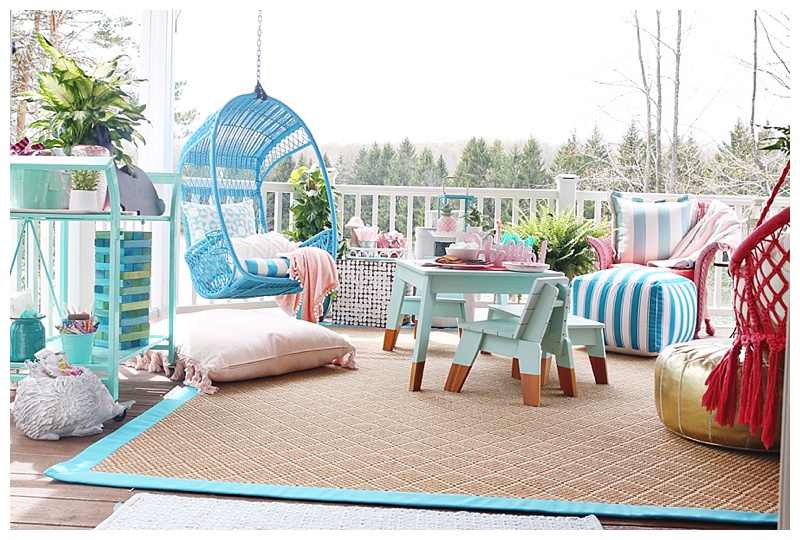 Our second indoor/outdoor area rug in our spring home blog tour was actually used in a sunny, enclosed porch that's warm weather friendly! Leslie of Live Sweet Blog was really inspired by our Sunbrella Canvas Indoor/Outdoor Aruba Area rug for it's neutral color and bold aqua border. Leslie transformed her outdoor space into a kid-friendly, whimsical living area that's perfect for the spring and summer. We love the functionality of the space: the fire tower that's perfect for s'mores, the petite tables and chairs and buckets of crayons for hours of arts & crafts fun, and the cozy hanging swing and plush ottoman. We can truly imagine the amazing family memories that will happen in this happy, whimsical space.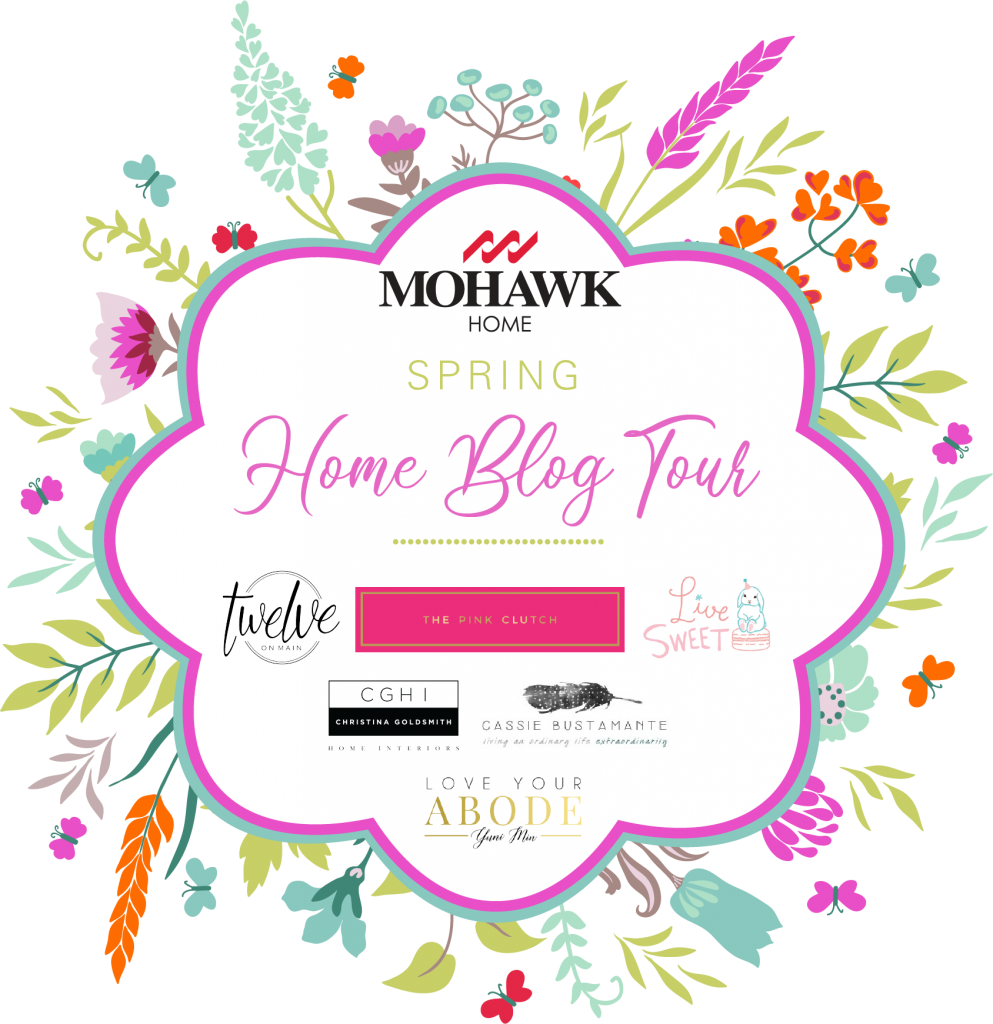 Looking for your own spring/summer home refresh? Let us help you get started! We're giving away three Mohawk Home area rugs size 8×10 from April 25-May 9, 2019. Enter here for a chance to win; winners will be announced via email on/around May 19, 2019.
Love what you see? Share your reaction in the comments!