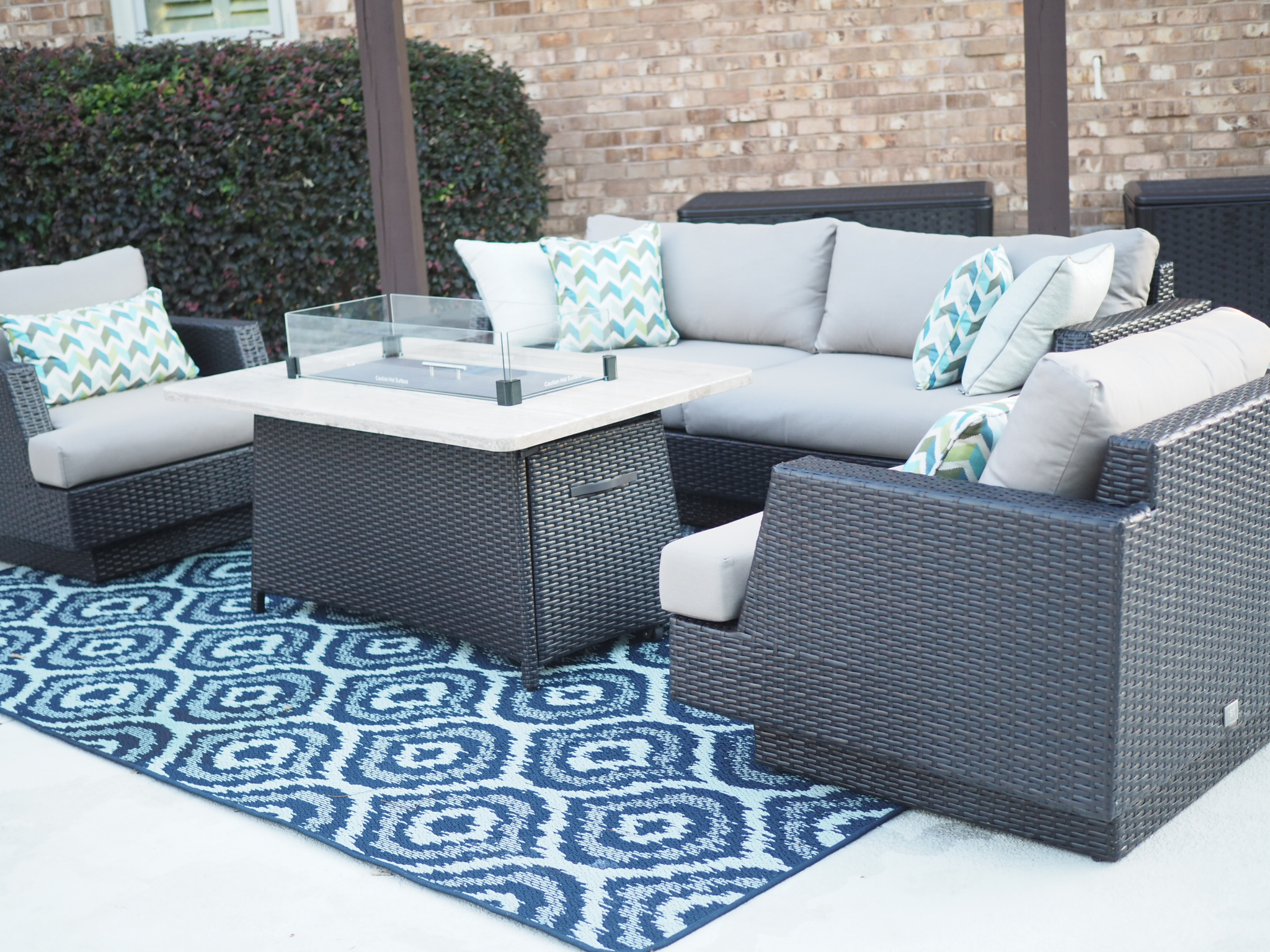 It's almost summer and the livin' is easy. Well, it's almost easy, as soon as I finish planting my pots, pressure washing everything, opening the pool and making my backyard space Pinterest-perfect. Then it will be easy. Prepping your outdoor space for summer is a lot of work, but once it's done– the real summer fun can begin.
If your family is like mine, we spend more time outdoors than indoors in the summer. My girls love tending to our boxed gardens, leisurely swinging on the swing set, jumping on the trampoline and, most of all, swimming! Last summer, we invested in our pool area by adding an outdoor kitchen so that we could enjoy lots of yummy grilled meals outdoors. We love it! Next year, our girls have big dreams for us to add a water slide. This year, the fun unicorn sprinkler I found at Target will have to do.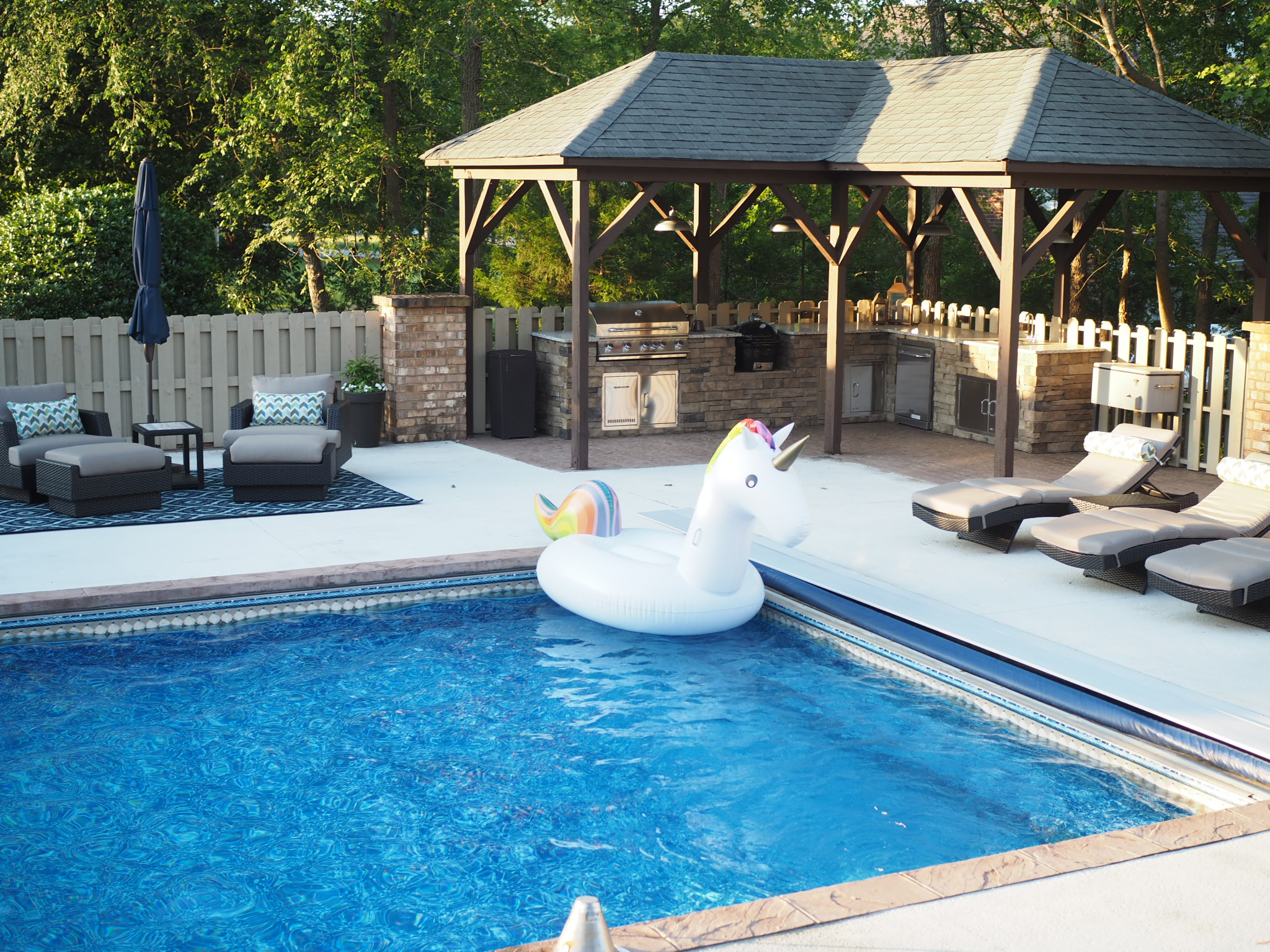 Patio spaces and pool decks can oftentimes present a design challenge. The spaces can be oversized and expansive, and defining individual spaces or seating areas is tough. You don't want the eye to look out into a sea of concrete or pavers. The solution to this challenge? Outdoor rugs by Mohawk Home, of course.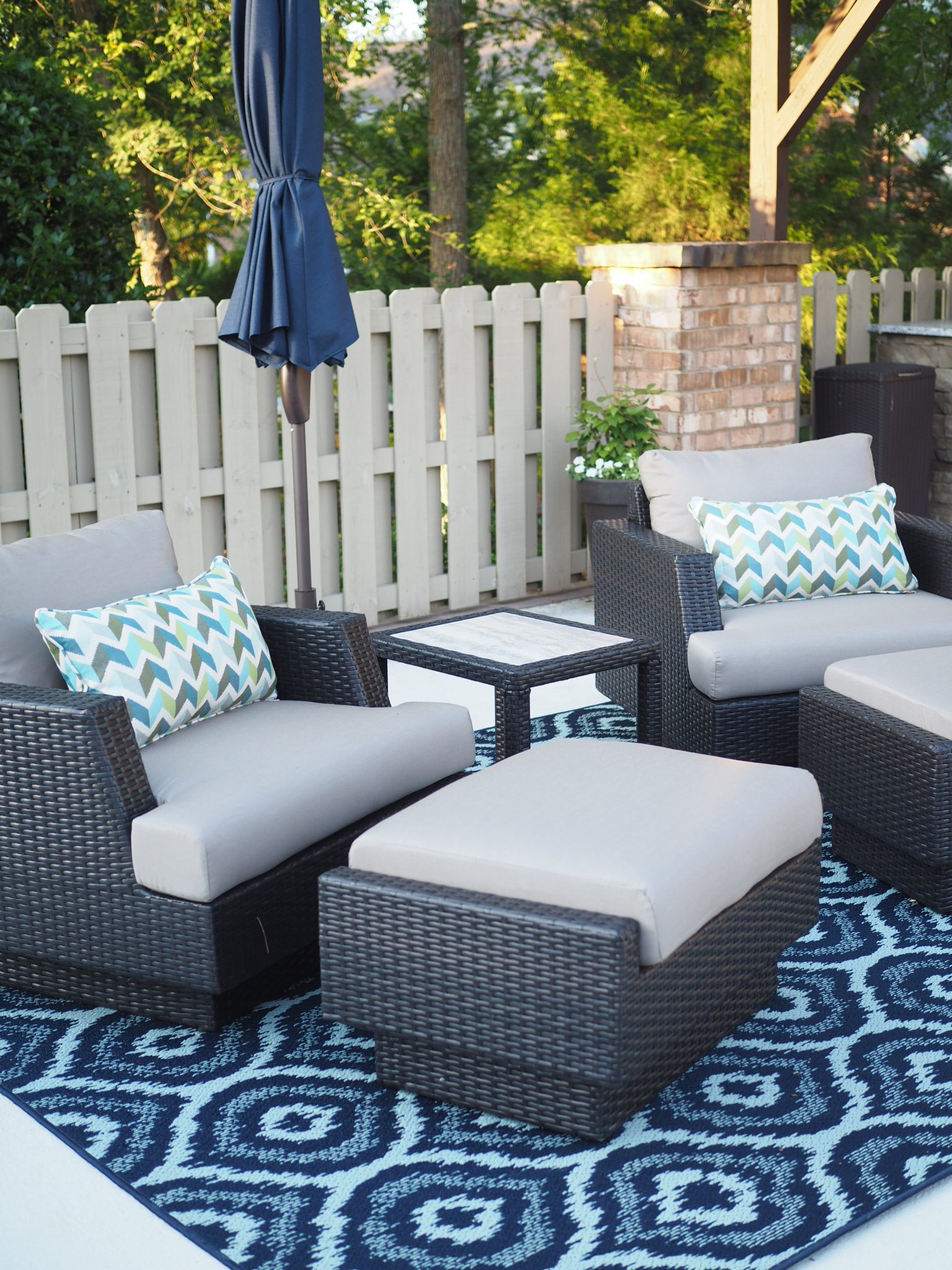 Outdoor area rugs lend a homey feeling to your outdoor space by adding texture and comfort. Their unique construction is made to withstand the elements and dry up quickly after a rainstorm. And, best of all, outdoor rugs create dedicated spaces in your outdoor design so that furniture groupings make sense.
To define my outdoor pool area, I selected two 8' X 10' Mohawk Home Oasis Morro Indoor/Outdoor rugs in Aqua. How adorable and stylish is this area rug? The deep blues in this rug are repeated in my outdoor throw pillows and outdoor umbrellas. All of our outdoor furniture is from RST Brands and the Indigo umbrellas are from Sam's Club. Instead of an endless amount of concrete and confusing seating configurations, these beautiful outdoor rugs define two separate seating areas seamlessly.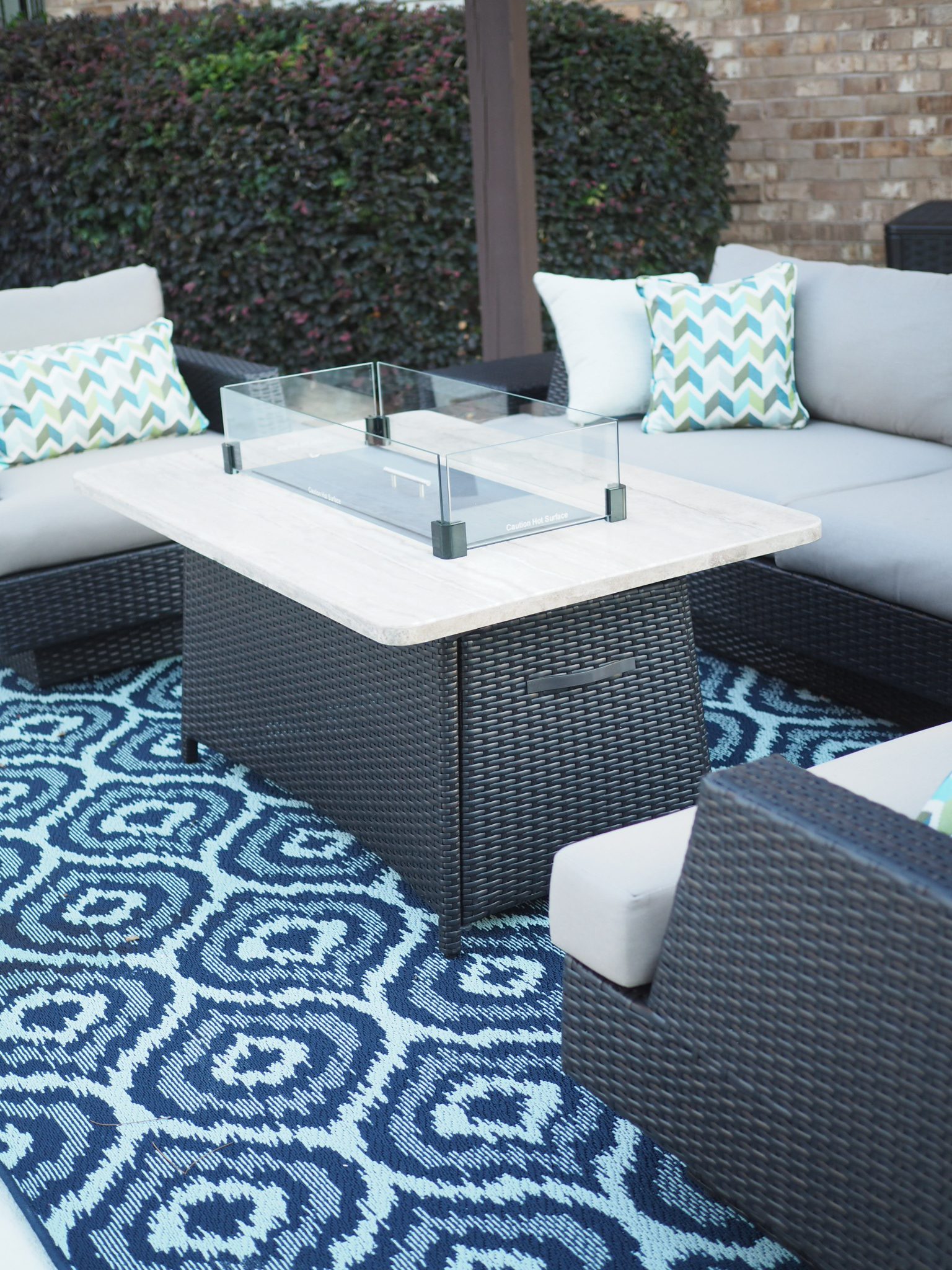 The Oasis Morro Indoor/Outdoor rug features a flat weave style crafted from outdoor, weather-resistant polypropylene yarn. Each rug in the Oasis Collection has undergone extensive fade resistance testing and features an attractive sisal-inspired look which I love. The oversized geometric pattern is on-trend and adds style to my entire outdoor space. I'm in love! And the rug is available in coral, natural, navy and aqua. I'm even considering putting the rug in natural in my kitchen for a great kid-friendly and pet-friendly surface, so don't be afraid to think beyond the outdoors for this great design and durable construction.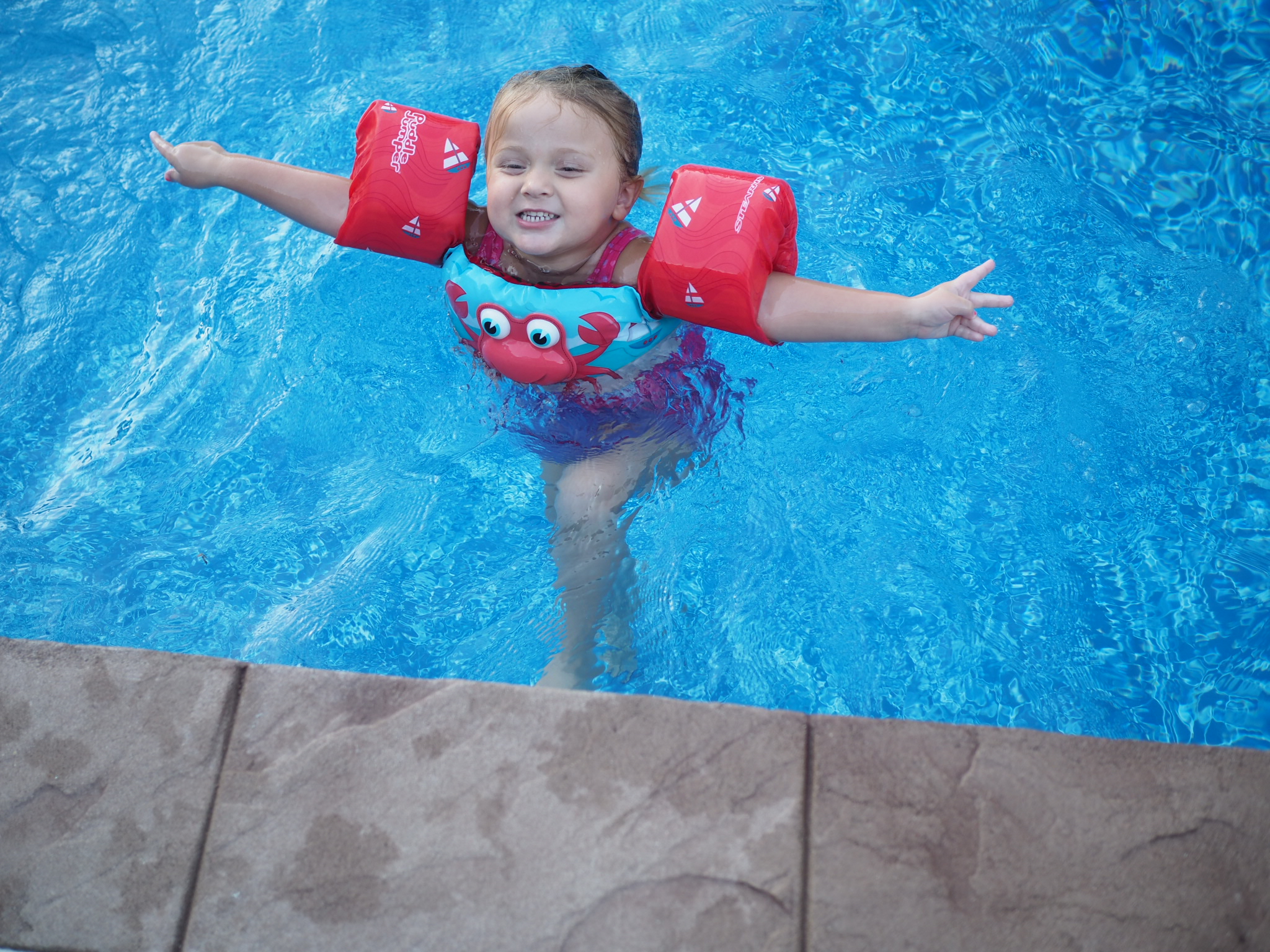 As I'm concluding this post, I hear my little girls giggling outside as my husband is firing up the grill. The outdoor TV is on and my oldest daughter is turning on the festive garden lights. I'm soon going to be gathering up condiments and marshmallows for the perfect summer night at home.
It's summer, y'all! Make sure to slow down and enjoy all this special season has to offer.