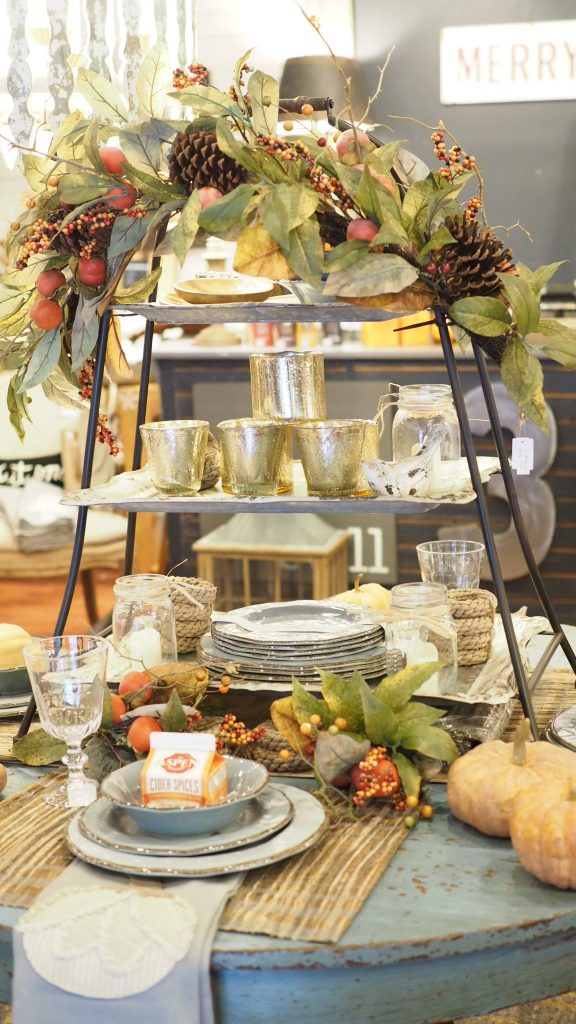 While the holidays can oftentimes feel busy and overwhelming, there are a few traditions that I absolutely adore. Setting the Thanksgiving table is a festive task that I look forward to every year, because the table is the heart of the feast. I love sitting down over flickering candles, beautiful dishes, and accents of warm orange. Even as a young girl, my grandmother would wait on me to arrive early to decorate and set the table together each year.
Instead of setting my own tablescape for you this Thanksgiving, I'm taking you with me to visit my favorite local shop here in Calhoun, Ga., 365 on Piedmont. The store manager, Kimberly Turner, does an amazing job designing the perfect Thanksgiving table that is equally gorgeous and functional. I hope you love it as much as I do!
The key to an interesting and eye-catching Thanksgiving table is both layering and height. A flat table design without texture and height is just plain boring. Think big, bold, layered, and fun when putting together your table. Kim and I live by the motto "go big or go home!" For this Thanksgiving table, Kim started with a rustic yet charming round table that is chalk-painted in a color like Provence from Annie Sloan. Underneath the table, you'll find a stunning Karastan Studio by Scott Living area rug in Artisan Equilibrium Smokey Grey. The rich charcoal with modern gold accents adds a sophisticated touch. Plus, the triexta fiber makes it super easy to clean spilled cranberry sauce, turkey gravy, or any other stain pain.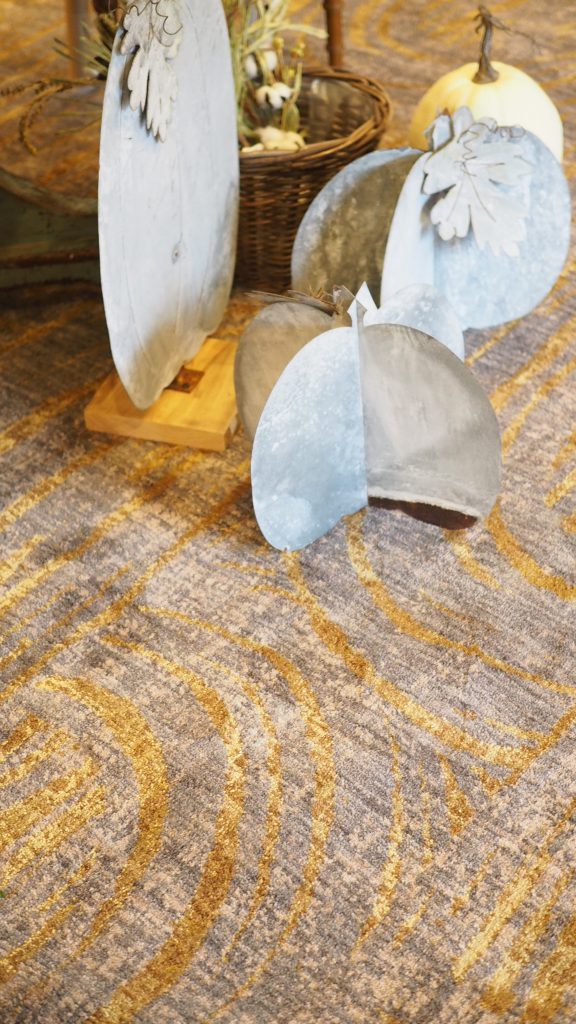 To create layers, Kim did not use a tablecloth—but, instead, built texture by starting with a burlap table runner and then adding large woven placemats on top. Next, Kim added Tag melamine dinnerware. I love these dishes because they look just like ceramic but are way more durable and easier to clean. Large glass goblets lend a festive feel, while the napkins are actually oversized grey dish towels (one of my favorite hacks for special events) that feature white pumpkins. Kim accented the table design with different shapes and sizes of faux pumpkins as well as votive candles in mason jars.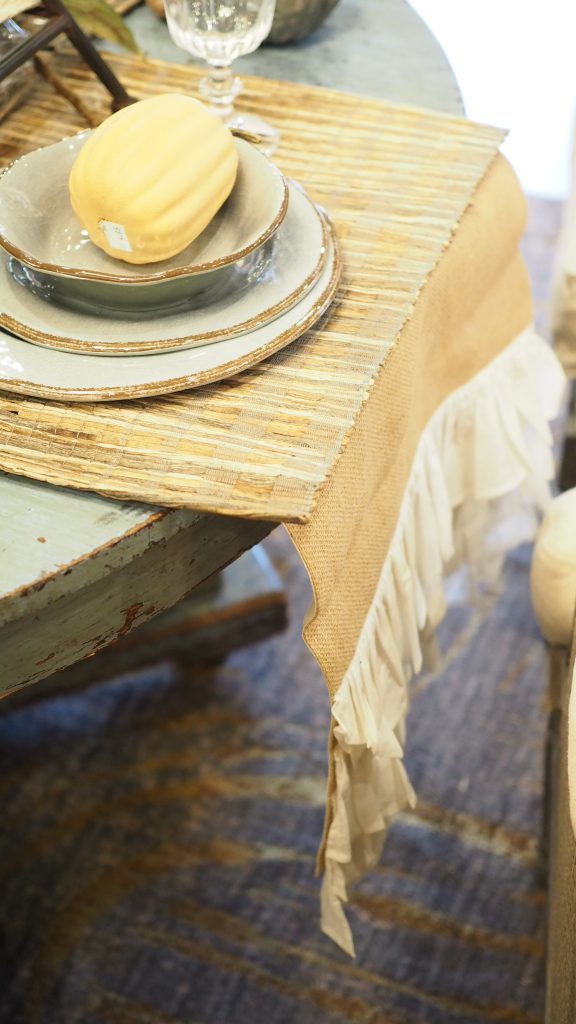 For the centerpiece, 365 on Piedmont adds drama with a huge three-tiered serving tray from Tag, finished with cascading fall garland. Not only is this serving tray beautiful, but it's functional as well. Use the tray for appetizers before the meal begins, for bread and condiments during the meal, and as a place to serve desserts after the meal. Each place setting is finished with a take-home favor of mulled cider spices for each guest.
Dining chairs also don't have to be traditional. Here, you'll find cozy arms chairs and French-inspired chairs surrounding the table. How would you add a cozy vibe to your table this year if it had with different furniture pieces?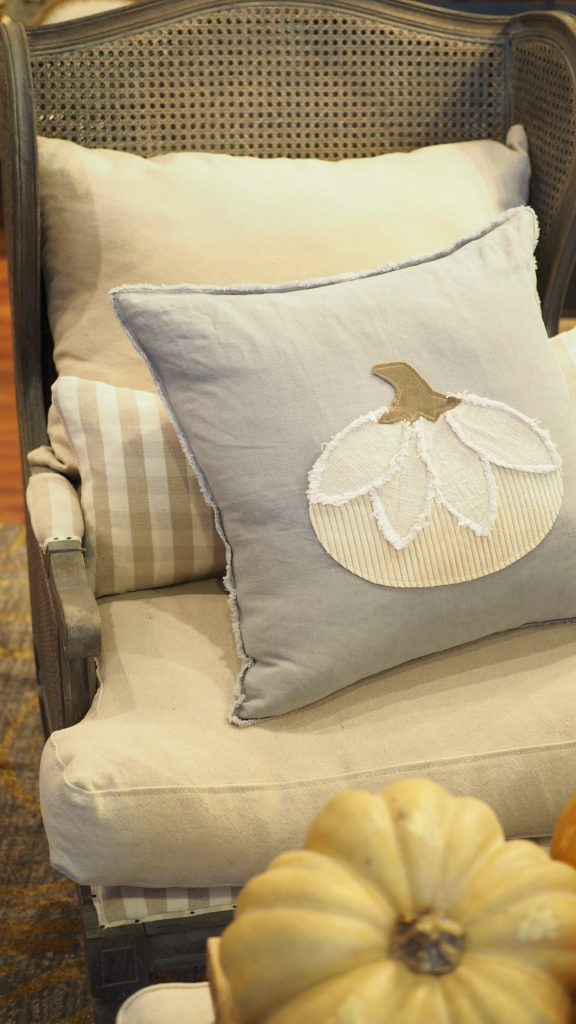 This gorgeous Thanksgiving table gives us all the feels during this special season, and we hope it inspires you to create the perfect thanksgiving table in your own home. I can already smell the turkey in the oven and hear the guests chatting in the other room. A special thank you to 365 on Piedmont and Kim Turner for opening up their incredible store to our team.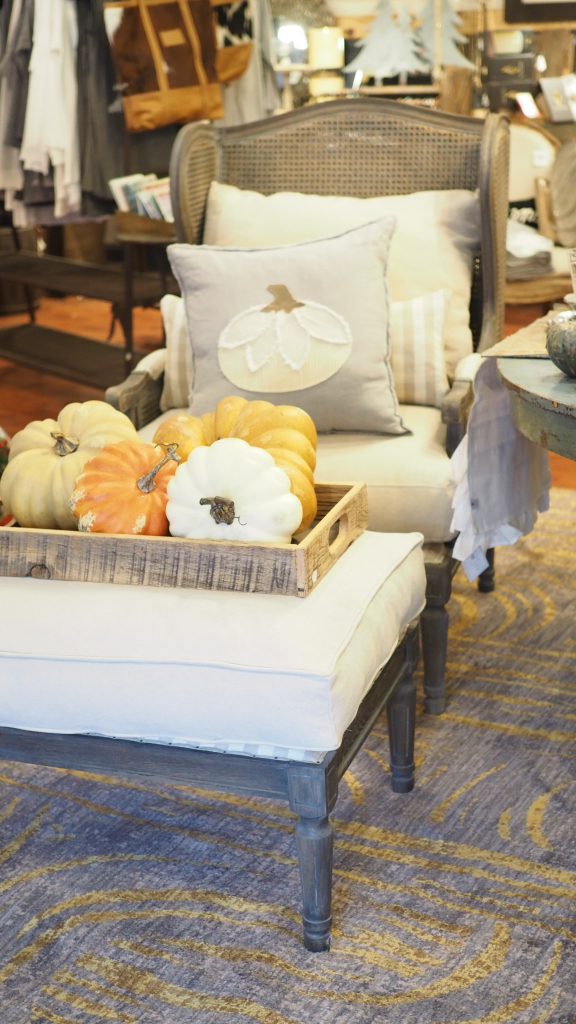 Wishing you a warm and happy Thanksgiving from your friends at Mohawk Home!