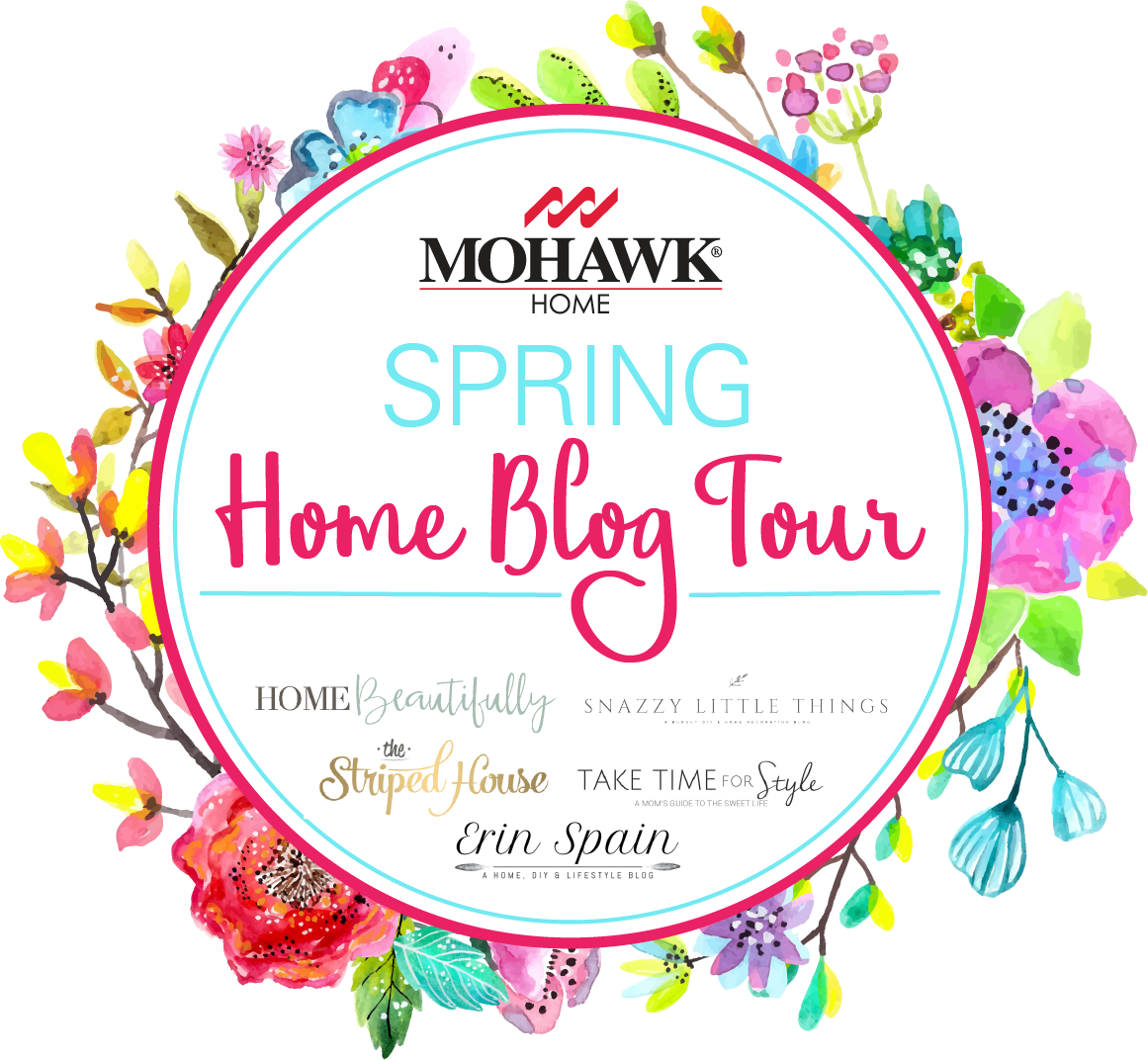 Spring has sprung and for many of us, that means we're spending most of our free time cleaning, organizing and redecorating. From minor touch ups like swapping out couch pillows and area rugs, to major renovations like wallpapering or installing an entire new kitchen, spring is the perfect time to create a fresh new look in your home.
We recognize that spring decorating can be overwhelming, so we sponsored five incredible home décor and design bloggers to provide the inspiration you need for your own home. Follows is a look at the five beautiful room renovations by Erin Spain, Home Beautifully, Take Time for Style, Snazzy Little Things and The Striped House.
Make sure you scroll through to the end to enter our Prismatic Area Rug Giveaway! We're giving away a beautiful Mohawk Home Prismatic area rug of your choice, up to $300. Contest runs from now through April 30, 2018!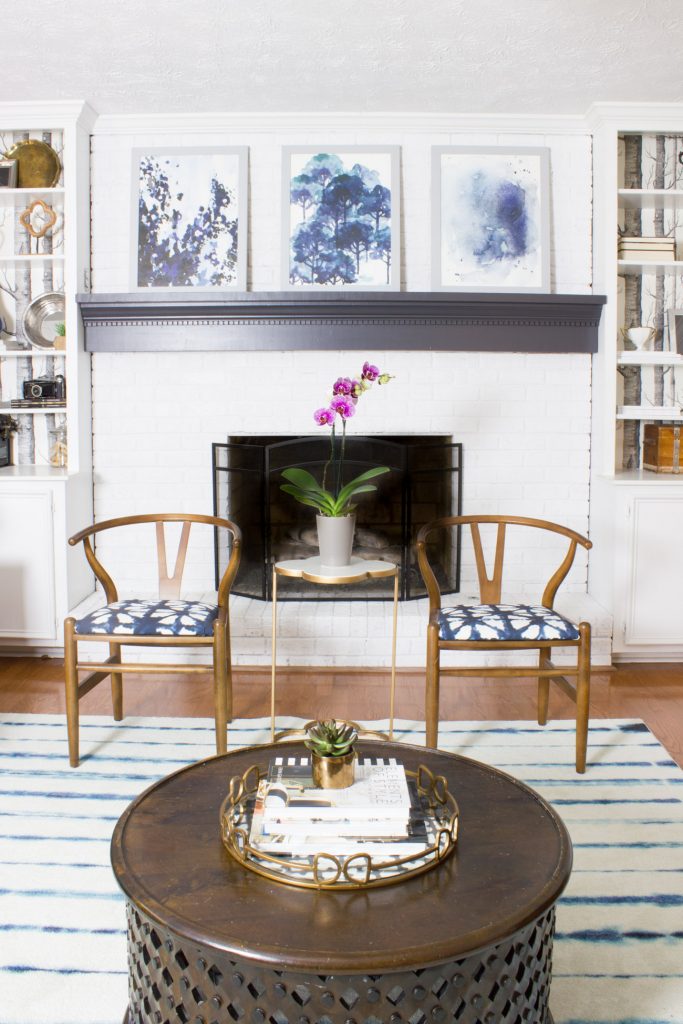 In Erin's family room/mom cave makeover, she kept the color scheme the same but made subtle changes that completely changed the overall look and feel to the room. We love the vintage library card catalogue that Erin recently restored, and the addition of the Mohawk Home Prismatic Linear Pigment area rug warmed up the room while complimenting the pops of indigo in the fireplace artwork, couch cushions and shibori patterned chairs.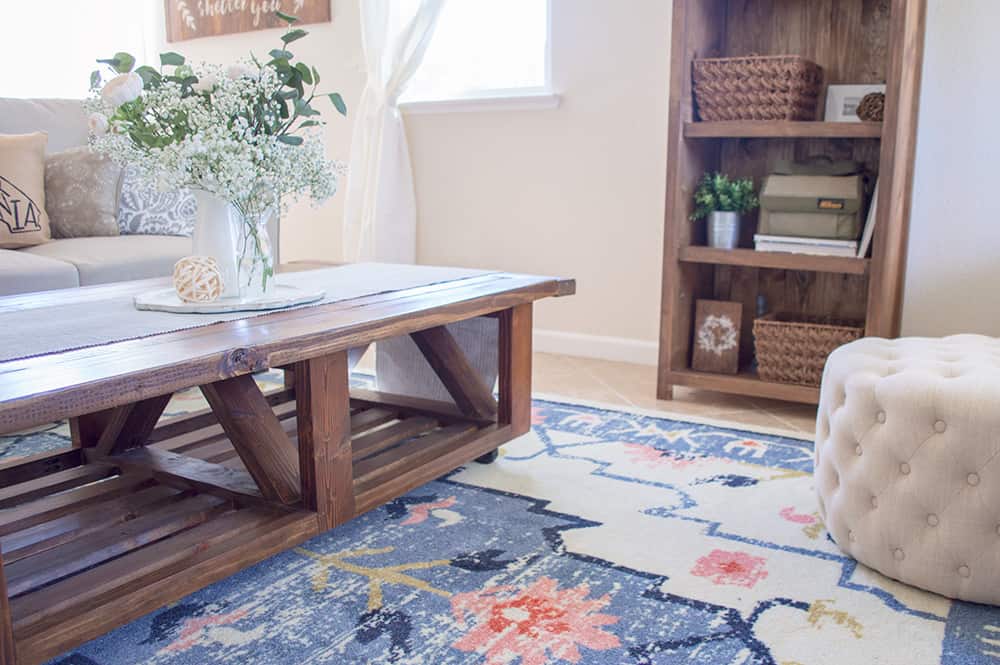 Light, bright and happy is the overall theme of Home Beautifully's new living room, complete with the Mohawk Home Jasmine Prismatic Area Rug in cream. It was the perfect choice for her overall décor, as she was looking for a colorful rug with a little vintage flair. From the vintage black trunk to the refinishing farmhouse coffee table, we would also kick off our Birkenstocks and happily sip kombucha in this comfy, cozy space created by Home Beautifully.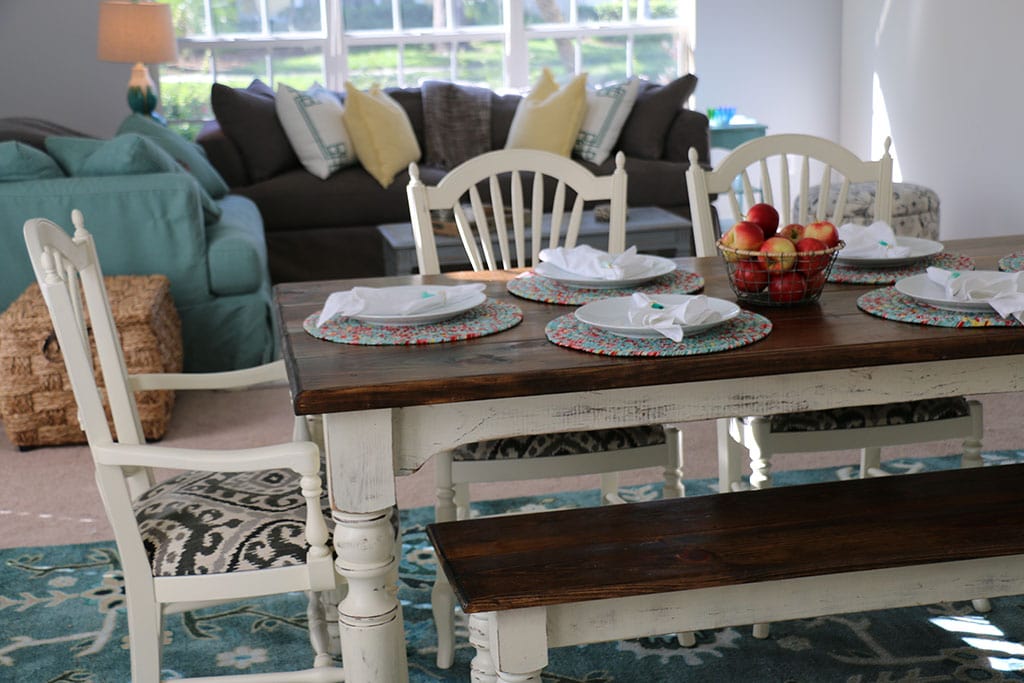 When you're two bloggers writing one blog, you get two completely different home décor styles! Turquoise is definitely a trend we love color so we were thrilled when Kristin opted for the Mohawk Home Hallston Prismatic area rug in mineral. The area rug compliments her shabby chic style; the rustic look of her dining room with the distressed wood, farmer's benches and bowls of fresh apples represent a room just perfect for hosting family meals.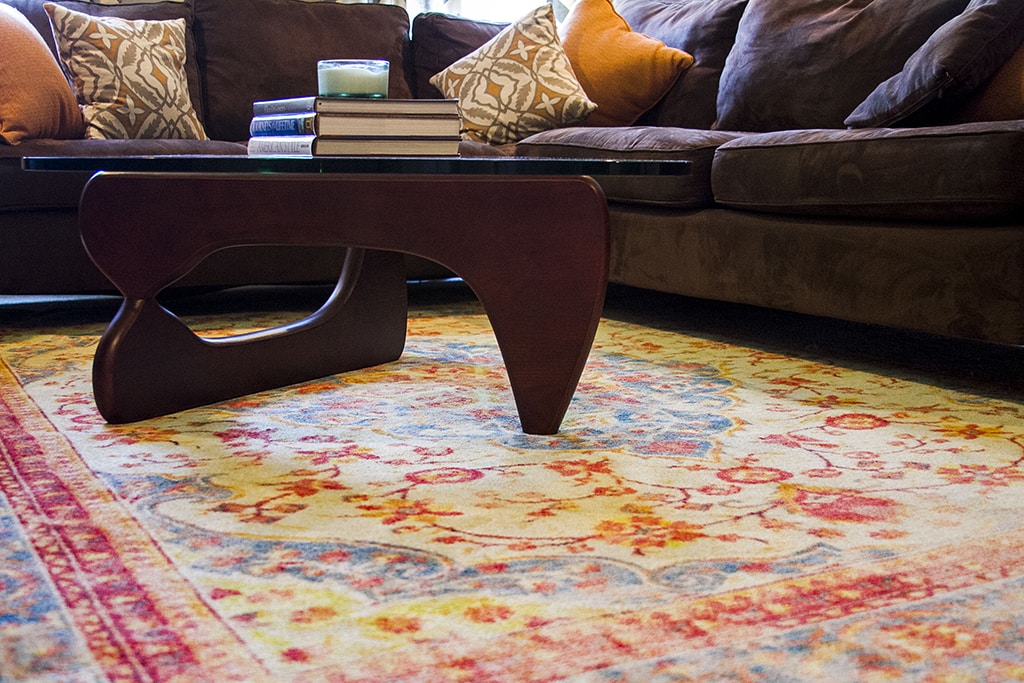 Now that Megan's children are a little more grown up, it was time to give her worn TV space a much-needed makeover. All it took was swapping out the coffee table and brightening up the space with our Mohawk Home Bellepoint Prismatic area rug in Orange/Blue. With homes full of pets and children, their area rug selections were crucial; being super soft, kid and pet friendly, and stain resistance were important features in their area rugs.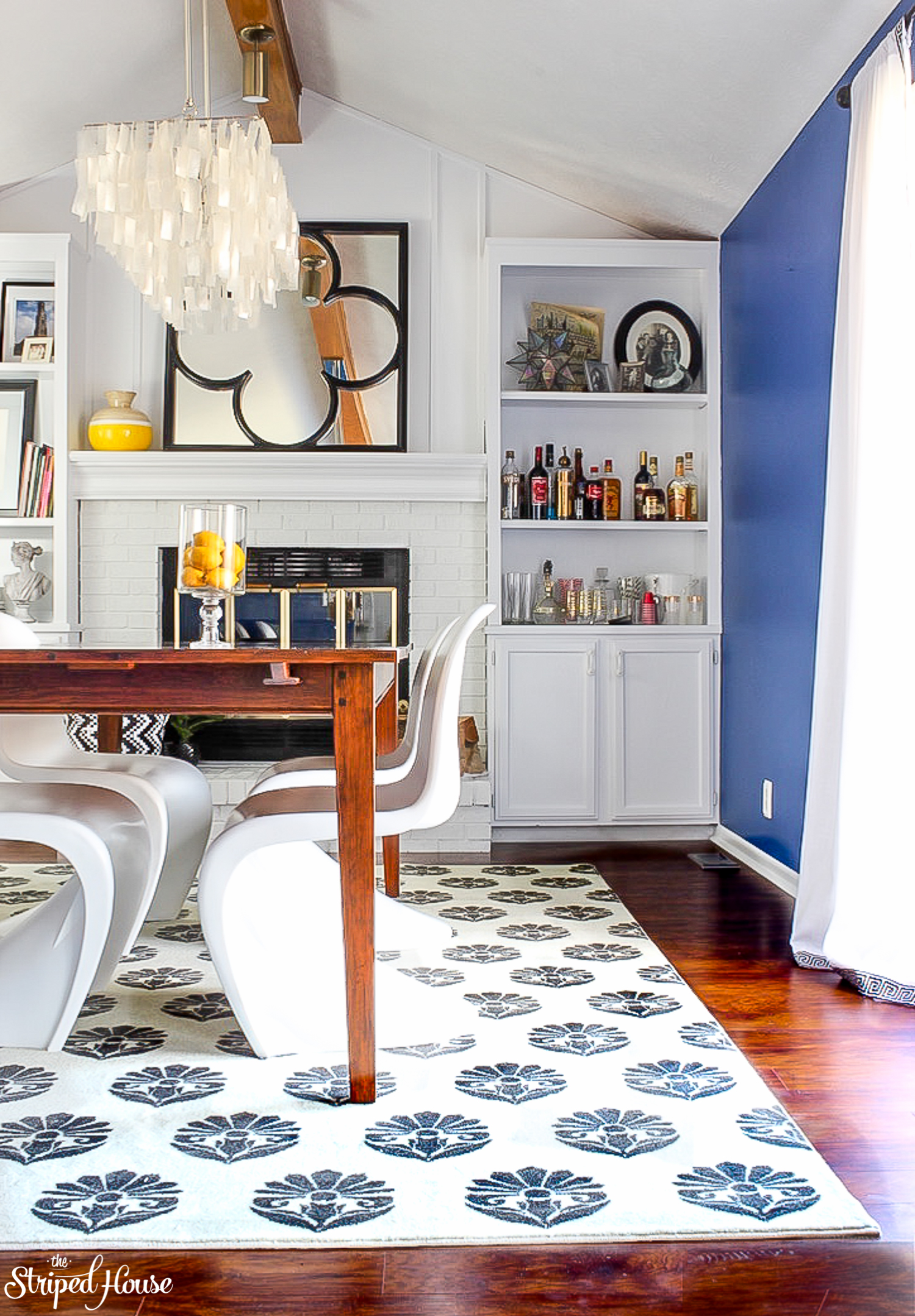 While those gorgeous blue walls immediately grab your attention, the classic dark and light contrast under the dining room table now brings an incredible balance to the room. Jen's dining room got an inspiring boost with the addition of the Mohawk Home Prismatic Floral Décor Palmette Precision printed area rug in Gray. Sporting a timeless vintage art deco patterns, the area rug will become a staple in the room as Jen seasonally swaps out knick-knacks, artwork and china patterns.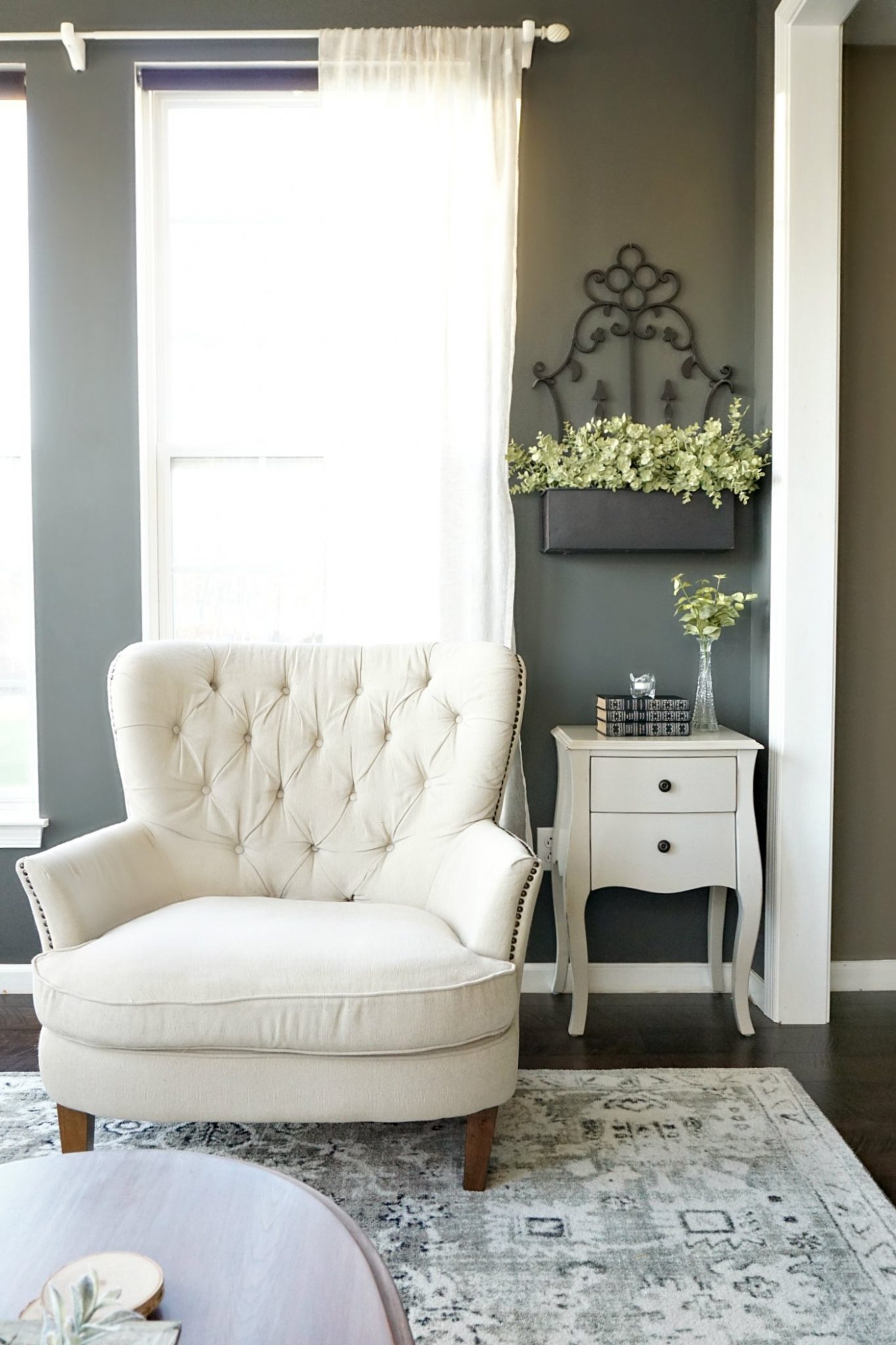 Nothing cozies up a space like a new area rug, and the vintage look of the Mohawk Home Prismatic Stamford Distressed area rug in floral is just what this room needed! Jeanette's sunroom is all about contrast, from the dark walls to the bright white furnishings. You'll be drawn in by the antlers on the walls, but will ultimately stay for the plush area rug and comfy couch.
Enter to win a new Mohawk Home Prismatic collection area rug here:
Have a favorite room makeover or Prismatic area rug? Share your thoughts with us in the comments!