When preparing your home in expectation for guests during the holidays, it's easy to overlook certain spaces, like the guest bathroom. Depending on the distance traveled and stresses that come with holiday traffic, your guests will likely want to spend much time resting, relaxing, and getting ready in their guest quarters. So, I've compiled a few easy tips on preparing your guest bathroom for the holidays, using our own home as a template.
Our guest bathroom is also our master bathroom this year, as we're renovating our upstairs bathroom. This presented a unique challenge, because I want our holiday guests to feel comfortable using our bathroom. The end result is soothing, minimal, and welcoming washroom. If our guest bathroom were on Trip Advisor, I feel confident we'd get five stars!
Here are a few tips for preparing your guest bathroom for the holidays: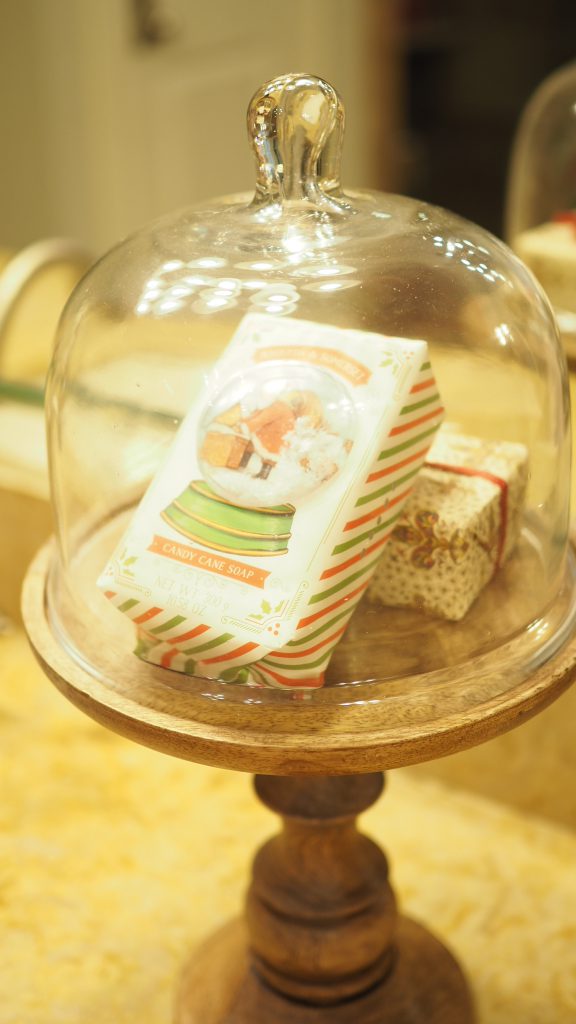 Tip #1: Clean Off the Counters
Cluttered bathroom counters are both stressful and an eye sore. They also leave your guests wondering where to unpack and put their things. Clean off your bathroom counters to give a spacious and welcoming presentation. Use this time to organize under your bathroom cabinets and stock up on essentials like tissues, toilet paper, and fun Christmas Cookie body wash by Philosophy. The guest bathroom is also a perfect place for all of those travel toiletries you've collected this year!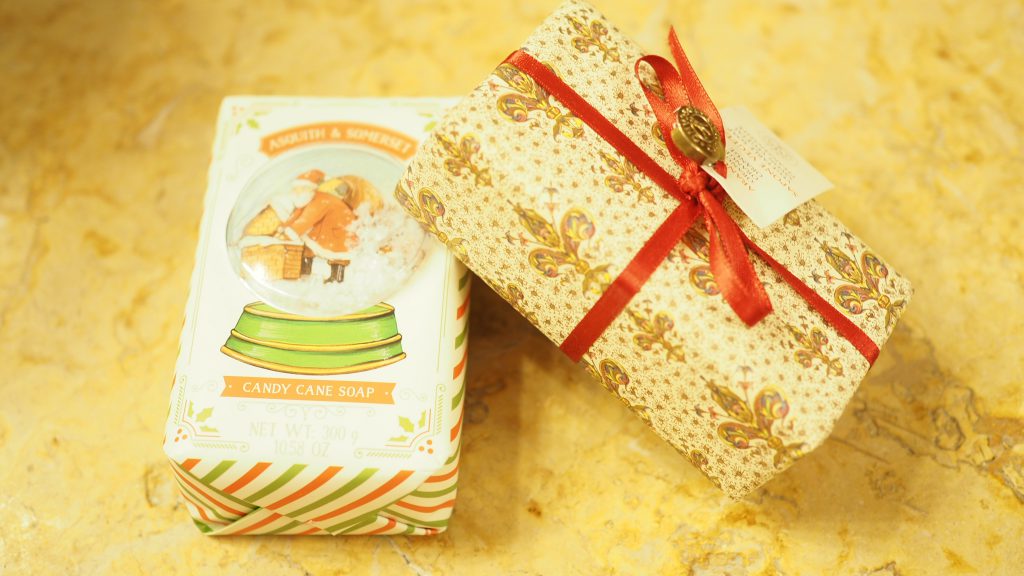 Tip #2: Add a Traditional Area Rug
When it comes to bathrooms, many people automatically differ to bath mats. While bath mats are great, I love adding a traditional rug in the bathroom if the space allows. Since our bathroom is large, I added this gorgeous 5'x 8' area rug, Adaigo, from the Karastan Studio collection. The rug, made of Smartstrand fiber, is durable and stain resistant. Plus, the ivory, grey, and blue design adds style and color to the sea of gold limestone. The end result is comfortable and beautiful- and will last for years to come.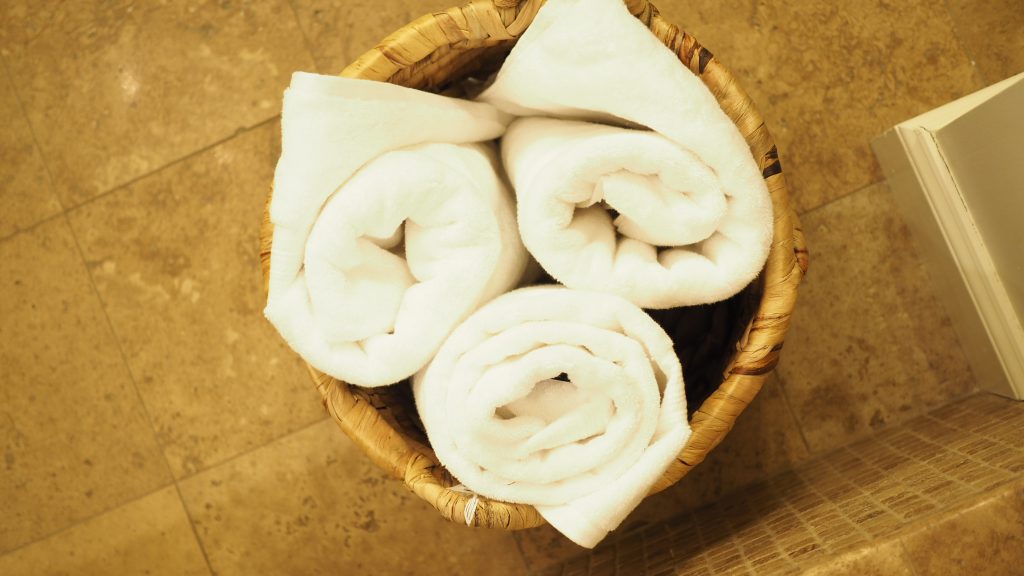 Tip #3: Have Fun with Accessories
Accessories are so important, especially around the holidays. To give a subtle nod to the season, I added rustic wood reindeer, holiday soaps displayed in a stylish domed cake plate, and (my favorite) an oversized basket full of thick white bath towels. The towels keep guests from having to rummage through the cabinet, while adding texture and coziness to the aesthetic. The sweet wooden sign is a nice touch, and the soy candle fills the space with the fresh scent of Christmas trees.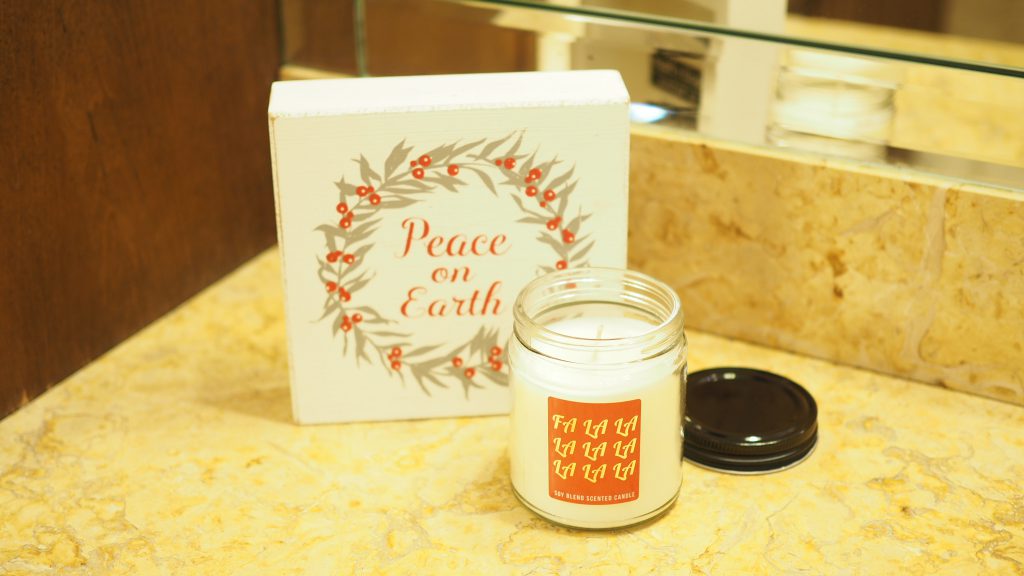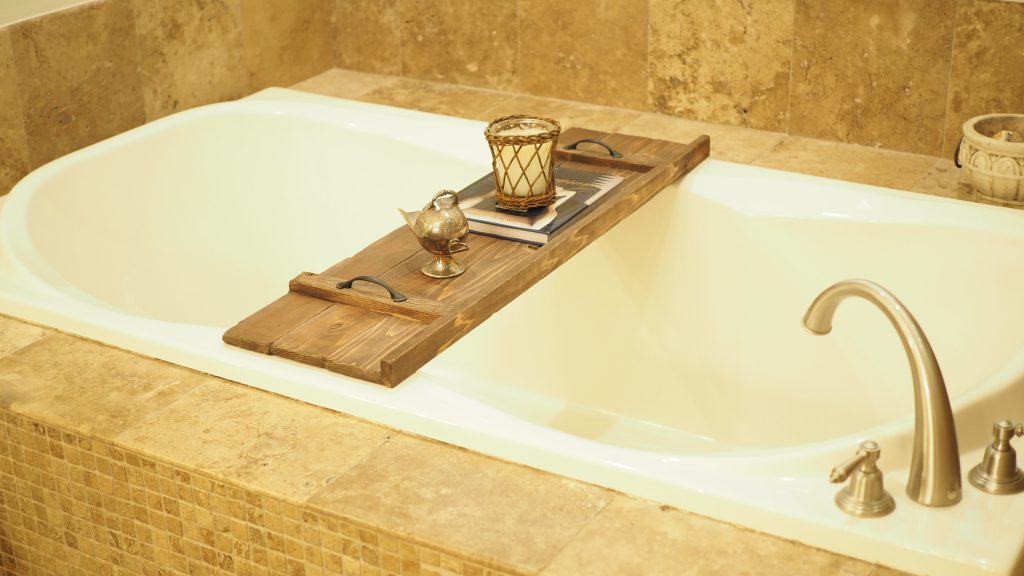 One of my most loved bathroom accessories is this bath tray from Etsy. It's an ideal solution for enjoying a candle, glass of wine, and a good book during a long, relaxing soak in the bathtub.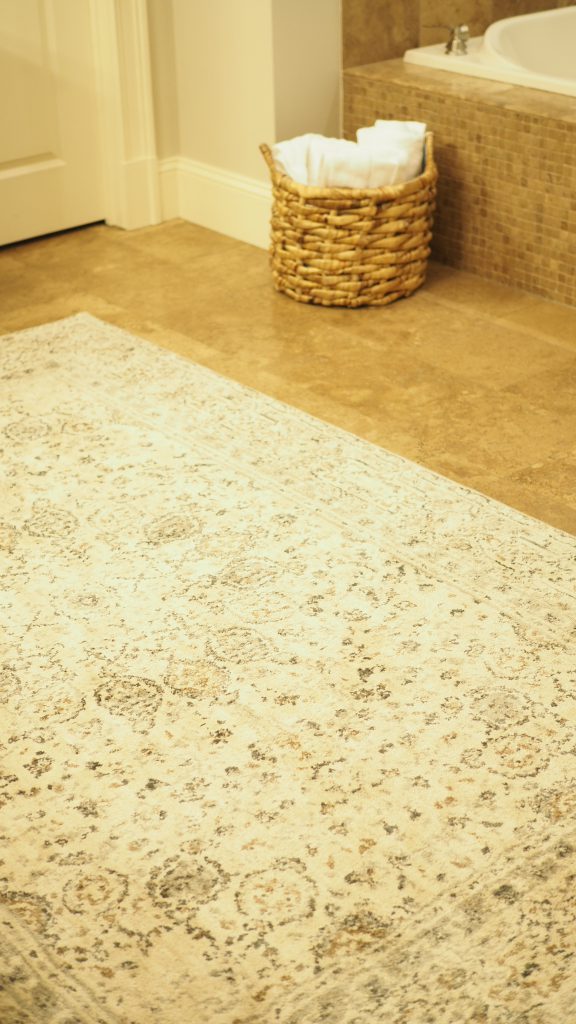 While the guest bathroom is often an overlooked space, following these few simple tips on preparing your guest bathroom for the holidays allows your guests to feel both welcome and comfortable. We can't wait to see how you style your bathroom for guests this holiday season.
Happy Holidays from your friends at Mohawk Home!