As the days draw closer to the bitter sweet celebration of our baby's first birthday (bitter only because I've loved his babyhood so much), I linger a little longer rocking him, pause more to watch him crawl as he pads across the carpet and soak up the fleeting time we have left before our son, Jaxon, is a cruising one-year-old. Looking around his nursery as I reflect on just how much time we've spent inside these four walls over the last 11 months, it hits me that I'm looking at the backdrop of some of my most treasured memories.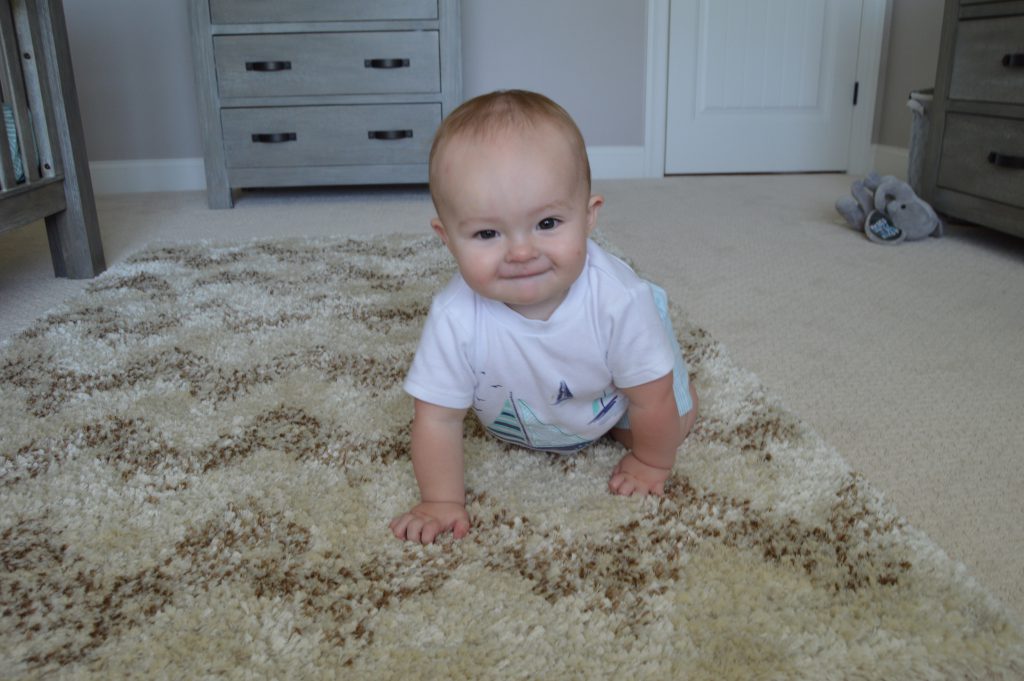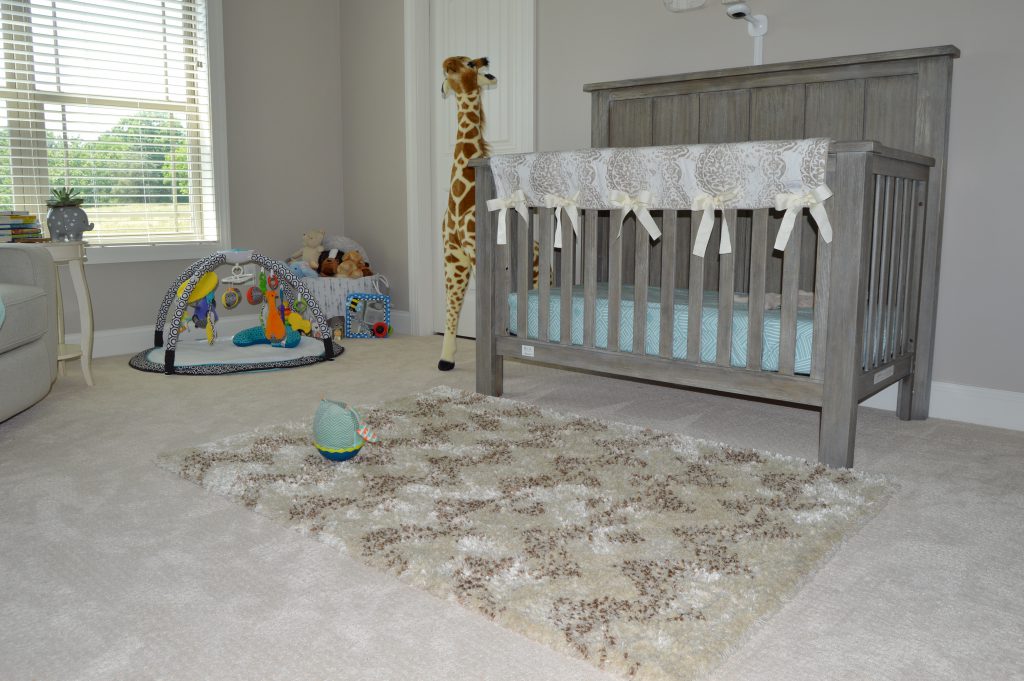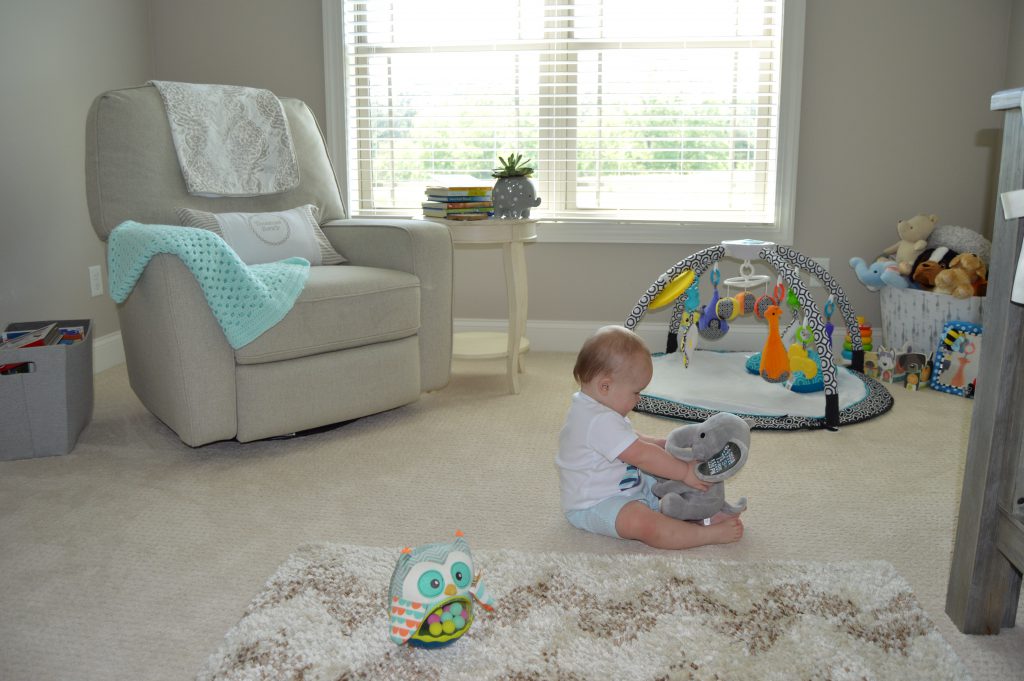 When I was first pregnant, I remember being overwhelmed when I thought about decorating the nursery. I would search online for baby boy bedding and quickly become frustrated. I felt like everything seemed so busy. While I didn't know much about what to expect from life with a newborn, I knew that chaos would be inevitable and I certainly didn't want to add to it with our surroundings. Soothing neutral shades of grey and beige with refreshing pops of aqua became our calming color palette and thankfully I found plenty to complement it!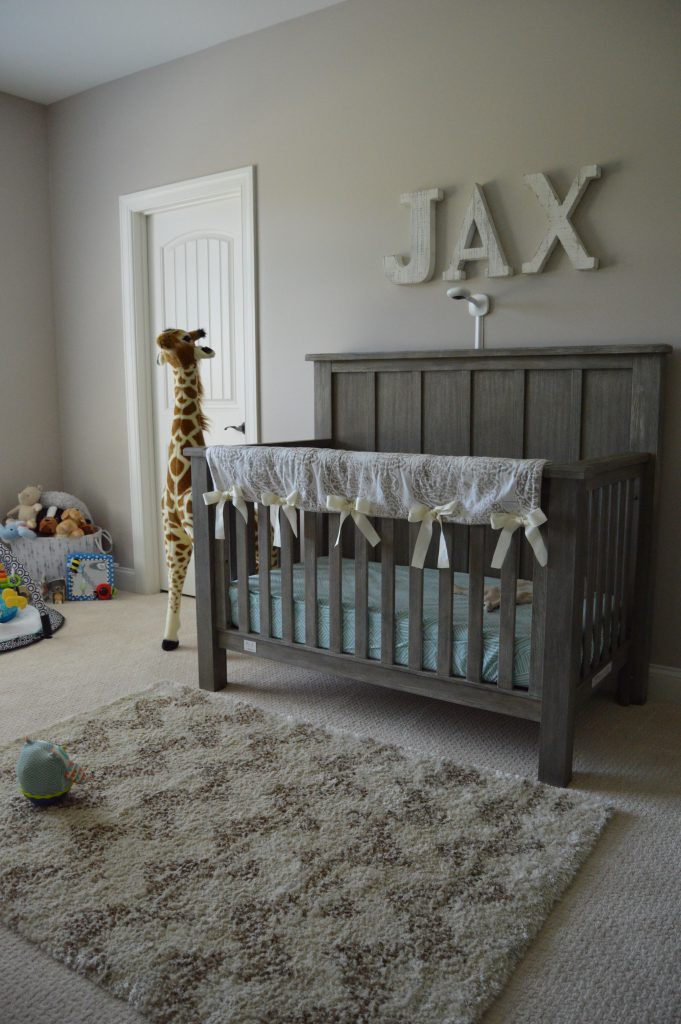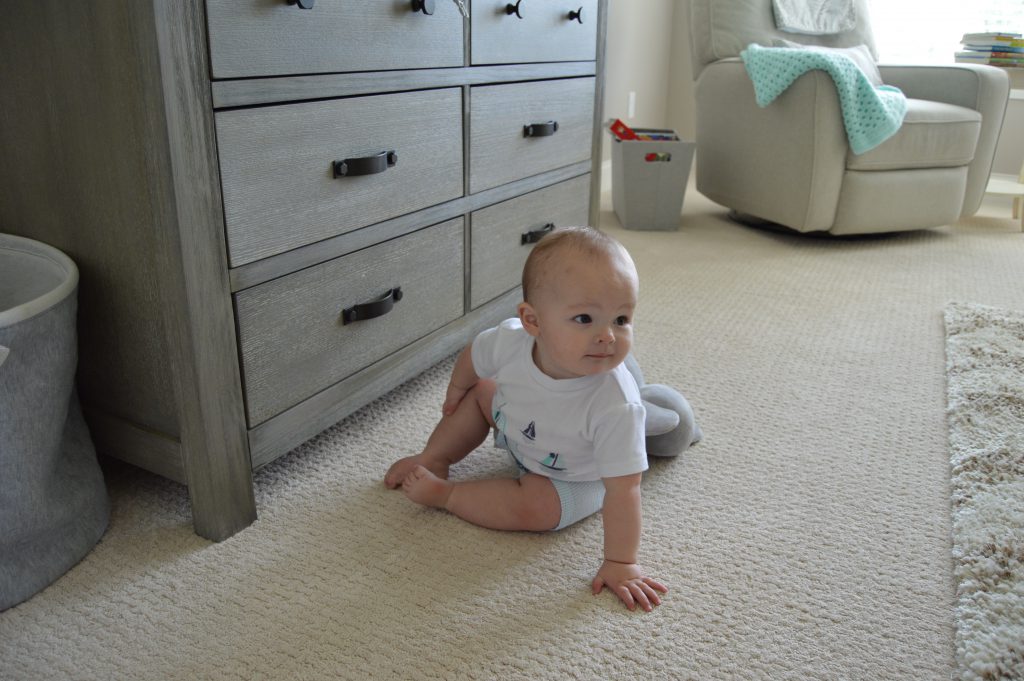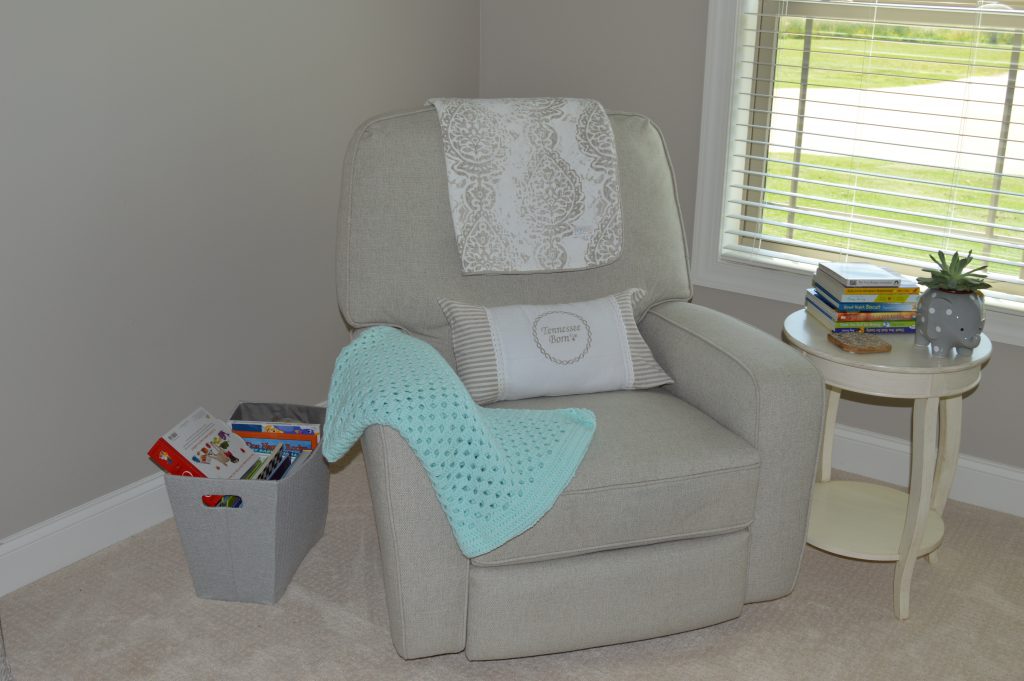 Jax's bedding and coordinating separates, like his lamp, throw blanket and diaper pail cover, are part of the Soho Collection from Glenna Jean. Already showing signs of the toddler to come, Jax's nursery has grown with us over the months. His fretwork crib skirt and bumpers had to be put away when we lowered his crib and the matching teddy bear mobile went into hibernation when he tried (near successfully) to pull down the bears. I've loved the distressed ivory accent table next to our glider, but its days are numbered too as our little man on the move now sees it as an obstacle course hurdle. One day I imagine we'll need a bookshelf for his growing collection, but for now a grey herringbone magazine bin from Home Goods is an easy and accessible fix (and a lot less likely to be climbed)!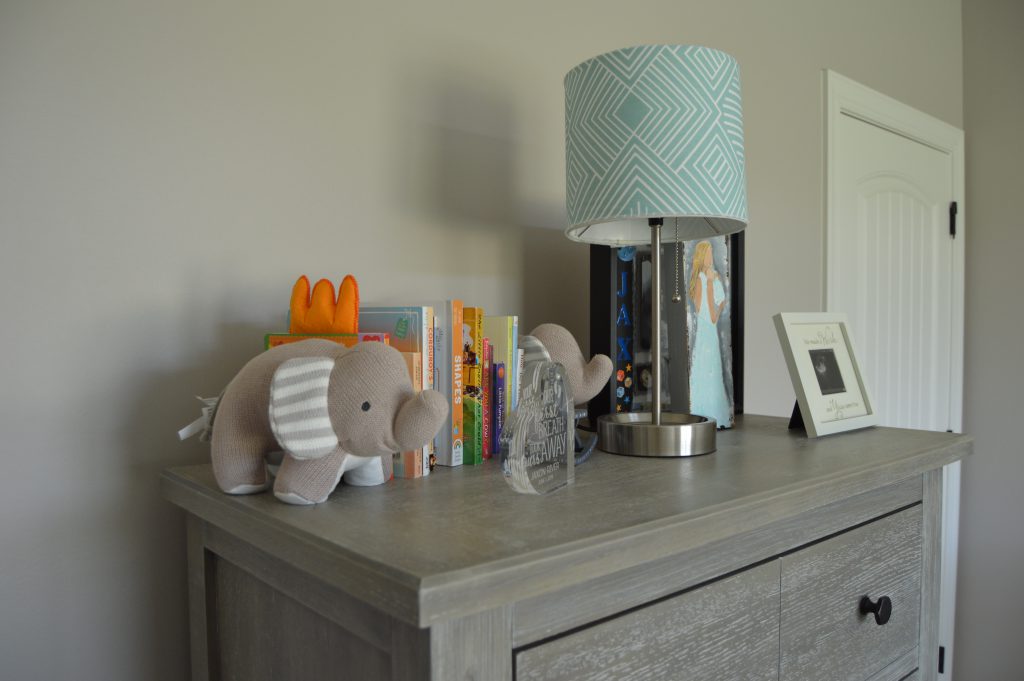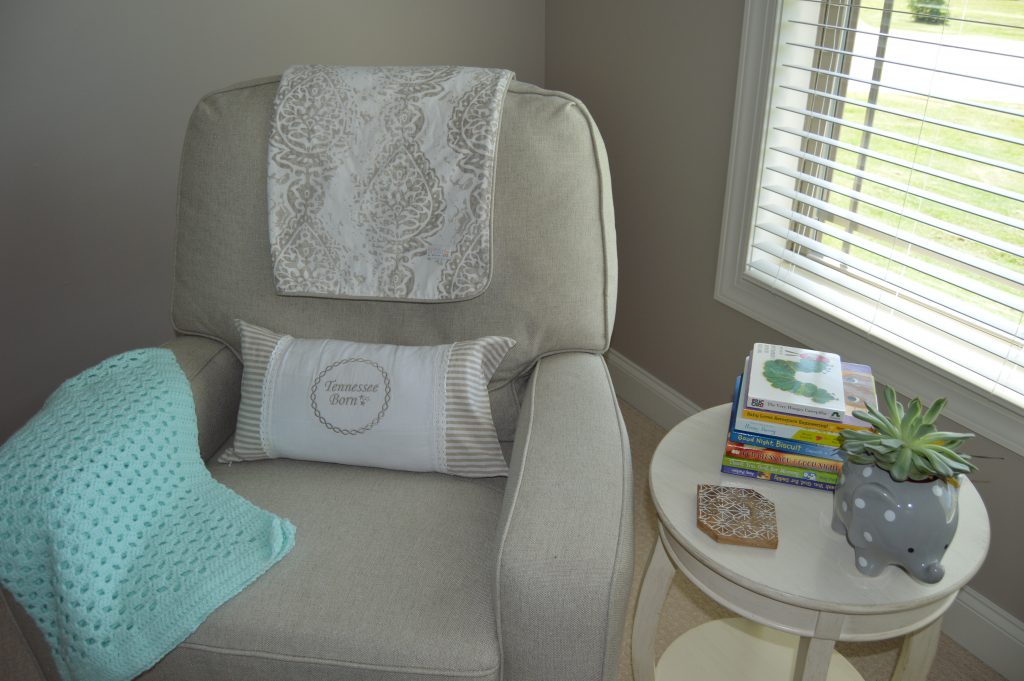 We found Jax's neutral reclining glider at a local children's store, where we also purchased his white washed grey crib and dressers. While I remember thinking the chair's price tag seemed a little steep, it is now easily the single most sat in chair in our home and thankfully its high-quality dense cushions don't show it. A wise investment, I've learned firsthand on more than one occasion that its tweed-like fabric is stain resistant and very resilient to the rigors of life with a baby. As Jax enters toddlerhood, I'm happy to report I don't see our time in the chair slowing down. It's where we read stories, sing songs, cuddle up and start and end our days.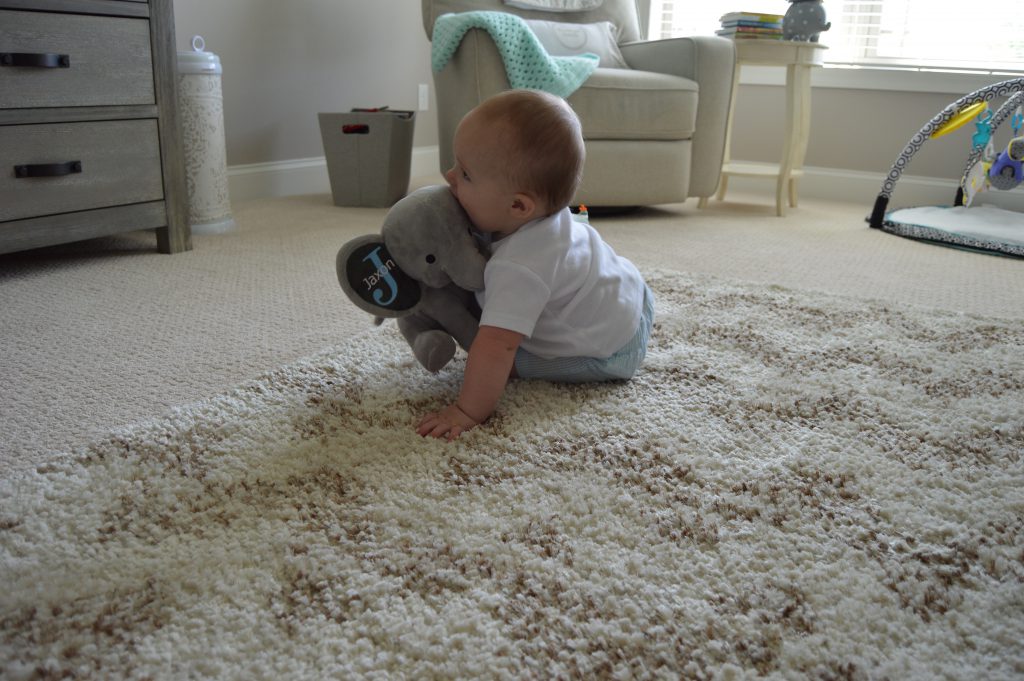 An aspect of his décor we love perhaps more now than ever is his cuddly soft shag area rug. While we have fabulous (and thankfully stain resistant!) Mohawk Home Smartstrand Silk™ carpet in Jax's nursery, this chevron striped shag rug stylishly fills the space with cozy softness that's perfect for playtime and rowdy romps with Daddy. The thick pile is designed with different widths of yarn for a rich texture and light-catching sheen. After almost a year of daily wear from us and our two golden retrievers (who frequent this rug for afternoon naps) it honestly still looks new and hasn't shown any signs of matting or crushing. It's just as fluffy as ever!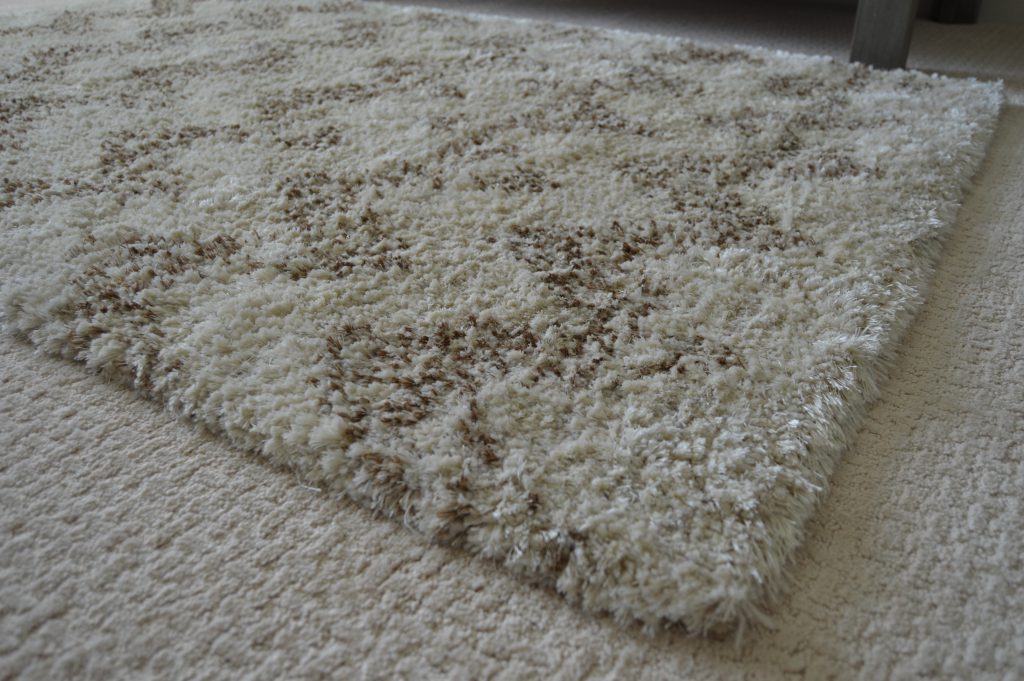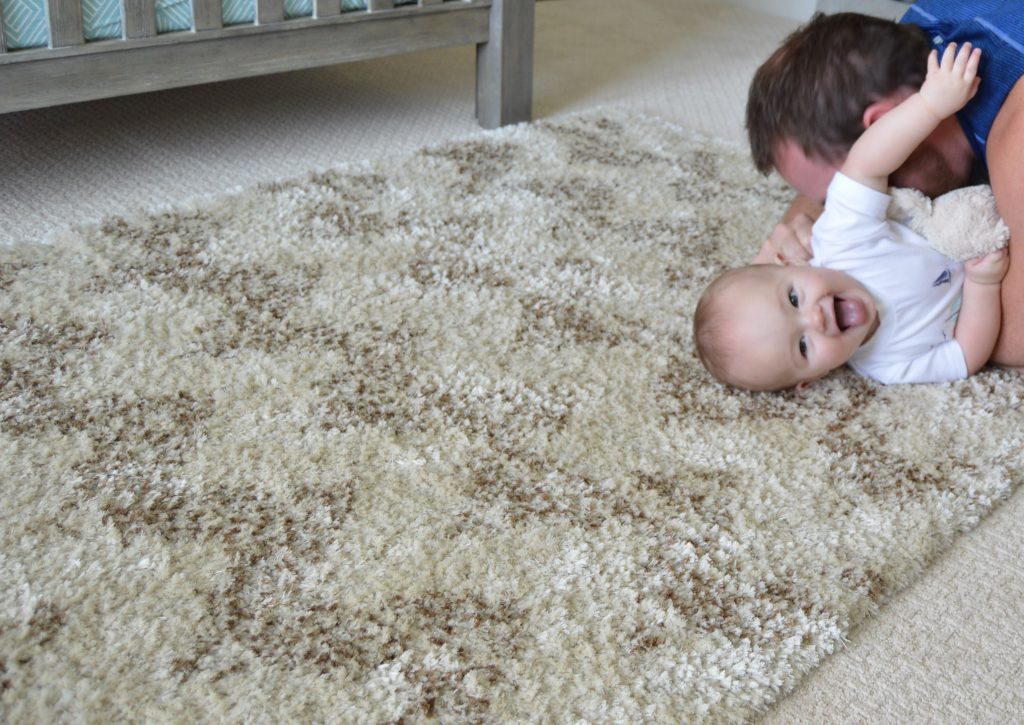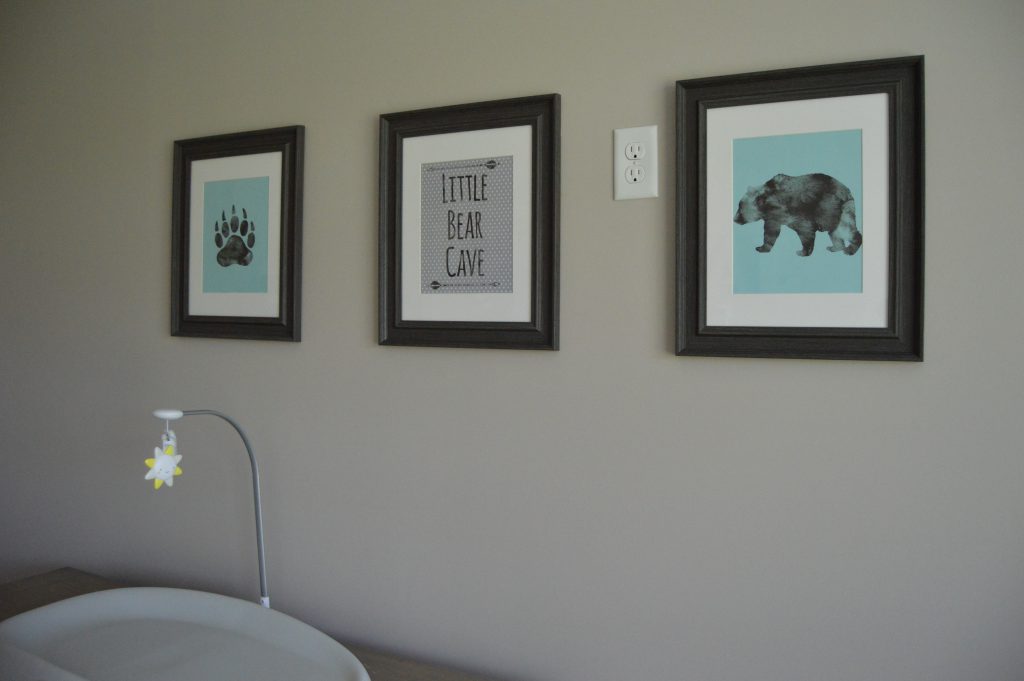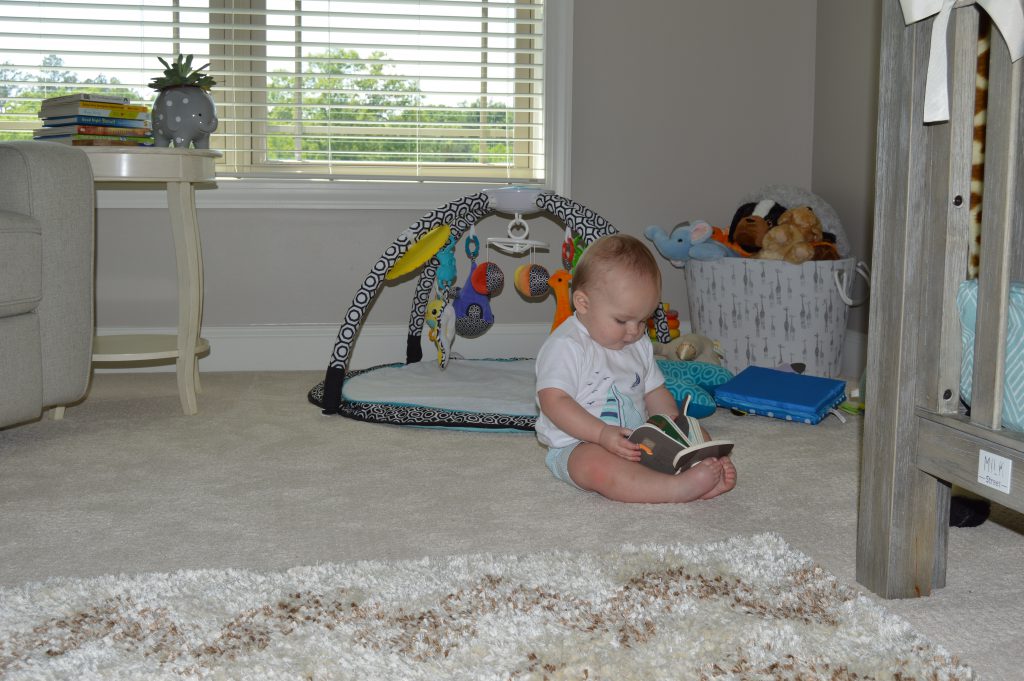 Still reflective of the bouncing baby boy (at least for 2 more weeks!) that sleeps within its walls, Jax's nursery will undoubtedly continue to change as our little buddy does the same. But for now, I'll dwell in its sweetness just as long as time will allow!
Nursery Furniture – MilkStreet Baby – Relic Collection
Nursery Bedding – Glenna Jean
Karastan Area rug – Mimosa Stripe in Camel
End Table – Target
Giant Giraffe – Melissa and Doug
Wall Letters – Hobby Lobby
Paint – Restoration Hardware
Glider – Children Fair Furniture