School lunches are improving across the country, with healthier choices and more variety. However, many kiddos, like mine, still insist on packed lunches from home that bring a sense of familiarity and comfort when they're away for a busy school day. Today, I'm going to be sharing our go-to school lunch routine which is super easy and realistic for working moms like me.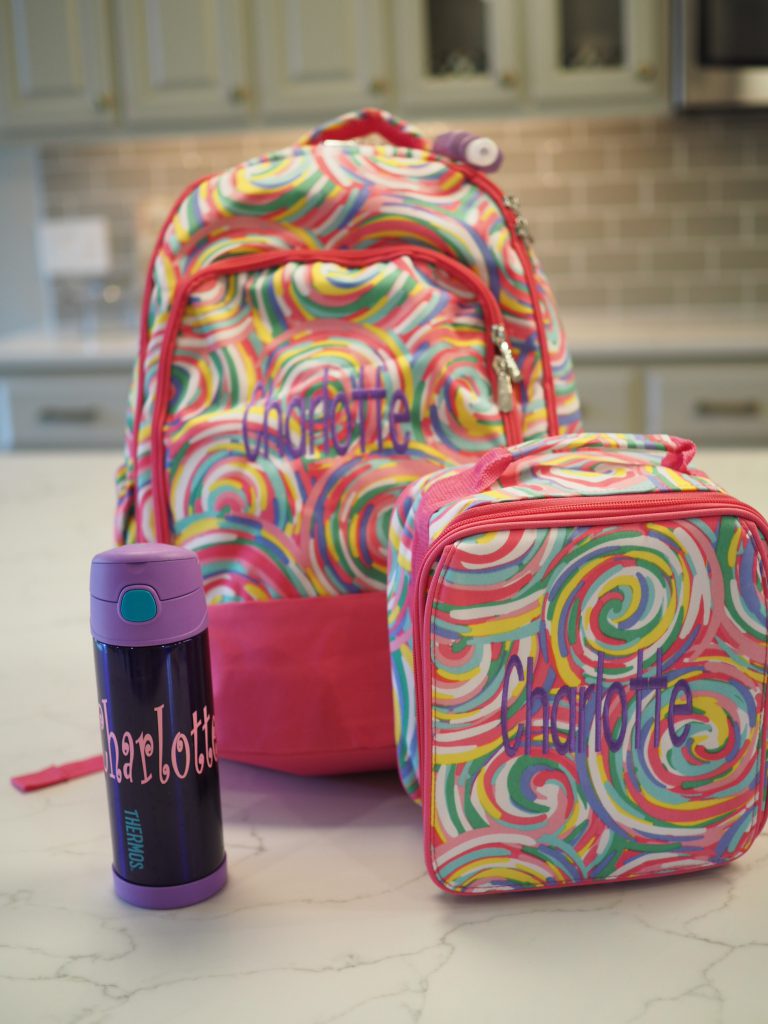 This year, my oldest daughter, Caroline, enters first grade and my youngest daughter, Charlotte, will be moving to the older three-year-old preschool class which includes lunch time. And while my kids would be perfectly happy with a lunchbox full of Little Debbie snack cakes, I'm consistently working to instill healthy eating habits that will stick with them throughout their lives. To accomplish this, I do my best to include the girls in choosing healthy items for their lunchboxes.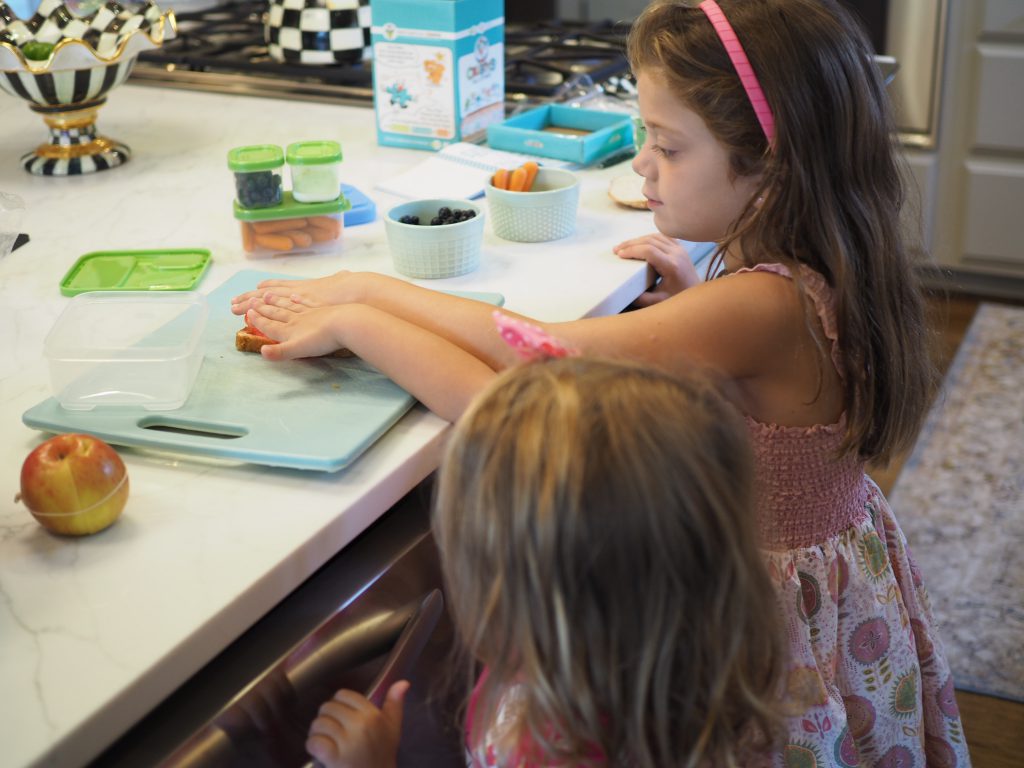 With the start of school, there is nothing like brand new bookbags, lunchboxes and water bottles to get us all excited. Here in the south, we'll pretty much monogram anything and everything that isn't moving- so you'll see their names are on, well, everything. To ensure that their lunchbox goodies stay fresh, I purchased these super cool Rubbermaid LunchBlox Sandwich Kits which include a blue ice freezer pack that snaps within the containers. Also, to create fun shapes with sandwich bread, I snagged Crusty's All Star Sandwich Cutters which include seven fun shapes. For funny but sentimental lunchbox notes, check out these Lunchbox Jokes which leave plenty of room for a mushy note from mom. Now, we're ready to create!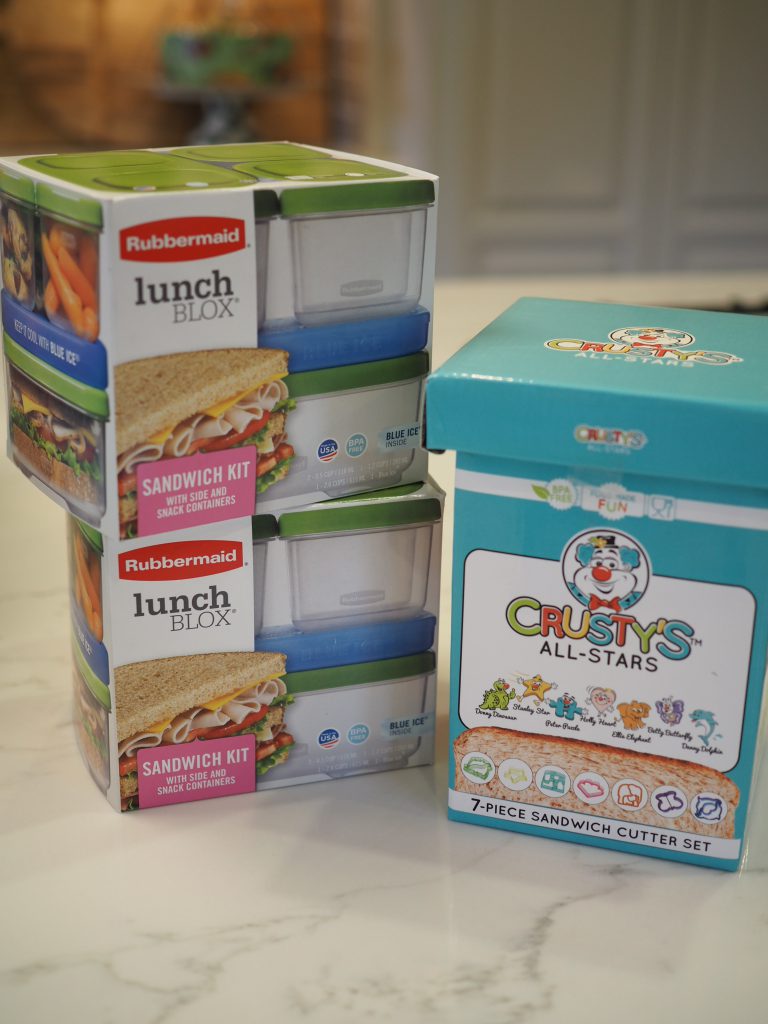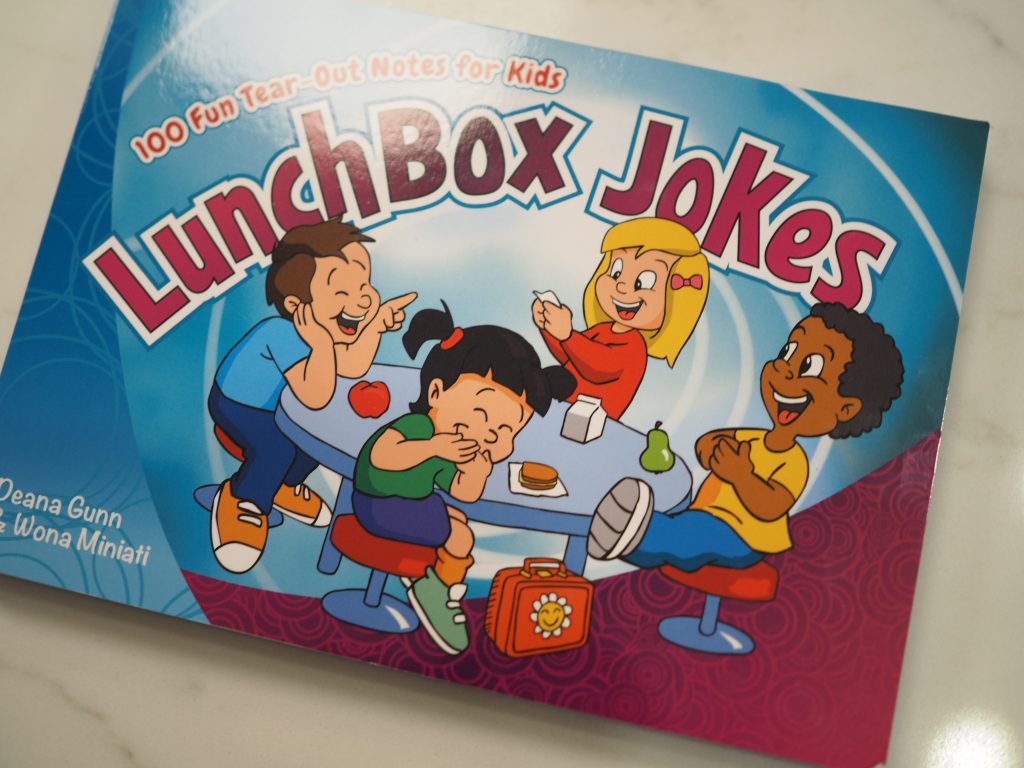 Our typical lunch assortment includes:
A whole grain, like whole grain bread or crackers
Slice of cheese or container of Greek yogurt
Lean protein like Boars Head Oven Roasted Turkey
Antioxidant-rich fruit like Blueberries
Carrot sticks with Greek-yogurt Ranch (Recipe here)
Simply Brand Organic Chips (Because they're still kids!)
Water or Honest Company Low Sugar Juice Pouch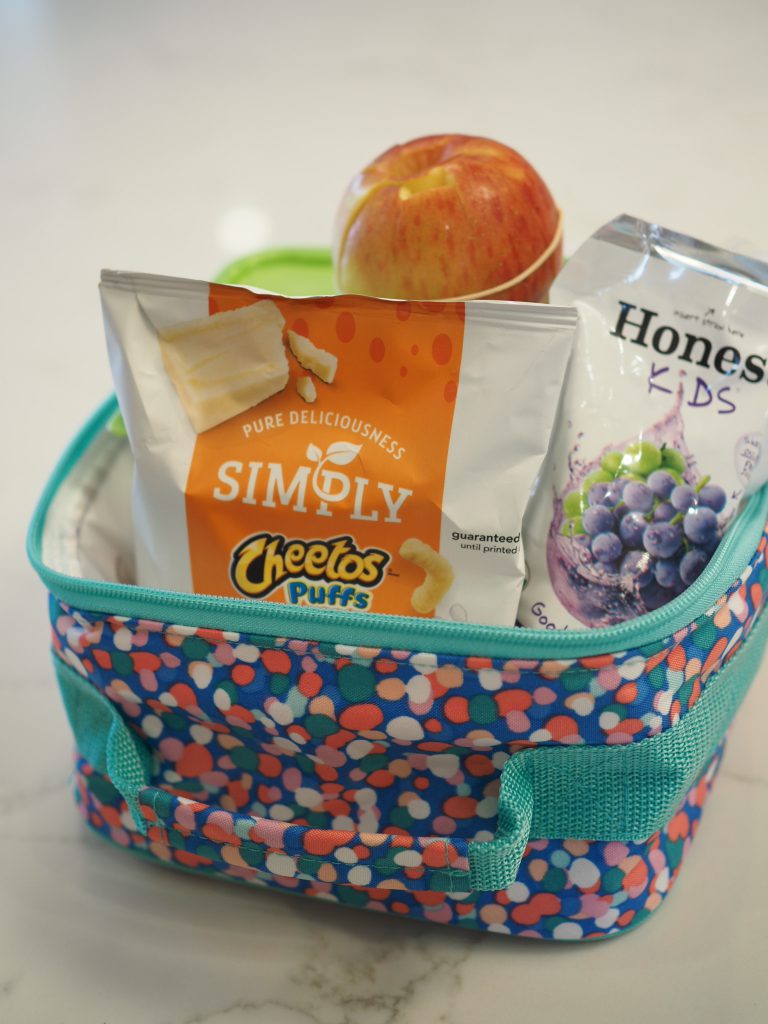 While this may seem like a large lunch for some small kiddos, my daughters have a long bus ride home and will oftentimes save extra lunch items for a bus-ride snack.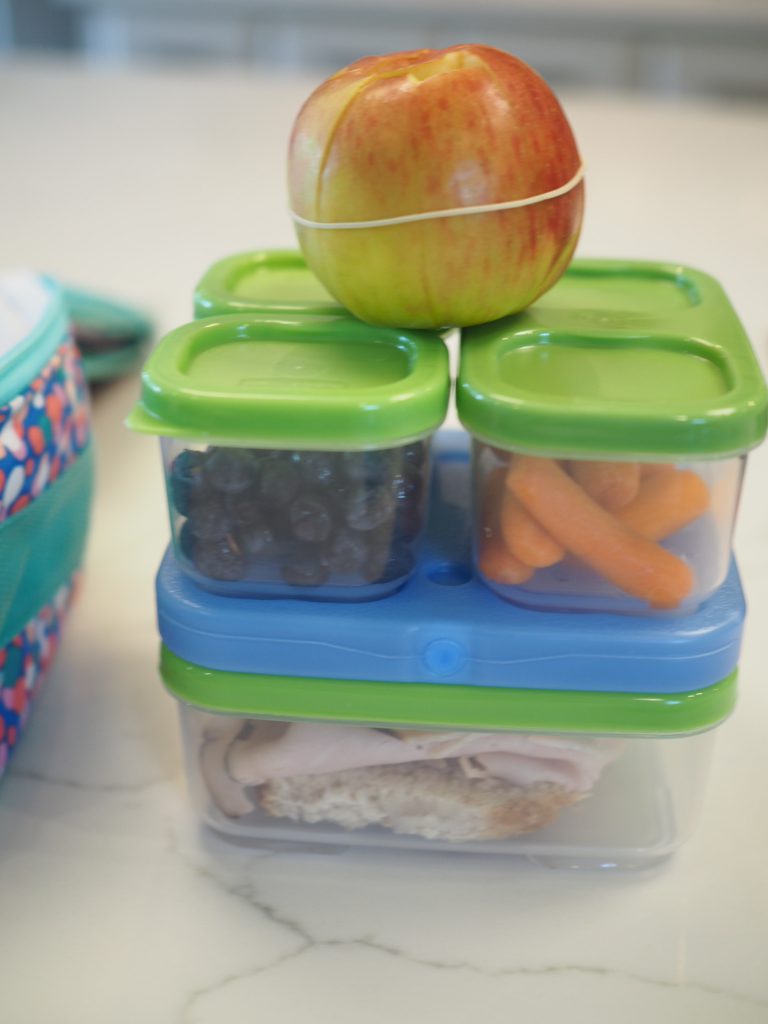 One of my favorite hacks to keep apples fresh (a favorite for my youngest daughter), is slicing the apple using a handy apple slicer—and then securing the whole sliced apple with a rubber band. This "apple hack" makes the apple easier to pack and transport while keeping it fresher until time for Charlotte to remove the rubber band and enjoy at school.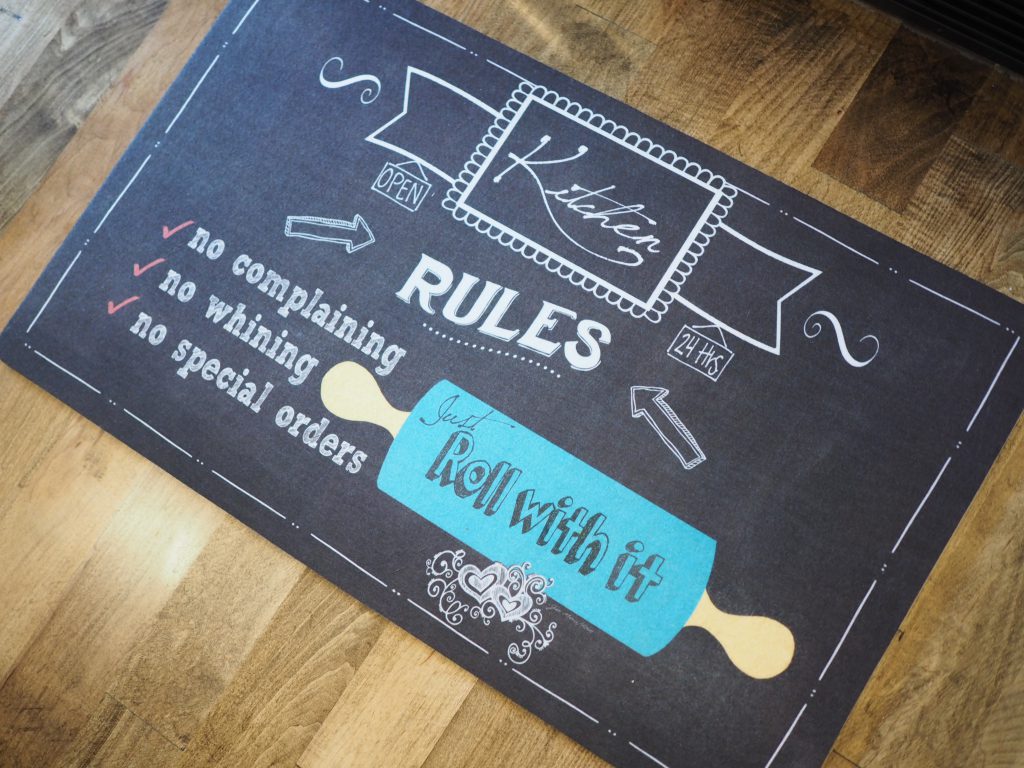 To set the stage for stylish and comfortable lunchbox packing, I selected Mohawk Home's Roll with It Comfort Kitchen Mat for the area where all of our prep work is done. We love this mat not only because of the fashionable chalk board design and funny wording, but it's thick and cushioned. Clean-up is incredibly easy with just a quick wipe needed for the inevitable spills with little helpers in the kitchen. "No whining, no complaining, no special orders" pretty much sums up my kitchen philosophy! Haha
While my lunchbox recommendations aren't exactly beautiful or Pinterest-perfect, they're realistic and attainable for all of us moms who have tried cutting out star-shaped provolone cheese slices at 12 AM. We're all doing our best to raise happy and healthy kids, while packing great lunches.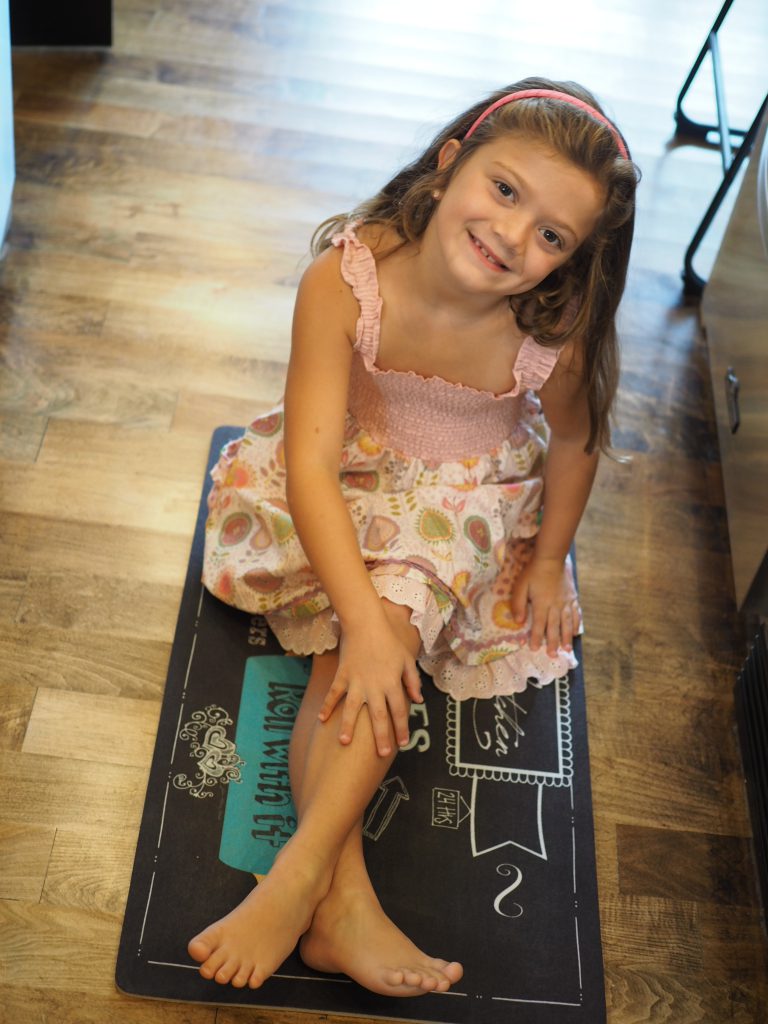 Here's wishing you and your family happy memories in the kitchen and an amazing 2018-2019 school year from your friends at Mohawk Home!