It's hard to believe that August is here and summer break is winding down! While my students are spending their last days soaking up sunshine beside the pool, at the beach, or enjoying a lazy day at the park, I've been busy readying my classroom for the exciting school year ahead.
Like most teachers, I spend countless hours each summer carefully reviewing lesson plans for my 8th graders, organizing old paperwork and dreaming up classroom décor ideas that will make school feel more like a 'home away from home'. I always spend a little extra time to select a classroom theme that displays my personality and feels inspirational to my students. Because we have so much information packed into the 8th-grade history curriculum and less than a year to take it all in, our space must be bright and airy! This ensures that the kids don't attempt to take a snooze while we are discussing colonial Georgia, and it keeps me feeling energetic, too.
After perusing Pinterest, it didn't take me long to land on this year's theme. As a lover of HGTV's hit television series Fixer Upper and a Joanna Gaines fangirl, a farmhouse-style classroom seemed like an obvious and perfect fit for me. My family and I purchased a house just last year and I have had so much fun selecting the furniture, fixtures and wall décor to complete our new home—complete with a real farmhouse sink and a pot filler! Now I'm ready to take on the classroom.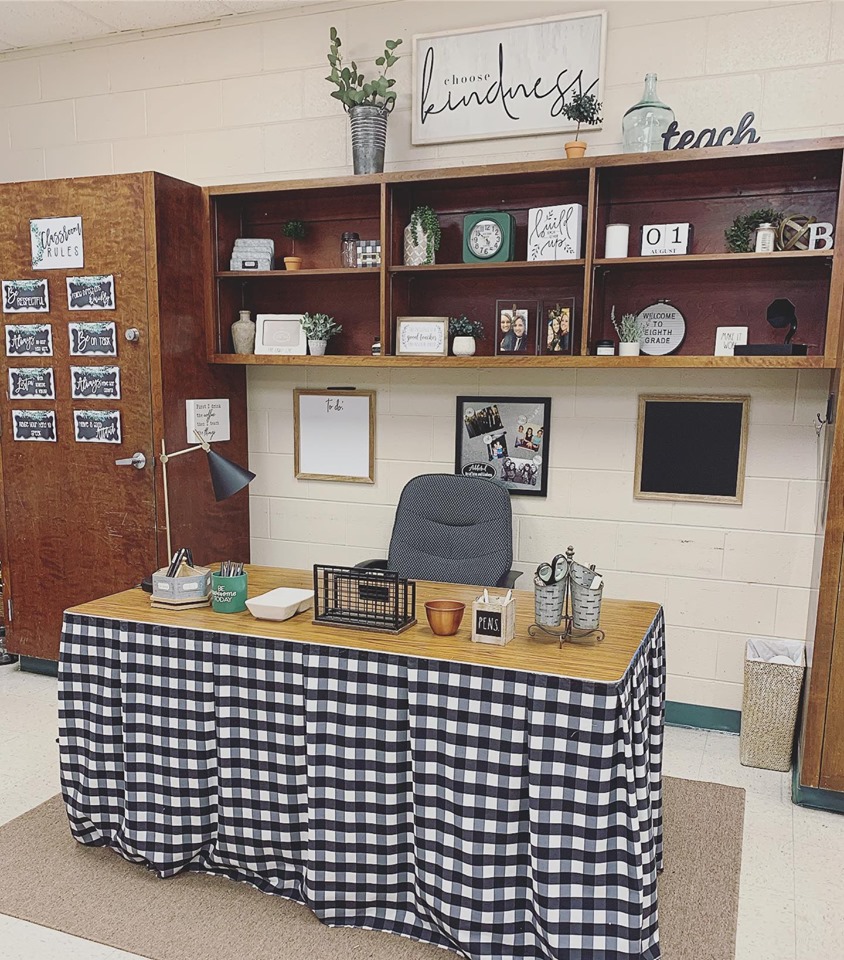 My Desk:
While I'm on my feet most of the day, having a cozy space to grade papers and plan out the week ahead is a must! I purchased buffalo check fabric from my local craft store to create a fashion-forward table skirt. It looks cute and it keeps my lunch box and other personal items out of sight. No sewing necessary—there are tons of tutorials DIY tutorials on Pinterest! All you'll need is a pair of scissors and a pack of Velcro strips. (For a polished finish, you can use no-sew hem tape to seal the edges of the fabric.) I pulled in a hodge-podge of farmhouse favorites from home to fill the shelves and empty spaces.
The 'classroom rules' on the storage cabinet (to the left in the image above) were so easy to download and print for just $2 on TeachersPayTeachers.com! You can also purchase the classroom bundle, which includes beautiful customizable posters, nameplates, and labels for less than $50. I love that I can support another educator in the process of making over my own space!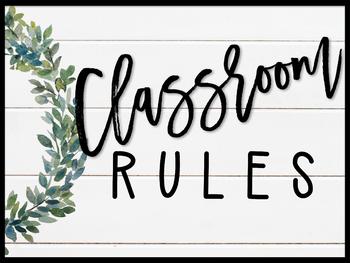 Hall Passes:
When I first saw these personalized hall passes from PVC Party Invites, I knew I had to have them! Each pass can be customized to include the teacher's name and the student's destination. I love the beautiful Magnolia wreath accent on this design! These passes are also much thicker and more durable than the passes I've created in the past (goodbye, paper passes) and each set of 10 includes lanyards.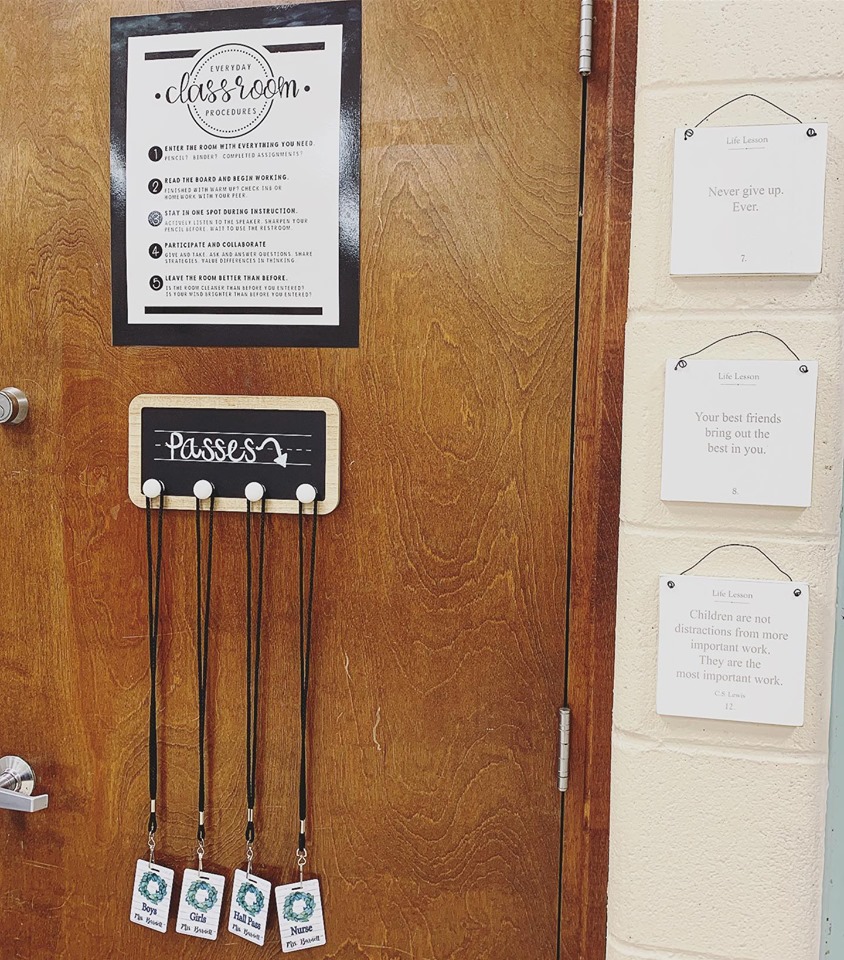 Wall Décor:
Hobby Lobby is my go-to store for all things related to home-décor, and in this case, classroom decor. They have such a wide selection of accents; I could spend the whole day perusing the patterned throw pillows, chunky knit blankets, marble coffee tables, and inspirational wall art quotes. I selected a few of my favorite pieces with wooden and metal finishes and hung them up using Command wall hooks.
To add an extra special touch to my 'History of Georgia' bulletin board, I hung a string of sage-colored wood beads.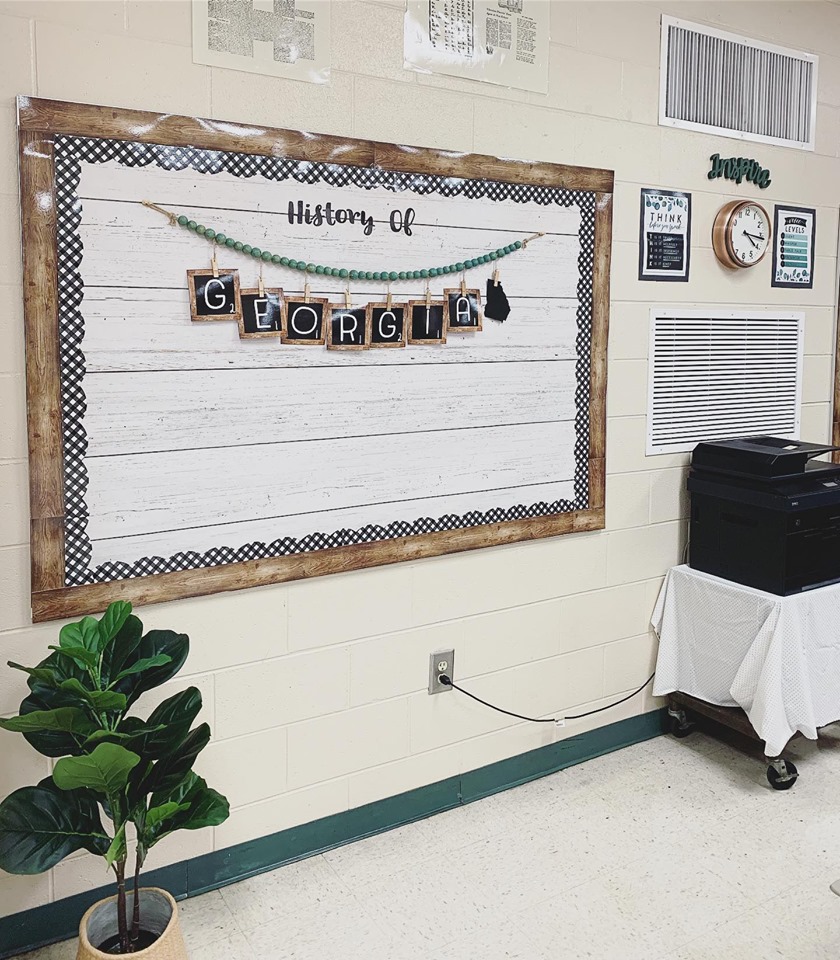 Turn-In Table/Workspace:
It's so easy to dress up (boring) standard school tables using a cute table cloth or rustic drop cloth like this one. I love having extra space to hold homework trays, hole punchers and the community pencil sharpener. The drop cloth curtains give the space a lived-in farmhouse feel!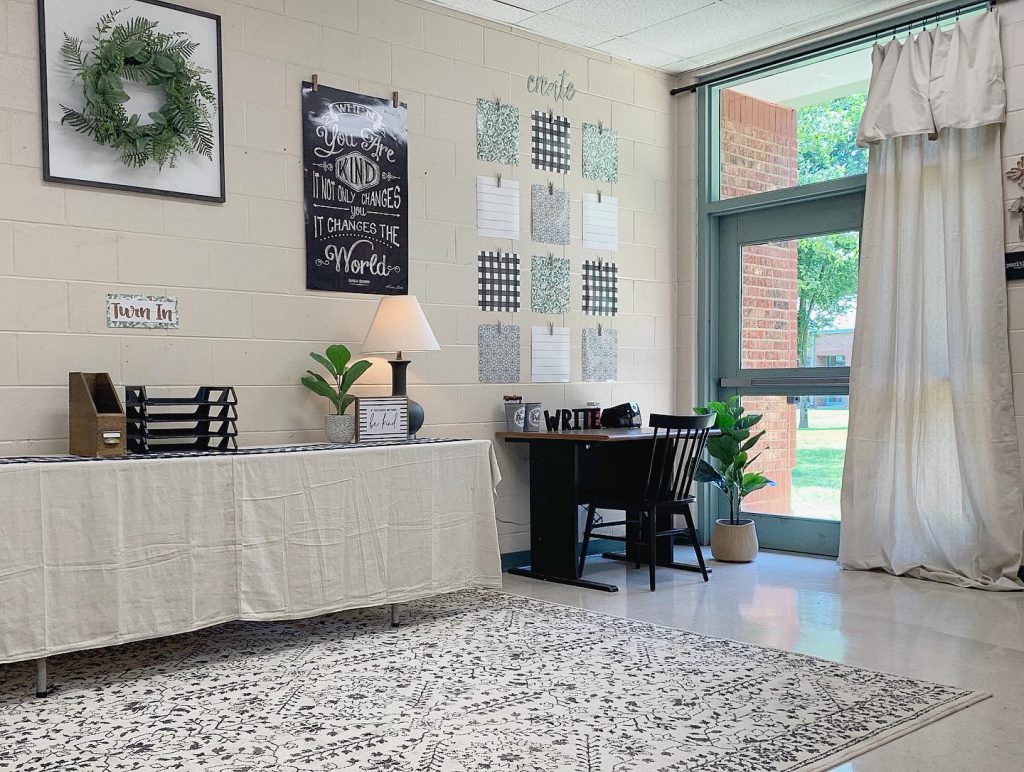 I plan to use the smaller table below as an additional work area for myself and students, styled with a white and gray striped tablecloth, an industrial-style Edison lamp, a farmhouse desk chair, and a faux eucalyptus wreath. With a few pencil holders and a decorative wooden mail sorter, we're ready for the year ahead!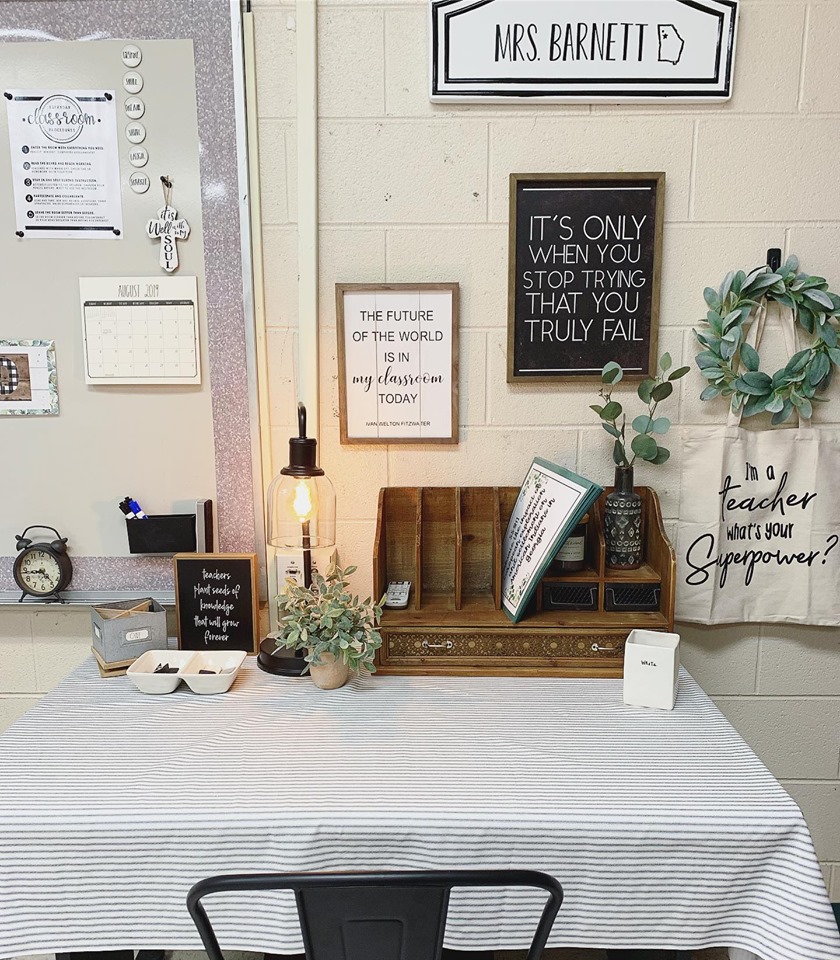 'Outstanding Work' Wall Display:
Near the classroom writing nook, this Hobby Lobby scrapbook paper will be used to frame my students' best work! I selected classic farmhouse patterns like shiplap, black and white buffalo check, and a very chic black and white tile print, but there were so many great ones to choose from! After laminating the paper, it was easy to add a few removable sticky dots and place on the walls. Now I don't have to worry over paper tears if I needed to make an adjustment.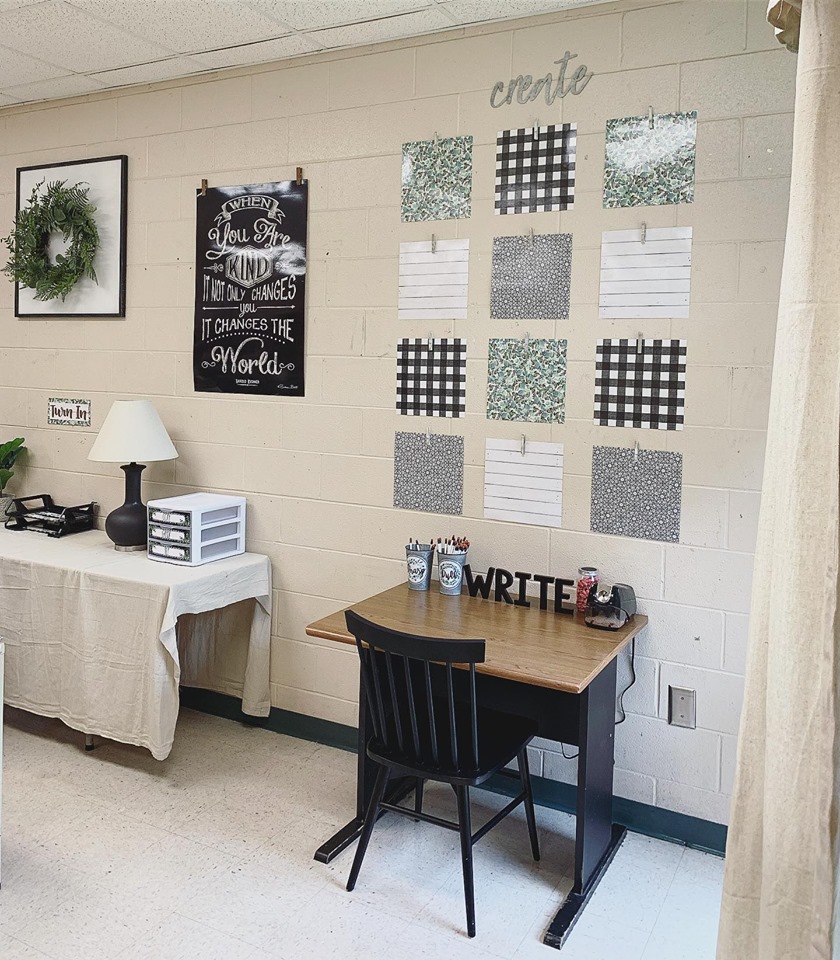 Area Rug:
It was pure serendipity that I stumbled across this gorgeous black and white area rug from Mohawk Home as I was adding the finishing touches to my room! It perfectly complements all my décor and I love how soft and plush it feels. While some teachers might worry about adding a light-colored rug to a room with tons of foot traffic, this one is stain and fade-resistant, earning the grade of an A+ from me. I can't wait to tell my students and co-workers how it's made from recycled plastic water bottles!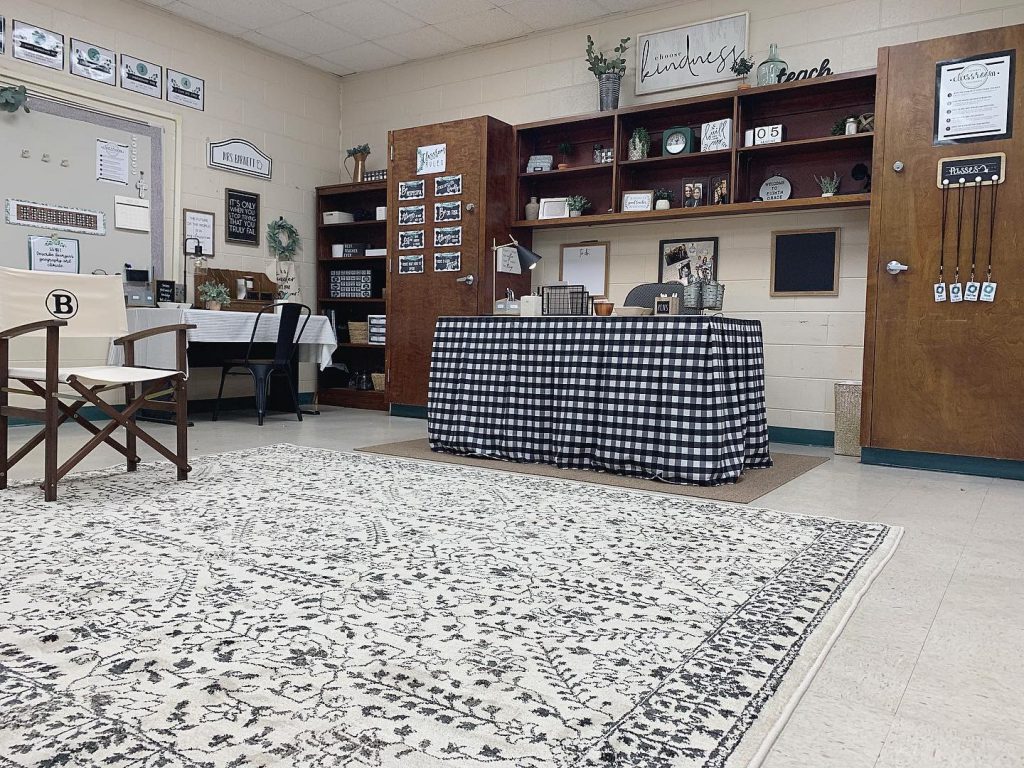 What are your favorite classroom themes this year? I'd love to read your ideas and feedback in the comments below! Wishing you lots of luck and love in the school year ahead!
-Christie
About the Author
Christie Barnett is an 8th-grade history teacher living in north Georgia. The busy mom of three is passionate about coffee, Disney and all things home decor. You can follow Christie on Instagram at @stonegatecottage.