When it comes to favorite seasons, I'm a diehard autumn fan. From the pumpkin spice everything to the gorgeous colors of fall, the crunchy leaves beneath my feet and NOT being the one that has to rake them from my yard. Plus crisp, fresh air, Sunday afternoon football, pumpkin patch activities and apple picking, and weekends cuddled up in front of the fireplace under my Hygge cable knit blankets.
When it comes to fall décor though, ours usually happens as an after thought. While switching our summer wardrobe over to long sleeves and leggings, I'll take out some decorative acorns for our dining room table and peruse Etsy for a fun, new front door wreath.
While living in an apartment with a shared landing stoop doesn't lend itself to much opportunity in terms of front porch décor beyond a fun, fall doormat, that doesn't stop me from spending hours on Pinterest looking for ideas for our future home.
Check out some of my favorite fall porch décor ideas below:
Cascading Flowers – I love the cohesive appearance of florals on your front porch that cascade down the steps and flank the walkway leading up to your landing. Frame your front door with topiaries in tall, black vases and then accent away with seasonal flowers in coordinating colors and textures. Continue the theme in your autumn garden by planting plenty of red, orange, yellow, pinks and purple mums and pansies, which will bloom and brighten through the first frost.
Personalized Pumpkins – Your fall front porch décor was designed for pumpkin accents. Whether you want to spray paint them metallic colors or stick to the fiery orange hue as nature intended, the versatile pumpkin is practically a blank canvas that can be decorating to reflect the theme of your front porch décor. Get personal by painting monogram letters on your pumpkins for that finishing touch that will impress all your visitors and guests, or order a vinyl design from Etsy.
Front Door Wreaths – Whether you love a good DIY project or prefer to purchase one already made, updating your front door wreath to reflect autumn is one of the easiest and most budget friendly ways to welcome the new season with your outdoor decor. Etsy offers an array of fall inspired front door wreaths to purchase at all different price points, many featuring mini sugar pumpkins, autumn colored leaves, stripes and patterns bows, berries and burlap, twine, grape vines and even gold hoops. If you prefer an understated wreath, check out Mollie's DIY tutorial for this Eucalyptus wreath that will take you from fall through winter https://www.mohawkhome.com/homescapes/how-to-make-a-diy-eucalyptus-winter-wreath/
Fall Doormats – You don't need to own a home or have much of a front porch to swap out your welcome mat for something that heralds the new season. Fortunately, Mohawk Home has an incredible new selection of versatile, easy to clean, anti-slip fall inspired outdoor doormats. Showcase your witty sense of humor with a fun fall motto or select a classic or whimsical harvest scene. There won't be any doubt to your seasonal allegiance with these rugs at your threshold.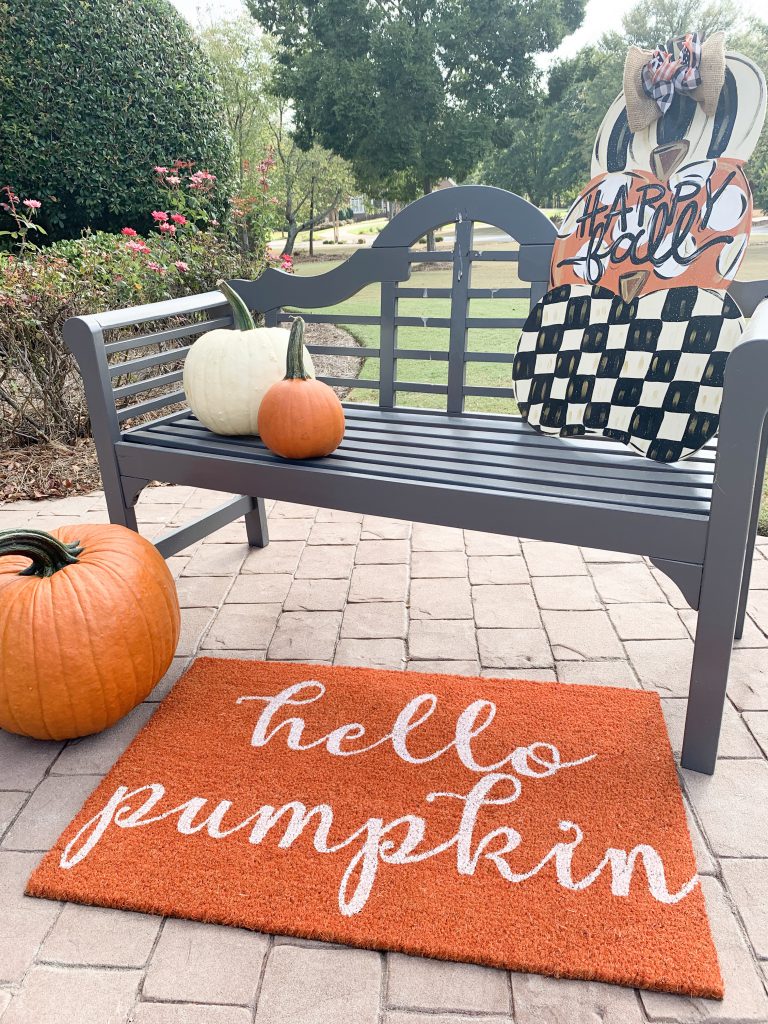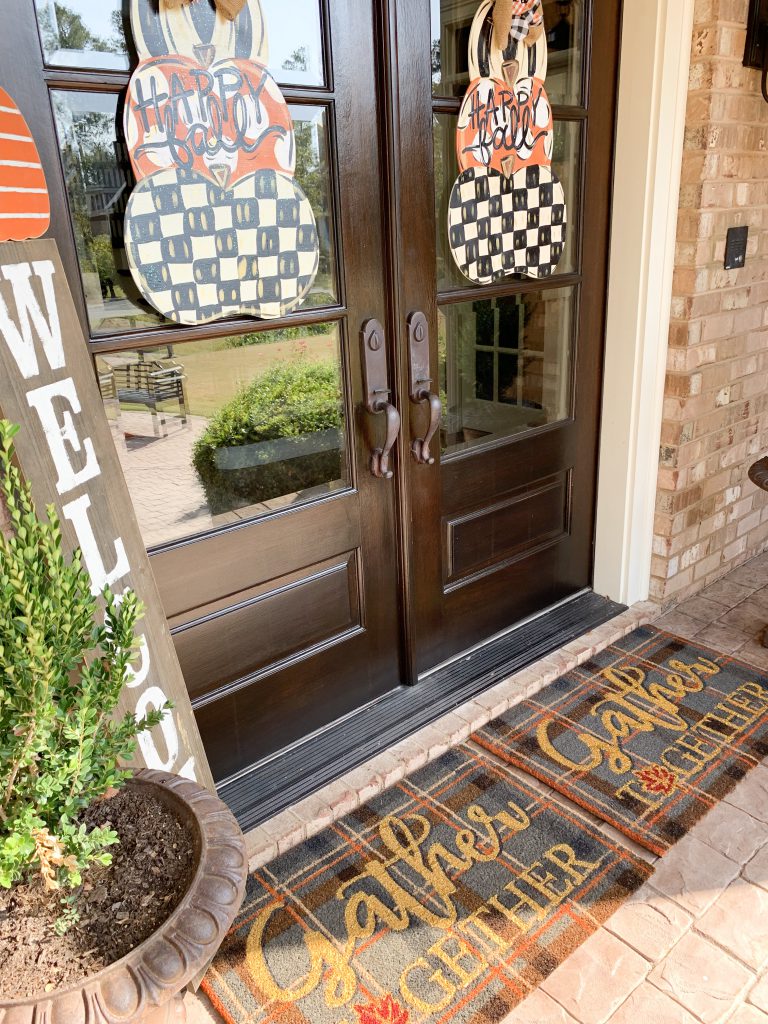 Torch Lighting – With the days starting to get shorter and much darker earlier, you'll want to light up your walkway with style. Line your walkway with these vintage decorative lanterns that are both waterproof and use battery powered LED pillar candles. You can also swap out the pillar candles for mini pumpkins and acorns, or line the glass with DIY cutouts of witches on broomsticks and black cats for Halloween.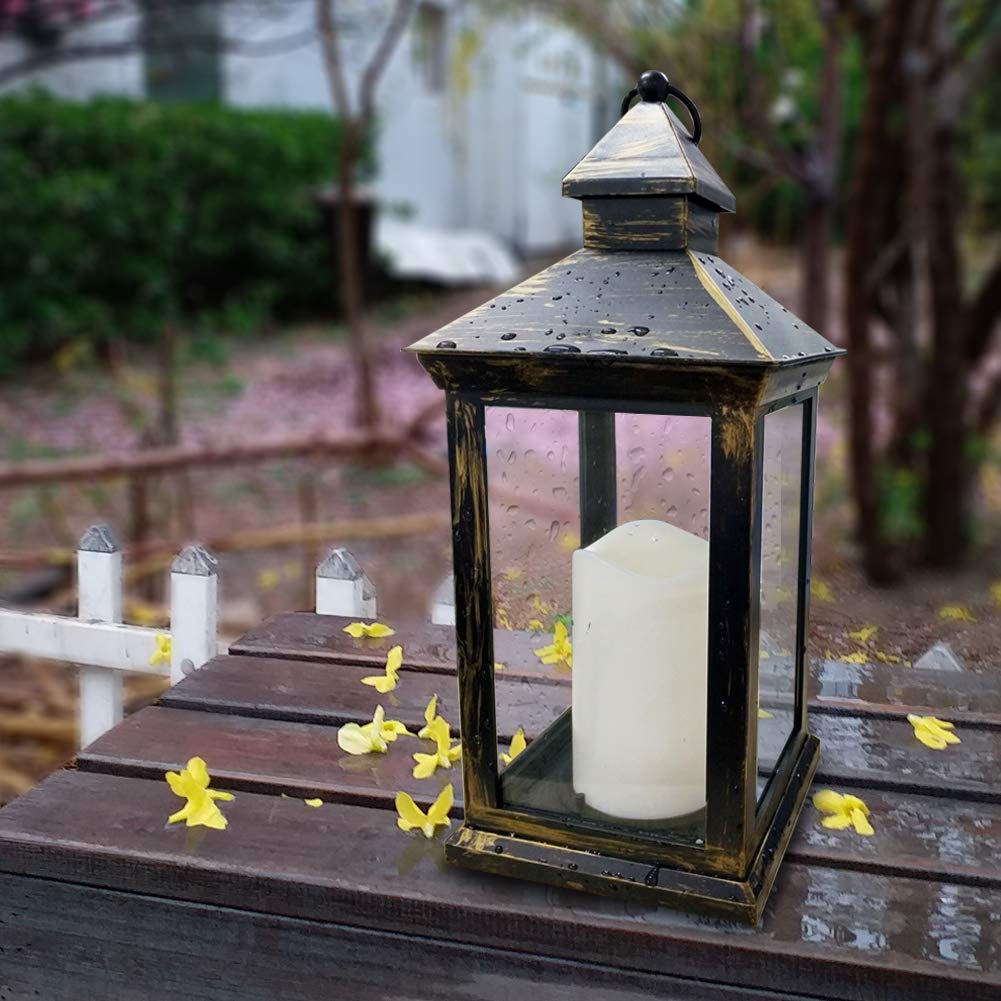 Wooden Accents – For the ultimate rustic appeal, use wooden storage boxes on your front porch and fill the shelves up with chalkboard signs, lanterns, smaller planters filled with colorful flowers, and outdoor decoration pieces like brass squirrels, owl figurines and pinecones, gourds and acorns. I also love this personalized "Happy Fall y'all" wood wall tag for the front door from Bed, Bath and Beyond. No one will think they're at the wrong house with this adorable sign!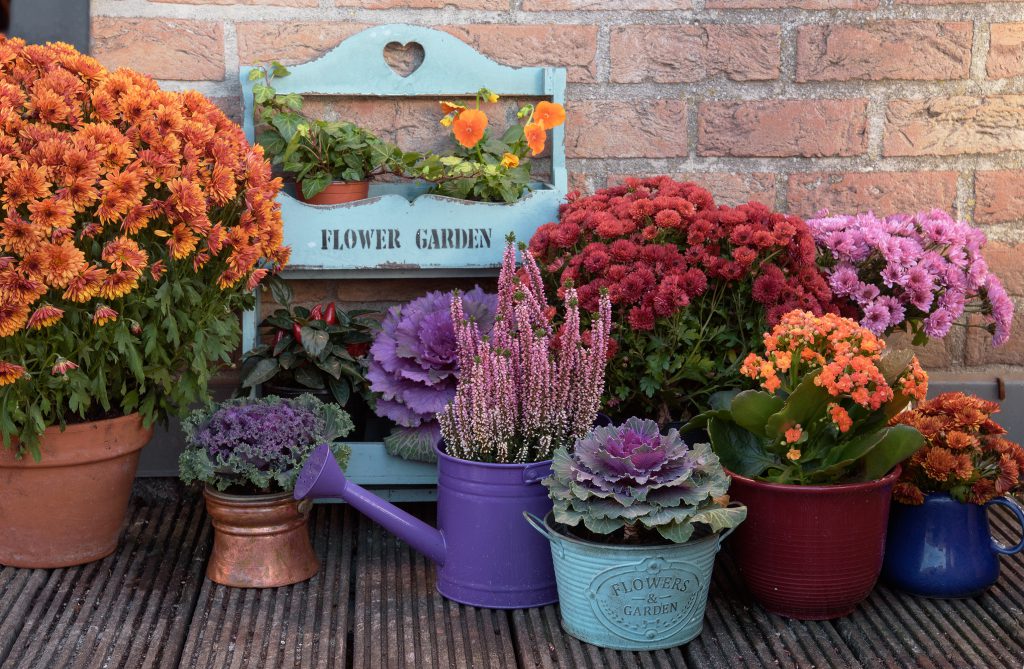 What's your favorite front porch décor picks for fall? Share with us in the comments!