When we moved from a crowded suburban neighborhood to our farm back in May of 2016, we initially spent most of our down time on our screened in porch taking in the fresh air and open spaces.  In fact, it was my husband's favorite "room" in our house, overlooking the property and perfectly positioned to watch the sunrise with a morning cup of coffee.  Fast forward three years later and I'm sad to admit our back porch has become rather neglected.  While our two golden retrievers, Tucker and Bear, still spend most of their down time on the back porch, we tend to be indoors more these days and miss out on the al fresco feels.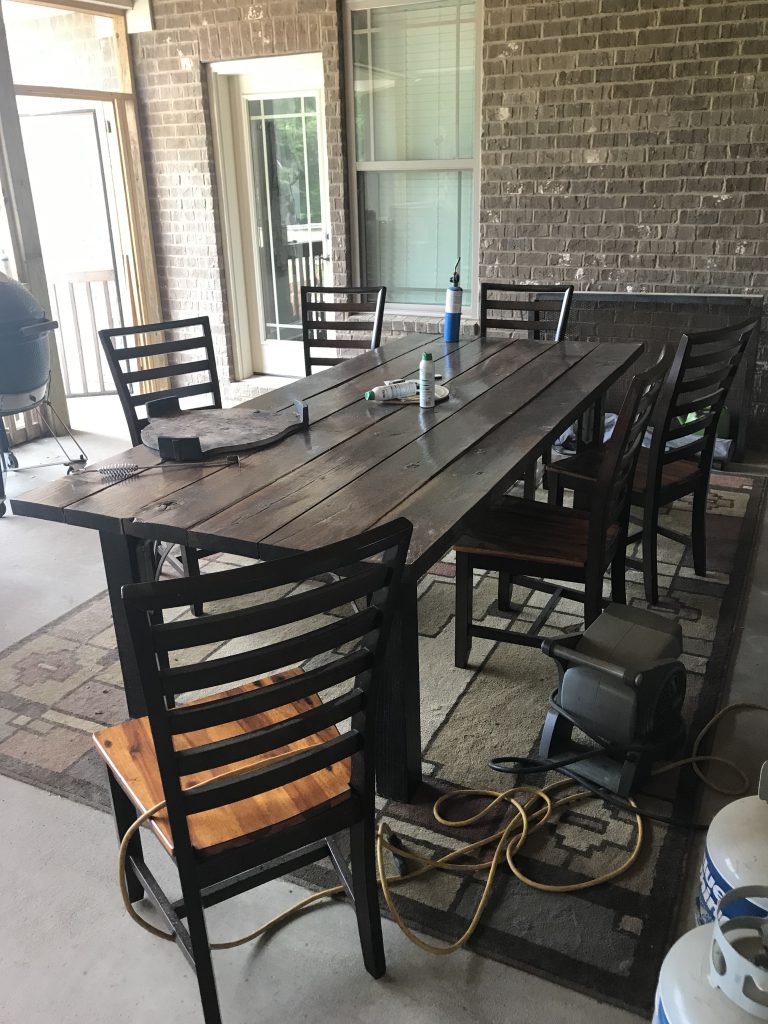 Our Patio "Before"
With summertime officially here and our one-year-old enjoying water toys on the back porch, it was time we reclaimed our outdoor oasis. I'm honestly a little embarrassed to share this "before" picture of our patio's dining area. Our table had become a catch all for grilling accessories, cans of bug spray, dirt, dog hair and pollen. I've long had it out for my husband's bachelor pad rug beneath the table. Somehow this rug managed to stay with us through the move by finding its home on our patio. But the outdoor elements (and farm doggies) have not been kind to it over the years and my husband reluctantly agreed it was time to finally say goodbye.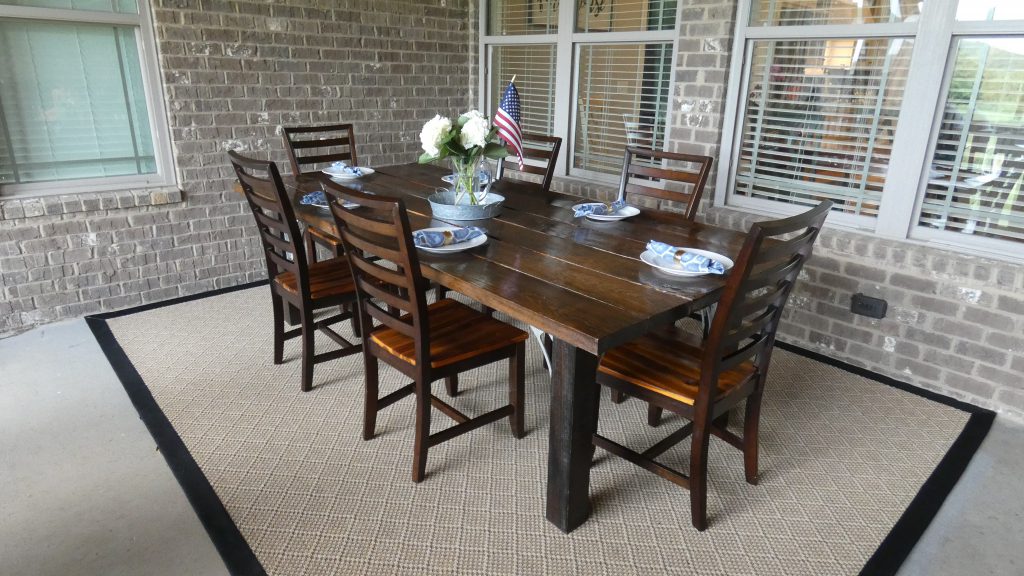 Our Patio "After"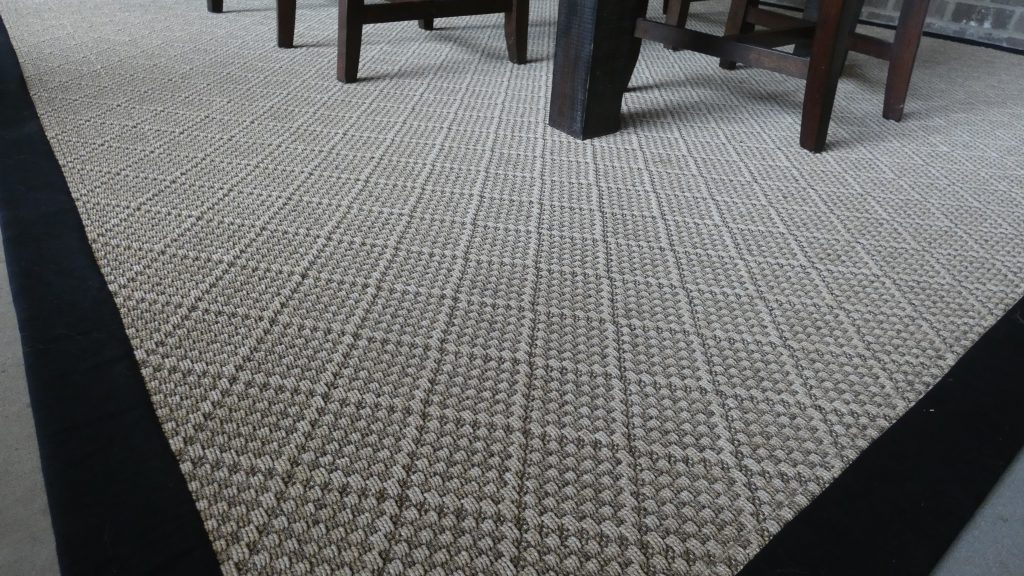 Rug Close Up
We started the porch rehabilitation process by rolling up the old rug, sweeping the area, clearing off the table and then using The Method's Wood for Good Daily Clean spray to revitalize our table and chairs. Next up, we laid out this beautiful black bordered sisal inspired outdoor area rug that is actually woven with the moisture and fade resistant Sunbrella acrylic fabric.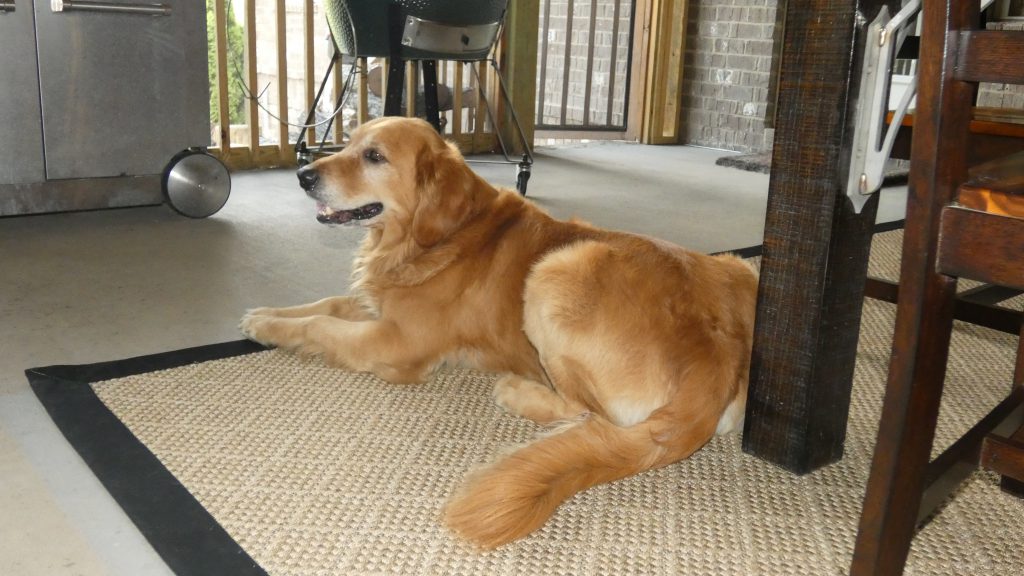 Pet-Friendly
Sunbrella fabric resists water damage and mildew growth, making it ideal for the South's famous humidity (and at our house, the inevitable wet pup coming up from a dip in the pond). The flat weave design keeps outdoor dirt, pollen, dog hair and other allergens from rooting down in the fibers. An occasional quick vacuum will keep it looking new! We opted for the oversize 9' x 12' option as our table is fairly long.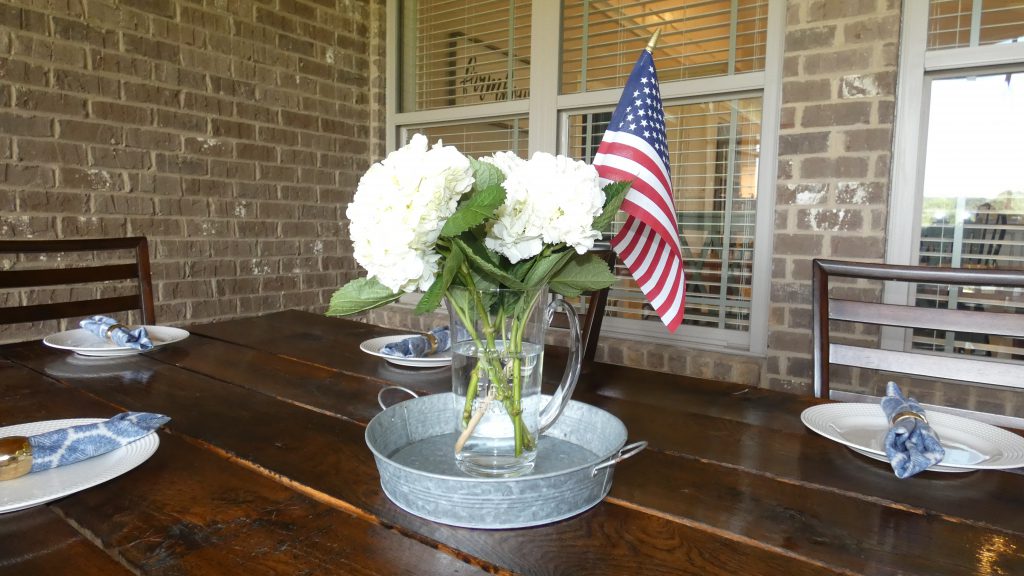 Simple Centerpiece with Hydrangeas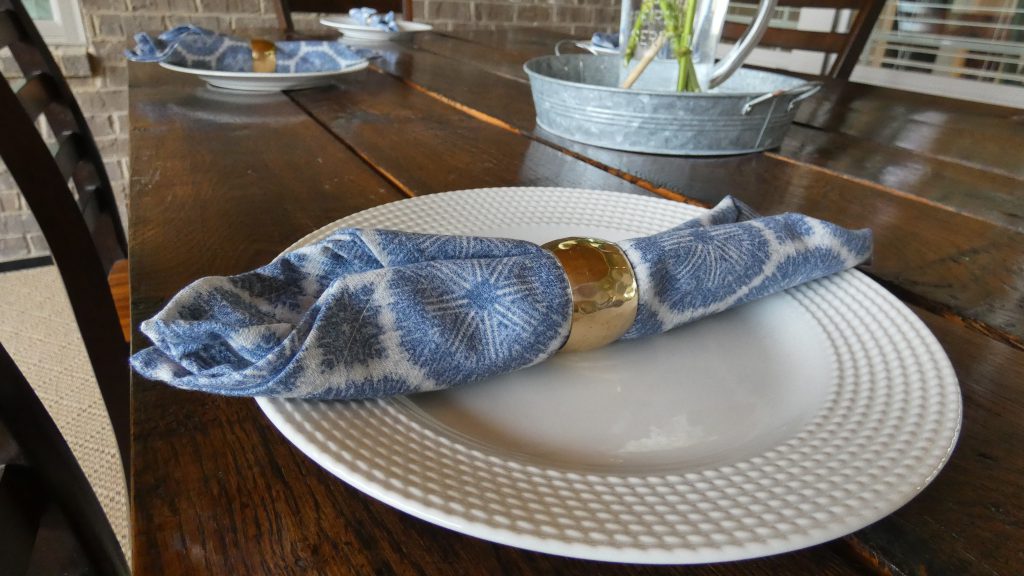 Blue and White Place Setting
As Fourth of July is right around the corner, I wanted to put together a super simple patriotic tablescape. This galvanized metal tray was gifted to us when we got married and ties in our farmhouse décor. Next, I positioned a Kate Spade glass pitcher of white hydrangea blooms on top of the tray and added an American flag for a subtle salute. I brought in some blue with cloth napkins and white with the dishes. The particular napkins and napkin rings I have are Target's Threshold brand from last year, but I've linked similar styles.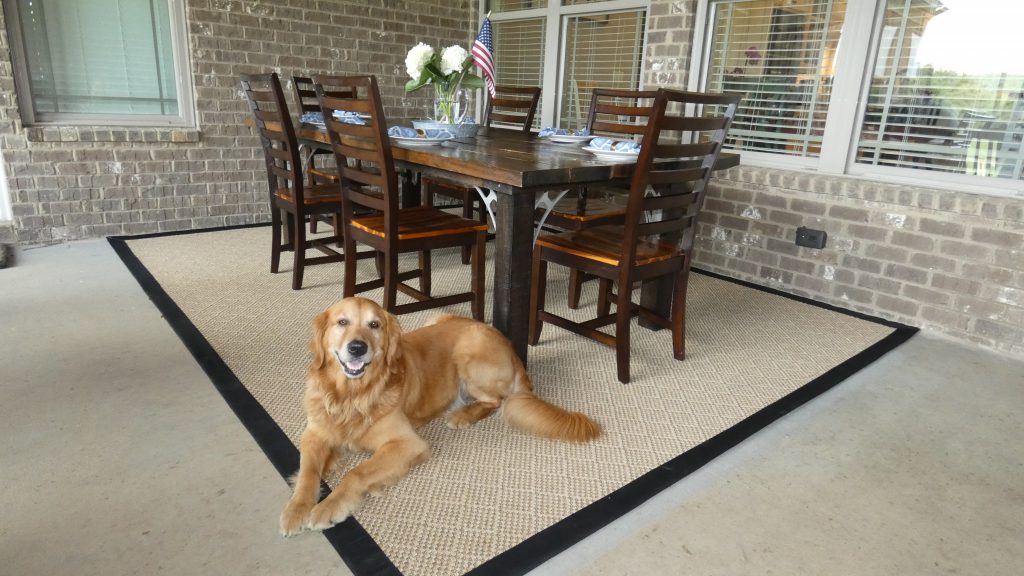 Tucker Resting on the New Rug
Since our patio rehab, we've enjoyed multiple dinners outside and rediscovered our forgotten favorite "room". Perhaps most importantly, Tucker and Bear are happy to have some company on the back porch again! Speaking of company on the back porch, check out these easy, no cook recipes I'll be trying next week as we host a cook-out with family to celebrate the Fourth! Happy Fourth of July!

All-American Appetizer
Red salsa, blue tortilla chips and white sour cream couldn't make an easier or more delicious red, white and blue appetizer!   Trade the sour cream for white queso dip and add pico instead of salsa for a yummy swap.
A bowl of blueberries for the stars, next to alternating rows of red berries and white yogurt covered pretzels is easy to assemble and even easier for guests to gobble up!
Independence Ice Cream Bars
Unwrap store bought ice cream sandwiches and roll in red, white and blue sprinkles. Refreeze and serve when guests are ready for dessert. So cute, so easy, so delicious and… not even a dirty dish in sight!