I have a confession: I have an obsession with Magic Erasers. I use them on everything in our house from shoes, to windows, on our base boards, and on my kids play table. From Play-Doh to markers the Magic Eraser would clean it…but I over did it and soon the finish began to wear on the top of the table. Then I had a bright Idea! I'd paint the top of the table with Rustoleum's Chalk Board Paint.
This would solve two problems. 1. Keep my 1 1/2 year old from playing with markers by moving him on to chalk, which is much easier to clean. 2. Create something entertaining and fun that my children can do together.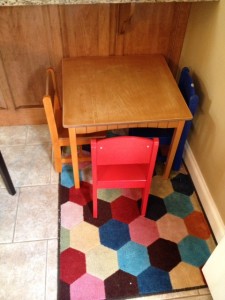 Step 1. Place a drop cloth or old towel under the table. Preferrably move the piece outside to a well ventilated area.
Step 2. Lightly Sand the surface of whatever you are going to paint. A medium to fine grit sand paper will be fine.
Step 3. Wipe surface with wet cloth and let dry completely to remove any excess dust.
Step 4. Using a foam brush or fine bristle paint brush paint in one direction across the entire surface. Don't worry if the paint doesnt fully cover for your first coat. Let paint dry 4 hours.
Step 5. Paint across the top of the piece from the opposite direction.
Step 6. Let piece dry for a minimum of 3 days (my kids were drooling over the table, waiting until they could create Chalk masterpieces.)
Step 7. Bring out the chalk, pour your self a cup of coffee, and enjoy the momentary silence as they play together peacefully.
One other tip: I bought a new soft sponge and got it damp, and pulled an old dry dish cloth out. I gave this to the kids to wipe down the surface after they'd completed a drawing. They almost have as much fun wiping down the table as they do drawing!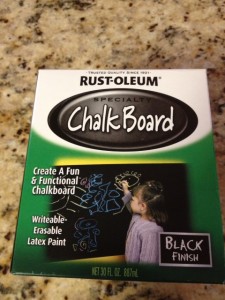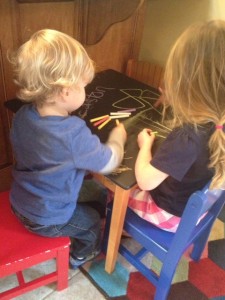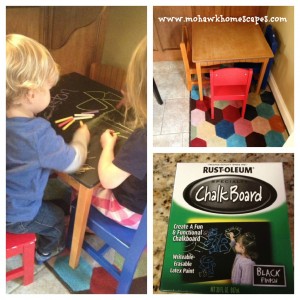 The washable rug under the table is great too because it keeps crumbs and dirt from migrating all over our floors. I can just throw it in the washer when it gets dirty! Here are some other great rugs for play areas!