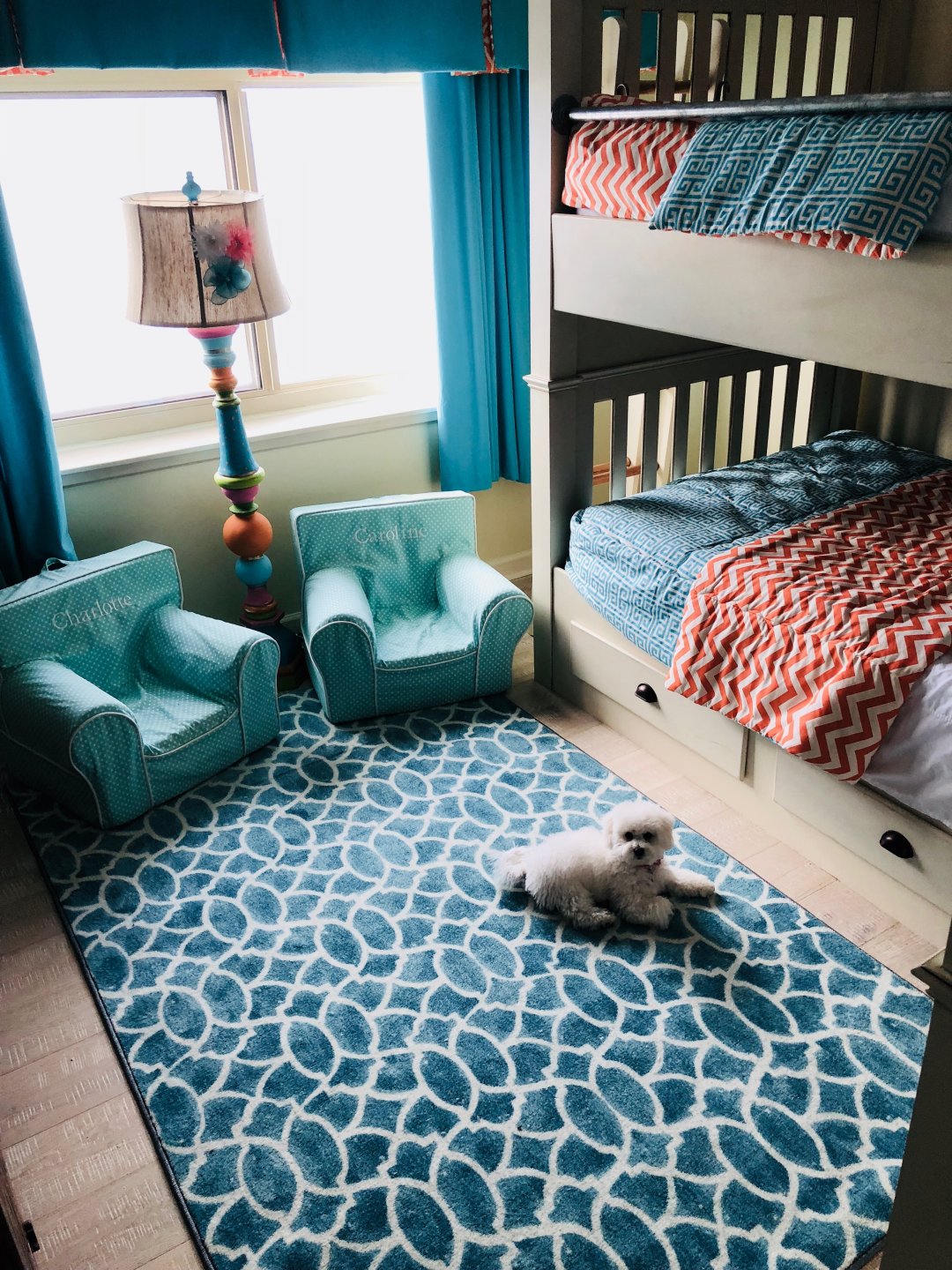 Creating gorgeous spaces for kids is absolutely my favorite design challenge. The freedom to infuse whimsy, imagination and pops of color into children's rooms lets my creativity really come to life. This is why I am super excited to share this adorable coastal kids bedroom that not only awakens your senses, but is a brilliant example of fully maximizing a small space.
Years ago, my mom revealed to me that it was her dream to have a beautifully designed space overlooking the sand and ocean. I started to dream with her, as I spent hours saving inspirational coastal images on Pinterest and Houzz of all of the fun things we could do to achieve a rustic coastal chic vibe—and not get 'seashell cheesy'. Two years ago, my mom's longtime dream came to fruition when they finally purchased their dream condominium overlooking the Gulf of Mexico with an expansive view.
While the outside view was absolutely breathtaking, the inside needed a complete remodel to achieve our design vision. We started with the floor up, selecting gorgeous whitewashed hardwoods from Mohawk Flooring as well as cut and bound area rugs from Karastan and rugs from Mohawk Home. Next, we bathed all of the walls in my favorite Benjamin Moore Revere Pewter (a no fail neutral gray) and the trim in the slightly creamy Benjamin Moore Navajo White. The floors and paint provided the perfect canvas to dig into the details.
By the time the remodel project was well underway, two little ones had come along—Caroline (now 6) and Charlotte (now 3). As you can imagine, my mom adores my girls. Creating a haven for the girls at the beach became a top priority, and we had way too much fun pulling this bright, happy room together. As you can see from the room photos, we had very limited space to work with. My brother, a newlywed, also wants children, so it was important for us to incorporate as many beds as possible so that the room could grow with our family.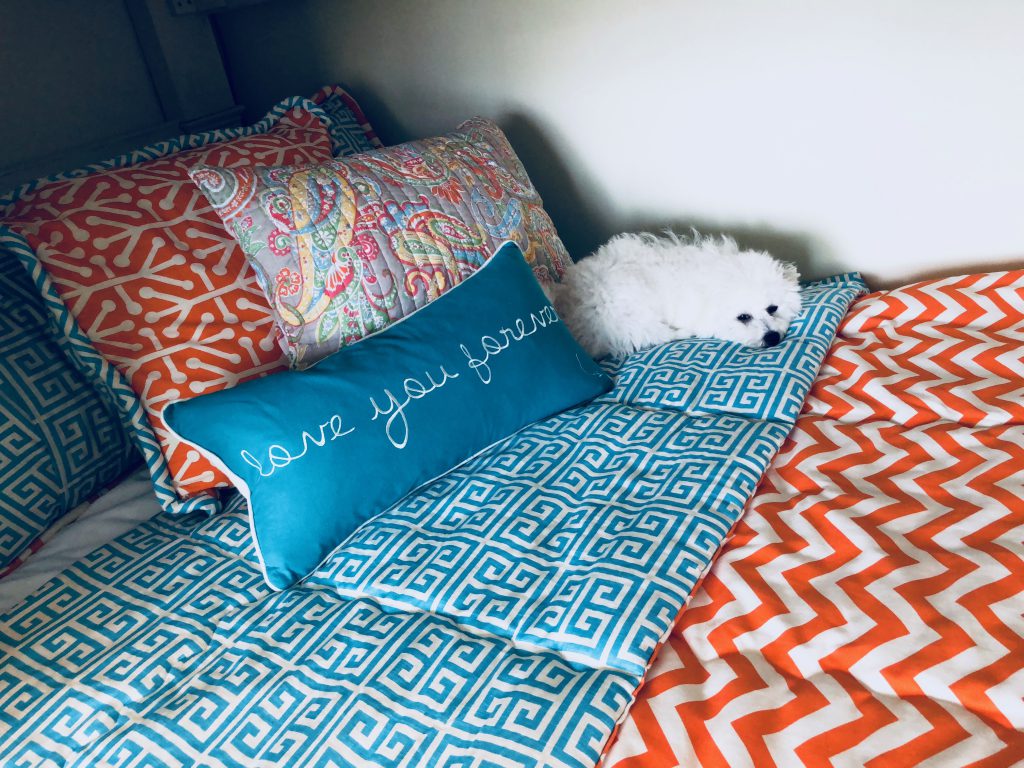 Our solution was to utilize the corners of the room and commission a built-in bunk bed configuration that allowed for four double beds with storage underneath. We also built-in small bookshelves with reading lights and electronic chargers over each bed so the kids could make memories by staying up late to read and tell stories. Because making up bunk beds can be pretty difficult for us parents, we had custom bedding made from Bedding for Bunks that is specially-designed with altered corners for bunk beds.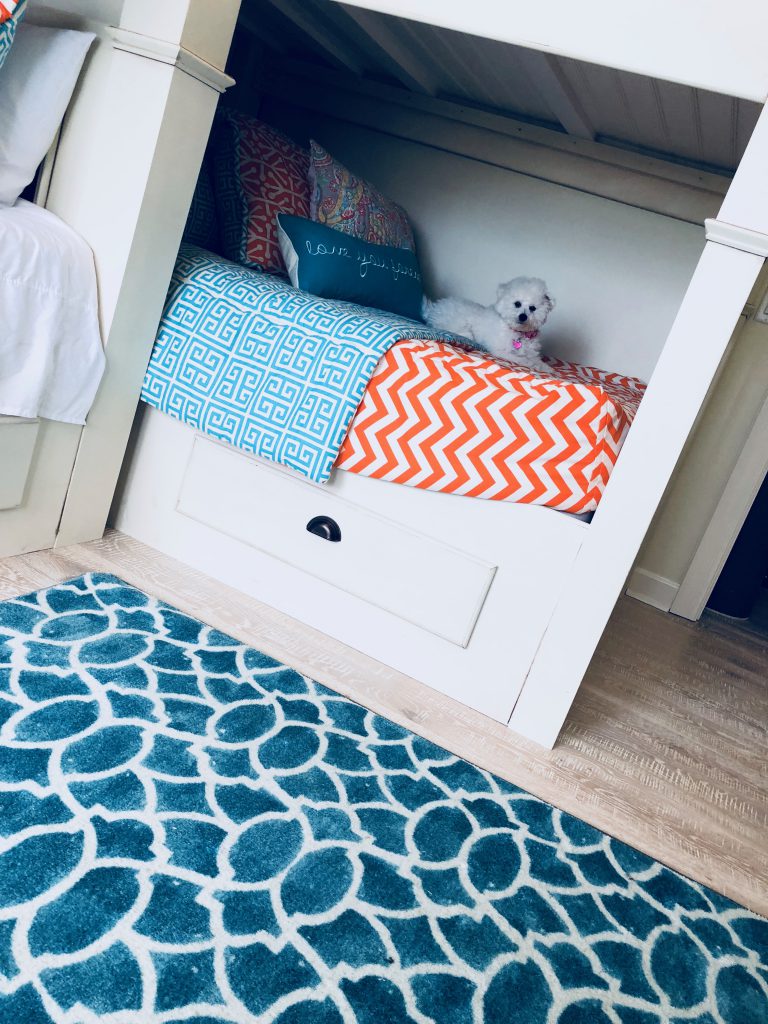 To pull in that pop of aqua found in the custom bedding, we selected the Prismatic Sea Life Fret Area Rug in 5' x 8' from Mohawk Home. Not only is the rug stylish and perfectly complements the décor, it's durable and so easy-to-clean which is a necessity in a kid's space. This rug is crafted on an eco-friendly Everstand woven base and features rich, saturated colors using Mohawk Home's exclusive Precision Dye Injected Printer. The Mohawk Home rug really helped pull the entire room vision together and added the perfect finishing touch.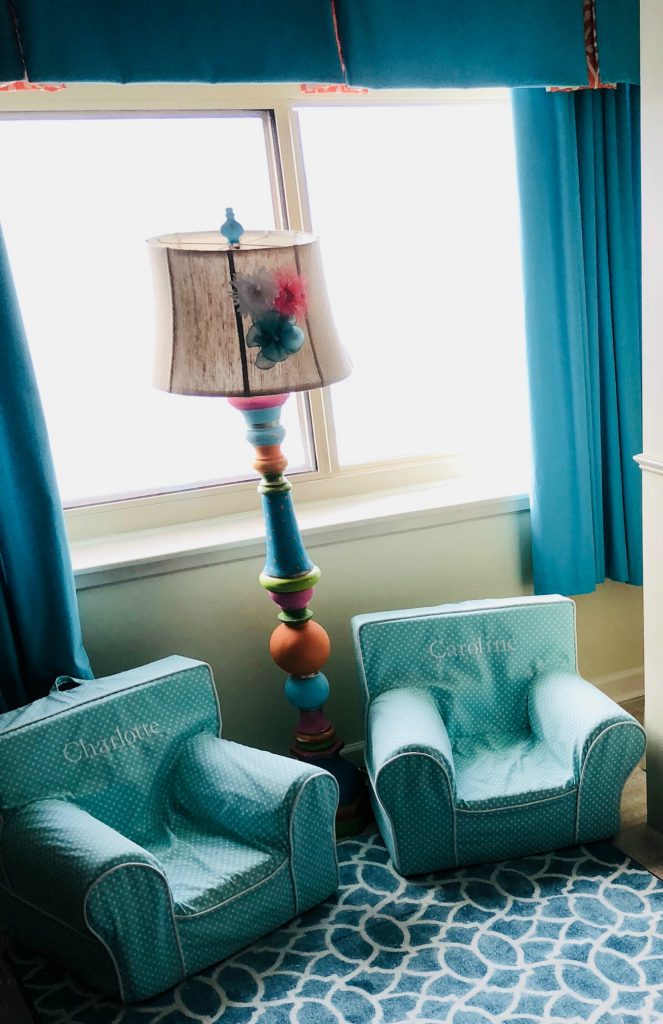 A fellow designer, Tami Richardson, painted the wooden floor lamp to add extra whimsy, and we added two Anywhere Chairs from Pottery Barn Kids for movie dates and relaxing. And check out that view! The little ones have a gorgeous view from the side of the condo of the Gulf of Mexico. It's a pretty magical space, and we feel incredibly lucky and excited that the kids get to grow up enjoying a room that was created and crafted with oh so much love.
For the entire story of my parent's condominium selection and remodel, check out this great article in Panama City Living.
For other examples of colorful kids spaces, be sure to check out How to Create the Perfect Playroom on the blog.