Easter is almost upon us, and in our home that means BRUNCH!  You may not know this, but I have experience feeding crowds.  We have five children, ages 15 to 27, and there are usually "extras" that are along for whatever feast we're enjoying.  In fact, Easter has become one of my favorite holiday brunch occasions.  Maybe it's that spring has usually sprung or that there aren't gifts to be opened en masse, but our post-church Easter brunches are relaxing and a special time for family and friends.  Over the years I have a loosely constructed formula that works, whether I'm feeding four or twenty four. The key is variety.
Start with an appetizer, or two.  This can be simple chips and dips or a veggie platter, if that suits your needs.  I love putting nibbles on kabobs, like Camille Styles did with this gorgeous dish!
Prosciutto and Melon Skewers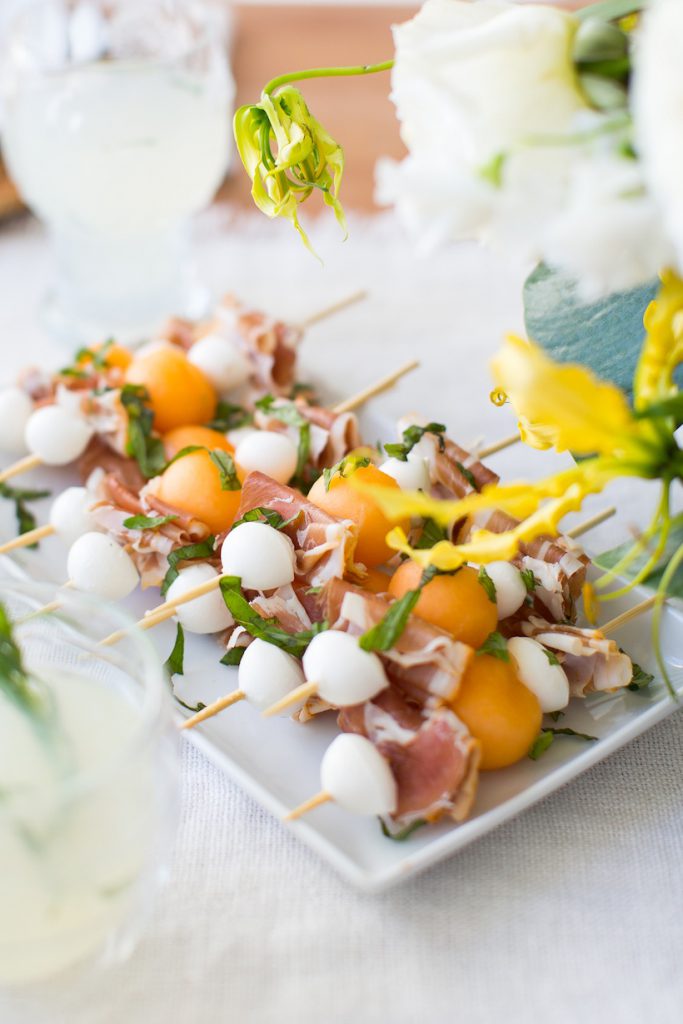 Source: Camille Styles
Ingredients:
1 package thinly sliced prosciutto
1 containing bocconcini
1 melon
Basil for garnish
Get the full set of instructions for putting this tasty appetizer together on Camille's blog. Where there is a little prep work involved, there's also very little clean-up.  And I don't know about you, but I prefer to have less to do afterwards. 🙂
Toss a salad.  I will often do a simple green salad with cranberries and sunflower seeds, but sometimes, it's fun to add something colorful and different!
Cucumber and Strawberry Poppyseed Salad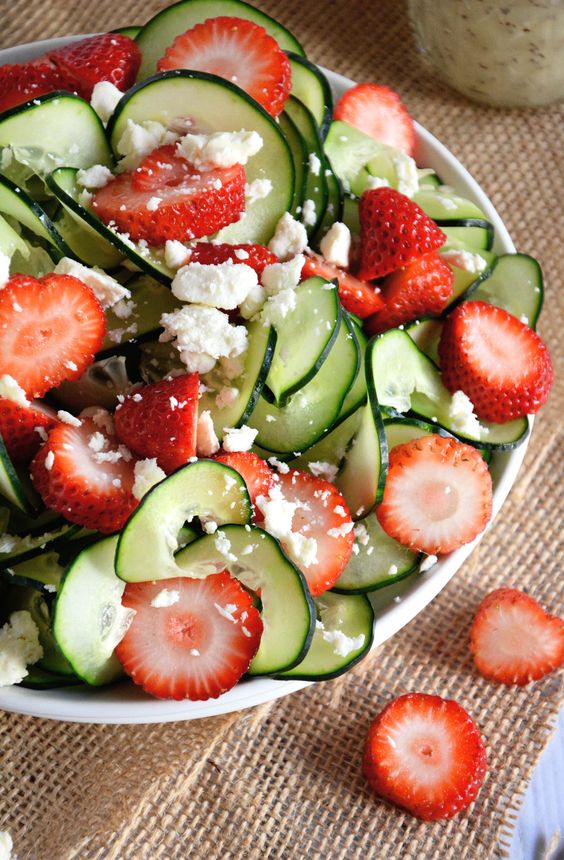 Source: Pinterest
Ingredients:
2 large cucumbers
4 cups strawberries
1/2 cup poppyseed dressing
1/2 cup feta
Slice cucumbers and strawberries, gently toss in your favorite poppyseed dressing. Sprinkle feta on top and viola! Salad is served! Want a little something extra? You could also top with pecans, walnuts or grilled chicken.
Very Berry Fruit Salad with Honey Lime Dressing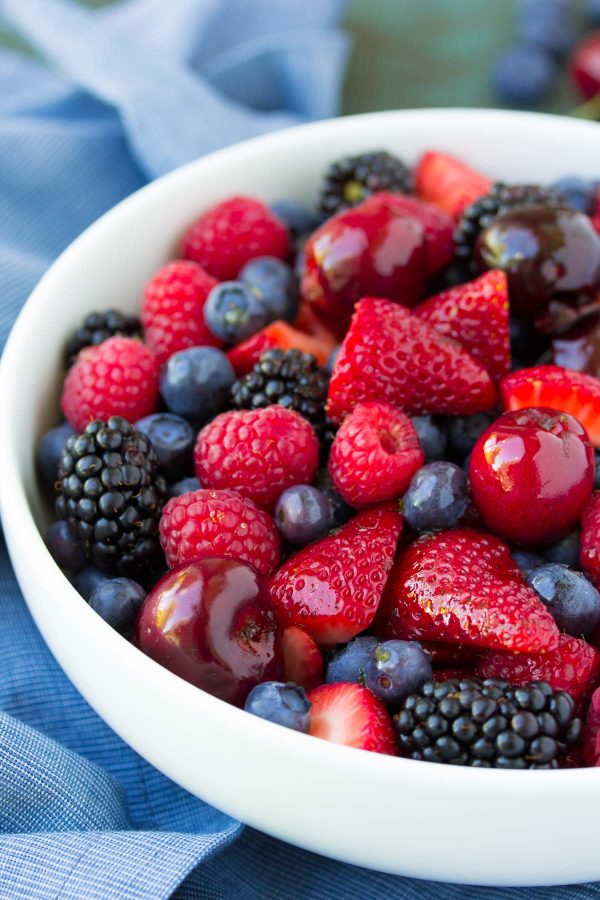 Source: Kristine's Kitchen Blog
Ingredients:
1 lb. fresh strawberries
8 oz. fresh blueberries
4 oz. fresh raspberries
4 oz. fresh blackberries
2 cups fresh cherries, pitted
Zest of 1 small lime
1 tablespoon lime juice
1 tablespoon of honey
Wash and dry all berries and place in a large bowl. Whisk lime zest, juice and honey in small bowl and pour over fruit. Refrigerate until ready to serve.
Meat, meat, meat.  I'm a fan of meatless meals, but let's face it — feeding a crowd should include a meat dish.  Personally, we like ham for Easter, but platter of sausages or bacon would be great, too.  Or you could go for more with a London broil like this one from Two Cookin' Mama's…don't miss the amazing tips for getting your broil 'just right' on their blog!
London Broil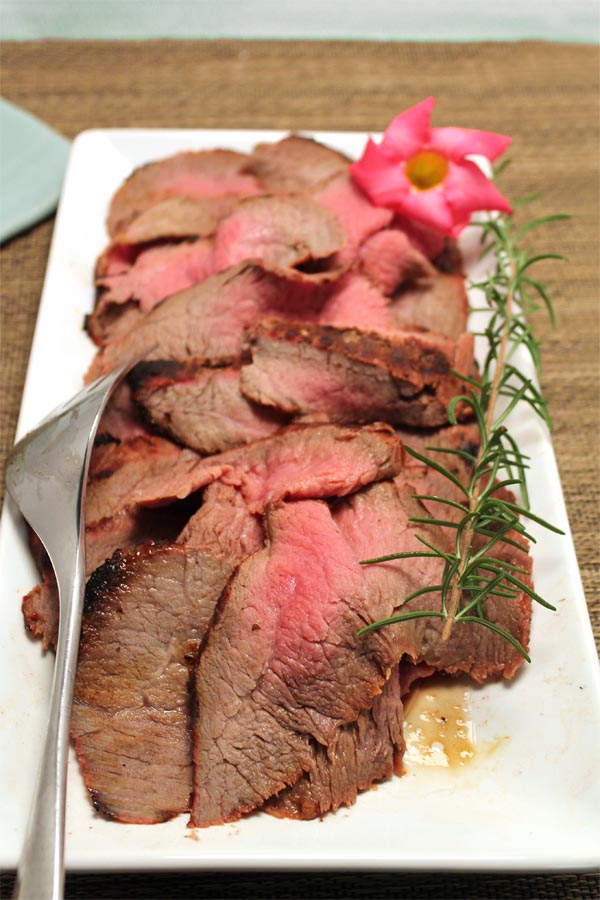 An egg dish should grace your table as well… what's Easter without eggs, after all?  You probably have a tried and true recipe in your arsenal like this one…
Bacon, Potato and Egg Casserole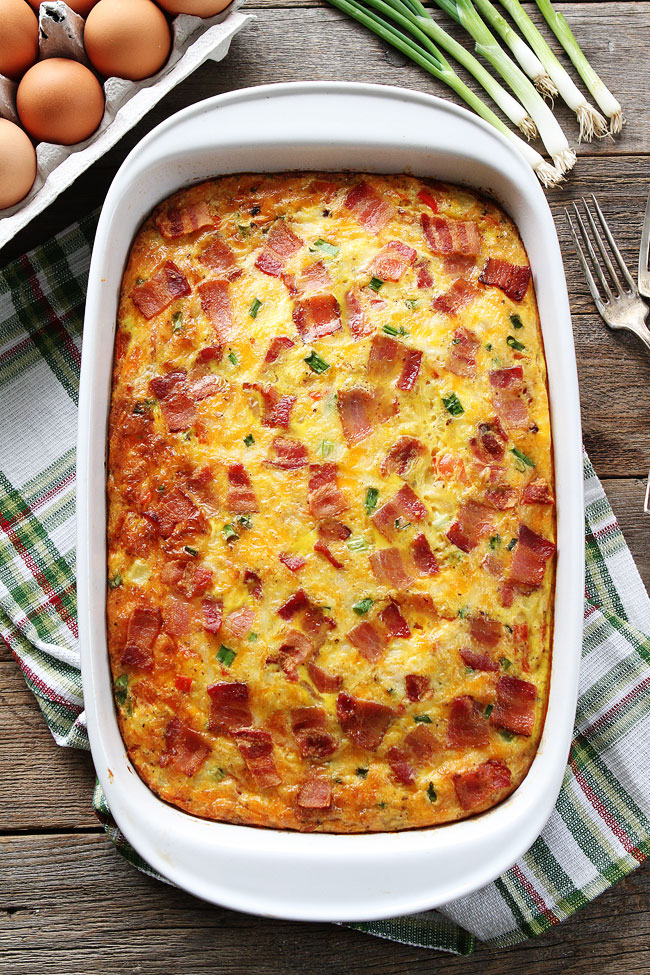 Source: Two Peas and Their Pod
But your egg dish could also be a plate of deviled eggs or a simple bowl of eggs scrambled up just right.
Bread is a must-have.  We might do simple dinner rolls or croissants or I might have a tasty traditional banana bread on hand. If you're feeling adventurous, though, try this over-the-top cream cheese stuffed chocolate chip banana bread/coffee cake and you'll have done bread and dessert in the same recipe. Life may never be the same again!
Cream Cheese Stuffed Chocolate Chip Banana Coffee Cake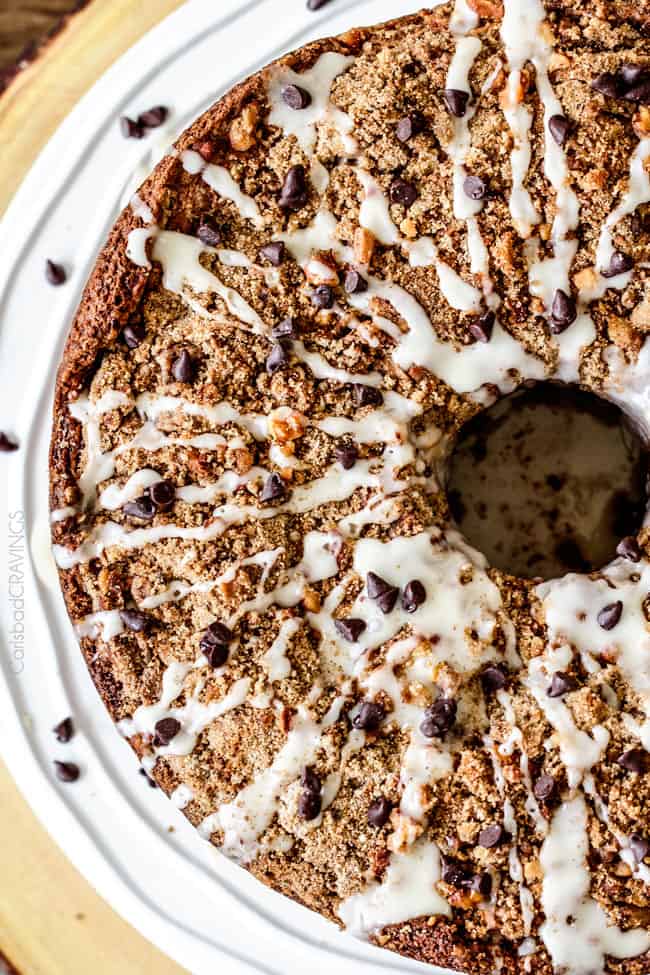 Source: Carl's Bad Cravings
Can I offer you a beverage?  With a crowd it's always nice to offer simple choices — coffee, iced water, wine.  But I always have fun setting up a beverage station, too.  This keeps the service simple but showcases all the choices your guests will have.
Mimosa Bar
Create your own mimosa bar using a variety of juices or classic OJ. Offer fresh berry options for a twist of flavor.
Are you feeling overwhelmed?  Don't be!  Here's some tips to keep the stress level low and the enjoyment factor high…
Tips for Hosting Easter Brunch
Serve buffet style.  Let your guests load up their own plates… with a nice spread before them they will be delighted.
Make a few things ahead of time.  Put together your appetizer, dessert, and your egg casserole the night before.  Anything you can do ahead of time will help streamline the brunch itself.
Purchase some of your food items already prepared.  It's perfectly acceptable to order your spiral sliced ham and pick up your rolls or pound cake for dessert!  Decide what you're okay with buying prepared and go for it.
Keep your decorations simple.  The best table decorations are your dishes, a pitcher of fresh flowers, and the smiles on your guests' faces. You can also welcome everyone to your home with a festive doormat! Shop hundreds of Mohawk Home entryway rugs and doormats  in vibrant colors, springy floral patterns or modern neutrals.
Enlist help.  Put the young ones to work mixing lemonade and your sister-in-law tossing salad.  It's so much more fun with all hands on deck and as they say: many hands make light work. 🙂
Wishing you all joyful brunches with your special crowd!
For more recipes, DIY, and entertaining inspiration visit me at Decor & More!