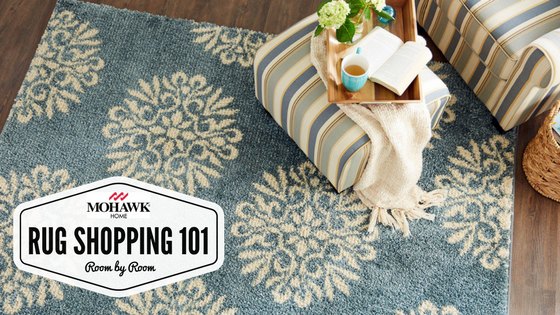 We realize that shopping for the right area rug can be a little daunting.  Not only are there endless colors, patterns and textures to choose from, but you also must determine the best size, shape and material to fit your needs as well… and sometimes all from a browser window!  With so much to consider, it's easy to get lost in the details.
Insert this room by room rug buying guide.  Scroll down to find the space you wish to fill and try our tested tips of the trade!
The Great Room (a.k.a. the family room)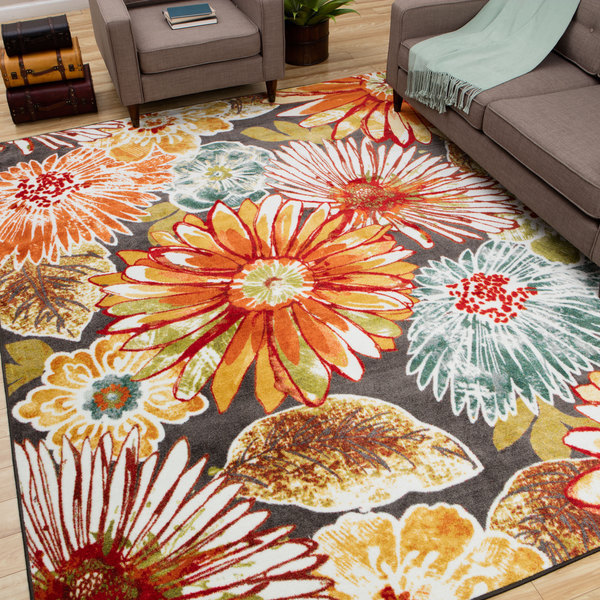 While placement and size of a rug play a key role in the look and feel of any room, it's especially true here! The right rug can help define furniture groupings and create a cohesive flow. This can be especially helpful if you are working with an open space, like a studio apartment or a combined kitchen and living area, and need to define a sitting area.
An equal amount of exposed flooring around your rug will balance the room and frame the rug. It is typically advised to leave between 12 and 18 inches of exposed flooring around the rug.
Bigger isn't always better. Be careful not to get a rug so large that it touches your wall's baseboard as this will actually make your room appear smaller and crowded.
If you opt for an area rug that is smaller in proportion to your furniture, anchor it to the space by placing the front legs of the furniture on the rug and use furniture coasters under the back legs to achieve level height.
The Dining Room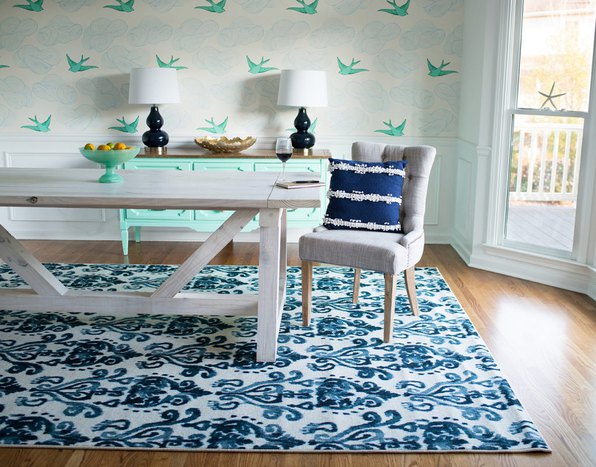 When placing an area rug under a table, the rug should extend just beyond the chair legs in the pulled out position. To find out what size rug you need, pull out the chairs around the table as you normally would to sit down and measure from the rear chair legs in length and width. Add 8" to this measurement to get an idea of the minimum size rug needed to accommodate your dining room table.
It goes without saying that it's only a matter of time until food falls on any rug placed under a dining table. Consider color choices, textures and fiber options carefully when shopping for these spaces. Look for styles marked as stain resistant and fibers that lend themselves to frequent vacuuming (read:  this might not be the best place for shag if you have a house full of messy eaters).  For optimal stain protection, our Smartstrand™ triexta styles are designed with an exclusive built-in lifetime stain and soil resistance that is guaranteed to never wear or wash off!
The Bedrooms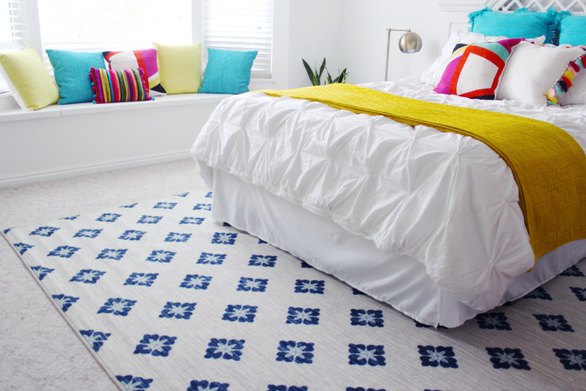 Stepping out onto a plush pillow of pile, thoughtfully placed under the bed can be a luxurious comfort to bare feet in the morning. Just be aware that the bed will cover most of the design when you select a pattern. As such, the bedroom can be an ideal spot for the silky shag style you've been eyeing!
If you plan to use one large rug under the bed, measure your bed and allow for an additional three feet of rug on each exposed side of the bed. Typically the rug will only be needed under the bottom two thirds of the bed as you likely wouldn't step out from the top of the bed. This placement also allows space for a nightstand or two.
Some prefer to use multiple smaller accent rugs in the bedroom for affordability and to experiment with more pattern. To maintain balance in the room, place one rug at the foot of the bed and one or two coordinating rugs on each side of the bed.
The Hallways, Entry Ways and Other Narrow Places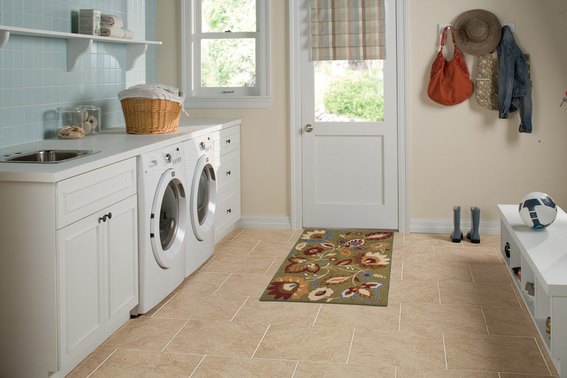 Long, narrow runner rugs are ideal for the places in your home that area rugs and accent rugs are not. When determining what width of runner you'll need, first consider what size border of exposed flooring you'd like to have surrounding the rug. We suggest leaving between 18 and 36 inches of exposed floor along either side of the runner.
In hallways and entryways where a door will over the face of the rug, be sure to measure door heights off the ground. We have low profile rugs that are a smart solution for this situation.
Not just for hardwood, runner rugs can also be useful when placed over a frequently traveled path of carpet, like behind a sofa. Just be sure to place a rug pad down first to protect from the unlikely event of color transfer.
And Everywhere Else…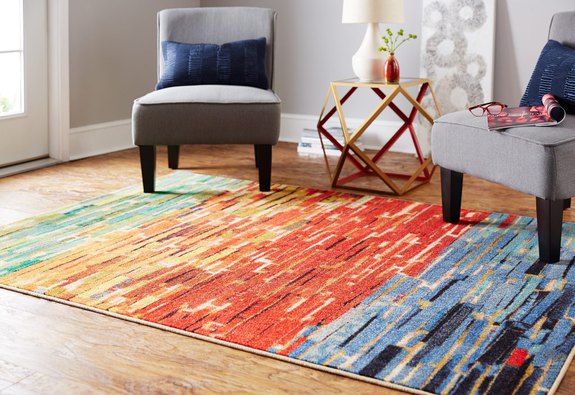 Accent rugs are smaller than area rugs and are often called a throw rug or scatter rug, coined for their ability to be placed in multiple sections of the space somewhat spontaneously.
Accent rugs can subtly bring colorful patterns and designs into the space without dominating it. To add to their versatility, accent rugs are smaller than area rugs (thus, less expensive) and can easily be changed with the seasons and shifting styles.
Ideal places for an accent rug includes the kitchen, the laundry room, in front of a fireplace, in a child's room or an entryway. Pay careful attention to the rug fiber being used in these accent styles as that will affect their performance.
Special anti-fatigue accents rugs are also available with a cushioned core to provide welcomed relief from discomfort associated with prolonged standing on hard surfaces. These styles are especially helpful in the laundry room and kitchen.
Need help choosing the right sized rug for your furniture? There is a guide for that, too! CLICK HERE FOR THE AREA RUG SIZING GUIDE.
Still stumped?  Drop us a question in the comments section and we'll do our best to help you decipher the dilemma.  Good luck shopping!