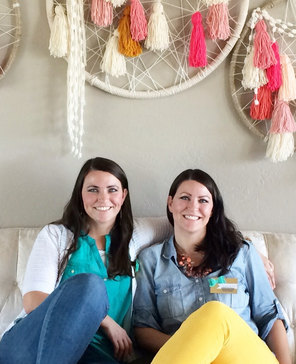 We're Kelli + Kristi, twin sisters from sunny Arizona and the faces behind the Lolly Jane blog where we share home decor, DIY, crafts, furniture revamps, awesome project roundups, tasty recipes and more. 
During a recent renovation of part of my home I was able to replace the old tile flooring throughout the bedrooms, my craft studio, foyer, and main hallways. Phase II won't take place for another year so we currently have transitional flooring of the previous tile against the new, pretty wood floors.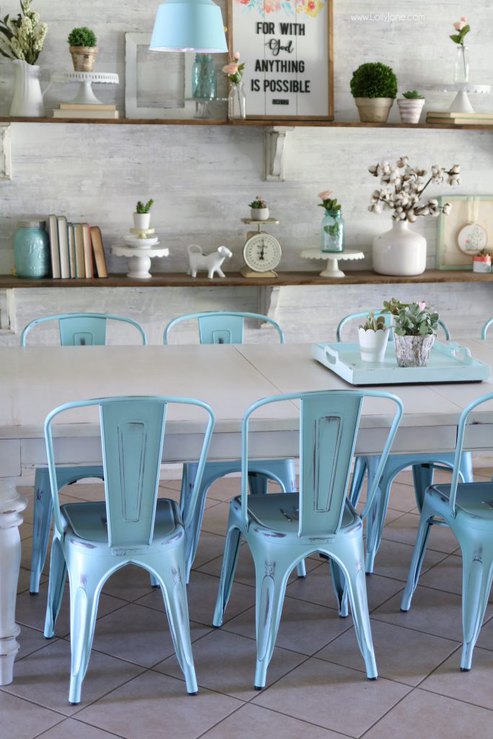 I wanted to cover a large area of that old tile in my farmhouse dining room and have been on the hunt for a good rug. Enter the aqua Clinton Area Rug (8×10) and its partner, the Dual Surface Area Rug pad.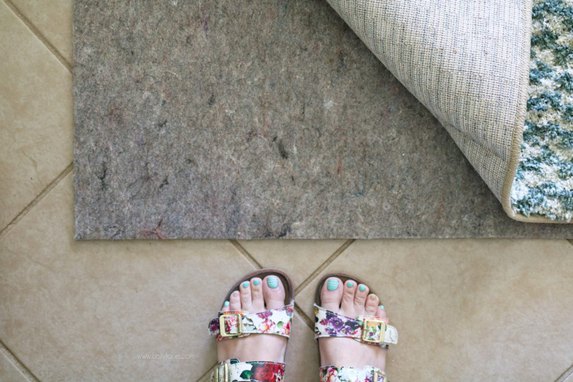 Why a rug pad over tile? Besides helping grip the flooring so my new rug stays put, the Dual Surface Area Rug pad is made from 100% recycled materials and can be used on hard or soft surfaces; besides tile, it is compatible with carpet, hardwood, linoleum, and etc. I definitely recommend using a rug pad with any rug, not only to protect the flooring underneath and add cushion, but because it actually extends the life of the rug itself.
The Dual Surface Area rug was nearly the perfect size and I only needed to trim it roughly 2 inches less than the length and width of my Clinton Area Rug.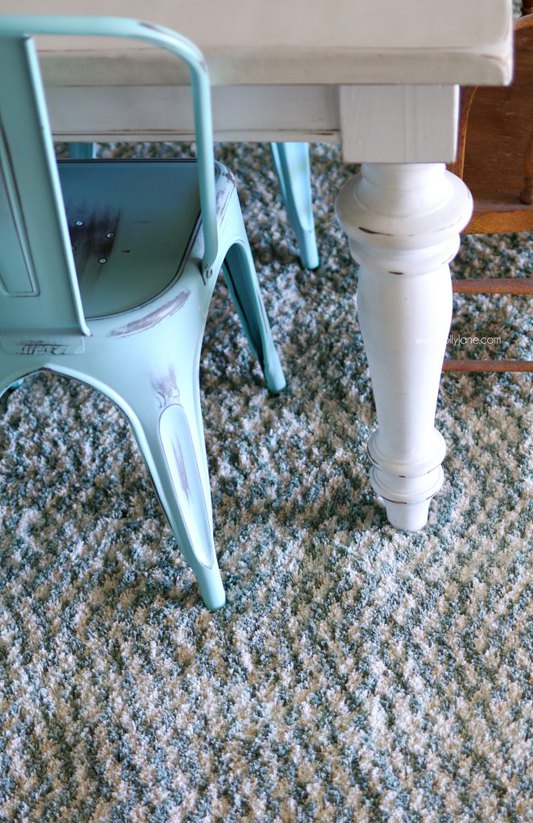 I love the pops of aqua in the Clinton rug, part of the Laguna collection.
I have 4 growing kids and although I'm past the cheerios and spilled sippy stage, they are still just as rough on my floors so I'm a big fan of the constructed Everstand fiber; I know I will get years of life from this pretty eco-friendly micro-shag!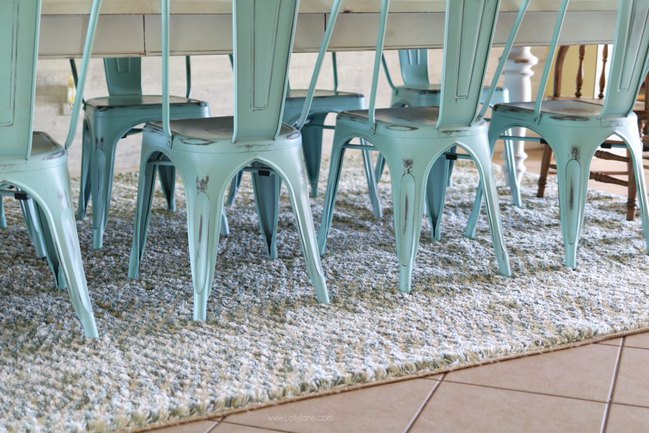 The Clinton rug is made from recycled plastic bottles and here's a fun fact: Mohawk recycles up to 3 billion plastic bottles every single year!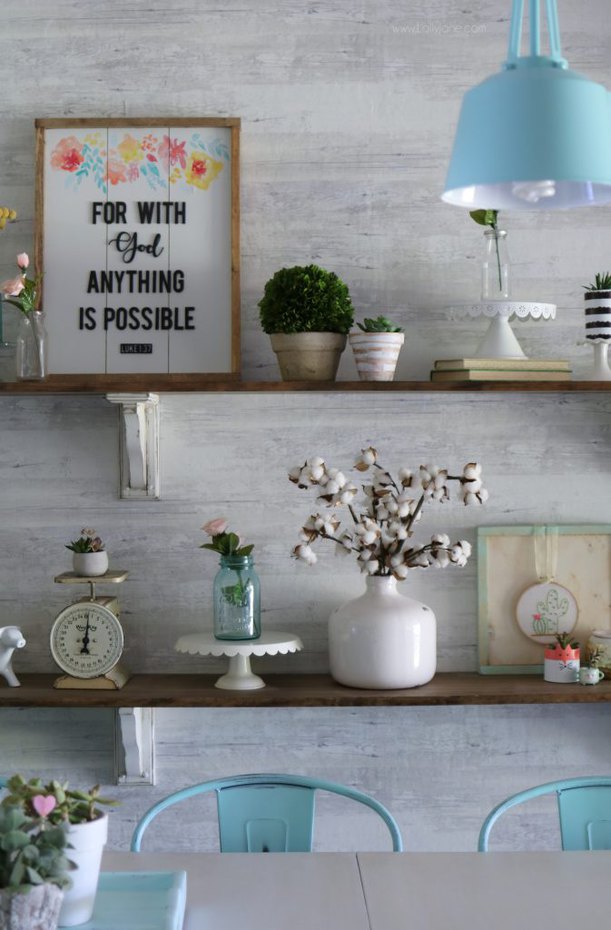 We are also big fans of upcyling decor, check out our farmhouse dining room shelves that are styled with repurposed materials to create something beautiful; don't they pair perfectly with this gorgeous Clinton rug?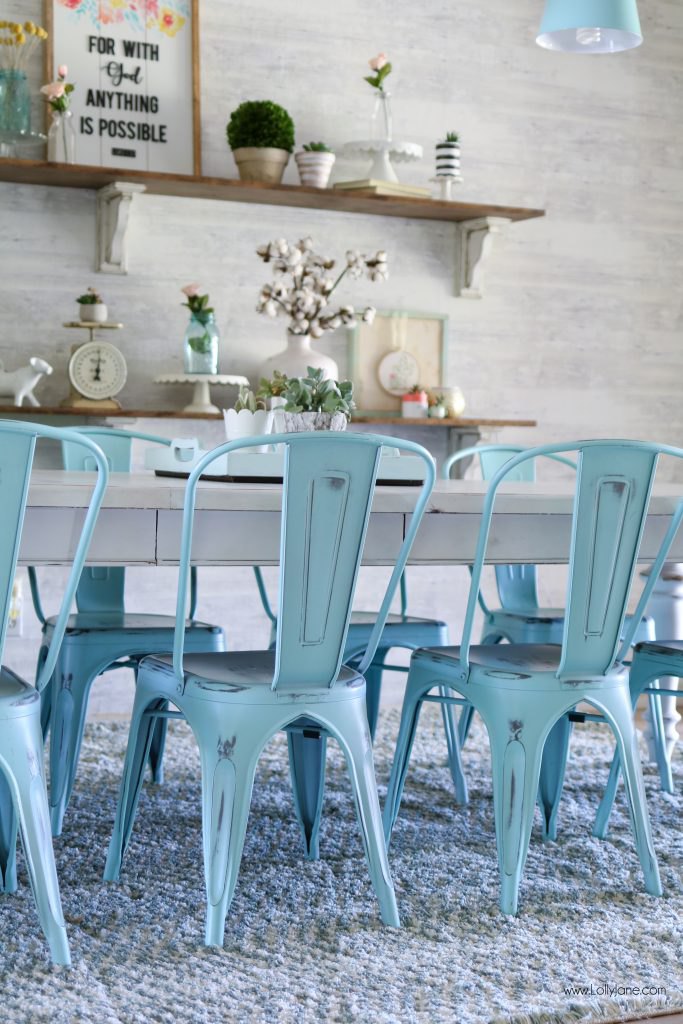 Pssst! Want to know more about how Mohawk Home recycles plastic bottles and turns them into carpet and area rugs? Check out Mohawk's amazing bottle-to-carpet fiber video on YouTube.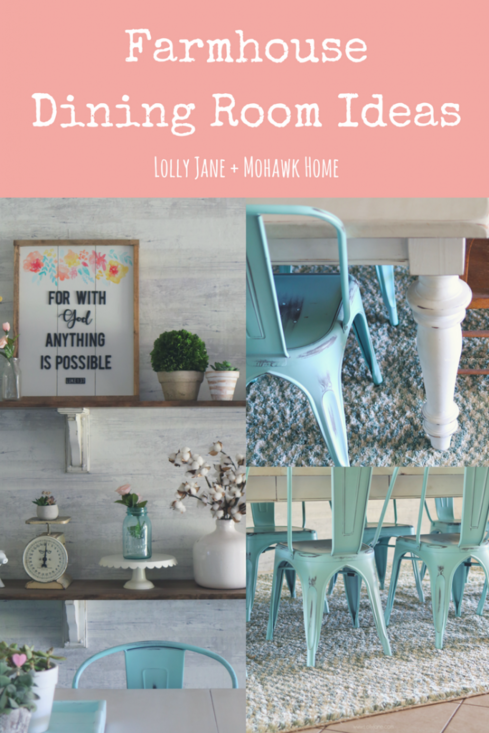 You can also find more Farmhouse style inspiration on Mohawk Home's Pinterest board, Farmhouse Fresh Style.
What do you think about the dining room reveal? Let us know in the comments below!