Fall is my most favorite season.
It means cozy baking, my birthday, and that the weather is FINALLY going to cool down a little bit here in South Florida.  We can actually breathe outside again after the brutal humidity of the Summer.
In my opinion, it's the best time to be outside.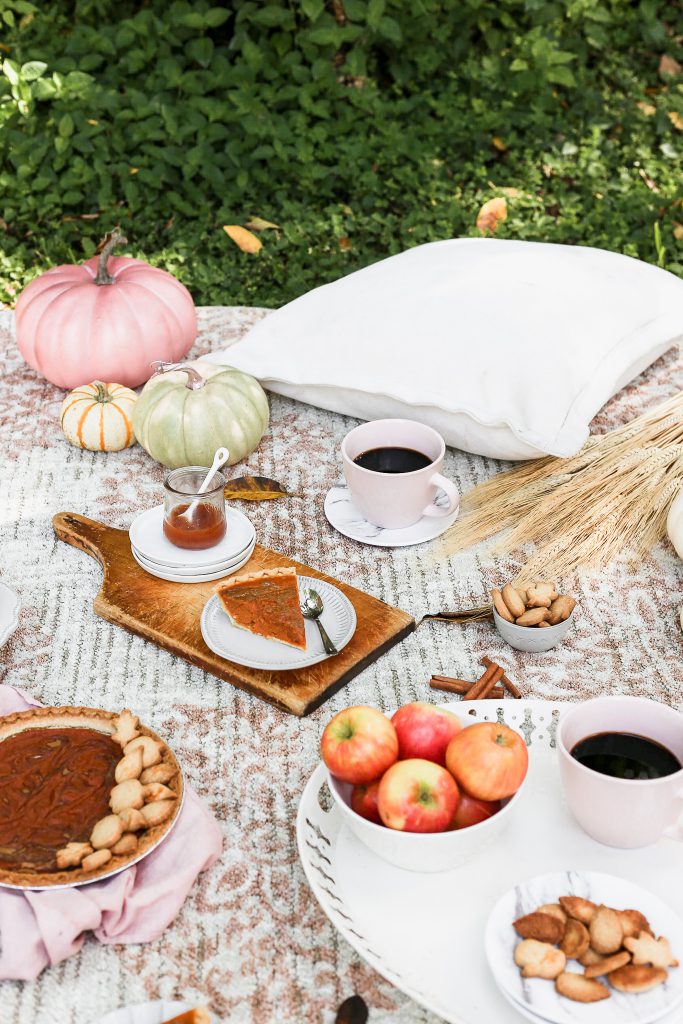 So when Mohawk Home asked me to partner with them to create a scene using one of their gorgeous rugs, my first thought was OMG YES OUTDOOR FALL DESSERT PICNIC!  
They generously let me pick the perfect rug that I thought would be the best fit for a pretty outdoor picnic. Then I came up with a bunch of ideas on how to throw the perfect fall dessert picnic to share with you guys, plus created an updated pumpkin pie recipe from last year's big batch o pumpkin pie.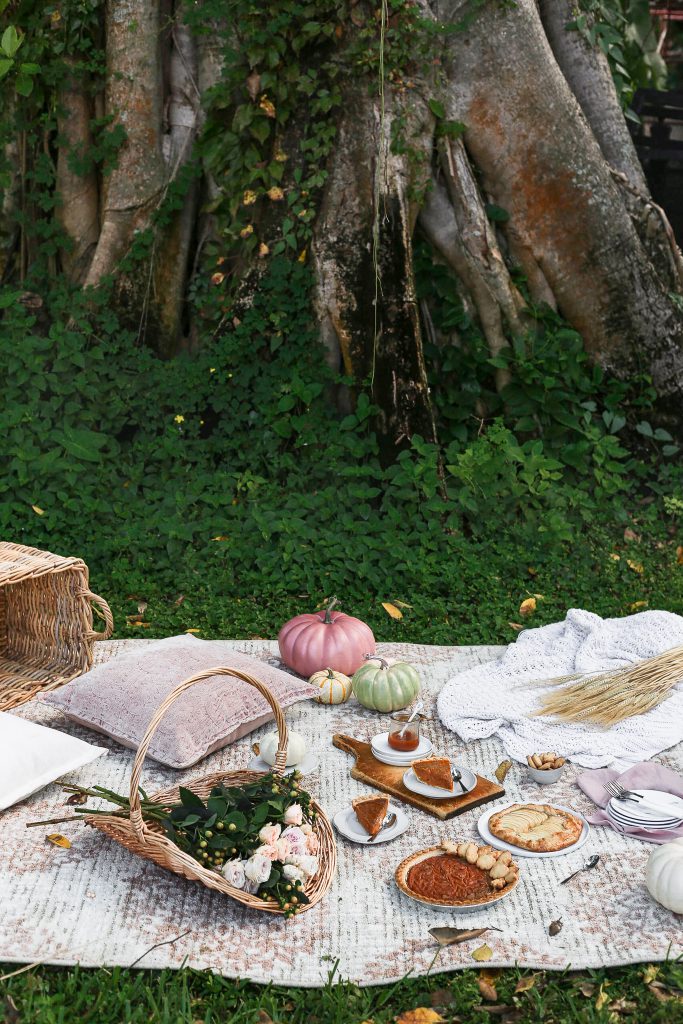 Let's get started!
How to Throw the Perfect Fall Dessert Picnic:
1. First off, you need something to sit on. Any of the indoor/outdoor rugs from Mohawk Home would be great options. I chose this pretty pink and floral (obviously) one called "Mohawk Home Relic Jardine Neutral Distressed Area Rug".  It arrived quickly, was packaged well, and when I unrolled it, it didn't do that weird thing where it curls up on the edges and you have to wait a couple days for it to smooth out. I was really happy about that. Also I have to say that after decorating a room in our house last month, I learned that sometimes when you order home items online, they look completely different then they do in real life- but this rug came exactly as it was pictured!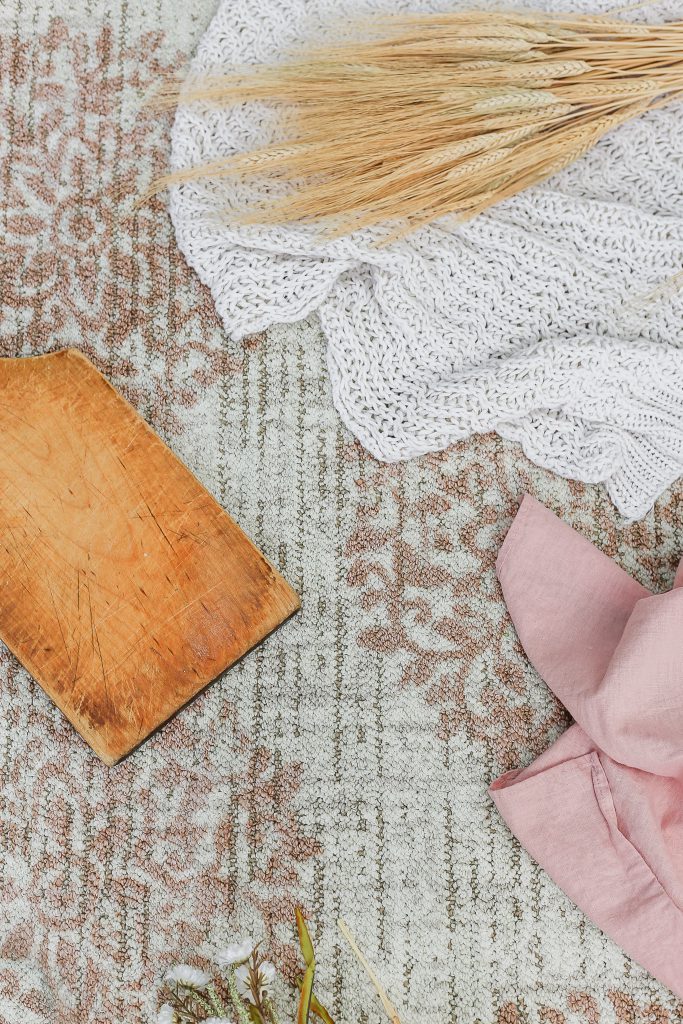 2. The next step in planning a fall dessert picnic is figuring out what you are eating. I'm just gonna put it out there- this pumpkin pie is made with cookie butter, and I think it's the best option to serve at a fall dessert picnic.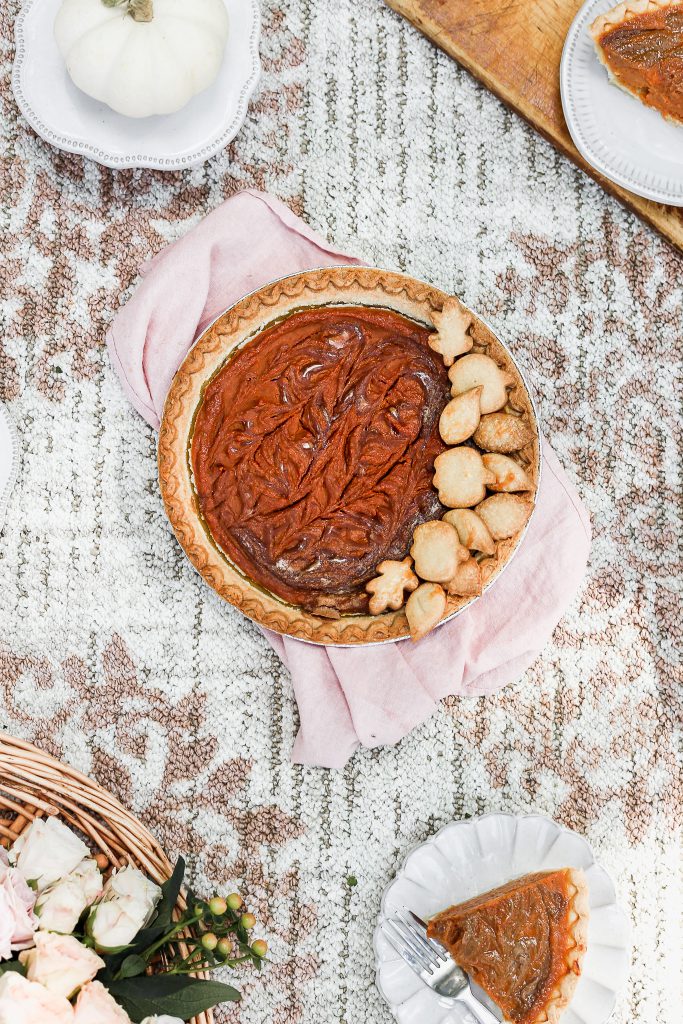 I mean it's pumpkin, which is basically the dessert mascot of the season, and did I mention it has cookie butter!!! Guys. COOKIE BUTTER IN THE PUMPKIN PIE. If you've been around my blog awhile you know I have a thing for cookie butter.
These cookie butter biscotti made me so many new friends last year, and this cookie butter babka is one of my most favorite things to bake.
But back to the pie. I don't put allspice, or any pumpkin spice flavorings in my pumpkin pie filling. I like to stick to classic cinnamon and a hint of ginger. Anything else and it's to overbearing for me.
Except for the cookie butter. Pour that stuff into anything and I will down it.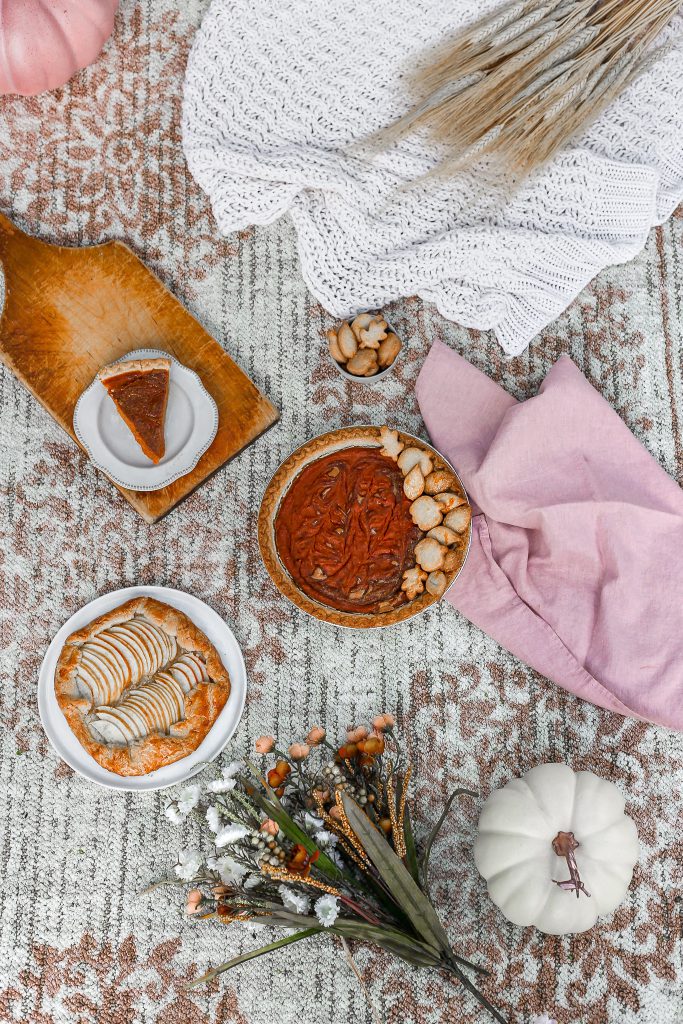 To the menu I would also add anything apple flavored, like this apple galette that is so easy to make and is perfectly rustic looking which makes it a great addition to any picnic. All you need now is some coffee or hot cocoa and your food is all set!
3. Ok, now that we have that settled, you have to make it cozy with some throw pillows and blankets. Bonus points if they match your rug! I went with a knit white blanket and some pink and white pillows to match.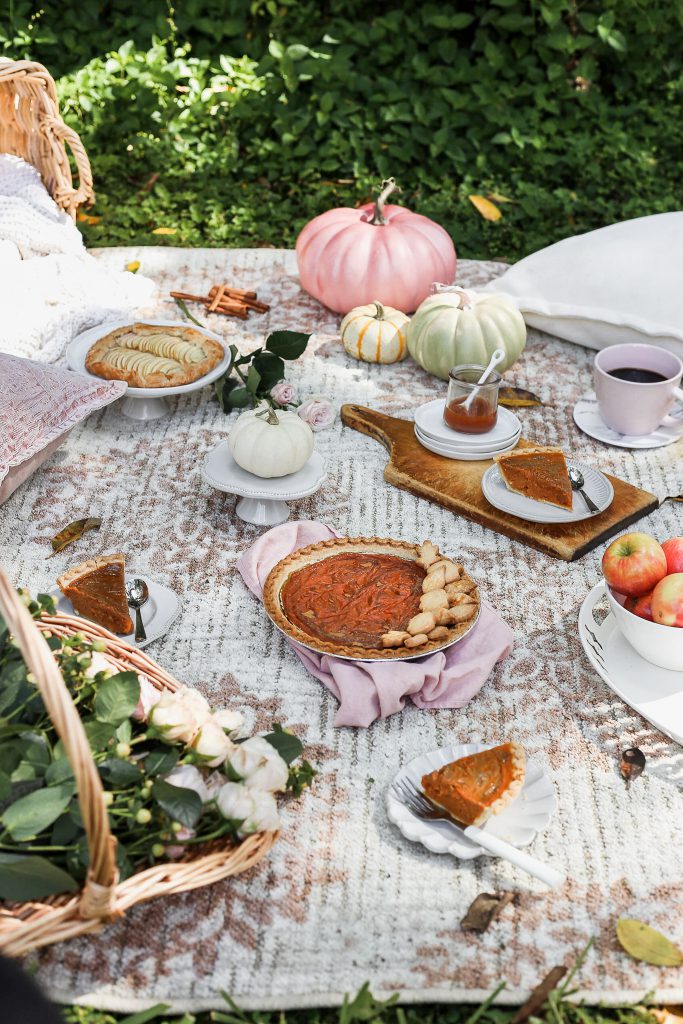 4. To really up your fall dessert picnic game (and why not!) you can add some finishing design touches, like flowers in coordinating colors, decorative pumpkins, and wicker baskets and trays that double as cleanup tools.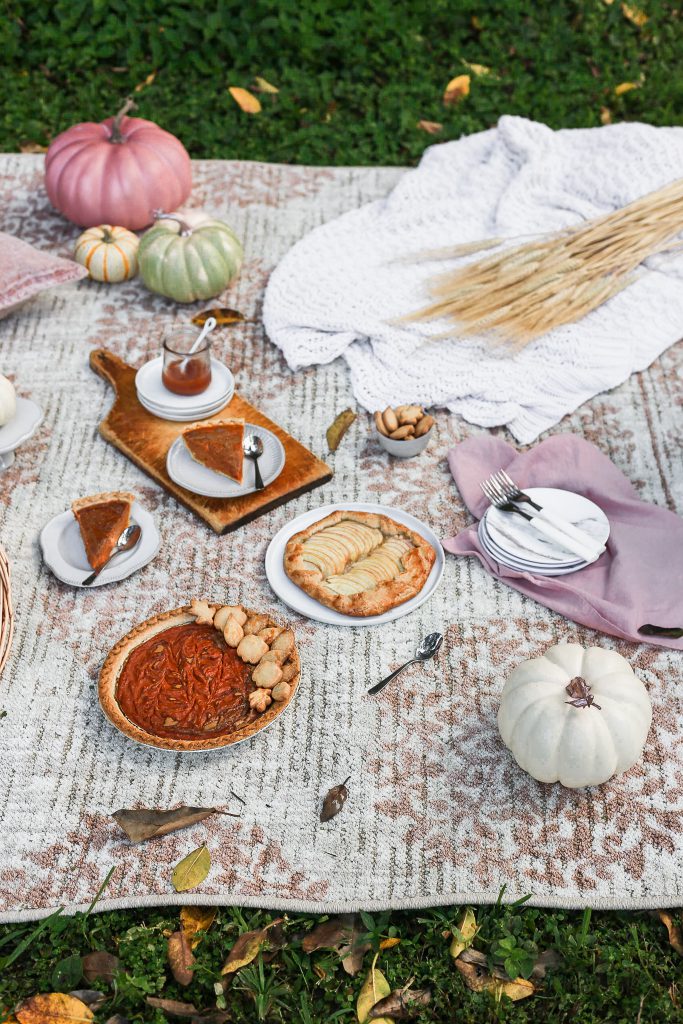 Speaking of cleaning up, my husband was all worried about how I wasn't going to track any dirt or grass inside after our picnic, but not to worry! After bringing in the food and accessories, all I did was dust off the rug with my hands, vacuumed it for 2 minutes, and it's now rolled up waiting for our next picnic, which I bet, won't be too far away.
Cookie Butter Swirled Pumpkin Pie Recipe
Ingredients:
2 pre-made 9" pie doughs, homemade or store bought

2 15oz. cans 100% pure pumpkin puree (not pumpkin filling) such as Libby's brand

1 cup brown sugar

4 tablespoons cookie butter, separated

1 teaspoon kosher salt

1/2 tablespoon ground cinnamon

1/4 teaspoon ground ginger

1/2 tablespoon cornstarch

4 large eggs

2 cups milk
Method:
Preheat your oven to 425° F

In a large bowl combine the pumpkin puree, sugar, 3 tablespoons of the cookie butter, salt, spices, and cornstarch. Mix well.

Add in the eggs, mixing again until thoroughly combined. Add in the milk slowly in stages making sure to mix well in between each addition.

Pour the batter in the pie dough shells and dot the extra tablespoon of cookie butter between each of the pies. Using a knife or skewer, swirl the cookie butter through the pumpkin filling.

Bake for 15 minutes, then without opening the oven, lower the oven temperature to 350 degrees and bake for 40 mins or until the center of the pie is only slightly jiggly.

Cool on a wire rack.
Note: This pie was decorated with pie dough cookies. Roll out pie dough, cut with decorative cookie cutters, and bake on 350 degrees for 8-10 minutes.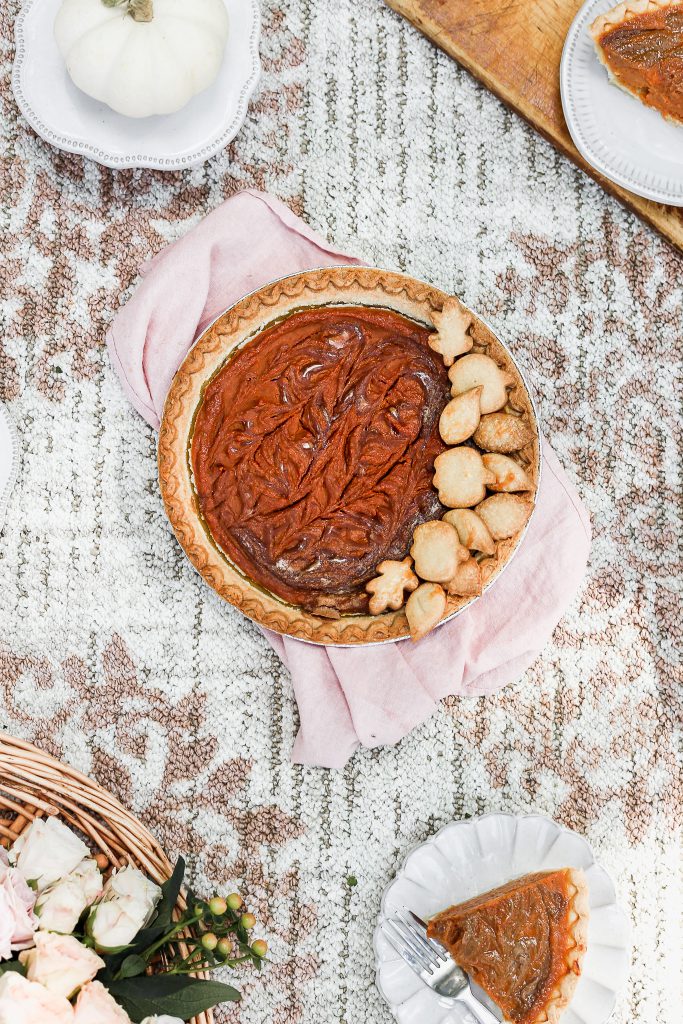 Sam Adler is a professional baker, food photographer, and food blogger over on FrostingandFettuccine.com. She graduated from the Le Cordon Bleu in 2013 and started her baking blog as a place to share recipes; which quickly evolved into a love of food photography and a new career. Her recipes and photography have been featured on various websites and in print, among other places. Recently she was nominated by Saveur Magazine in the 2018 Saveur Blog Awards under the category- "Best Food Instagram". When she's not baking and dancing in her kitchen you can find her at her favorite yoga spot.