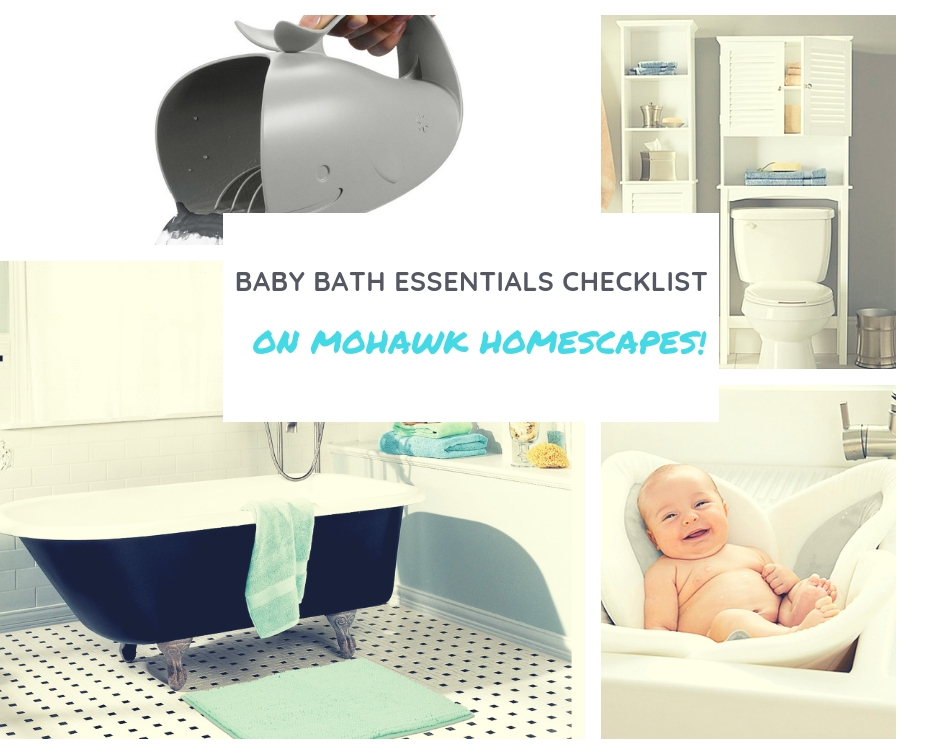 On June 1st of this past year, we welcomed our sweet baby boy, Jaxon River, and like everyone says, our lives truly changed forever. With Jax being our first baby, I often halfway joke (halfway completely serious…) that he is our "guinea pig child" and thank goodness he is a patient one at that! A lot of learning curves came our way those first few weeks and bath time was certainly one of them. I'll be honset that we relied on minimalist sponge baths on the changing table for quite some time before we finally found our groove. But with enough practice, prayers and patience from our little guy, we now look forward to our bath time! A few helpful products on hand never hurt either and here is our list of tried-and-true must have baby bath items.
Baby soap
Baby Skin cream
Baby Bath Scrub
Baby Bath Rinser
Baby bath insert
Towel set & washcloths
Bathroom hooks
Bathmats
Toilet space saver
Diaper Caddy
Baby soap – Like a lot of newborns, Jax has sensitive skin. After developing a rash, a nurse at our pediatrian's office recommended washing him with Cetaphil soap. His rash cleared right up and while I can't say for sure that it was the soap, I haven't switched back to our former products. If it ain't broke, why fix it right?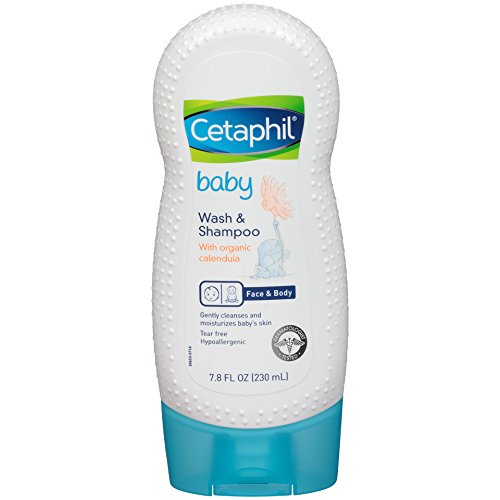 Cetaphil Baby Wash and Shampoo with Organic Calendula
Baby Skin Cream – Perhaps other first time moms might agree, but I was so overwhelmed by the foreign world of baby products when it came time to fill out Jax's registry. Luckily one of our friends (and mother of four!) came to the rescue with a list of favorite products gathered between her and other experienced mom friends. This cream was on everyone's list and I now know why! While it's a little pricey for only 2 ounces, a little of this magic goes a long way. The calming scent is like aromatherapy and has helped soothe a range of newborn skin sensitivities.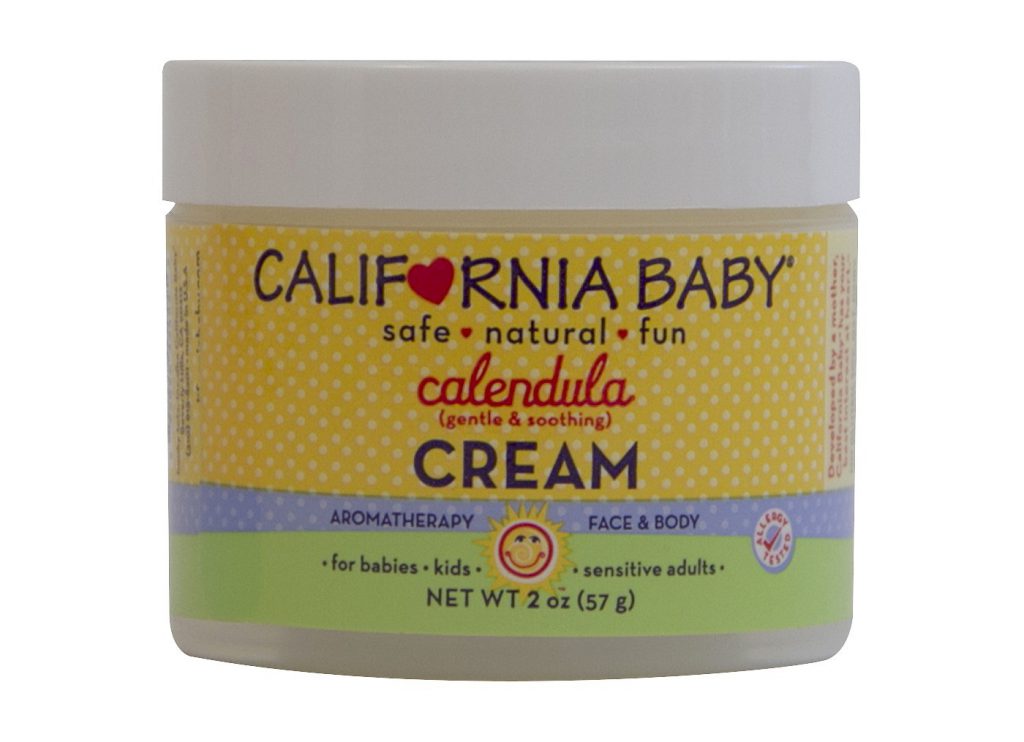 California Baby Calendula Cream
Baby Bath Scrub – My mom gifted us this soft silicone scrubber and Jax's gummy grins when I use it to wash his scalp make my day! He loves how the flexible bristles feel and we have affectionately named it his "Fishy".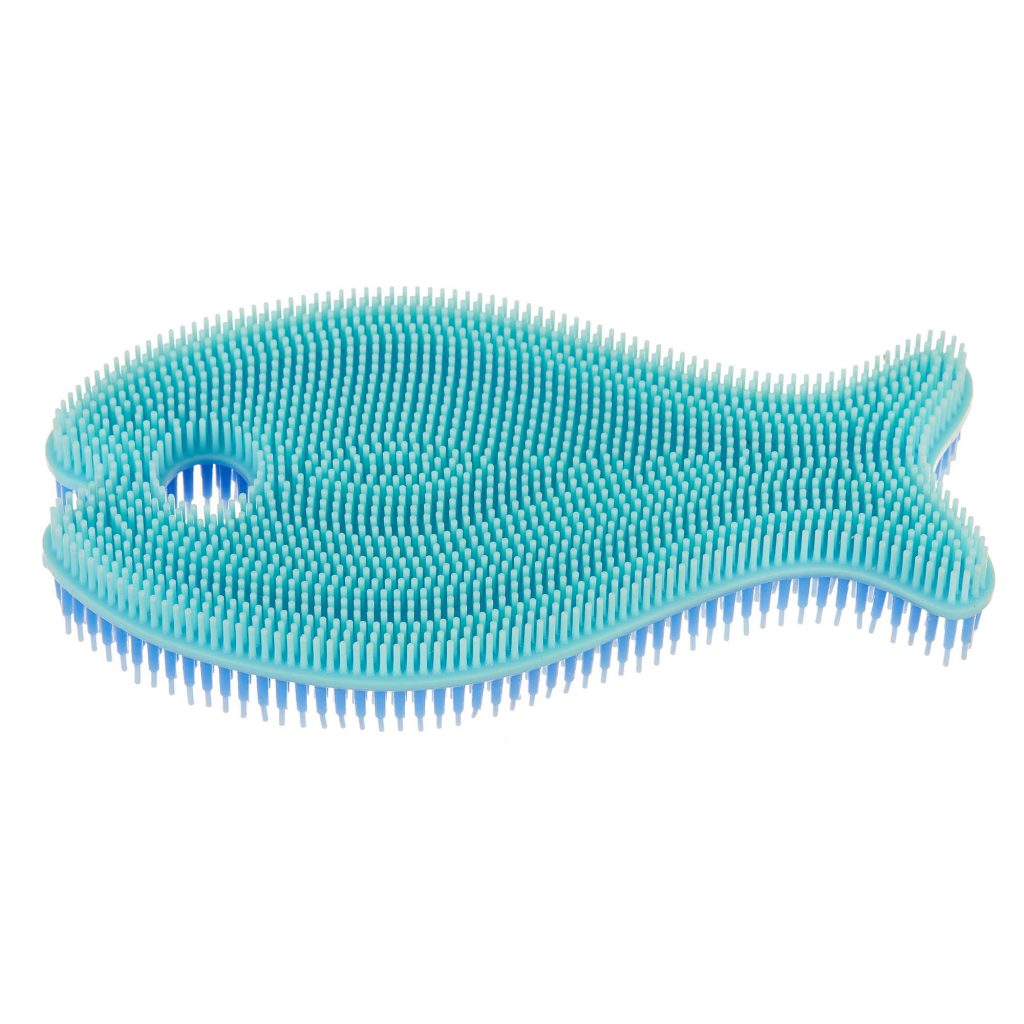 Innobaby Fish Bath Scrub in Blue
Baby Bath Rinser – One of the best suggestions we received for bath time was to keep a couple cups of warm water handy because the water out of the faucet can be so unpredictable and we wouldn't want to risk scalding or chilling Jax during his sink baths. This rinser is one of the containers I fill with water before we start his bath so it's ready to go. The soft spout and easy to grasp handle help keep Jax safe!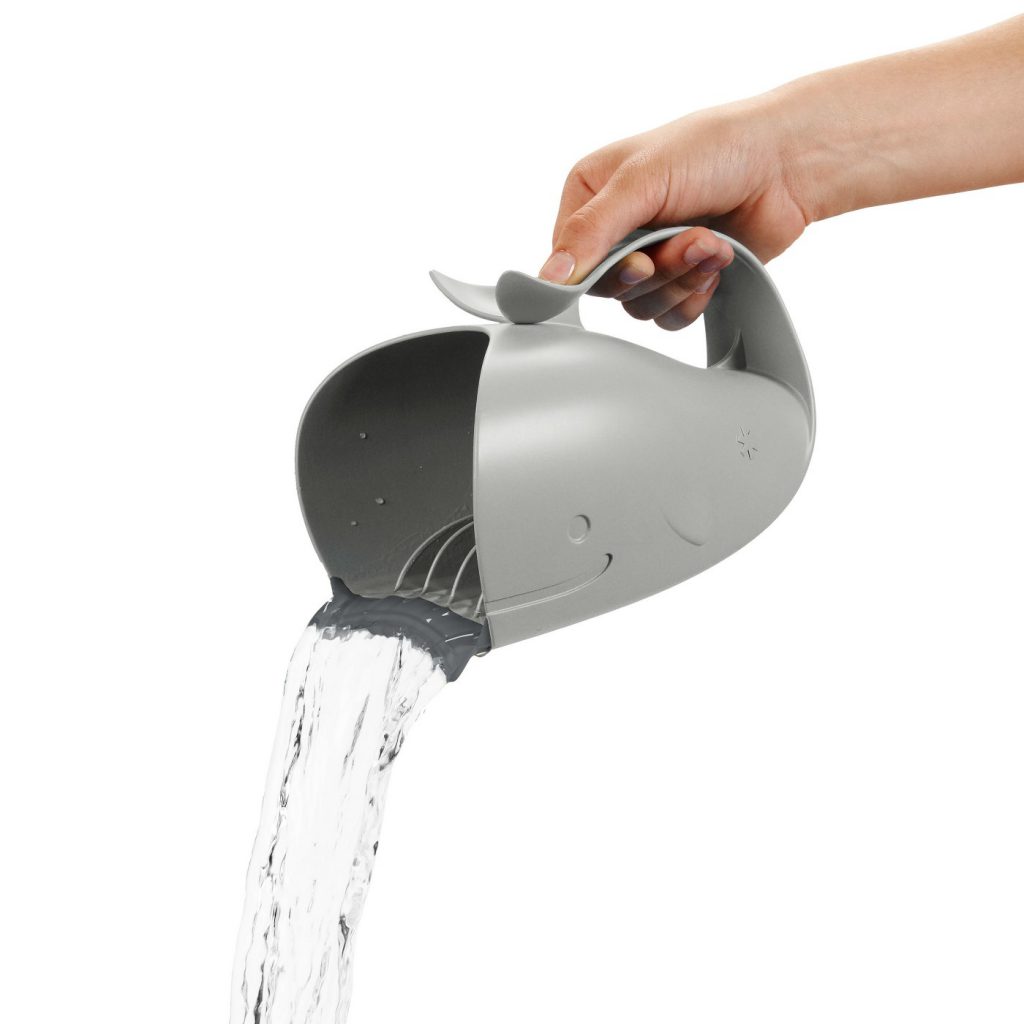 Skip Hop Moby Waterfall Bath Rinser in Gray
Baby bath insert – One of our absolute favorite products for bath time is this silky soft flower. Like a cushioned velour cloud under baby, Jax instantly relaxes and reclines back once I set him in the sink. The petals are easy to maneuver around the faucet and ensure baby's back is protected from leaning against the hard edge of the sink. The shape perfectly adapts to a range of sink sizes and best yet, you can machine wash and dry it!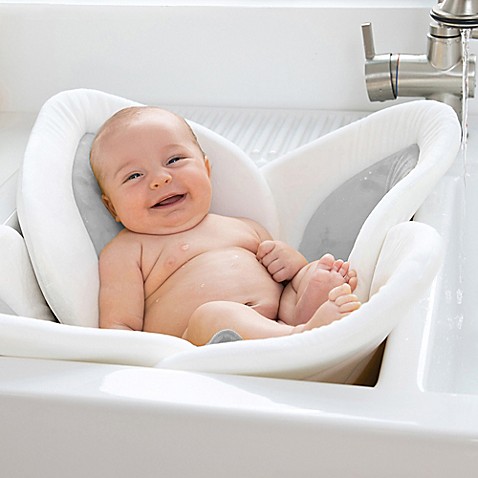 Blooming Baby Blooming Bath Lotus in Grey
Towel set & washcloths – By far the worst part of bath time for Jax is getting out! Like most babies, he does not like to be cold and will let you know! These plush hooded bath towels help tremendously with our exit strategy.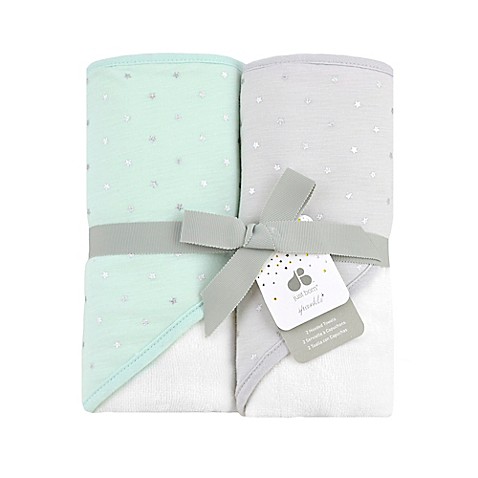 Just Born Sparkle Mint Green 2-Pack Hooded Towel Set
These silky washcloths coordinate with Jax's hooded bath towels and are gentle on his delicate baby soft skin.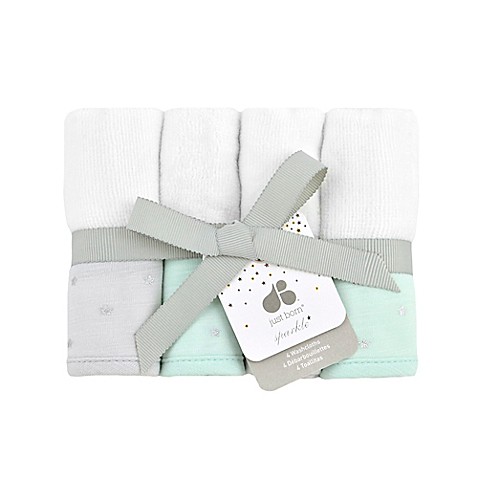 Just Born Sparkle Washcloths 4-Pack in Mint Green
Bathroom hooks – If you invest in some hooded towels for baby, you'll definitely thank yourself if you purchase some hooks to hang the hoods on. These hooks make hanging up a wet towel with one hand a cinch and the oil rubbed bronze finish matched our existing bath fixtures.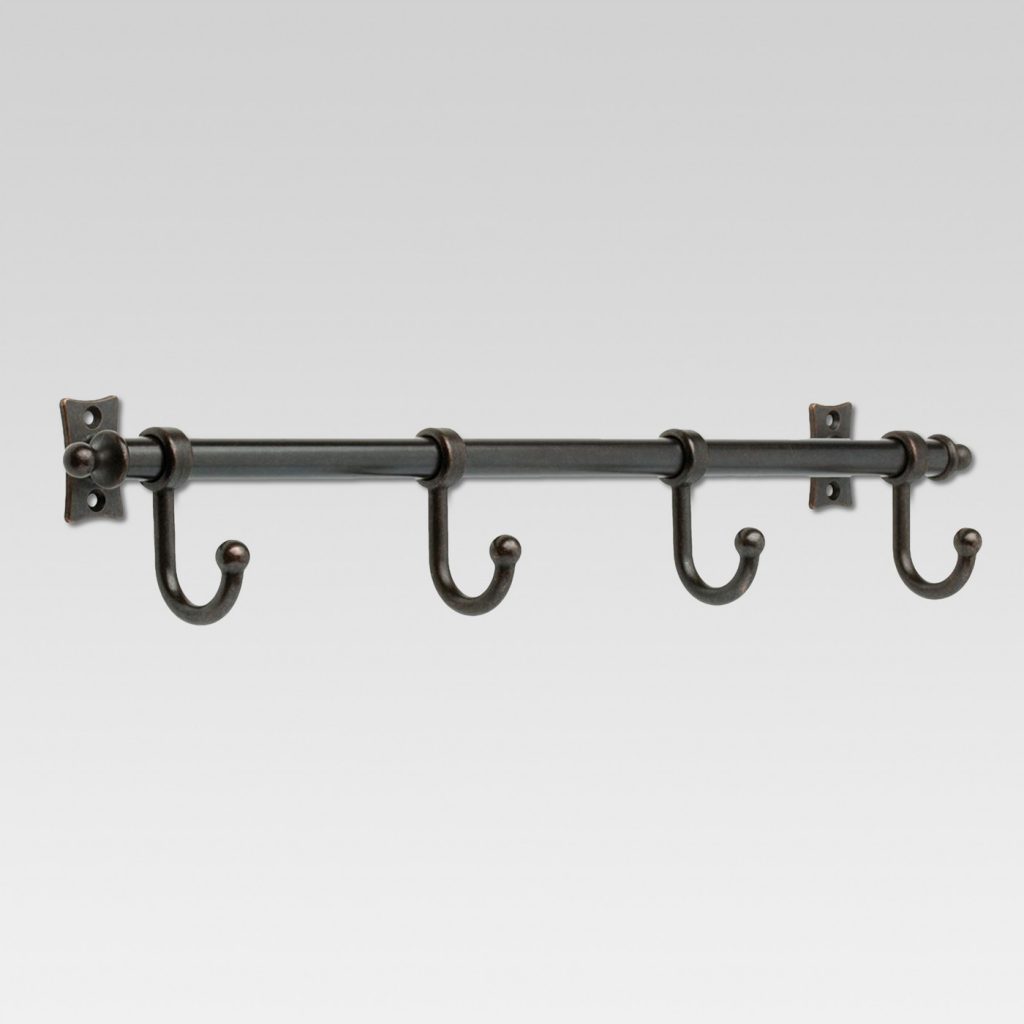 Threshold Essick Hook Rack in Oil Rubbed Bronze
Bath mats – Everyone knows mommin' (and daddin') ain't easy. Life with a newborn can be a bit of sweet, sleepy blur, so any extra support is welcomed! These silky soft looped memory foam bath mats from Mohawk Home offer cushioned relief underfoot when standing to bathe baby at the sink. I imagine they'll be even more appreciated when we transition Jax to the tub and use them to make kneeling on our knees more comfortable. Not to mention the joyful mint color is gender neutral and perfect for a baby's bath!
Mohawk Home Looped Solid Memory Foam Bath Mat in Joyful Mint; 17" x 24"
Toilet space saver – I have come to realize that babies require a lot of accessories and our bathroom's storage options simply weren't going to cut it. This over the toilet space saver did just that… saved us space! The bathroom we use for Jax's baths has the toilet next to the sink and it has been so helpful to be able to reach over and grab an extra washcloth or more soap while still keeping one hand on baby.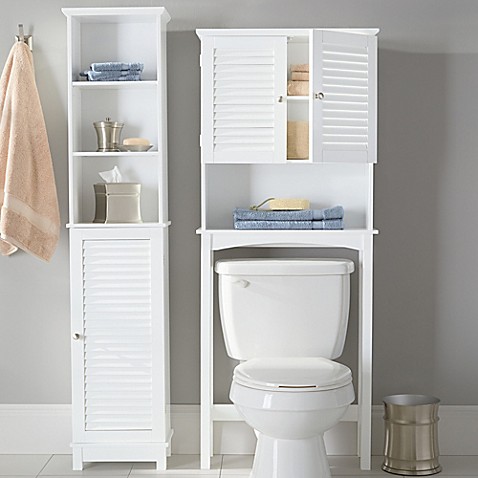 Summit Over the Toilet Space Saver
– Diaper Caddy – The sweet prints of these diaper caddies offer a stylish storage solution and are perfect for organizing tiny wash cloths, bottles of soap or other baby bath essentials.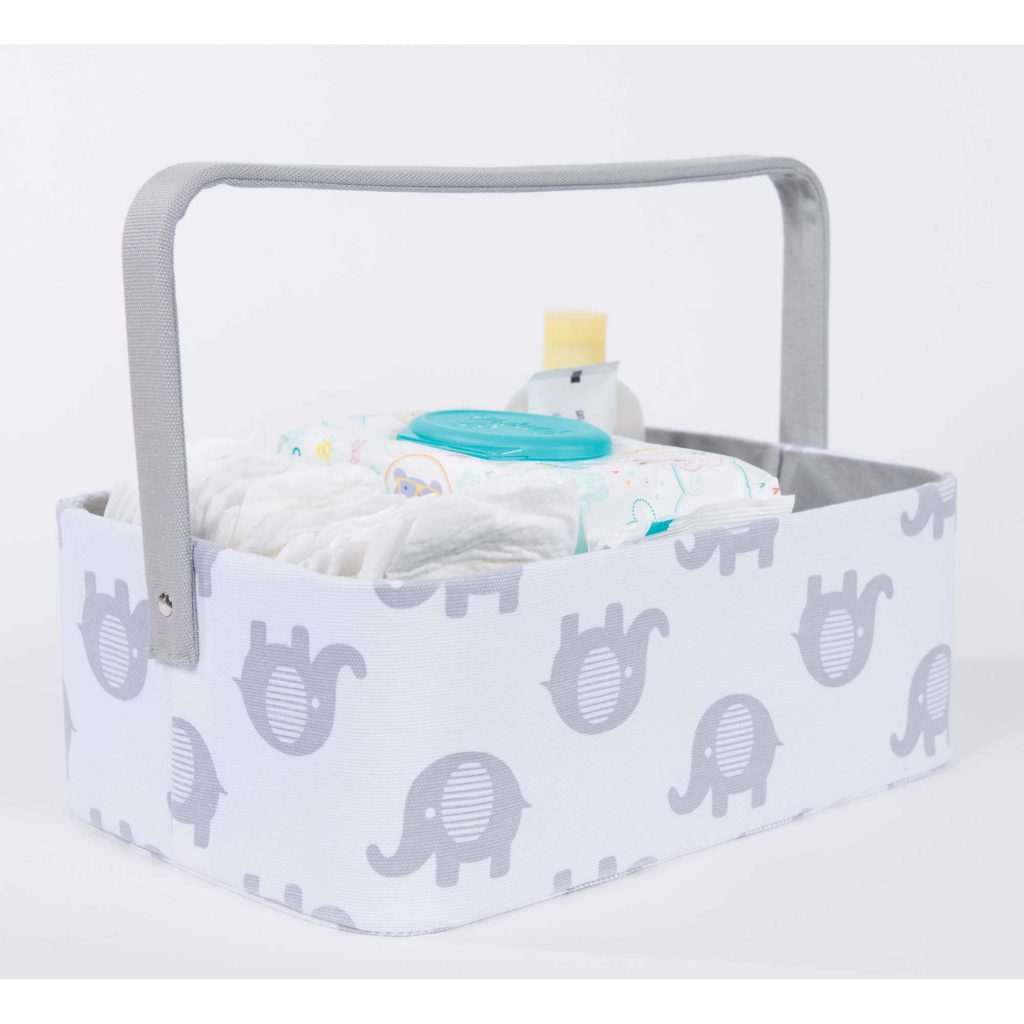 Taylor Madison Designs Elle Diaper Caddy in White/Grey
What am I missing? What products do you rely on for bathing your little ones?