At Mohawk, we are committed to crafting beautiful, quality products that are safe and sustainable for the environment. We know that the future of our planet is in our hands today, which is why Mohawk recycles more than 5.5 billion plastic bottles every year, transforming them into eco-friendly area rugs and carpeting. But our innovation doesn't stop there. We are continuously thinking outside the box to serve our communities and our customers responsibly, giving you the peace of mind that you deserve when purchasing products for your home.
Recycled Content
One out of every five PET plastic bottles recycled in the United States are recycled by Mohawk. That's over 5.5 billion bottles annually that produce our recycled fibers. EverStrand is the only 100% post-consumer face fiber in the floor covering industry today. These rugs provide brilliant color clarity, exceptional stain resistance, and superior durability. Thanks to their recycled inputs, EverStrand rugs and carpets minimize the need for fossil fuels and help reduce plastic in landfills.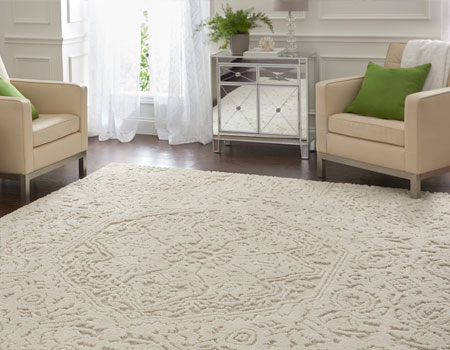 Natural Content
Karastan wool woven rugs are luxurious, durable, and most importantly, sustainable. The wool originates on the farms of New Zealand, where sheep are shorn every 9 to 12 months to provide a source of highly renewable material. When our wool rugs eventually wear out, the wool is completely biodegradable and returns to the earth as an essential plant nutrient.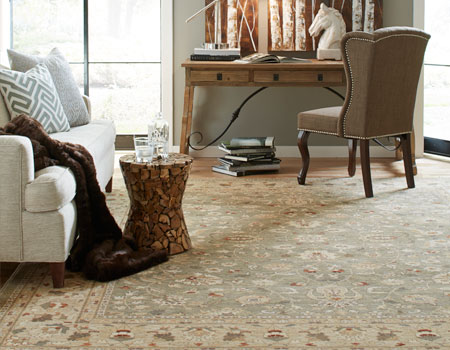 Recycled Rubber
Mohawk Home is the largest supplier of rugs and mats in the United States. Each year, we keep used tires out of the waste stream by diverting over 25 million from landfills, transforming them into designer doormats. Mohawk's Impressions mats combine molded crumb rubber from recycled tires with a 100-percent-recycled PET fabric top. This product line alone can use up to 10 million pounds of recycled tire crumb rubber every year.