Did you know that a rug pad will help your area rug last longer? Rug pads are designed to protect the flooring underneath your rug and to prevent you from slipping, but they also absorb some of the pressure that is placed on your rug's fibers when you walk. A pad prevents those fibers from matting and losing their luster quickly, keeping your rug looking like new for longer. Learn more about the benefits of Mohawk Home area rug pads below.
Protect Your Floor
Rug pads protect the flooring beneath from scratches that can be caused from rough rug backings and protect your carpet from color transfer.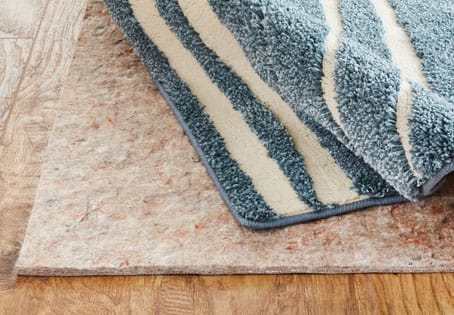 Easy Sizing
Our rug pads can be trimmed down to match the exact size and shape of your rug using heavy duty scissors, making installation a breeze!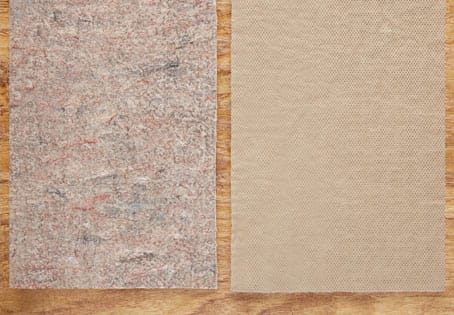 Rug Pad Basics
Reduce wear and tear on the rug
Absorb noise
Make vacuuming easier
Protect the flooring underneath the rug
Soften your rug with another layer of cushion between your feet and hard floors

A rug pad should be one inch smaller than your area rug on all four sides. This will allow the edges of the rug to taper to the floor, preventing a trip hazard and curling along the edges of the rug. If your area rug is 8' x 10', then your rug pad should be trimmed to be 7'10" x 9'10". Mohawk Home rug pads can easily be trimmed to size using household scissors.

For rugs placed over carpet, choose a pad with thick polyester fabric coated adhesive. This type of pad prevents a darker color rugs from bleeding through on to lighter colored carpets.
For a rug placed on a hard flooring surface such hardwood, tile or laminate, choose a rug pad that has non-slip coating on at least one side. This side should be placed down on the hard flooring to ensure that the rug stays in place.