Need help determining which fiber type is right for your needs? Learn more about Mohawk's exclusive fibers below.

Wear-Dated™ Nylon
Produced under the Mohawk Industries brand name, Wear-Dated™ nylon is by far the most prevalent fiber used in commercial carpeting and area rugs.
Known for its durability and resiliency against matting and crushing caused from every day wear-and-tear, nylon rugs are recommended for high traffic areas.
Nylon is stain resistant and can be easily cleaned with a solution of mild detergent and water.

SmartStrand™ (Triexta)
SmartStrand™ with Triexta is known as the worry free fiber, offering a built-in lifetime stain and soil resistance that is engineered directly into the yarn during manufacturing, instead of applied with harsh chemicals after the fact.
SmartStrand™ rugs are ideal for busy families with pets and children due to the fiber's superior strength against staining and crushing.

PermaStrand™
Also known as polypropylene or by the Mohawk Industries brand name of PermaStrand™, this fiber is noted for its unique fade and moisture resistance.
Polypropylene is also colorfast, generates low levels of static electricity and is stain resistant.
Polypropylene's fibers have the lowest density of all manufactured yarn giving polypropylene rugs a lightweight quality that makes them an ideal choice for indoor/outdoor rugs.

EverStrand™ Polyester
Known under the brand name EverStrand™, Mohawk Industries' exclusive eco-friendly polyester fiber is the only 100 percent post-consumer recycled material rug fiber in the industry today.
Created from over 3 billion PET plastic bottles that are recycled annually and given new life as designer area rugs and carpet, our EverStrand™ rugs are popular for their brilliant color clarity, exceptional stain resistance and superior durability.
One of our most resilient fibers, EverStrand™ rugs are even suitable in high traffic areas of the home.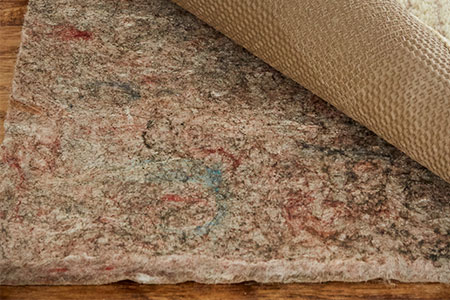 Latex Backing
Once tufted, our rugs are reinforced with a washable, natural rubber latex derivative.
This nonslip backing is crucial for providing both safety and durability.
Our rugs' backing is recognized in the industry for its superior consistency of thickness, contributing both to the longevity and dependability of our designs.
Action Backing
Similar to the backing on residential carpet, action backing allows for easy cleaning and is constructed with a combination of olefin and latex. Because this backing type has a hard, coarse texture, a rug pad is recommended to protect the flooring underneath the rug.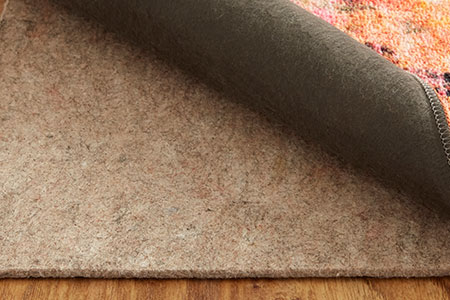 Felted Backing
Hypoallergenic/latex-free
Sustainably sourced backing made from 100% recycled materials
Non-skid application
Use of an area rug pad is recommended