What type of rug is right for you? With so many patterns, color options and fiber types, finding the perfect rug might seem overwhelming at first. Construction should be one of your first considerations when shopping for an area rug. Prioritize the qualities that are most important to you (durability, softness, quality, etc.) For example, a printed style is ideal for high-traffic areas and is typically more affordable than a machine woven rug, but a woven style may have a plush, high pile and a softer hand. Understanding each construction and its pros and cons will help you narrow down your list of favorites and select the right style for your space and budget.
Woven Rugs
Woven rugs are often produced through mechanical looms or through hand woven methods.
Once the weaving process begins, the yarns are interwoven to form either a flat or raised pile rug. 'Pile' refers to the surface yarn that makes up the face of the rug.
Machine woven rugs are more affordable than delicate hand woven styles, but more costly than printed and tufted constructions. They come in a variety of patterns and offer superior stain resistance and quality.
Because they are more susceptible to crushing, woven rugs are well suited in low traffic areas of the home such as in the dining room, in bedrooms, or in the home office. They can also be used in high traffic areas with an area rug pad underneath. Regular vacuuming will help to keep your woven rug in good condition.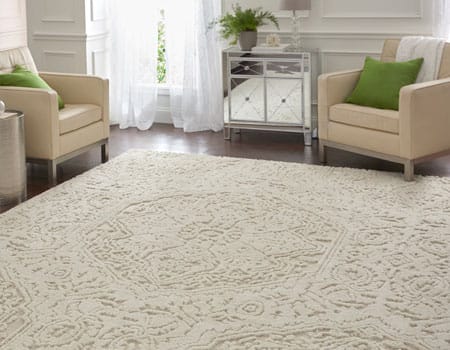 Tufted Rugs
Machine tufted rugs are made by hundreds of needles that stitch strands of yarn through a primary backing, forming a loop. They can also be made by hand using a tufting gun. Then, a slip resistant backing is applied to hold the tufts in place.
Examples of tufted rugs includes some bath mats or shag style area rugs, noted for their soft touch and plush pile.
Tufted rugs may show texture or pattern with high and low pile areas. They can feature a cut pile, a looped pile or a combination of the two.
Because they are easy to manufacture than woven styles, tufted rugs are more affordable.
Tufted rugs are best suited for low-traffic areas of the home, as their plush fibers can lose volume under frequent pressure or start to shed.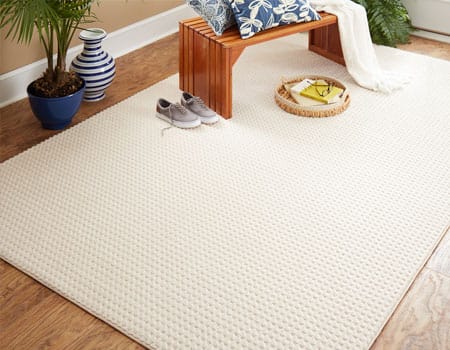 Printed Rugs
Did you know that a rug pad will help your area rug last longer? Rug pads are designed to protect the flooring underneath your rug and to prevent you from slipping, but they also absorb some of the pressure that is placed on the rug fibers when you walk. A pad prevents those fibers from matting and losing their luster quickly, keeping your rug looking like new for longer. Learn more about the benefits of Mohawk Home area rug pads below.
The printer palette holds 12 colors that can be sprayed adjacent to each other to mix and form additional colors for 72 options total. After printing, steam and heat set the dye for colorfastness.
Printed rugs come in the widest variety of colors and patterns. Their easy-care nature and durability make them ideal for high traffic areas of the home.
Printed rugs are often refreshed seasonally, thanks to their affordability.
While printed rugs feature a low-pile, they are supremely soft underfoot.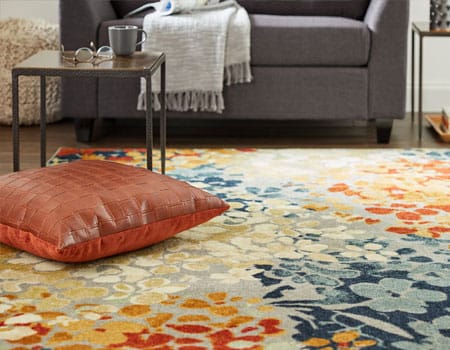 Indoor/Outdoor Rugs
Indoor/outdoor area rugs are crafted from weather-resistant polypropylene or nylon yarn.
Indoor/outdoor rugs undergo extensive fade resistance testing to ensure they stay vibrant up to 500+ hours of sunlight. They are also resistant to mold and mildew.
On nylon outdoor products, Mohawk's unique marine backing application allows water to pass through the rug instead of absorbing it, much like the carpeting found on boats.
Indoor/outdoor rugs in Mohawk's Oasis collection feature a sisal inspired look, but unlike natural fiber rugs, are made to withstand outdoor conditions.
Indoor/outdoor rugs can be cleaned by gently shaking off loose particles of dirt or rinsed with a water hose and hung to dry.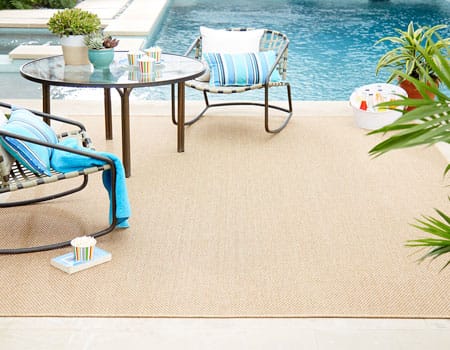 Recycled Rubber Mats
Annually Mohawk recycles over 30 million pounds of rubber tires, one of the largest and most hazardous types of post-consumer waste, and gives them new life as designer doormats.
The recycled rubber doormats have a high definition decorative top surface design constructed of a 100 percent polyester flock and set with heat transfer.
These durable designer doormats have an innovative scraping surface that cleans shoes while hiding dirt in recessed channels. The slip-resistant surface repels water, which is ideal for safe traction in all weather conditions.
More recently, we have also introduced two-color flock into our classic 100 percent recycled base. The result is a mat that conserves natural resources and is more fashionable than ever!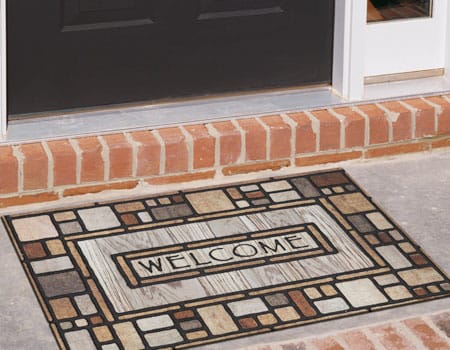 Anti-Fatigue Mats
Fashion and function meet in Mohawk's collection of Anti-Fatigue Kitchen, Bath and Utility Mats.
A resilient cushioned core maintains its shape despite daily wear-and-tear.
Our advanced anti-fatigue technology offers welcomed relief from back, leg and foot discomfort often caused by standing on hard surfaces.
Feel the luxurious soothing comfort for yourself with our premium plush cushion base!