An area rug is often used as the focal point in a room, so selecting one that suits your style is important. Do you want to create a formal setting or a space looks and feels laid-back? What does your other decor look like? Explore the most common area rug styles below to help determine which one is right for you.
Traditional
Traditional rugs may be the easiest to spot. Their styles replicate the classic and ornate styles from 18th Century England and the French country side. Timeless rugs featuring an Oriental or Persian influence are often also categorized as traditional. Traditional rugs typically feature borders with intricate designs and often times a fringed edge. Classic Southwestern inspired rugs are also considered traditional.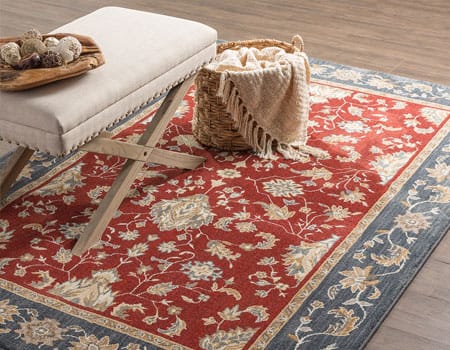 Transitional
Transitional rugs offer a timeless and modern combination of traditional and contemporary design influences—traditional Persian styles and patterns incorporating modern color or exotic prints. Stripes, floral patterns, paisley and ikat are among some of the other styles that would classify as transitional. Transitional rugs are an ideal choice if you are not sure whether your space's style resonates with one of the less flexible style categories.
Contemporary
Contemporary rugs often feature modern medallion patterns, geometric shapes, bold monochromatic looks or trendy designs, such as chevron, polka dots, camouflage, plaid or animal print. They also often incorporate bright, on trend colors. For exceptionally bold statement-making styles, let the rug be the focal point with solid colored furniture and subtler styles throughout the rest of the space. You can still complement the modern motif without taking away from your floor art by adding competing pieces.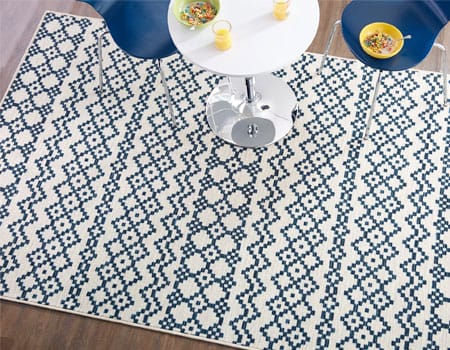 Solids
While bright, monochromatic looks may be considered contemporary, more subdued solid shades are considered casual and classic styles. Typically, patterned rugs have more longevity with their ability to hide wear-and-tear, but solid hues can be ideal to complement a room that already has a lot of bold color or pattern. They can anchor the room and create a visual resting place for the eye.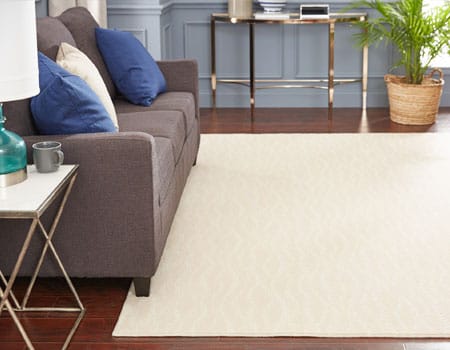 Shag
While once a relic of the 1970's, shag rugs are enjoying a comeback! These thick, plush rugs provide excellent insulation and are ideal for low traffic places, like a bedroom, where bare feet can enjoy their cozy warmth and soft touch.