For centuries, people have been taking beautiful photos, but now people are turning those photos into a new kind of art. By taking images and using them to create unique masterpieces, photo art has become a creative way to display your eclectic personality in your home decor. That expression of self throughout interior décor is why photo art is a trend we love!
Here are some of our favorite pieces of photo art in home decor:
You can share your memories and show your love at the same time with a heart shaped photo collage.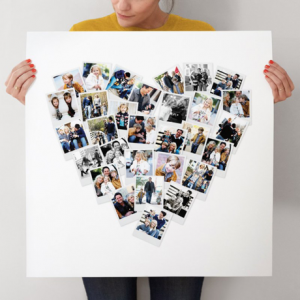 (Source – Minted)
We love how you can take old pictures and turn them into something new! Take your favorite photos and transform them into a heartfelt photo mosaic that makes a different image of something you care about.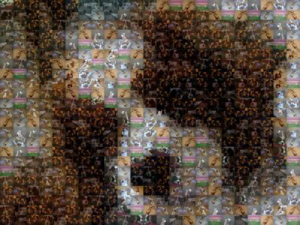 (Source – Engadget)
Tile mosaics are another way to feature beautiful images of your loved ones in your home, but in a unique and powerful way.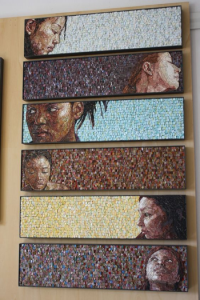 (Source – Mosaic Art Now)
If you're more of a rustic stylist, use distressed woods in your photo arrangement. It's a quick and easy way to add to the ambiance of any room!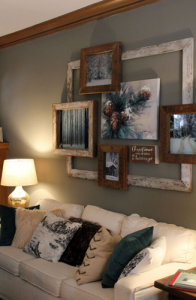 (Source – Itsy Bits and Pieces)
We love that photo art doesn't even have to be hung on the wall. Just attach some yarn or fishing line to the back of your favorite photographs and these hanging photos instantly become one of the most interesting parts of the room.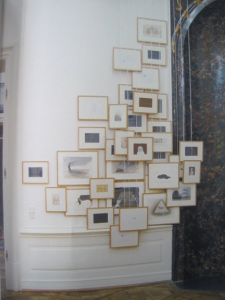 (Source – Draw Draw Draw)
Individuality and nonconformity are trending around the world. Do the same with your photo art and let your images break free from the frame.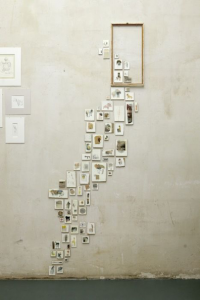 (Source – Everyday Mom Ideas)
Have a photographer in the family? Share their portraits with a dark room inspired wall collage!
(Source – Architecture Art Designs)
Do you have any favorite photo art styles? Let us know in the comments!