Talk about the perfect stocking stuffer! This holiday season, Santa decided I was really nice and gifted me Marie Kondo's magical tome The Life-Changing Magic of Tidying Up: The Japanese Art of Decluttering and Organizing . When I say "Santa," I really mean my husband and he had been listening to me hint for the past four months about the mountain of clutter I am currently drowning under. If you're at all like me, you've tried and failed to keep your home tidy. I've made decluttering calendars to tackle areas throughout my house but never managed to cross out many days, invested in Container Store type of containers and promised myself I will beautify and organize my pantry and yet I still have opened boxes of pasta sealed in plastic bags, and my hallway is lined with boxes and bags of used toys that we need to donate or just giveaway, but we just haven't managed to bite that bullet.
So when this book arrived and I had 24 hours of vacation time, I closed my door and got down to reading! What I took away from this book is really two important steps. The first, touch everything you own and ask yourself if it sparks joy. If it doesn't fill you with joy, then say thank you to the item (I know sounds weird but it's actually really liberating and respectful) and give/throw it away. The second step is for the items that you've determined sparks joy; once only the things that makes you happy remain, put it in a place where you can see it, it's accessible and really easy to take out and return. This means, no more tossing things into the back of closets or buried in drawers.
Once I understand the basic principals of the KonMari Method, I was ready to start putting her tips into practice. But why wait until Spring cleaning to organize your life? There's really no time like the present, so we're here to help you Marie Kondo your life with these top 5 tips to declutter your home with the help of the KonMari Method.
(1) Organize Your Space By Category, Not Room.
One of the classic downfalls of any organization project is trying to tackle too much at a time. Rather than tackling the whole house, or even one room, break down the project into organizing one category of stuff at a time. Marie Kondo recommends going through clothing first, since you're least emotionally attached to clothes, and then moving on to books and other categories. This actually makes so much sense, I've often found myself packing away seasonal clothing the kids have outgrown and moving the containers into storage (not an easy feat to accomplish!!) only to discover clothing in the smaller size in our laundry baskets!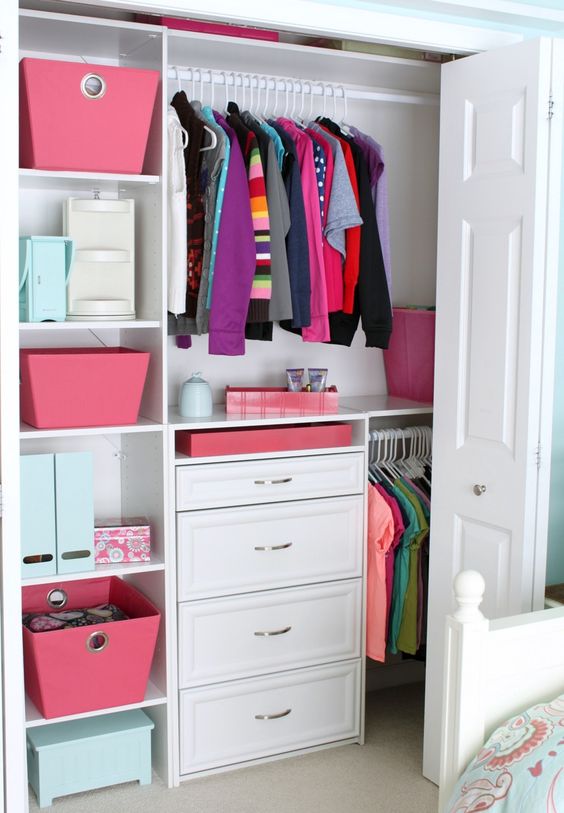 (2) Determine if your stuff "Sparks Joy"
When deciding what to keep or purge, ask yourself if it sparks joy. I know, that actually can be a little vague, so ask yourself some of these other questions too:
Have I worn it or used it in the last year? If not, get rid of it.
Can I wear it or use it now, with the body I have? If not, get rid of it.
Does it make me happy? If not, get rid of it.
Is there a real reason to keep this item, even if I don't use it? For example, is it meaningful? Not just sentimental, like you're worried that one day your long lost Aunt Martha might come over and realize that vase she gave you 20 years ago isn't there. But really meaningful to you? If not, get rid of it.
Does it still work? Is it broken, torn, ripped, or chipped? If so, get rid of it.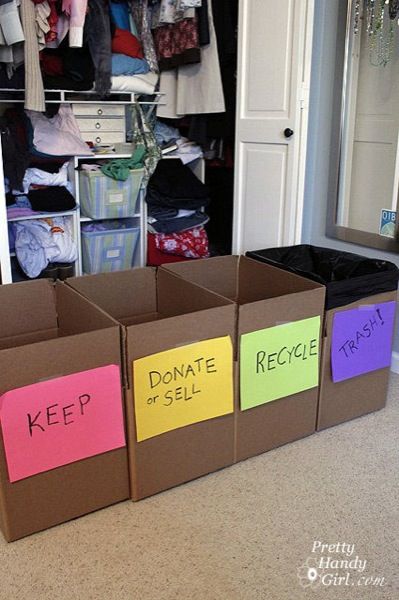 It's incredibly liberating to be surrounded by bags upon bags of clothing that you no longer have use for, while knowing that the items you've kept are truly cherished pieces.
(3) What to Do with What You Are Keeping.
Now is the time to head to the store (or your stash of containers!) and find containers to store what you are keeping. Marie Kondo recommends using colorful shoeboxes, but you can use whatever works best for you!
For the items you have decided to keep:
Make sure the items have a home, whether packed and labeled in storage or out where you'll use them.
Make sure that any storage bins or baskets are labeled.
When possible, put the items where you'll use them.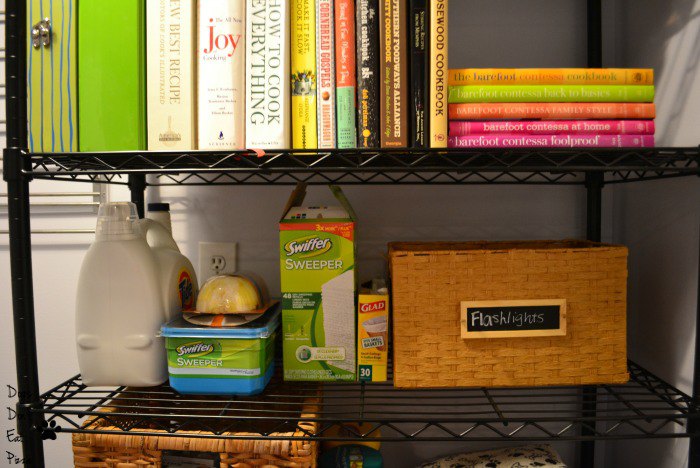 (4) What to Do with What You Are Purging.
Once you've committed to getting rid of items, you have some choices for what you can do with them:
(a) Have a yard sale.
If you have a lot of stuff to get rid of that's in pretty good shape, host a garage sale or yard sale at your house! Hosting a yard sale is a lot of work, so I would only do this if (1) you have a lot of stuff you want to get rid of; and (2) you have some larger items to sell that will make the time and effort spent preparing for and hosting the sale worth it.
(b) Sell items online.
You can sell gently used items like furniture and clothing on Craig's List or eBay, or on yard sale pages on Facebook. If you are selling on one of these sites, be careful. Check the location if you are delivering the item and make sure it's in a well-traveled area. If someone is coming to your home to pick up the item, make sure you are comfortable with that; for example, by having someone else home with you or having the pick-up during daylight hours.
(c) Donate It.
Donating unwanted items is a win- win: you win because you get rid of unwanted stuff; the place receiving the donation wins because it can re-sell or re-purpose what you're donating.
Goodwill and similar thrift stores will take donations of clothes, household goods, and furniture.
Shelters would appreciate donations of clothing, household goods, diapers and baby goods, and more.
Children's hospitals often will take gently-used toys.
Veterinarian offices and animal shelters appreciate donations of old towels and dog food.
You can donate canned goods and non-perishable food that are still within their expiration periods to food pantries and soup kitchens.
Habitat for Humanity's ReStore takes donations of building supplies, furniture, and home goods. To find a ReStore in your area, click HERE.
(d) Recycle It.
If you want to get rid something that isn't in good shape, try to recycle it.
Check your local recycling rules and nearby recycling centers.  Certainly paper (whether whole or shredded) and cardboard can be recycled and is accepted by local recycling programs and at recycling centers (such as at libraries and fire stations).  You would be amazed at how much plastic can be recycled.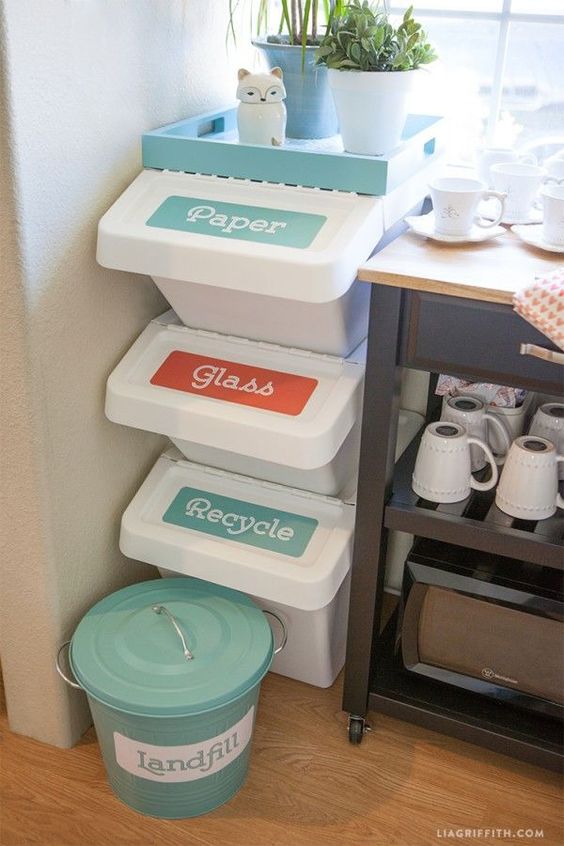 (e) Toss It.
If all else fails, toss it.
(5) Make It Fun!
Sure, cleaning out closets isn't always the most exciting activity, but there are ways to make it fun and while Marie Kondo doesn't necessarily reference this in her book, we can ad lib a bit.
Play music while you organize. Dance while you sort.
While everything is out of your closet, paint it a happy color, like neon pink or bright yellow.
Add a Mohawk Home rug or other decor to make your home feel luxurious!
(Mohawk Home – Illusion area rug)
What do you think about the KonMari Method of organizing? Share your successes in the comments!