Its gift giving time, America, and we aren't waiting for Black Friday to start gathering together the perfect presents for each member of our family. This year, I decided to start with the men in my life, and have been scouring Pinterest and the Internet for great gift ideas for my husband, brothers-in-law, father-in-law and Dad.
If only Christmas gifts were one size fits all, buying holiday presents would be so much easier! My father-in-law is a tennis loving, travel aficionado and whisky connoisseur, while my Dad is an intellectual bourbon drinker with an affinity for Sunday afternoon football. My husband, meanwhile, is the ultimate gadget guy with an impressive shoe and comic book collection while I have brothers-in-law who love sports, cooking and emo music.
I had my work cut out for me but was determined to find the best gifts for each of them based on the one consistent factor among them: they are dads. Since I like to cherry pick gift ideas based on interests, here are some great Christmas gift ideas for the following Dads:

Gifts for the Foodie Dad:
This present is perfect for the sporty chef in your life! This versatile NFL 3-piece BBQ set with canvas case is available with the logos from all your favorite AFC/NFC teams.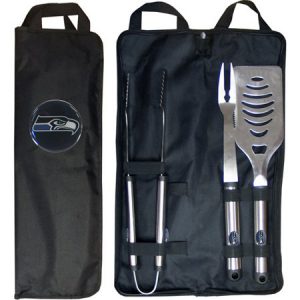 I love sauce samplers and these fiery hot sauces from The Good Hurt Fuego will not disappoint. With seven different hot sauces bursting with exotic flavors, it's literally the gift that will keep on giving.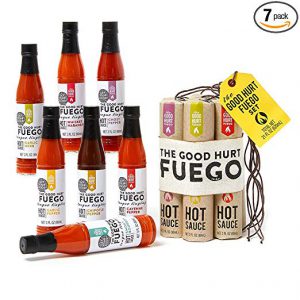 Gifts for the Handy Dad:
If you know of a dad who likes to fix, break, then fix things again, there is a great multi-tool faceted item that can be his all-in-one fix-it tool!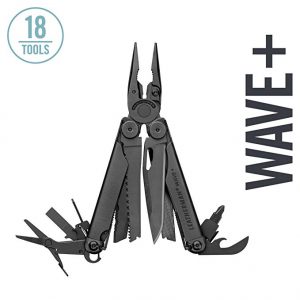 This Wave Plus Multitool from Leatherman comes in 3 different colors:  black, nylon black, and white. Some of its features include cutting 3 cutting tools, consisting of a 420HC knife, 420HC Serrated Knife, and a saw. The pliers include needle nose and regular, while the screwdrivers have, small, medium, and large exchangeable bits. To top it off, there are also both a can opener and bottle opener!
For the dads who want to make sure they always have a hammer around, look no further than the Sheffield 12913 Premium 14-in-1 Hammer Tool.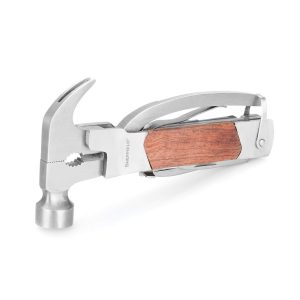 This particular item has some of the standard features already mentioned, but has more focus on construction with its hammer head, nail claw, and Phillips screwdriver. It also provides a key ring in case dad still wants to have access to his larger array of tools from the locked cabinet in the garage.

Gifts for the Sporty Dad:
When it comes to sports, the dad probably already has his own regimen on the type of brand he likes or what kind of specific cleats help the most. To avoid any potential arguments of having bought the "wrong thing" for his needs, why not provide something that can be fun regardless of brand recognition?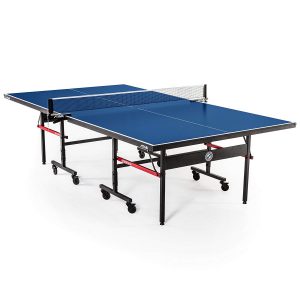 The indoor table tennis set from STIGA can be a great addition to the den or man-cave for the sporty dad who always wants to stay active, even when indoors during the winter. Assembly can be done in ten minutes or less, and it can be easily moved around so it doesn't take up too much space every day.
If your dad insists on taking those runs in the below-freezing weather, I am sure he would appreciate earphones that can play his favorite tunes while also allowing him to hear ambient sounds of the great (frozen) outdoors.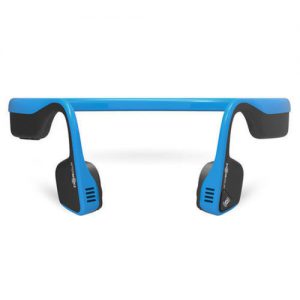 The AfterShokz Trekz Titanium wireless headphones do more than provide high sound quality. They utilize a bone-conducing technology that sends sounds through your cheeks, so your ears are left open to hear everything else at the same time. This means that early morning or late-night joggers can be safer when going through areas that are known to have cars passing by.

Gifts for the Dad with young children:
Let's face it, when you have young kids, nothing is really only yours. Even with boundaries, they still manage to take everything you thought was yours and appropriate it. From your iPad to literally eating food off of your dinner plate, it's hard to have anything of your own when you're a Dad! Acknowledge and appreciate your spouse this holiday season by giving him his own "His" plush bathmat from Mohawk Home. Trust me, he'll love both the sentiment and the softness when he escapes from the kids to go hide in the bathroom. (P.S. get the Hers bathmat for Mom; she'll appreciate it for the very same reasons!)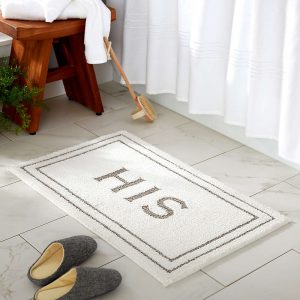 Reflecting on gifts from years past for my gadget loving husband, I've definitely fallen victim to some of the popular gift items that turned out to be duds. Last year, I bought my husband a levitating Bluetooth enabled Death Star speaker from Amazon that we never managed to levitate.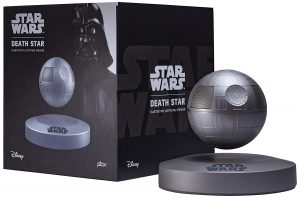 Sure, it provided hours of frustrating fun as every single member of our holiday party took their turn trying to get it to levitate, but no one managed. Now, it just sits unused gathering dust on our bookshelf and is a sad and expensive reminder to really read reviews and also think twice before buying certain presents.
This year, I've vowed to do a better job at holiday gift giving for my husband. If there's a Da in your life who loves shoes, comic books, gadgets and spending time in his Man Cave, read on for my top gift picks!
As an added bonus gift, there is always the Lobster Claw Oven Mitt that is sure to please both the dad and the kids.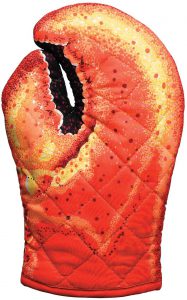 Gifts for the Gadget loving Dad:
These noise cancelling headphones from Bose are great for when Daddy needs to get away from it all!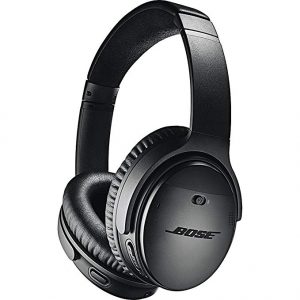 This slim leather wallet with charger will be a game changer for when busy Dads on the go
Gifts for the Man Cave:
This whimsical Let it Snow area rug from Mohawk Home's Prismatic Collection will brighten up even the darkest Man Cave. Constructed with 100% polyester and a washable latex backing, it's durable and easy to clean, so there's never any worry about eggnog spills or stains.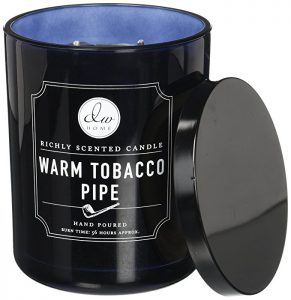 This might actually be a gift for me more than for my husband's Man Cave but I love the smell of pipe smoke. Since our home is a smoke free zone, this candle is the next best thing.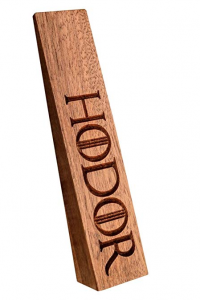 He might not ever use this Hodor door stopper, but the hilarious nod to Game of Thrones makes this a terrific stocking stuffer this Christmas that he'll be bragging to all of his friends.
With my husband's gift out of the way, it's time to really focus on the older men in my life. Each year, we like to give a sentimental gift from the Grandkids in addition to something they would really enjoy. I like to appeal to their hobbies and interests, so that the gifts we give them is used and enjoyed for years to come.
Check out my picks for Christmas gifts for the older Dads in your life:

Gifts for the Travel Grandfather
Just because your dad has added to his calendar years doesn't mean he can't enjoy traversing across road trips or visiting other countries. Since we all know that traveling can add fatigue to anyone, this next item may help your dad more easily unwind between flights.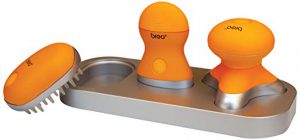 This body massager set from Breo has 3 vibrating massagers for the head, face, and neck. Depending on where the aches and pains are located, your dad can choose one of the 3 available and loosen those tightened muscles while resting in a hotel.
For additional comfort, he can even enhance his footwear, so relaxation can happen for both his soul and soles.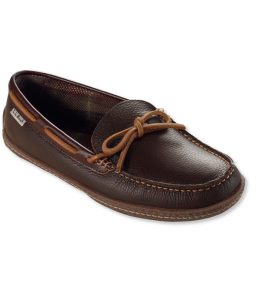 The handsewn slippers from L.L. Bean provide maximum comfort with its cotton flannel lining and snug fit.
If your dad would prefer to stay at home but still observe cultures from other locations, why not bring those cultures to him with the Around the World Wine Chest?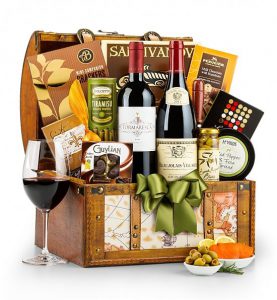 This keepsake includes wines from various inspirations such as French Beaujolais Burgundy and Italian Tormaresca red, exhibiting the experience of differing locales through their craft. The chest includes many accompanying snacks, like cherry sours, Northwoods smoke gouda cheese, Spanish olives, and more!

Sentimental Gifts for Grandfather
For older dads who consider the thought behind the gift more than the flashy price tag, there are just as many presents that can warm the heart.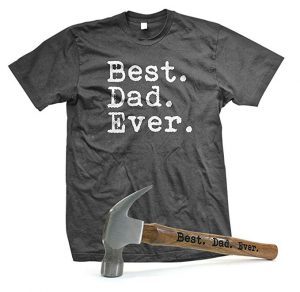 Nothing says "best dad ever" than a shirt that literally says "Best. Dad. Ever."! With this fun T-shirt and hammer combo, you can remind your dad just how much he means to you and symbolize his importance in building the foundation of your family. You can even replace the hammer with a flask, depending on preference.
If you shared certain bits of popular culture with your dad over the years, why not remind him of the good times when you were his little boy or little girl?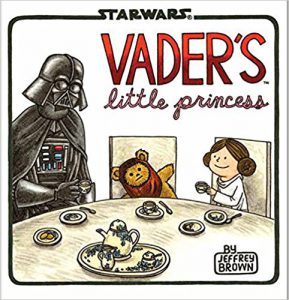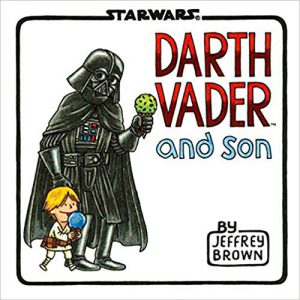 Through these quirky little books, you can share a new cultural experience through the fictional "what if" story of Darth Vader raising Luke and Leia Skywalker as an awkward but loving father.
As a means to store memories of your time growing up, you can even set up a picture frame from Malden International Designs.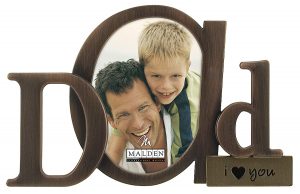 If all else fails, take the route of a warm heated outdoor chair for these chillier months so your dad can participate in those soccer/football matches of your children as the world's best grandpa!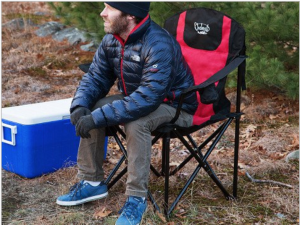 Gifts for the Teetotaler Grandfather:
This personalized miniature oak whiskey barrel from uncommon goods ages spirits to peak flavor right at home!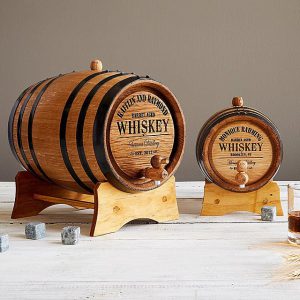 Gifts that Give Back:
This Italian blend blanket from Sackcloth & Ashes is not just stylish, it's also charitable. The company was founded with the mission to provide blankets for homeless shelters, which means that each blanket purchase guarantees a blanket is donated to someone homeless. It's a really meaningful gift that will also give back.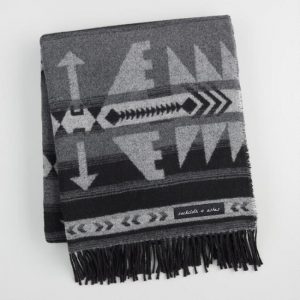 Do you have your Christmas gift-giving list all ready? Well check it twice and then share your present picks in our comments!