If you're ready to start shopping for an area rug, what an adventure you're going to find! Expect a magic carpet ride into a world of enchanting colors and enigmatic patterns, venerable weaves and textures you can't wait to touch.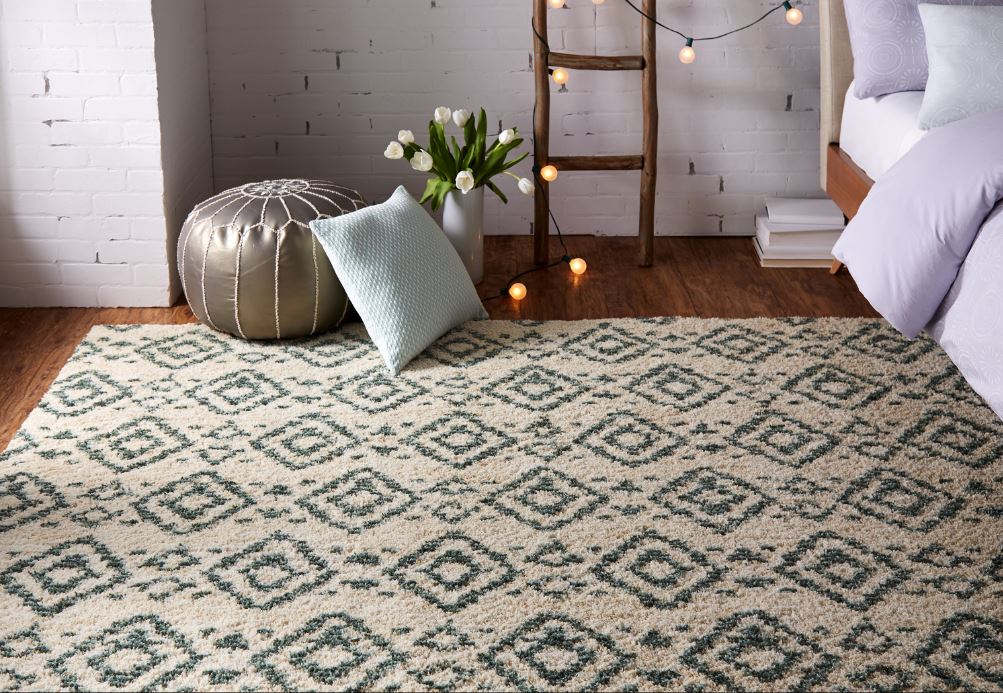 Aside from providing practical comfort, an area rug lends artistic value to a room and typically serves as the foundational centerpiece. A rug's color, fiber and pattern work in unison to tie décor together while rug size is essential to creating a well-balanced space . . . you know, that sense that a room just feels right. You don't have to be a seasoned interior designer to find the perfect area rug for your home. This 4-step guide will get you off to a stylish start.
Pick an area rug size
The simple rule of thumb is to allow a minimum of 6" but no more than 24" of bare floor space to show around the rug. For a medium size room a 5'x8' area rug is a good choice. Large rooms look balanced with an 8'x10' or larger rug. This rule may not always apply so here are additional size guidelines:
For large rooms with furniture positioned in the center, choose a rug big enough for furniture to fit completely on top without feeling cramped.
If your furniture is against a wall, aim to have the front legs of all pieces on the rug.
In a small room, a lovely area rug can still make a style statement peeking out from under a coffee table or strategically placed to define specific seating areas.
Match rug fiber with foot traffic
Start by honestly assessing how hard you are on your floors. Rugs made of wool, synthetic Nylon or polypropylene fibers are ideal for high traffic areas like hallways, family rooms and kitchens. Of these fibers, polypropylene and Nylon are the most stain- and fade-resistant as well as the most durable. Delicate rug fibers like silk, faux silk viscose and cotton hold up better in low traffic bedrooms and dining rooms. Natural rug fibers like jute and sisal fall somewhere in the middle for durability.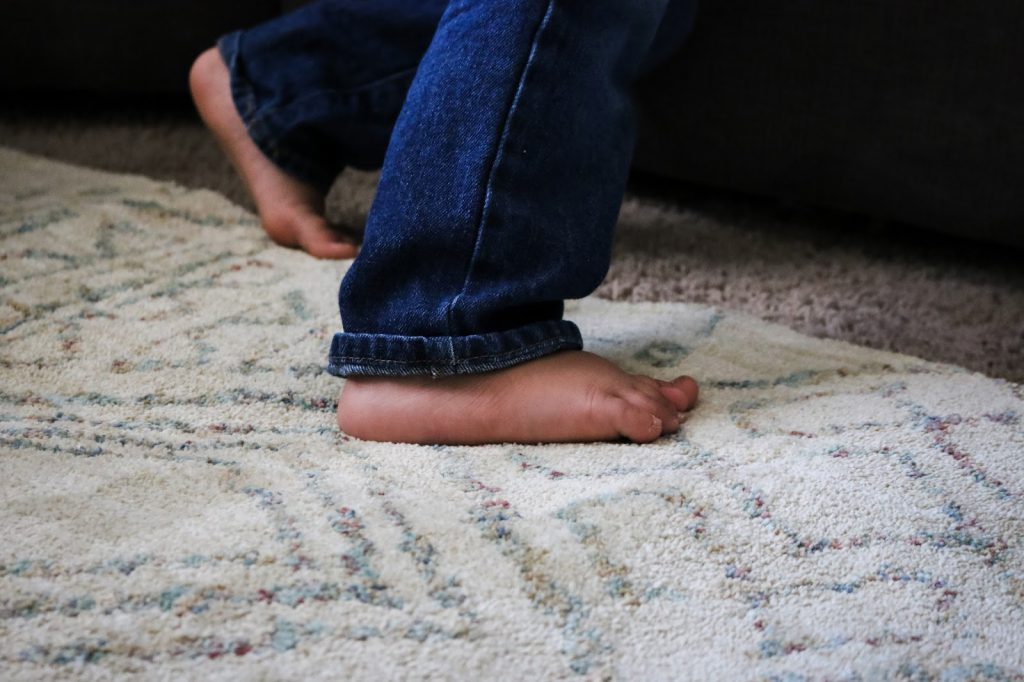 Pick a rug weave type
Hand knotted – Associated with Oriental rugs, this ancient weaving technique results in a dense, tight construction that's durable and holds its value. Level of craftsmanship is reflected in cost.
Hand loomed – Skilled weavers manually pass yarn through a loom to create a wide range of rug styles and textures. Although still classified as handmade, this weave type is less expensive than hand knotted.
Hand tufted – A tufting tool is used to tie yarn to a fabric backing. Both cut (tufted) and looped pile are achieved with this technique.
Machine loomed – Also called powerloomed, these rugs offer lots of style variation, including precision patterns, and are typically the most affordable.
Flatweave – This weaving technique creates a low-profile surface with no pile. Typically made of cotton or wool. A key feature of flatweave rugs is they're reversible.

Play with pattern
A patterned rug adds interest to a neutral room. When coordinating, match the rug's secondary color to a dominant one in the room. For busy rooms, consider a solid color rug to help tone down the "noise." Choose a rug color that matches the secondary color in patterned furniture or go with a neutral that contributes an interesting texture.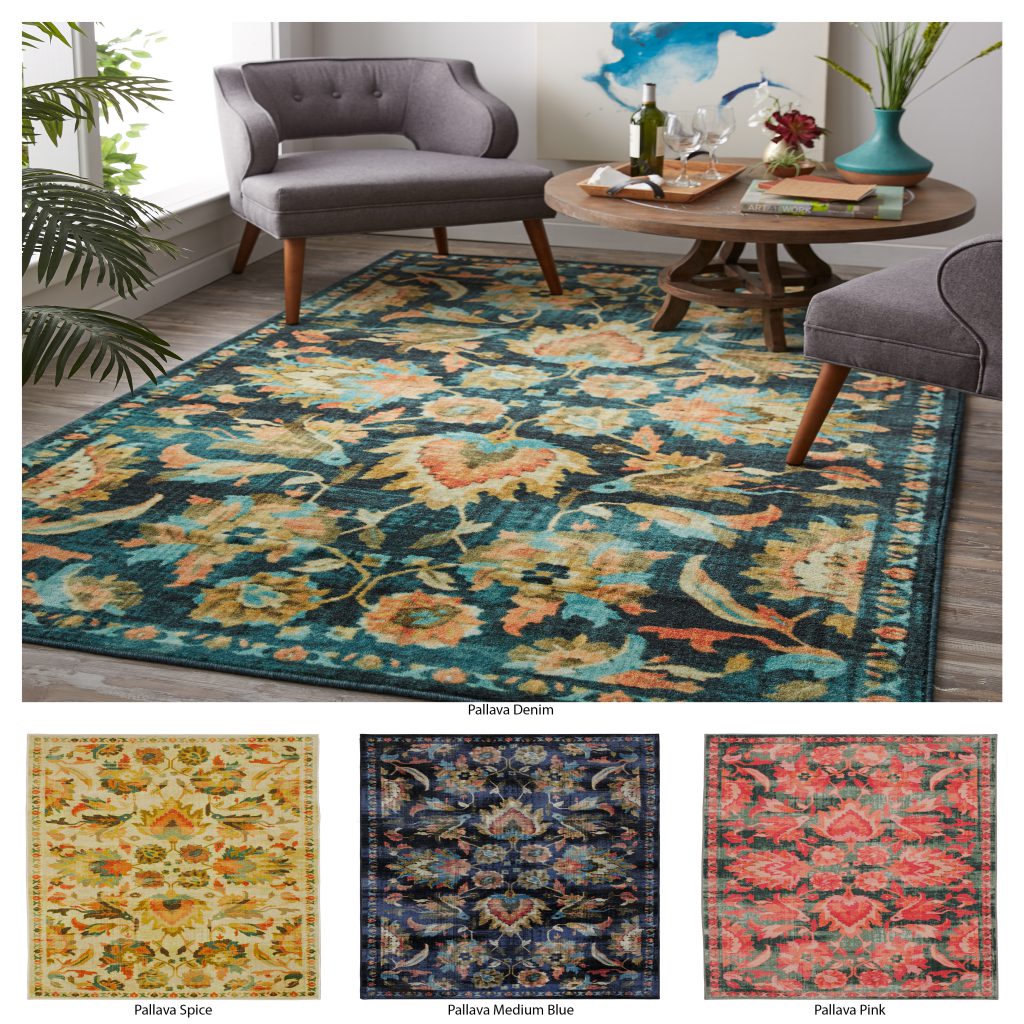 Area rugs are a big part of any room design, but don't be intimidated by the many styles, colors and materials. Use these tips to help sort out the details and to help find the right rug for you, visit the Area Rug Buying Guide on our website here!