It's time to open your doors to fall (and maybe a little winter, eek)! Welcome the season in the most gorgeous way with a beautiful autumn or fall wreath hanging on the front door.  You could even take some of these ideas and add a couple wreaths throughout the home to coordinate your whole look.  And you can do this year-round, switching out your look for each spring, summer, fall or winter season.  A wreath is a cheerful and versatile way to show off the season's colors – all while making a great impression right from your doorstep.
So what makes up a great fall inspired wreath? Is it the colorful flowers or the weave of vines? There are so many reasons to love these decorations, that's why we've created a list of six of our favorite fall front door wreaths. Find your favorite below and share with us if you've made a wreath of your own for any season!
Burlap Fall Wreath
Burlap is such a great neutral piece for a wreath. It creates a great base that really allows you to add any pop of color to it.  To make this fall wreath, take a wire wreath base, some burlap, your favorite fall colored ribbon and bright flowers. Toss in the first letter of your family's last name and you have a quick and easy DIY fall wreath to proudly hang on your door for the rest of the season. This could even be a great idea to gift this holiday season as a personalized gift! For full instructions, visit here: Kenarry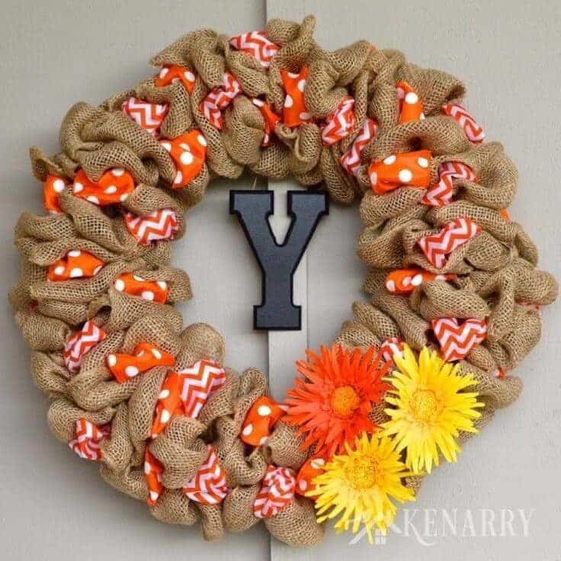 (Source – Kenarry)
Faux Hydrangea Fall Wreath
Give thanks to classic + simple. Personally, one of my favorite types of flowers are hydrangeas. They're so beautiful and bright and their clustered petals make the perfect ball of color. The fact that you can choose from pink, white, blues, and purples…..just makes for a stunning look. There's just one little problem. Hydrangeas, or any flower for that matter, don't last all year. That's when faux flowers come in and save the day and made this this faux Hydrangea wreath so perfect. You can transform a plain grapevine wreath into a festive fall wreath that's bursting with color in only a matter of minutes, and it lasts all season long!  These are also perfect for those who have a black-thumb and not a green thumb. Get full instructions, here: The Turquoise Home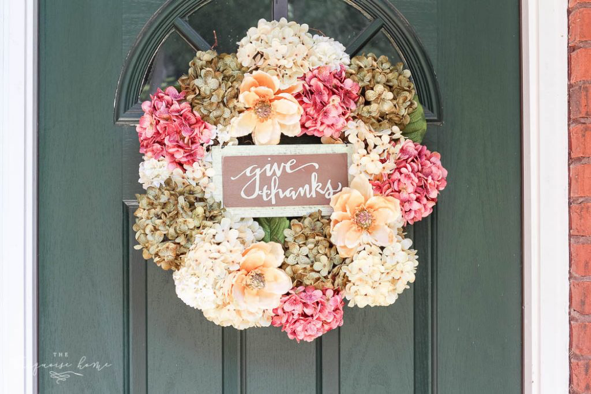 (Source – The Turquoise Home)
Rustic Fall Wreaths
Rustic decor is all the rage and I don't think it's a trend that's going anywhere anytime soon.  So I came across another fun DIY wreath project to try that is a rustic fall front door wreath. Just start by wrapping a foam wreath form with your favorite burlap. Then add twine or garland. Glue down some fall yarn and personalize a bit with some pineapple doilies or linen flowers and you have a unique DIY wreath that will stand out.  You can find all of these pieces at your local craft store.  For the full steps, check out Consumer Crafts.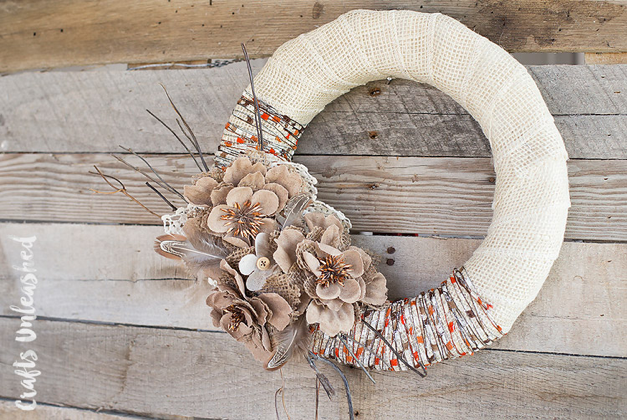 (Source – Consumer Crafts)
Fall Gathered Wreaths
Gather round!  Get the kids outside and have them gather up a ton of acorns and pinecones to make this wreath! Or have your girlfriends over for a fall inspired party where you sit and catch up and make DIY wreaths! You can pick up some acorns from your local craft store and not have them hunting around outside for acorns, unless they want too!  This wreath is something that everyone can contribute to.  After you've gathered up your supplies you can get started easily and it makes for a stunning fall wreath that looks incredible hanging from your front door. The best part is, that is was a group effort!  Here's what you need: a foam wreath, burlap garland, a glue gun and a few minutes outside gathering foliage is all it takes to make this fun little wreath.  Get the full details here: HGTV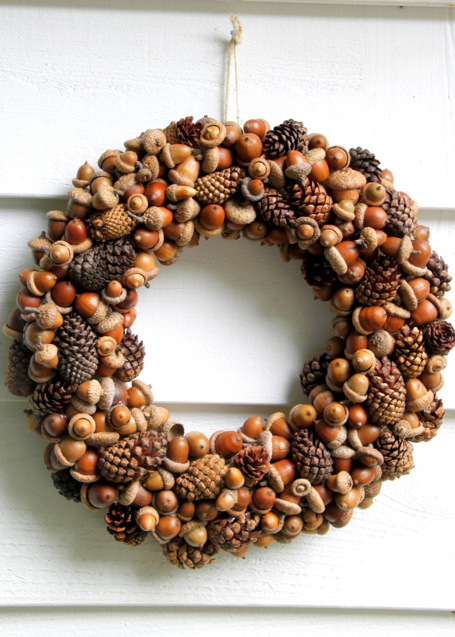 (Source – HGTV)
Book Page Wreaths
We all likely have a ton of books laying around that are old, maybe not being read, we don't know what to do with….so here's a neat DIY idea for book pages! A Book Page Wreath!  There are thousands of different ways that you could fold the pages of an old book to create unique designs for a wreath. To give your wreath a fall touch, soak the pages (or just the edges) in coffee before you fold them. That'll give them a great brown color that makes the pages seem more aged and rustic. Add some flowers or burlap to the middle of the wreath, seal with a waterproof coating, and you have a cheap but beautiful DIY wreath for your door.  Make sure to hang this one in a more covered porch area so that it doesn't get directly rained on.  For the full details on this wreath, go here: Mudpies and Marigolds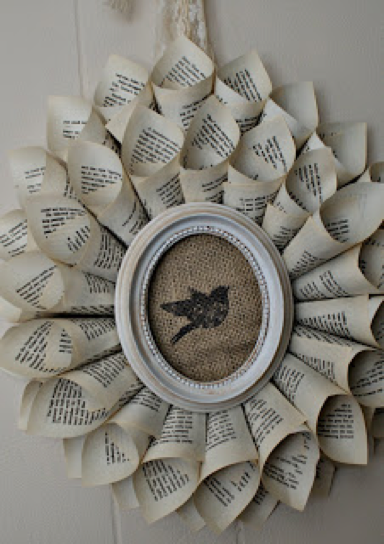 (Source – Mudpies and Marigolds)
Wood Disk Fall Wreath
There's nothing better than the look, feel and smell of natural wood. It's simple, classic and friendly.  This Wood Disk Fall Wreath is so easy to put together, you don't even need any tools! You can either buy wood disks at your local craft store or online.  Then simply fasten them to a wooden wreath form with wood glue and then add the burlap. If you want more color for the wreath, try faux flowers or use your favorite garland instead of making a burlap bow.  For the full set of instructions, go here: Home Talk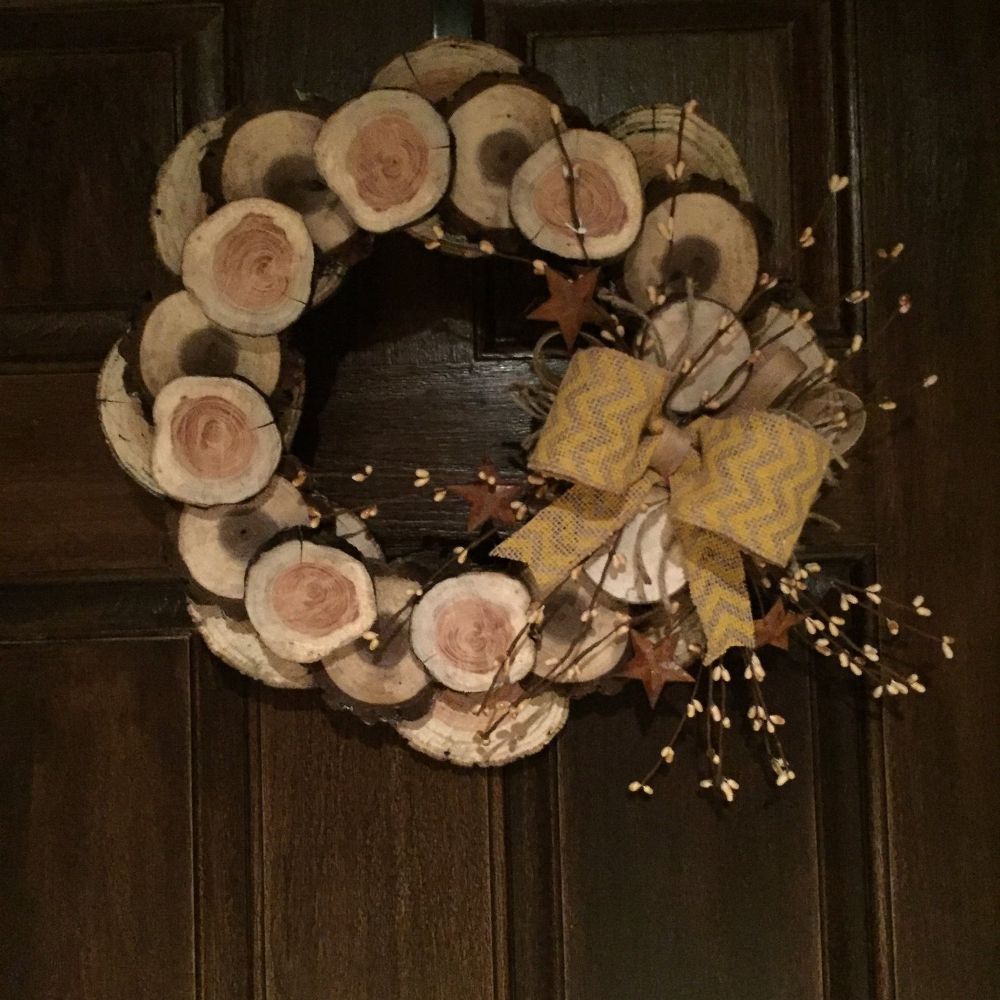 (Source – Home Talk)
So, with that, fall is definitely a very rustic inspired season.  There are an endless amount of options when it comes to creating your own wreath and you can really change it out as much as you'd like too.  So which wreath are you thinking of hanging on your front door this fall? Let us know in the comments + maybe share a picture.  We'd love to see them! Happy Fall and we hope you have fun decorating your front porch door for Thanksgiving, Friendsgiving and any other holiday or celebration you have coming up!